Cruises to greater Africa are still considered rare and uncommon. Many cruise lines stop in the Middle East, touching Egypt, Dubai, and Oman and some might transit the Suez Canal. Others more commonly swing by Northern Africa on Mediterranean cruises with popular ports in Egypt and Morocco. Yet, there's so much more to Africa to see and thanks to Swan Hellenic you can now explore Africa by ship. Immerse yourself in local culture and explore ports which are still not common on big ships. 
Plus, if you take a 2023 Swan Hellenic cruise, you can save upwards to 60% while knowing that everything is included in Swan Hellenics all inclusive pricing. In addition, for everyone who books any Swan Hellenic cruise via my agency Scott & Thomas Travel, you will also get $150 onboard credit to use at the Spa or towards anything else you would like. This is a win-win, exclusive pricing and onboard credit for all the savings!
Looking for a Swan Hellenic 2024 sailing. Check out this deal and save $1,000 per person on any booking booked via Scott and Thomas.
East Africa Cruises Specials Including Seychelles
Swan Hellenic is opening the doors to many new places where other ships do not go. Explore East Africa by ship as the beautiful SH Diana works her way from Egypt to Cape Town and then continues on to Antarctica from South Africa! The prices are so low I cannot publish them. Email me or contact Scott & Thomas for details, but know you will save 50% or more from published pricing! All these expeditions and cruises is on the SH Diana, which is an amazing ship. Here are a few photos of the ship and room before I dive in the cruise deals. 
The first special actually starts in Cyprus and ends in Saudi Arabia. You will get one night in a hotel in Limassol to explore Cyprus before heading out on this amazing cruise. It's a great opportunity to explore the Red Sea, Egypt, see Petra and more. Plus since Saudi Arabia now offers an e-visa system, it's easier than ever to start or end a trip in Saudi Arabia and tack on a day or two for tourism.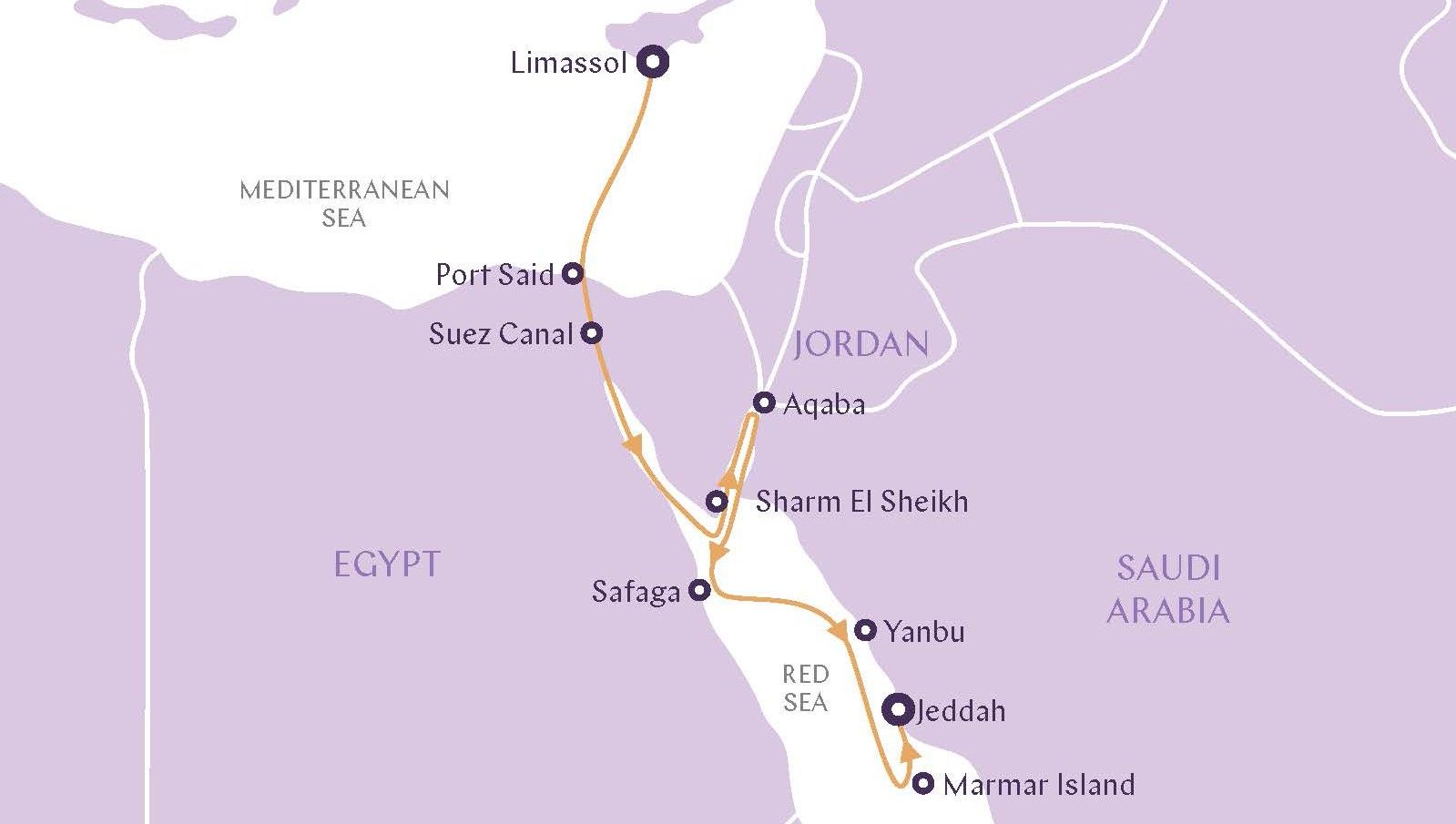 See the ancient pyramids of Egypt, explore Petra, visit the famous valley of the kings and then relax and visit the unique beauty of white sand beaches on Ras Al Baradi Beach located in Yanbu.
Dates: Oct 3 – 15, 2023
Pricing: 50% off or more! Email or call for details.
Exclusive Cruise to Socotra
Swan Hellenic is moving the ship from Jeddah to the Seychelles and has decided to do an exclusive unpublished cruise offer. This is an exclusive offer only to those who are invited. Aka Scott and Thomas Customers and Travel Codex readers. This cruise will not appear on SwanHellenic.com and likely to have very few passengers onboard. Meaning the feeling of a private yacht vs a cruise or expedition. If you like Sea Days or have always wanted to see Socotra Island, then this is the expedition and cruise for you.
| | | |
| --- | --- | --- |
| Date | Location | Country |
| 14-Oct-23 | Jeddah | Saudi Arabia |
| 15-Oct-23 | At Sea | At Sea |
| 16-Oct-23 | At Sea | At Sea |
| 17-Oct-23 | Djibouti | Djibouti |
| 18-Oct-23 | At Sea | At Sea |
| 19-Oct-23 | Socotra Island, Hawlaf Harbour | Yemen |
| 20-Oct-23 | Socotra Island, Hawlaf Harbour | Yemen |
| 21-Oct-23 | At Sea | At Sea |
| 22-Oct-23 | At Sea | At Sea |
| 23-Oct-23 | At Sea | At Sea |
| 24-Oct-23 | Victoria, Mahe Island | Seychelles |
Dates: Oct 14 – 24, 2023
Pricing: Email or call for details.
 The Indian ocean is home to some of the world's most impressive white sand beaches and islands. Many of these islands are difficult to get to with limited air service and are extremely expensive once there. Easily costing over $1,000 a night for accommodation and food. Now you can visit the Seychelles without breaking the bank and in 5 star luxury. 
This amazing itinerary starts in Port Victoria and provides you with a complimentary stay for 1 night pre cruise! The ship then leaves and island hops all the way to Mombasa Kenya. This trip is the snorkeler's dream! Nearly every day there will be opportunities to snorkel in the warm waters and take hikes and walks in these beautiful remote islands. Zodiac tours will also be available for exploring these remote places. 
As you approach Zanzibar, the expedition moves to more of a cultural expedition and there are optional shore excursions to explore the towns and cities of East Africa.
Dates: Oct 24 – Nov 4, 2023
Pricing: 40% or more off. Email for details
This 11 day journey is one of the more exciting options in my honest opinion. Madagascar is extremely underdeveloped, yet bursting with diversity and beauty in its landscapes and animals. Madagascar is so popular and uncommon for ships to call on, that Lindblad's first expedition to Madagascar scheduled in 2024 sold out in hours!
This hybrid expedition will allow guests to visit remote islands and enjoy days full of snorkeling, zodiac rides, and nature walks. Yet, the ship also stops in some more traditional ports as well which provides opportunities to visit the Lemur sanctuaries and partake in city tours too. Start your vacation by taking in the aromas of Mombasa's market stalls heaped with locally grown spices like pepper, ginger and cinnamon and then plan to Visit the world's largest tortoise colony with more than 100,000 giant tortoises. There's so much to get excited for. Your trip also includes the rarely visited Kirindy Mitea National Park to see several species of lemurs, plus a visit to the relaxed west coast town of Morondava. Which is the gateway to the iconic Avenue of the Baobabs.
Dates: Nov 4 – 14, 2023
Price: 50% off or more. Call or email for details.
South Africa is one of my favorite places to visit and one which can easily be done by car and train. Yet the coastline of South Africa is stunning and should not be missed.  One of the most popular routes is the Garden route between Port Elizabeth and the Cape. Thankfully, this amazing South African cruise includes  the important destinations and adds to it ensuring a fantastic overview of Coastal South Africa.
On this amazing adventure you can easily add in a game drive or even explore wine country. There's so much to see in South Africa and this cruise ties it all together over 8 days. See the big 5 or go snorkeling. The options are endless. Your trip will also end in Cape Town providing you with an opportunity to climb Table mountain and take part in all the amazing activities available on the Cape.
Dates: Nov 14 – 21, 2023
Pricing: 30% off or more
Imagine a cruise the goes from Cape to Cape stopping in the amazing remote islands of South Orkney, South Georgia & Tristan da Cunha. That is now possible on this amazing expedition which starts in Cape Town and ends in Ushuashai. This 20 day adventure even travels further south to Antarctica and provides guests with a full 4 days in Antarctica before heading back to South America! 3 continents, 1 cruise!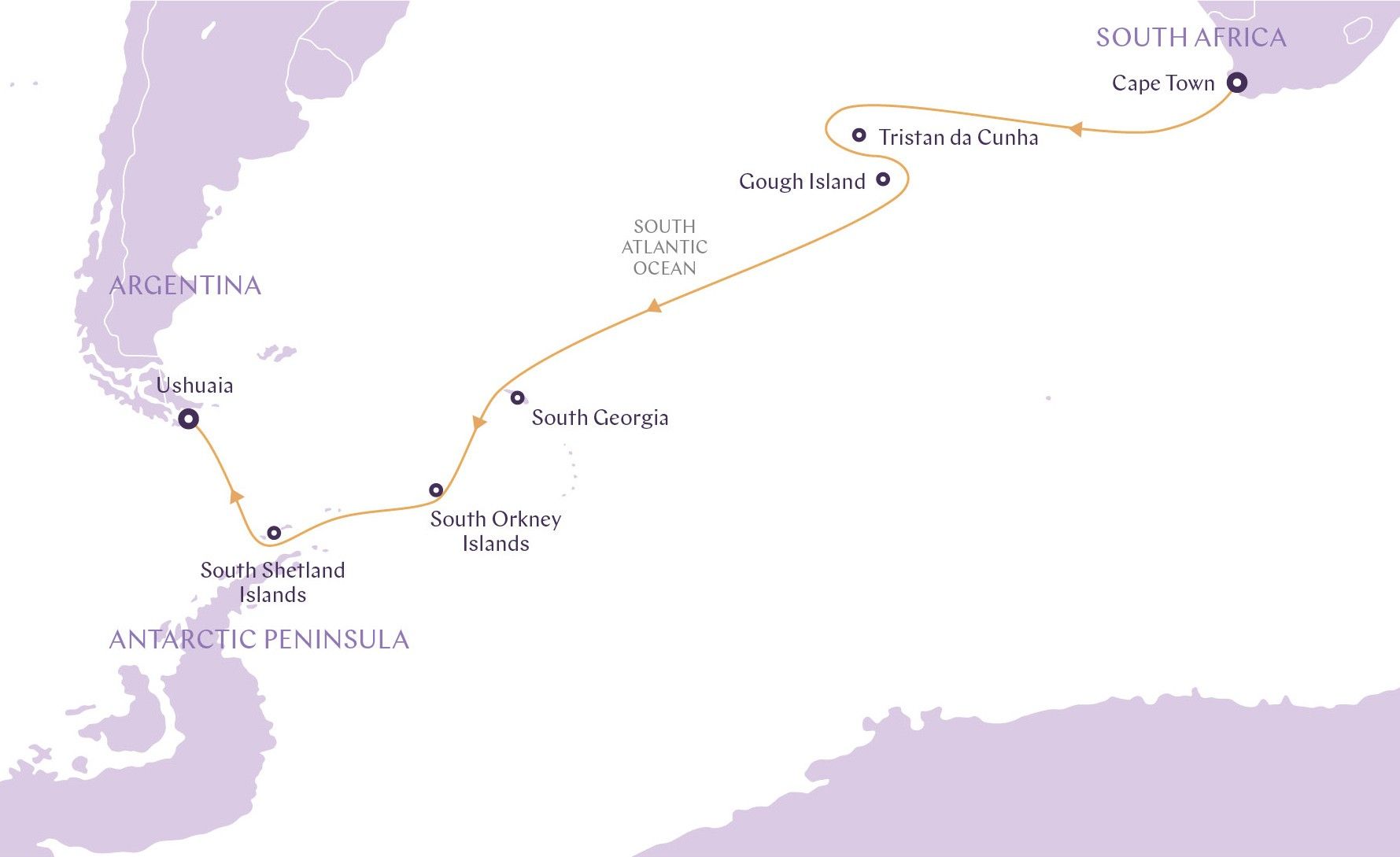 This Antarctica expedition hits all the highlights from King Penguin colonies in South Georgia to the South Shetland islands and a tour of the Antarctic Peninsula! Plus you can do it for less than a standard expedition from Ushuaia, making this one of the best deals to Antarctica in 2023! The price also includes airfare back to Buenos Aires after the trip ends.
Dates: Nov 21 – Dec 11, 2023
Pricing: 50% off or more
What's Included On Swan Hellenic Cruises
Swan Hellenic is a relaunched luxury cruise line which has been around for over 70 years but relaunched in 2019. With two beautiful 5 star luxury ships, you can know you are traveling on one of the world's nicest ships. The small ships hold less than 200 people and boast Scandinavian design and have fantastic features including nordic saunas, steam rooms, a full spa, state of the art gym, a swimming pool and jacuzzi. Plus when you travel with Swan Hellenic everything is included. This includes airport transfers and a hotel for 1 night before your cruise begins. 
Pricing on Swan Hellenic is always all inclusive. There's no surprise charges for port taxes or drinks at the bar. The price you pay even includes select excursions and expedition activities at every stop. Rest assured and know your luxury cruise includes all of the following built into the price. Even at the discounted rate!
Group return transfers from the airport to the cruise port 

One-night pre-cruise accommodation with breakfast in a 4/5-star hotel or onboard

All meals onboard

24-hour room service

Coffee, tea, soft drinks, and selected alcoholic beverages available 24 hours per day

In room mini bar with Champagne. Refilled daily

Lecture programs by our experienced expedition team and guest speakers

WiFi

Onboard gratuities and port taxes 

One selected shore excursion/expedition activity per port of call

Branded Swan Hellenic expedition parka and use of rubber boots in Polar Regions
Bottom Line
If you are looking for cruises to remote parts of Eastern and Southern Africa, now is your opportunity to see a part of the world many people never get to see. Swan Hellenic also offers fantastic options for West Africa cruises in 2024. These are not discounted like the West African cruises, but still come with an exclusive $150 OBC when you choose to book via my agency. 
I offer Safari booking help in Tanzania and Kenya and love my time with Asilia Africa and other operators, yet Swan Hellenic is opening the doors to more remote places at rock bottom prices. When you consider the cost of transportation, hotel, food, and activities, these prices are shockingly low. Luxury cruises and luxury expeditions often cost $1,000 or more a day per person. Swan Hellenic is breaking down the barriers to travel while still providing a 5 star luxury experience. Do not miss your opportunity. Contact me today to book your cruise to Africa.