Air France Business class is among the best business class products in Europe. Air France's transatlantic Business class offers all aisle access on their Boeing 777 fleet and an elevated dining experience. Although Air France and KLM are a single airline in practice, their menus and experiences are quite different, with Air France offering a slightly better product. On my flight in October 2021, I not only was impressed with the food and service. I found Air France's Business class to be among the best business products I have flown transatlantic in a while. I'll explain more below.
Air France Business Class Seat & Meals
Air France B777 business class is in the forward part of the cabin, behind row 2, First Class. There are two business class cabins on the 777-300ER that I was on, and I was in the more forward intimate cabin. This was great as there was only 4 rows of business class seats. A total of 16 people in a configuration of 1x2x1. The rear cabin is 11 rows.
The seat is a standard  reverse herringbone seat seen on many planes these days. The seat is slightly customized for Air France. The foot cubby is also very open. This was great as I had room for my feet in all positions.
At each seat there was a blanket, amenity kit, and a hanger awaiting my arrival. I do enjoy that Air France Business class offers hangers for each passenger's coat. Many airlines overlook this detail and leave passengers placing coats in the overhead bins vs closets.  Around the seat there was a little bit of storage for passports and headphones. Basic noise canceling headphones are provided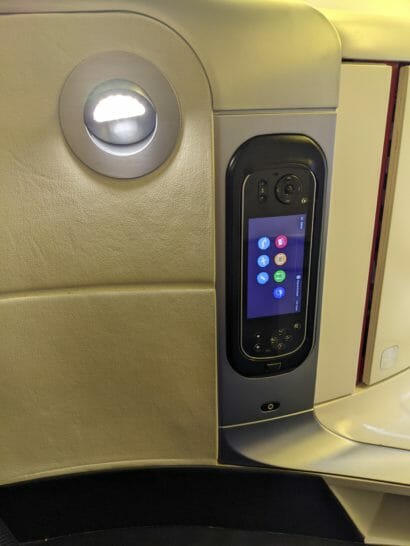 Air France Business Class Meal Service
Despite Covid, Air France offers full meal service. Or at least they did on my flight. Upon boarding business class passengers are greeted with a glass of champagne or water. Then once in the air a full meal service is available. My business class flight left at 11am, therefore lunch is offered.
The menu for business class is below: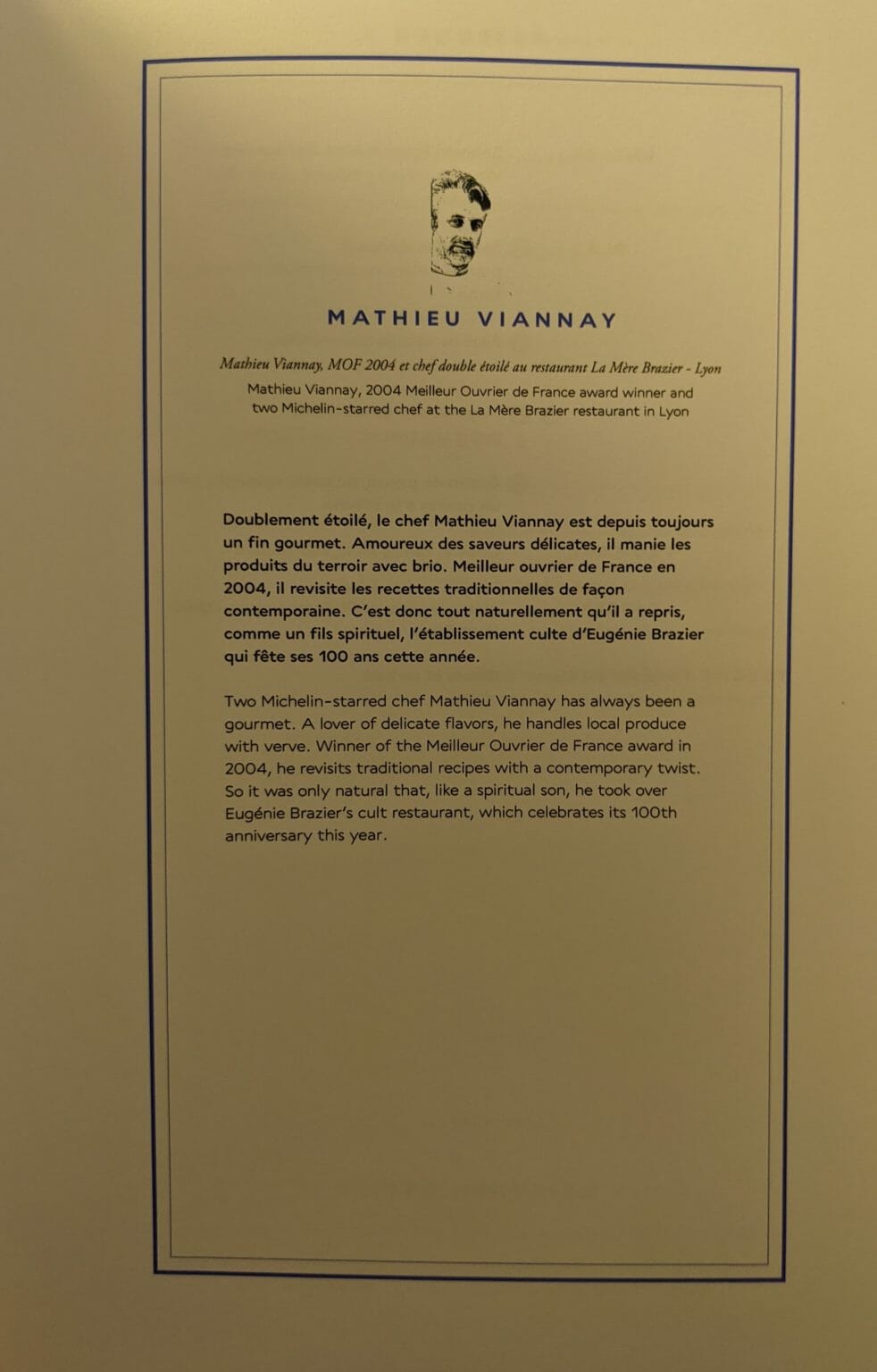 The smoke salmon was divine. Closer to a Balik salmon than smoked.  For the main course I had the chicken. It was also very good. Although the presentation wasn't the best, the flavor was wonderful!
After the main course was cheese and dessert. Both are delicious. The chocolate was rich and delicious. Paired perfectly with the port and a cup of coffee to wash everything down.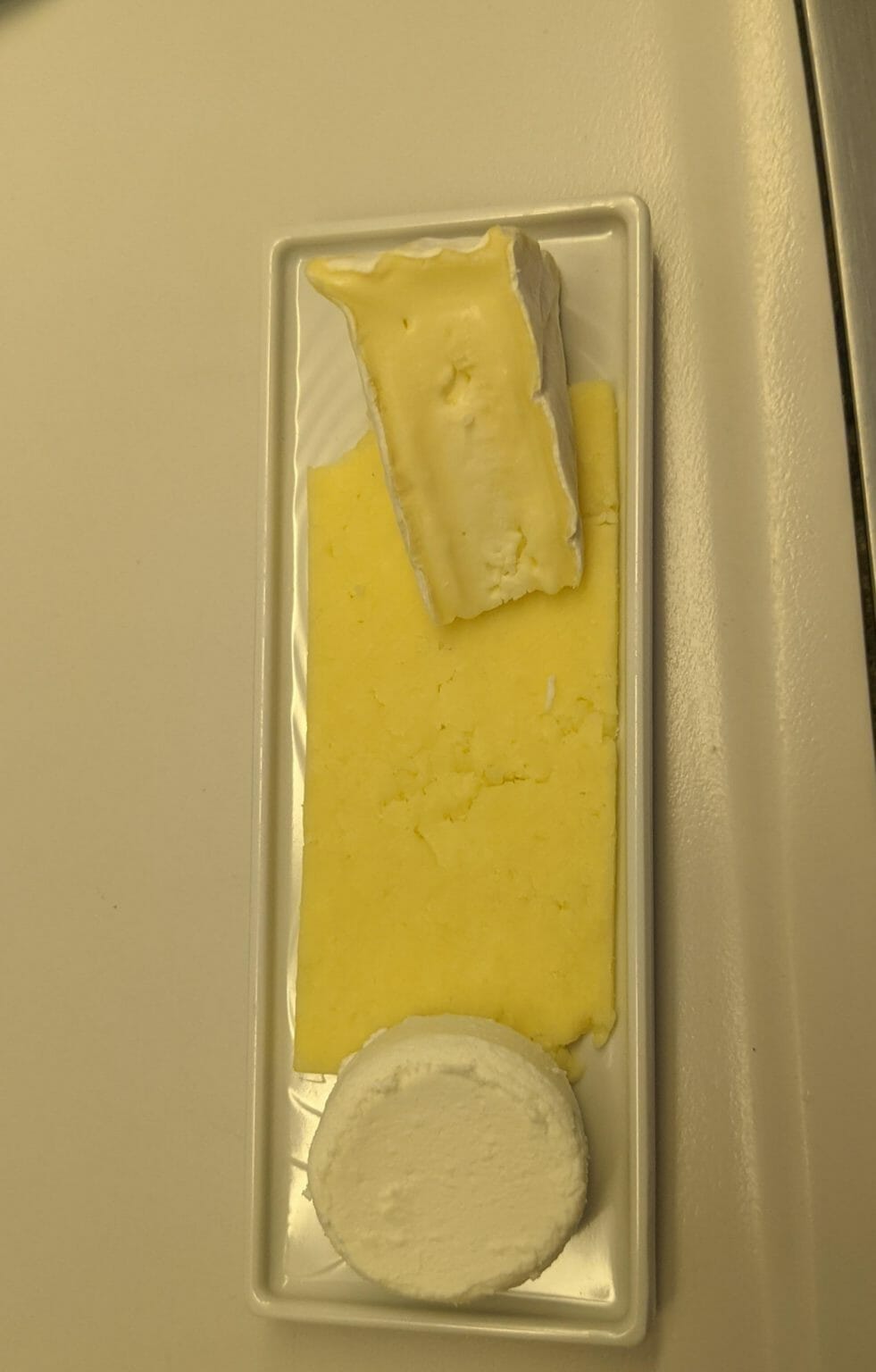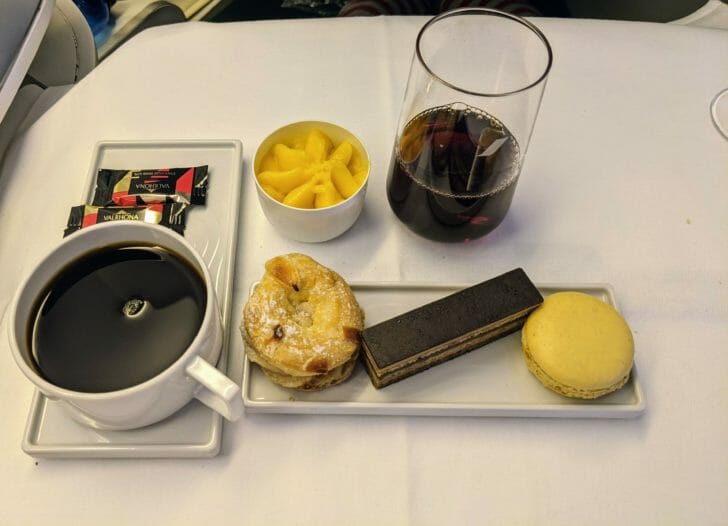 Air France business class ends with refills and more chocolates.
During the flight, I did opt for a hot chocolate and a croc madam. This was the lowlight of the trip. Both left a lot to be desired.
Before landing, another meal is available. As this is a long 10+ hour flight, Air France offers another meal service. This time, I opted for the vegetarian option. The Parsnip puree was delicious, leaving me wanting more!
Self-Serve & Extra Amenities
Flight attendants throughout the entire flight were very attentive. I was very shock, as this was a completely different experience from my trip on Air France 10+ years ago in economy class. I didn't have to ask for refills on my drinks nor use the call light. Flight attendants would walk through the aisles and gladly refill drinks without being asked. Often they just had bottle of wines already with them, as if they knew people wanted refills. For those who want something more though, Air France Business class does have a self-serve snack area.
Near the lavatories, on both sides of the aircraft are self-serve bar. Business class passengers are invited to help themselves to wine, water, soda, and package snacks.
In addition to these amenities, in the restroom, Air France Business class passengers have Clarins amenities. Smartly, the lids are removed to keep passengers from taking them from the aircraft.
Air France Business Class Review
Overall, Air France business class is a great way to fly across the Atlantic. Even a step above flying their partner KLM Transpacific. In recent years, I believe the only airline that I truly enjoyed more was maybe Austrian Airline. Air France business class offers great food, and a better product than many. The seats are comfortable and the product is overall great. Not to mention, everything I ate onboard was delicious. That is rare on an airplane.  Flight attendants can easily make or break a flight, but my flight attendants were attentive & situationally aware. Exactly what I want when flying.
If you get a chance, fly Air France business class. 100% would recommend.