As an American Express Platinum Card holder, one of the benefits I'm entitled to is a Priority Pass club membership. While this membership isn't typically as useful as a normal airline lounge, due to club availability, I rather enjoy the grab bag of lounges scattered around the world. Sometimes I stumble upon a totally awful lounge, but other times I'm pleasantly surprised. On my way to Phoenix out of San Jose for Spring Training last Thursday, I stopped by The Club at SJC for a one person pre-party, and it didn't disappoint!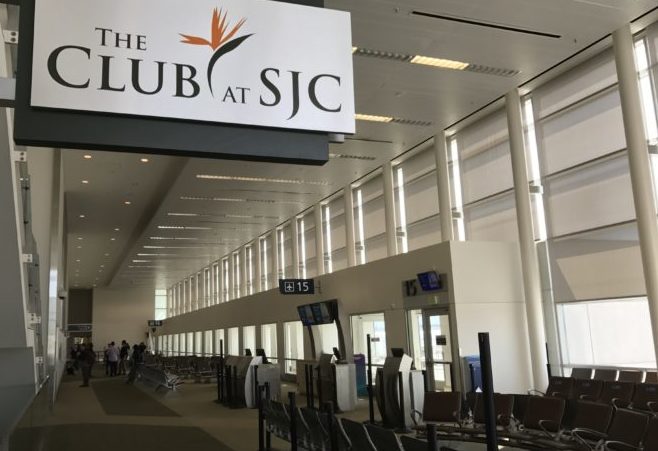 It's located right across from Gate 15, and you take an elevator up to the club.
The club has smart, simple decor. There is hardwood throughout most of it with carpet in one of the larger spaces. The lounge attendant was extremely friendly, and she scanned my Priority Pass card. I asked her a bit about the setup of the lounge, and she told me that there were buffet items and a full bar, everything complimentary. En route to a guy's weekend in Scottsdale, that was music to my ears. Walking down the main hallway, there's a conference room on the left that you can reserve, but straight ahead is one of the main lounging spaces.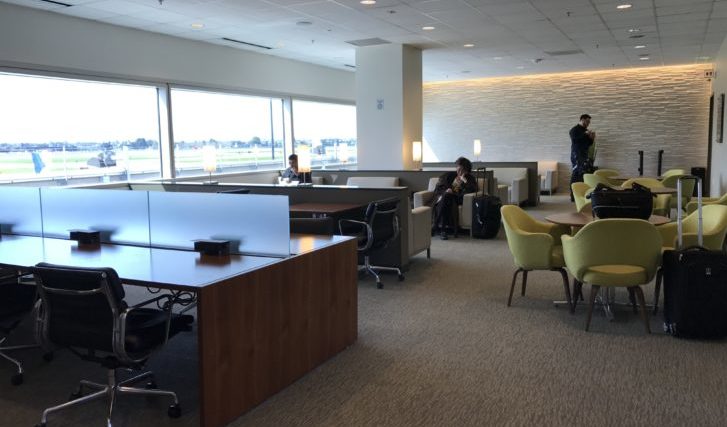 I plopped down at the first table on the right. There were plenty of outlets for charging, and I was happy to see that the lounge was a decent spot for plane spotting as well. Next it was time to check out the food and grab a beer.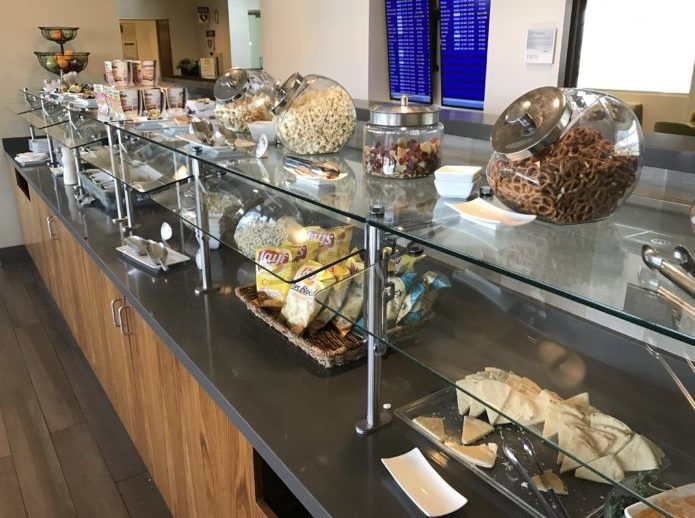 I was there around 3PM, which is a bit of an in-between time for meals. I am not sure what their food spread looks like during breakfast, lunch, or dinner, but this was definitely a pretty substantial amount of food, but there were no hot items. You could get hummus and pita, chips, popcorn, trail mix, pretzels, a salad bar, granola bars, nuts, jelly beans, and more.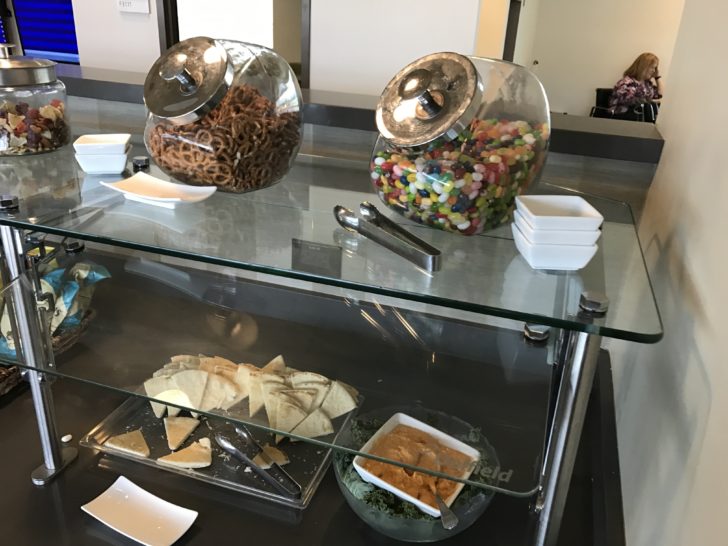 I made myself a little tray of nuts and grabbed a granola bar for the road. I dropped them off at my table, and I went to the bar. I was really impressed with the selection! The bar has two beers on tap. One was a Sierra Nevada Seasonal IPA, and the other was something that sounded less interesting to me. As I was deciding which to get, the bartender also pointed me to the bottled beer selection.
I was impressed! I actually don't think I've ever been to a lounge with that much of a beer variety. Does one exist? Let me know if so. There were also four wines to choose from. If you're more of a soda person, this lounge has a self-serve fountain, another thing that I appreciate. While having a fridge full of cans is even better, I always feel bad asking a bartender to refill my diet coke so many times in those tiny little glasses they have at most lounges. Making it self serve is much better.
After wandering around and checking the space out a bit more, I went back to my seat and relaxed with a beer while getting some work done. I'd be lying if I said I didn't go back for a couple more.
While the Club at SJC isn't on the same level as a Centurion Lounge, I really love having this option when I fly out of San Jose next time. I'm typically an SFO guy, but if I have to be in the South Bay for work, this lounge will definitely make my travel experience afterwards a bit more enjoyable. Have you been? What did you think?