Yesterday, The Alaska Air Group (Alaska Airlines Inc. and Horizon Air Inc.) announced that they have accepted $992 million in aid from the Federal Government.  This is the first request for aid made by the Alaska Air Group.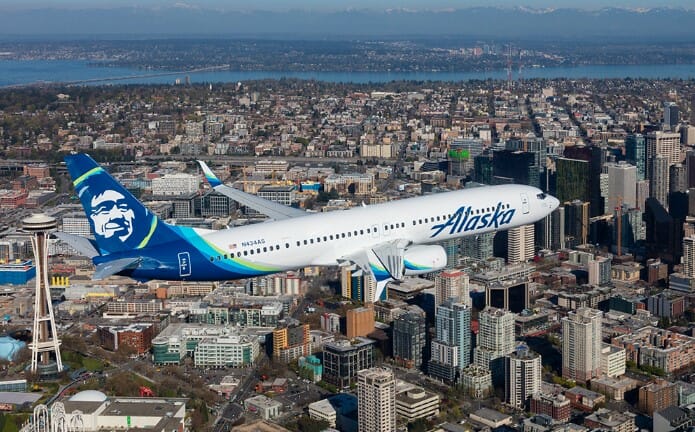 What Alaska Is Getting
We are in unprecedented times where over 90% of passenger flights have been cancelled and over 1,000 aircraft will be parked, some permanently.  The airlines are in the biggest financial test of the 101-year history of airlines.
The Alaska Air Group had agreed in principle yesterday to the general terms of the Payroll Support Program (PSP) in the Coronavirus Aid, Relief and Economic Security (CARES) Act.  This agreement with the Treasury Department was necessary before the $992 million in aid could be disbursed.  The formal agreement is expected later this week so the funds can be released to the airline.
The funds will be used exclusively for the cost of employee payroll and benefits.  This funding is expected to cover 70% of the budgeted costs through September 30, 2020.  The basis of this amount was similar to costs reported by the airlines for the period of April through September, 2019.
Brad Tilden, Chairman and CEO of the Alaska Air Group had this to say:
"We are grateful for and humbled by this support.   This aid will bring immediate and sorely needed liquidity to the airline industry and will enable all airlines – including Alaska – to continue serving our customers and to keep our people at work, while we adjust to an extraordinary reduction in demand.  All of us at Alaska want to express our deep appreciation to President Trump and Vice President Pence, to Secretaries Mnuchin and Chao, to those working at the department of the Treasury, and to all members of Congress – especially members from Alaska, Washington, Oregon, California, and other key states we serve. These leaders have worked around the clock to support the aviation workforce and our nation's critical transportation infrastructure."
"Our employees are tremendous, serving our guests and running a safe and reliable operation every day.  They've continued to do so through this crisis, to safely fly those who need to travel, deliver critical groceries, supplies, and other cargo across our network, including remote parts of Alaska. This federal support enables us to take care of them through a time of near-zero revenue. They have faced challenges before and come out stronger. And we have every expectation that we will do so again this time."
What Alaska Is Giving
The CARES Act funding comes with conditions.  $267 million of the $992 million is in the form of a loan and must be paid back to the Treasury.  The Alaska Air Group will give the Treasury Department the right to buy 847,000 shares of non-voting stocked valued at $31.61 per share.  Additionally, the Alaska Air Group agrees to:
No involuntary furloughs or changes to pay through September 30, 2020,
Suspension of paying stock dividends and prohibiting share buybacks,
Executive compensation limitation through March 24, 2022 and
Maintaining flights to existing cities in their route structure that is reasonable and practical.
Maintaining service to existing cities is a unique problem for Alaska Airlines as many cities only have once-daily service.  Unique problems require unique solutions and Alaska Airlines has solved the minimum service issue by using tag flights.  Tag flights will serve two or more destination airports from a single flight.  Here are some of the tag flight pairings:
Seattle (SEA) to Dallas (DFW) then to Houston (IAH),
Seattle (SEA) to Raleigh-Durham (RDU) then to Charleston (CHS),
Seattle (SEA)  to Minneapolis (MSP) then to Columbus, OH (CMH),
Seattle (SEA) to Pittsburgh (PIT) then to Baltimore, MD (BWI) and
Seattle (SEA) to San Luis Obispo, CA (SBP) and then to Santa Barbara, CA (SBA).
What's Next
Alaska and Horizon also communicated to the Treasury their intent to apply for $1.128 billion in federal loans through a separate program authorized under the CARES Act. This process is still ongoing. Funds loaned to Alaska and Horizon through this program will support short-term liquidity needs and must be paid back in full.
Final Thoughts
The flying landscape has done a total 180-degree turn in the last couple of months.  When the airline industry returns, it will most likely have a different look.  The airline industry is initially projected to return to about 70% of what it used to be.  There have been over 1,000 aircraft that are parked, many will not return to service.  There is the human cost.  There are flight crew members, especially pilots that have flown their last flights.  American Airlines has extended an early-retirement exit for pilots that are 62 to 64 years old.  Age 65 is the mandatory retirement age for pilots.
Returning back to the friendly skies will depend on a number of factors:
How long travel restrictions will be in place,
How long social distancing will be the norm,
How long it will take business travel to return,
How long it will take for the public to accept flying again and
How bad the unemployment situation will be.  Unemployed people generally don't travel by air.
Of all of the factors, the biggest factor is unknown, when will this all end.