Alaska Airlines Premium Class offers a better flying experience in the forward part of the economy class cabin. Premium Class is truly just economy class with extra leg room and some freebies. Alaska Airlines Premium Class upgrades are complimentary for Alaska Airlines elites at either booking or check in depending on elite level and fare class. 100K and 75K can always select a Premium economy seat during booking. Except when flying on a Saver Fare.
As a top tier elite, my upgrade rate to first class on Alaska Airlines has been nearly 100% since January. Yet on this work trip, a last minute same day change downgraded me from first class to premium class. I opted to do a same day change, so the downgrade was expected. It also allowed me to try out Alaska Airlines Premium Class on a shorter flight.
Alaska Airlines Premium Class Experience
Premium Class is really just economy class. Some airlines call it Premium Economy. It's all the same. Do not expect a special seat, customized treatment, or any type of upgraded experience when flying premium economy, if you want that fly First. In Premium Class expect an economy class seat with extra leg room. It's like flying the exit row, without the responsibilities!
The seat is the standard economy class seat. On the Boeing 737 the seat is 17 inches wide with 35 inches of pitch. This is similar to regular economy class which is 17 inches wide and has 31 inches of pitch. On the Alaska Airlines E-175, the most comfortable aircraft in the fleet in my opinion, the economy class seat is wider. On the E-175 premium class seat is 18.25 inches wide and has a pitch of 36 inches. The seat is truly wider and has more leg room on the e-175 vs the 737. Making Premium economy on the e-175 overall more comfortable.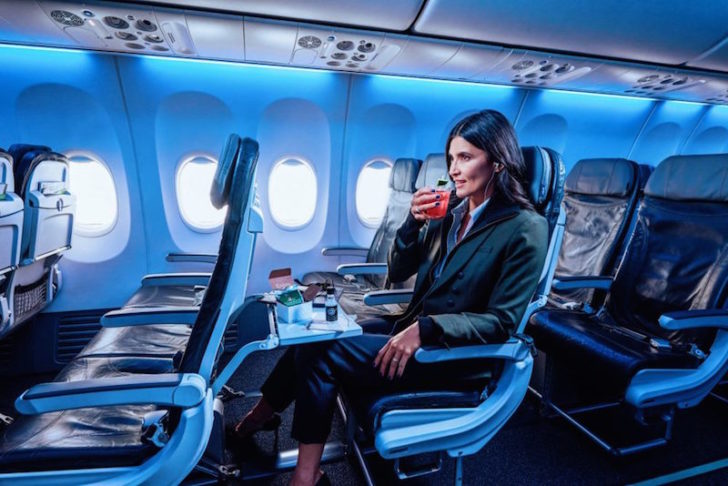 Other features of the premium economy seat which makes it different or more unique than regular economy, nothing. Actually, the seat is in the forward part of the economy class cabin, which means quicker boarder and disembarking the aircraft, but nothing else. In addition, Premium Class passengers board after elite and first class customers and before the rest of the economy cabin. As you're in the first few boarding groups, you're almost guaranteed to have space for your check bags.
Premium Class does offer a free snack and complimentary alcohol. Each passengers receive a free snack box. The 1.36 oz snack includes a small packet of almonds, Goldfish crackers, and a piece of Ghirardelli chocolate.  A snack box has been replaced by a prepackage snack. Usually this is a cliff bar or something similar. Even on longer flights to Hawaii or the east coast the snack is the same. It's nothing substantial. Travel Tip: Do not board hungry.
On my flight I knew drink service was only done once, so I asked for a double Woodford on the rocks. The flight attendant gladly severed me a double with a smile. Under new service standards, Alaska Airlines offers complimentary drinks during cart service only.
Is Premium Class Worth the Money?
Is Premium economy worth the extra money for non-elites who do not receive complimentary upgrades? That is really dependent on who you ask. The extra legroom is nice, especially for taller individuals. Yet the cost of upgrade can range from $15 and sometimes as high as $150 depending on the route. Is four extra inches of legroom and complimentary alcohol worth $150? Again, it depends on how tall you are. Drinks are available for purchase for around $8.
In addition, to the added leg room, one could easily drink their way through a flight and compensate for the upgrade cost. On my flight from Seattle to Fresno I had two drinks. That alone would have cost $14. Someone could theoretically drink 4 drinks on the 102 minute flight to compensate for the $27 upgrade cost. The snack, well that doesn't really count for much. It is worth $1 or $2 at best. Do not board the flight hungry, unless you want to buy a snack box, meal, or fruit and cheese plate. The Premium Class snack is not substantial.
So is again, is Alaska Airlines Premium economy worth it? Maybe, but it depends on how much you value leg room and if you drink alcohol. Otherwise the standard economy seat adds very little value to flying.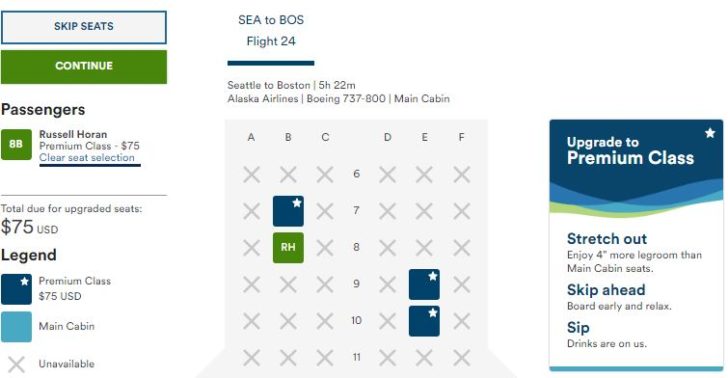 Final Thoughts on Premium Class
Premium Class is a nice addition to compensate for not being upgrade, but the decrease of four first class seats on the 737-800 for premium economy is an overall lost. I would rather miss an upgrade occasionally than be upgraded every time to premium class. First class is truly where the comfort and the better flying experience is at. Premium class is just economy class. Not to mention as an Elite, most benefits of premium class were already offered in a regular economy class seat.
Premium Class is not all that premium, but I guess it's a decent middle ground product between basic economy and first class. Unlike Virgin America, the free snacks are extremely limited and the exclusive perks are missing. It will be interesting to see how this product evolves over time and with the merger. Yet for  now, know that Premium Class is nothing but extra leg room economy with 1.36 ounce snack and free booze.