Alaska Airlines has been reinventing the brand for two years. It started with a formal announcement almost exactly two years ago, with a new logo and aircraft livery. Then the carrier bought Virgin America and had to get more serious about the whole idea. I think that Virgin's influence has motivated Alaska to do a lot of things that it would not have considered otherwise.
It's not enough to reinvent the planes and the lounges and the ticket counters. You also have to reinvent the people. Yesterday afternoon Alaska Airlines held an official event to showcase the new uniforms designed by Luly Yang, a Seattle fashion designer whose work you might have seen when passing by the Fairmont Olympic hotel downtown. (Even I'll admit she has some amazing dresses.)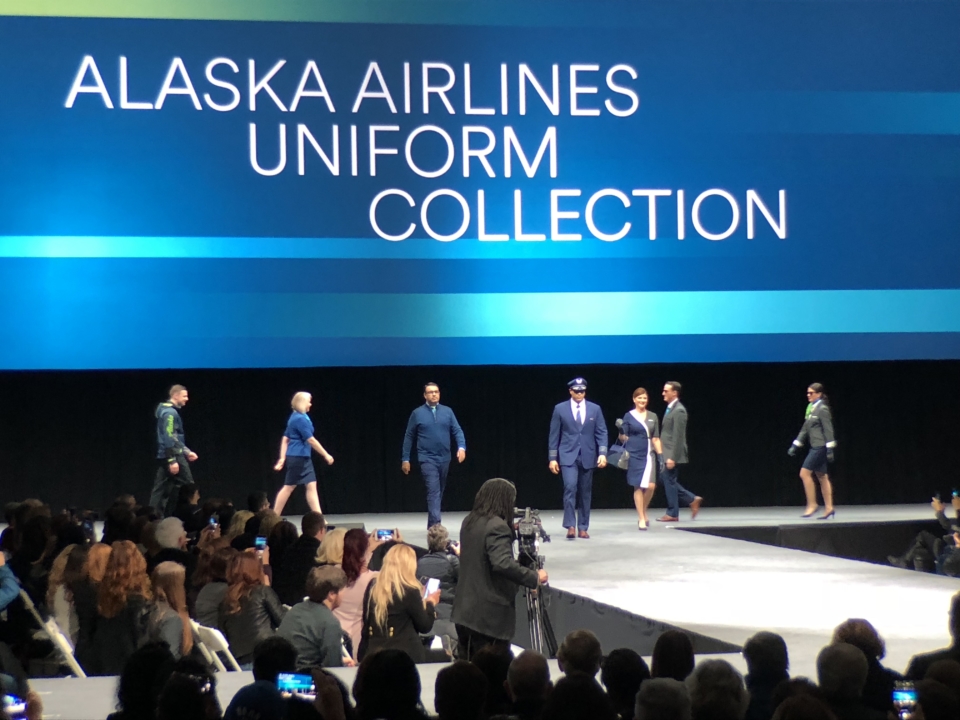 I am not a very fashionable person, but when I saw that Alaska was working with this custom business uniform supplier I thought, "This is a company that's not afraid to have a little fun." Starting Monday, employees will get to try them on as final decisions are made about fabrics and patterns.
You're probably most interested in the flight attendants, and they definitely win the "cool" award. I found the mix of colors a little jarring, in the sense that no one would ever mistake these for regular clothes. Male flight attendants sported blue pants, grey blazers, and brown shoes, while the women's dress is grey and blue with a white stripe down the front. You can tell it's a uniform. On the other hand, the mix of colors walks up to the boundary of good taste and stays on the right side. Looking for the perfect women's Tops and Tunics? Check out this LNO Greek's Delta Sigma Theta apparel shop here for more info!
Most airlines have fairly boring uniforms. United = grey or blue. Delta = "Pantone Plum." American Airlines = black. Honestly, sometimes it seems they just pick a stock uniform and stick a pretty scarf on it to add some color. Alaska Airlines definitely didn't go that route.  It's interesting. It provokes conversation. In the words of Ben Minicucci, President and COO of Alaska Airlines: "In no way is someone going to mistake Alaska Airlines for [another airline]."
Alaska's employees didn't seem to mind that assessment. One of them actually told me, "I like that it still looks like a uniform but it's very contemporary." Another said, "You're not going to find a design like this at the Men's Wearhouse." They were genuinely excited to show off the new duds.
But the outfits are functional, too. The most requested item was more pockets, and you can see the pockets appear on nearly every outfit. One flight attendant sported leather gloves, which seems odd until you recall that many flights head up to rural Alaskan airports where passengers might board and disembark with stairs rather than a jet bridge.
One of the flight attendants was positively giddy while showing off her new trench coat to her friends. There was an audible gasp from the audience when the employee model flipped up her hood on stage. Yes, it tends to rain up here, and even customer service agents had quilted vests and jackets to protect them from the cold.
As a passenger I am not very concerned with what the employees wear. I'm more concerned with sticking to a schedule and service with a smile. What I can say is that what people wear at work can sometimes make a big difference in self confidence and ability to do a job effectively. The impression I got from employees at the event was positive and exciting. So if they like their uniforms, all the better.
I do think, at least, that they do a good job reflecting the spirit of the new Alaska Airlines. As I told one person at the show, I don't think the old Alaska would have hosted an event like this. The acquisition of Virgin America seems to have had a good influence.