American Airlines has chartered through several impressive years of growth following its exit from Chapter 11 Bankruptcy and merger with US Airways in 2013. This year, the world's largest airline will offer one of the most expansive route networks in company history from its global hubs in Charlotte, Chicago O'Hare, Dallas/Ft. Worth, Los Angeles, Miami, New York JFK, and Philadelphia to destinations in Europe, Asia, Latin America and Australia.
That being said, it is important to know which aircraft is flying which route from the primary gateway hubs: CLT, ORD, DFW, PHL, MIA, LAX, JFK, and RDU, which I will outline in a separate blog post. Though American is working to standardize its in-flight hard products, there are some variances among them, and this guide may be helpful in travel planning if you're seeking to sample a specific product among them (i.e. Premium Economy, Global First Class, Main Cabin with Personal TVs/Audio-Vidio on-Demand, etc).
If you want to familiarize yourself with the product variations on American's widebody and long-haul equipment for this summer, then it's helpful to know what to expect. Here is a guideline for the in-flight products you can expect on American Airlines' Flights this summer, based on aircraft type:
Boeing 777-300ER
Number in Fleet: 20
Average Age: 4.04 years
Markets Served: Hong Kong, Sao Paulo, London Heathrow, Buenos Aires, and some domestic runs like Dallas/Ft. Worth to Miami
First Class
American's 777-300ERs are the only aircraft in its fleet that offers Flagship First Class, with 8 flat-bed seats arranged in a 1x2x1 configuration in rows 1 and 2. These come with the swivel seat features that were available on American's old First Class product on the 777-200ER. Seat pitch is 64″ in the upright position, and 78″ when fully-flat. The width measures at 20.5″ and is the same width as the seat in Business Class on the same aircraft. All of the 777-300ERs offer personal TVs with Audio-Video-On-Demand (AVOD) in all cabins, along with WiFi (for purchase) and power ports.
Business Class
The same aircraft has 52 seats in Business Class arranged in a 1x2x1 configuration, thereby giving every seat direct aisle access and half of them with windows. These seats are the reverse herringbone variety, which is also offered on Americans' Airbus A321T transcontinental routes between New York and San Francisco/Los Angeles. The product is pretty fantastic, as I flew it from Dallas/Ft. Worth to London Heathrow in December 2016, which you can read here.
Premium Economy
Per American's Airline Fleet Intel wiki (disclaimer: this is not owned or updated by American, just people who follow the fleet upgrades), the 777-300ERs will be reconfigured with Premium Economy between December 2017 and June 2018, but so far, only 1 of these frames has received the retrofit (tail number N721AN, as of the time of this writing). Currently, in the Main Cabin, American's 777-300ERs feature 250 seats, of which 44 are Main Cabin Extra (this offers slightly wider seats at 17.1-18.1 inches, in a 3x3x3 configuration with 36″ pitch, versus Main Cabin, which follows a 3x4x3 configuration with 16.2-17.1″ width and 31-32 inch pitch, per seat guru).
To accommodate the implementation of Premium Economy, Main Cabin seats will reduce from 250 to 216 seats, and 28 Premium Economy seats will be installed. Main Cabin Extra will still be offered but at only 28 seats instead of 44.
This results in a net reduction of six seats between the new configuration and old configuration (8+52+28+216 = 304) vs. (8+52+250 = 310). Presumably, Premium Economy will be in a 2x3x2 configuration across 7 rows, but the specs on the 777 have yet to be released.
Main Cabin and Main Cabin Extra
American's 777-300ERs came out of the factory with 10-abreast seating in Economy class (3x4x3) seating, but 9-abreast (3x3x3) seating in Main Cabin Extra. All of these seats have AVOD, access to WiFi, and power ports. That said, with the Premium Economy class retrofits coming to the 777-300ER, the jury is also still out on how Main Cabin Extra will be configured, though some websites believe it may become 3x4x3 abreast.
One enhancement for Main Cabin Extra customers, however, is that now they will now receive complimentary beer, wine, and spirits on all international flights, whereas previously, these customers only received complimentary beer and wine in MCE (same goes for Main Cabin customers). They will also get reserved overhead bin space.
Boeing 777-200ER
Number in Fleet: 47
Average Age: 17.22 years
Markets Served: Amsterdam, Barcelona, Paris, Rome, Madrid, Frankfurt, London Heathrow, Honolulu, Kona, Kahului-Maui, Tokyo Narita, Santiago de Chile, Rio de Janeiro, Sao Paulo, Buenos Aires, Milan, and some domestic routes.
Business Class
There are two versions of the Business Class seat on American's 777-200ERs. One is the B/E Aerospace Super Diamond seat, which is the same business class seat that is offered on American's 787-9 aircraft. These flat-bed seats come with 60-61″ of pitch, and measure at 21.9 inches wide, in a 1x2x2 configuration. On the 777s they serve, there are 37 Business Class seats in total. There appear to be 28, or slightly more than half, of the 777s that offer this configuration.
The other seat version is the Zodiac seat, which is 20.8-21.9 inches wide and has 60-61 inches of pitch in a 1x2x1 configuration. It is the same seat that is used on American's 787-8 aircraft. The remaining 777-200ERs feature this seat, although American terminated its contract with Zodiac in 2015 because the supplier was taking too long to deliver the new business class seats for these planes.
Premium Economy and Main Cabin
As of this posting, over 75% of the 47 777-200ERs have been retrofitted with Premium Economy. There are a total of 24 Premium Economy class seats on these planes, and they have a 2x4x2 layout. They also have 19 inches in width, and 38 inches in length.
American intends to have all of its 777-200ERs fitted with Premium Economy by June 2018.
In the Main Cabin, American has 66 Main Cabin Extra seats (out of a total of 212) for aircraft configured with Premium Economy, and 55 (out of 215) for aircraft without it. This is a great customer experience improvement by providing extra pitch for more passengers seated in the back. However, the downside is that American's 777s are now 10-abreast (3x4x3) in the Main Cabin, whereas previously they were 9-abreast (2x5x2). All 777-200ERs feature Wifi, Power, and AVOD at each seat.
Airbus A330-300
Number in Fleet: 9
Average Age: 17.52 years
Markets Served: Athens, Rome, London-Heathrow, and Venice
Business Class
The Airbus A330-300 inherited from US Airways, will not be receiving any salient product upgrades as these birds will be retired by the end of 2018. They feature the old U.S. Airways Envoy Class product in the Premium Cabin, which I flew from Paris CDG to Philadelphia a few years ago. This is a fully lie-flat seat that has 180-degree recline, with 48-49 inch pitch (upright) and 76-80 inch pitch while flat. It is 20.5 inches in width.
Main Cabin
As there are no plans to install Premium Economy class on these planes, the Main Cabin configuration will remain with 263 Economy Class seats in a 2x4x2 configuration. Of these, 16 are Main Cabin Extra seats with 35-26 inches of pitch and seat width of 17.8 inches. In theory, there is not a "real" MCE on these ex-US Airways birds, as these seats are merely bulkhead seats that have been branded as MCE for having extra legroom.
Airbus A330-200
Number in Fleet: 15
Average Age: 6.2 years
Markets Served: Barcelona, Paris, Dublin, Frankfurt, Madrid, Manchester, Munich, and some domestic runs such as Philadelphia-Los Angeles
Business Class
Same product as on the Airbus A330-300, except with 20 seats in a 1x2x1 configuration across five rows.
Premium Economy
All fifteen aircraft are configured with Premium Economy (21 seats in total) arranged in a 2x3x2 configuration. The retrofit was completed in December 2017.
Main Cabin
These birds feature 206 seats in Economy Class, with over a quarter of them (54) offering Main Cabin Extra. They all have WiFi, power ports, and individual AVOD personal TV screens at each seat. With a 2x4x2 configuration, this aircraft arguably offers the most comfortable ride in the Main Cabin among all of American's long-haul fleet.
Boeing 787-9
Number in Fleet: 14 (8 on Order)
Average Age: 0.87 years
Markets Served: Seoul, Beijing, Shanghai, Tokyo Narita, Tokyo Haneda, Sydney, Sao Paulo
Business Class
These planes offer 30 seats in Business, arranged in a 1x2x1 configuration, featuring the same B/E Aerospace Diamond seat as depicted above in the 777-200ER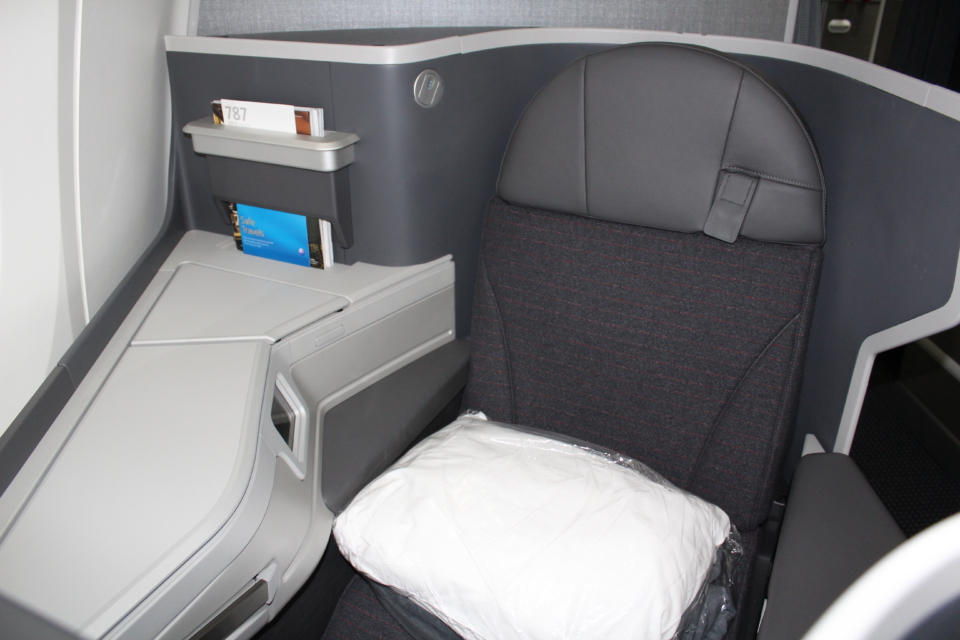 Premium Economy
The 787-9 was American's debut aircraft of its first true premium economy (and the first U.S. carrier to offer it on international flights). There are 21 seats of 3 rows, arranged in a 2x3x2 configuration.
Main Cabin
There are 234 seats in the Main Cabin, and only a small proportion of them offer Main Cabin Extra (36). The seat width is the same between Main Cabin and MCE, at 16.2-17.2 inches in width. American's MCE product offers 4 extra inches of pitch (35 vs. 31 in the Main Cabin) in a 3x3x3 configuration.
Boeing 787
Number in Fleet: 20
Average Age: 2.29 years
Markets Served: Barcelona, Paris, Dublin, Rome, Manchester, London Heathrow, Beijing, Shanghai, Tokyo Narita, Venice
Business Class, Premium Economy, and Main Cabin
These planes feature the same Zodiac seats as offered on some of the 777-200ERs (28 total in a 1x2x1 configuration). The carrier plans to install Premium Economy on the 787-8s starting in March 2018. In Economy class, there are 143 seats, offering 16.2-18.1 inches in width, and 31-33 inches of pitch. Of these, a generous 55 (over 1/3) offer Main Cabin Extra.
Boeing 767-300ER
Number in Fleet: 23
Average Age: 19.17 years
Markets Served: Amsterdam, Budapest, Paris CDG, Belo Horizonte, Guayaquil, Madrid, Lima, Lisbon, Montevideo, Prague, Zurich
Business Class
American has retrofitted its 23 767-300ERs with a new business class cabin, using a layout and seat that is very similar to Delta One on its 767-300ER fleet. These seats recline to a fully-flat position, and the pitch is 60″ and width is 19.8 inches. There are 28 Business Class seats on the 767-300ER. Noticeably, this is American's only Premium cabin product on its widebody aircraft that doesn't follow a herringbone design.
There are no personal TV screens in Business Class, but American does provide tablets to customers seated in this cabin on long-haul flights, which are loaded with entertainment content.
Main Cabin
The 767s do not offer in-flight entertainment on personal TVs in the Main Cabin. However, all but 6 of the 23 767s now offer in-flight WiFi, which should mean that passengers can view American's full entertainment programming using an app on their mobile devices. There are 21 Main Cabin Extra seats on the 767, and 181 Main Cabin seats in total.
Boeing 757-200
Number in Fleet: 35
Average Age: 24.45 years
Markets Served: Anchorage, Brasilia, Reykjavik, Lima, Dublin, Edinburgh, La Paz, Santa Cruz, Shannon.
Business Class
American is retrofitting Business Class on its 757s used for international flights to markets to Europe or deep South America. It has an old angle-flat seat that is slowly being phased out. This version of the aircraft has 12 seats with 60″ of pitch and are 19.5″ wide. Of the 35 757s in the market, only 10 of them still have this older configuration. The vast majority of them are ex-US Airways 757s.
The new versions of the 757 have the B/E Aerospace Diamond seats, and these have 16 seats arranged in a 2×2 configuration. The seats are flat-bed, with 58-59″ of pitch and 21″ of width. There will not be individual TV screens, but customers will receive iPads with entertainment content loaded onto them.
Main Cabin Extra and Main Cabin Class
The new 757s will feature an actual Main Cabin Extra class, whereas the older versions simply had Main Cabin Extra seats that were "branded" due to having extra legroom in emergency exit rows. The older 757 sat 176 customers in Main Cabin with 17 MCE seats. The newer version will sit 160 passengers, but 52 of them will have Main Cabin Extra, in an actual section.
Unfortunately, only 9 of these birds offer WiFi, and American will not be installing personal TVs in the back, similar to its 767s. However, the 757 with the serial number N203UW has been installed with Gogo's new 2KU WiFi, which is supposed to have a much stronger speed.