­­American Airlines has been working hard to refresh their entire fleet and their newest wide body planes, the 777-300ER took to the skies last spring with American's new Livery. The newer plane featured an entire cabin refresh and included three dedicated cabins. First class suites has true lay flat seats with all aisle access business class cabin, while economy class cabins are split into two sections, with three rows of AA main cabin extra and 2 dozen or so rows of standard economy. The new plane offers all the bells and whistles and is a HUGE upgrade to the older 777-200ers and 767 that American uses on long haul routes.
I was ticketed in the main cabin on the outbound and thanks to my elite Status I was able to secure a main cabin extra (MCE) aisle seat for the flight at no additional charge. Elites can get Main cabin extra for free while those without status must pay extra for these seats which come with extra legroom. Main Cabin extra is American Airlines economy. Service is the same except these are more forward preferred seats on long haul flights and the exit rows on some aircrafts.
American Airlines Main Cabin Extra Boarding
As I waited in the club, I was among the last 30 people to board the plane when they made a PA announcement for final boarding for the flight to London. When I reached the gate, the partitions for boarding were in a "Y" shape, priority boarding to the left and general boarding to the right. This made boarding a breeze and freed the gate area from congestion. This is a smart boarding pattern and I wish AA would use this at more gates, as it's much more effective than the two parallel lines that usually become a mob of gate lice. I boarded the plane using my mobile boarding pass, No passport check (Odd!), and made my way towards the plane. The line was moving slowly but this is typical when one is at the end of the line. As I got to the plane, two friendly flight attendants greeted me with big smiles and welcomed me aboard; they directed me to the far side of the aircraft towards my seat.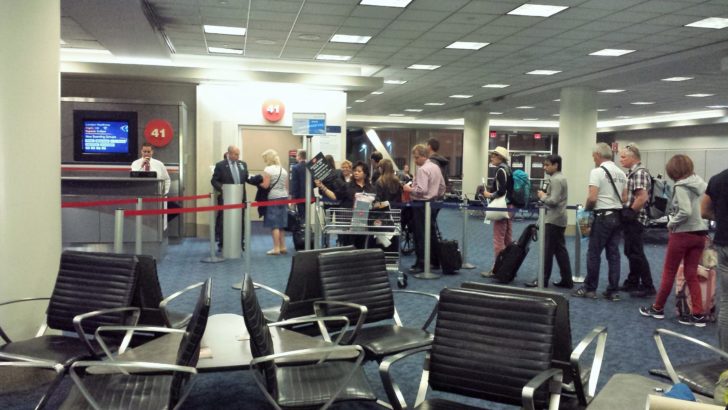 Y-shape boarding lanes
Boarding is done through door 2L, meaning that all passengers receive a glimpse of the inflight bar in business class and pass through the large majority of the business class cabin. The hopes of the upgrade were completely gone at this point and I was left to only imagine what it would be like to lay my seat flat and enjoy my private suite on this route. Instead, I enviously walked to the MCE cabin, stored my bags in the large overhead lockers and plopped down in my seat 17H. After people were seated, the FAs passed through the cabins handing out immigration forms for the UK; the safety video played and we were on our way to London. One great thing about the plane though was the IFE was on from the minute we boarded and could be used throughout the boarding process! Someone didn't have to wait until the plane was in the air to start watching movies.
Picture snapped while Walking through Biz Cabin
AA Main Cabin Inflight Service
It is absolutely true that an FA could make or break an experience for you and in this case the FAs made flying MCE a wonderful experience! About 45 minutes into flight the FAs passed through the cabins offering drink service. I asked for a diet sprite and a glass of wine. Beer and wine are complimentary on long haul international flights on AA and I was planning on taking full advantage of the free wine to help me sleep.  I was handed a flute of wine and a full can of diet sierra mist. About 20 minutes later, the same FAs were back with dinner service. The older woman working my side of the cabin was clearly not used to working the economy class cabin and I even asked her if she usually worked first or business. I could just tell by her mannerisms that she was not used to economy. She was extremely professional and sweet and extra attentive to details. She offered each passenger their choice of cheese ravioli or a meat dish (I'm sorry I do not recall what the meat dish was) and then actually removed the cellophane cover from the hot dish and removed the dinner roll from its individually wrapped bag. The process took more time, but the customized service was greatly appreciated. She confirmed my suspicion and told me she hasn't worked economy in almost 10 years! While she was busy serving customers, the young handsome flight attendant (I was shocked to see a 20 something male working long haul on AA, this is rare!) Fabio refilled customers' drinks and dropped me another bottle of wine without having to inquire.
Drink & DInner – sorry pictures were dark, cabin lights were dimmed
I finished my dinner, which was actually pretty good, finished my wine, downed my sleep water (water with melatonin and other natural sleep aids) and fell asleep watching Enders Game. To my surprise, I woke up 7 hours later, just 2 hours before landing in London. I had slept great in main cabin extra! I am not sure if I was exhausted from the two hour motorcycle ride from San Diego to LAX, if it was the alcohol, the sleep water, or most likely a combination of all three, but I only woke up because the passenger next to me climbed over me in my sleep and on the way back to his seat his foot caught my chin as he leaped for his seat! Darn me for being the skinnier of the two on the aisle, making it easier for him to climb over me than the patron to his left.
About 30 minutes after waking up and 90 minutes before arrival in London, the FAs slightly raised the lighting on the Boeing sky interior to emulate sunrise and started to serve breakfast. Breakfast was less exciting than dinner, but included yogurt, a warm croissant, jam and butter and choice of coffee, juice, or water. Breakfast was cleaned up 30 minutes prior to our arrival and before I knew it we were on the ground in London. I was refreshed and quite comfortable for sitting on such a long flight in coach!
Entertainment, Amenities, Seats
The new 777-300ER,  or known by 777W since that is how AA markets the plan is a beautiful aircraft! AA is the first US Airline to fly this newer version of the 777 and have fully loaded this plane with everything one would want for a long haul flight. In the main cabin (and MCE) each seat has an HD TV offering hundreds of hours of video entertainment, games, shopping, and more. The TVs have USB ports and iPhone ports for video sharing directly under the TV in front of you. This makes it easier to connect devices and doesn't require people to reach under the seat. The power ports are still under the seats, but it's great to have universal AC power port onboard! The screens are highly reactive and easy to use, either by touch screen or the remote that is in the seatback and extends via extension cord.
Pictures from AA website displaying the 777w – they really look like this!
Passengers in main cabin extra are configured in a more spacious cabin (more similar to the 777-200) and are 3x3x3 with a seat width of 18 inches and 36 inches between seats. I was more than comfortable in my seat, with room to stretch my legs. In fact, I had so much room that I was able to keep my laptop bag comfortably at my feet the entire flight! The MCE cabin is almost on par with British airways premium economy cabin on the A380. Furthermore as it's sectioned off from the rest of the cabin, I could easily see AA reconfiguring this as a 2x3x2 cabin in the future and market it as Premium Economy. I will say though that the new slim line seat is not nearly as padded as the older seat. It does provide more leg room, and the folding tray table is great, but when I woke up from my 7 hour sleep, my bum was definitely slightly numb! If I was a true doublewide flier (or person of size) this seat would not provide the padding needed. I have no clue how the economy class fliers faired in the 3x4x3 configuration in rows 20-44.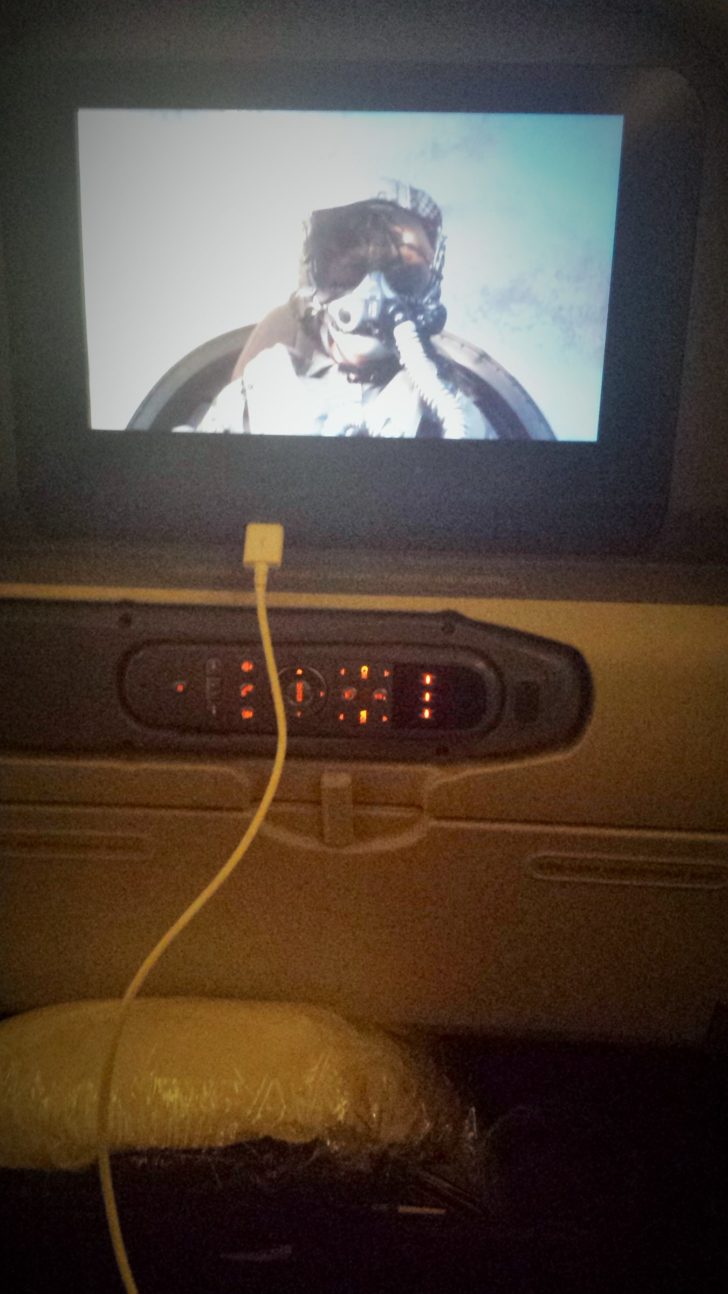 My tv & usb port charging my phone, pillow & blanket in seat pocket
As far as on board amenities are concerned, those seating in the main cabin were not offered anything special, but instead AA meets the industry standard of providing customers with headphones, blankets, and pillows. These items were on every seat when boarding and saved the FA time since they didn't have to hand them out and offer them to each customer.
Main Cabin Extra Final thought
The 777w is a BEAUTIFUL plane and I was very comfortable in main cabin extra! I would definitely fly this route again and would fly the 777w any day of the week. This was my first flight with AA overseas and I was very impressed with the service and the hard product offered on this plane. I have flown other AA internationally equipped planes, including the 757s and 767-300 and neither was as nice as the new 777w. AA really has a done a great job on this plane! As an old Delta flier I am very happy with the switch that I have made to AA.
How to Book This Ticket
You too can fly on the New American 777w on many international routes. AA is now serving multiple destinations with this plane and the number of locations will continue to grow as more new planes arrive. Here are the current 777w routes as of March 2014:
Where Is The 777-300 Flying Now?**
Departure City

Arrival City

Start Date

Flight Number

Departure Time

Arrival Time

From U.S.
Dallas/Fort Worth (DFW)
London (LHR)
Available now
50
6:35 p.m.
9:35 a.m.
New York (JFK)
London (LHR)
Available now
100
6:10 p.m.
6:20 a.m.
New York (JFK)
Sao Paulo (GRU)
Available now
951
10:20 p.m.
10:55 a.m.
New York (JFK)
London (LHR)
Available now
106
7:25 p.m.
7:35 a.m.
Los Angeles (LAX)
London (LHR)
Available now
136
6:35 p.m.
1:15 p.m.
Dallas/Fort Worth (DFW)
Sao Paulo (GRU)
Available now
963
8:25 p.m.
10:30 a.m.
To U.S.
London (LHR)
Dallas/Fort Worth (DFW)
Available now
51
9:45 a.m.
2:05 p.m.
London (LHR)
New York (JFK)
Available now
101
10:45 a.m.
1:40 p.m.
Sao Paulo (GRU)
New York (JFK)
Available now
950
11:05 p.m.
6:05 a.m.
London (LHR)
New York (JFK)
Available now
107
5:05 p.m.
8:15 p.m.
London (LHR)
Los Angeles (LAX)
Available now
137
12:00 p.m.
3:30 p.m.
Sao Paulo (GRU)
Dallas/Fort Worth (DFW)
Available now
962
11:55 p.m.
6:20 a.m.
**Schedule and departure/arrival times are based on current or nearest flight and are subject to change.
The 777w is also slated to serve DFW-HKG starting this summer and MIA-GRU service starting November 2014. An updated list can be found on American's Fly777 website
If you would like to book a ticket on this plane for free, you have multiple options, using either American Express Membership rewards points or Chase Ultimate Rewards via transfer partners or book with American Air AAdvantage miles, US Airways Dividend miles, or any other AA partner.  I have listed the prices below for the number of miles needed on this same exact route, LAX-LHR. Do note that British Airways and Cathay Pacific awards are distance based, which means flights on the 777w from JFK-LHR would require fewer miles.
| | | | |
| --- | --- | --- | --- |
| Airline | Economy One Way | Business One Way | First One Way |
| AA Advantage |  30,000 | 50,000 | 62,500 |
| US Dividend Miles | 30,000 | 50,000 | 62,500 |
| British Airways*+ | 25,000 | 50,000 | 75,000 |
| Cathay Pacific* | 40,000 | 70,000 | 105,000 |
*denotes American Express Membership Rewards Transfer Partner
**denotes Chase Ultimate Rewards & Amex Membership rewards Transfer Partner
As you can see AA, US and British airways offer the best booking options for Economy and business class tickets from the west coast and 40,000 Membership reward points would be enough for 1 way in coach ticket or almost enough for a round trip award if points were transferred to British Airways.