For our summer vacation trip to Europe, we booked economy class tickets, and secured upgrades to business class at booking. American Airlines in business class to Europe isn't exactly luxurious, especially in the current environment. Thankfully, the American Airlines 789 business class has the Collins Aerospace Super Diamond seat, so comfort and privacy made the trip very comfortable. I've flown in this seat a few times on American flights around the US, so it was nice to experience it on long haul flights.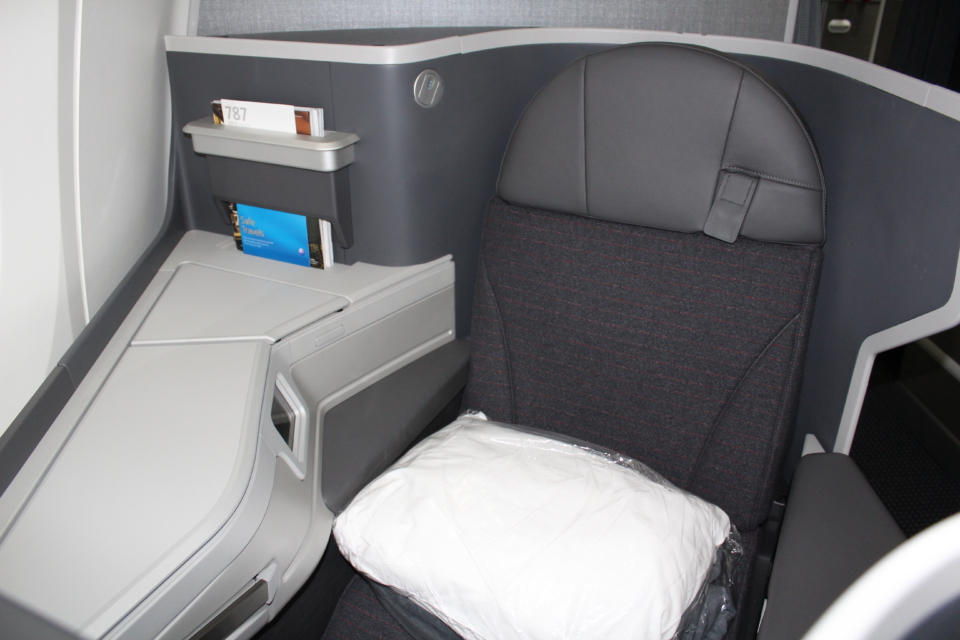 In this review, I will combine both trans-Atlantic flights we took, Chicago to London and Madrid to Dallas-Fort Worth. Both were on the Boeing 787-9, so we had privacy and space to spread out. The eastbound flight was mostly for sleeping, but westbound, the longer flight was during the day, and while I did nap, it was mostly spent reading and exploring the video selections on the in flight entertainment.
Before departure in Chicago to London Heathrow in American Airlines Business Class
I was very excited to finally be going on a long haul flight and a wide body plane.  The last one was in October 2019, so it has been a long while. My preference, especially on eastbound redeyes is later departures, and longer flights, as it helps maximize sleep, and adapting to the destination time zone.  No such luck here, as the flight schedules are still rather limited. Our flight is departing around 5pm from Chicago to London.
We arrived a few hours in advance with a pile of paperwork, including our Spain health form, UK Passenger locator form and negative COVID tests. We used VeriFly to manage all of these documents, but despite that, the process to check in is very manual. As an American Airlines Executive Platinum departing from Chicago O'Hare on an international flight, I used Flagship First Check in. There was one agent working and otherwise had the place to ourselves.  Service was very friendly, but our first interaction included, "You can't travel to Spain". I was confident that we could, as Spain opened up to vaccinated Americans as of June 7. This agent didn't have any updates on this despite being more than a week later. She called a supervisor working the gate, while I pulled up Timatic on my phone.  I was confident that I was correct, but was ready to show various data points saying we could.  The supervisor confirmed that we were good to go, and then the agent checked us in.  It still took some time to check us in, and check the documentation needed for our trip.  Finally we had our boarding passes, and the nice agent escorted us to the PreCheck lane where we quickly made it airside.
Flagship lounges are not yet open, so we waited for our boarding time in the Admirals Club.  Nothing special, and pretty busy.  But it was nice to relax a bit, and get some guacamole…
American Airlines Business Class 789 in flight Chicago to London
My daughter enjoyed the diverse kids options on the IFE monitor before we even departed. The back part of the cabin was full, but most of rows 1-3 seemingly were blocked. Premium economy was around 75% full, and economy seemed to be maybe 25% capacity.  Serving my aisle was a Chicago based, but Boston native, Andi.  To say she was a character would be a major understatement.  I usually like chatting up flight attendants, and enjoyed talking to her, though at times it was a bit uncomfortable when she delved into politics.  Usually a taboo conversation in polite company, but she clearly didn't mind.  Among the more memorable one liners she shared was the fact that she warned me not to be scared before arrival as she would look like twisted sister… Funny, and certainly a memorable experience overall.
The Super Diamond seat is comfortable, sitting, laying or lounging.  My particular seat had a loose aisle side armrest, and didn't seem to get totally flat, but the slight angle of the head made up for a somewhat thin pillow.  The early departure time meant it was difficult to sleep very early, and after meal service Andi (and others) mostly vanished.  I could have asked for more, but I didn't really need anything.
Meals from Chicago to London
First, the menus:
And the drinks list:
Meal service in pandemic times was served all at once, with all items wrapped.  This was expected.  Of course COVID is not spread on surfaces, so this is all unnecessary, but it is where we are now.  I ordered Salmon with Orzo. The appetizer is sun dried tomato tartar.  The dessert menu said Lemon tart, but what was served was maybe a caramel tart?  Not a particularly memorable meal. Tasted fine, but nothing special. I didn't have high expectations, so this was fine.  Before the main meal, I had some of the Lanson Black label champagne.  Andi warned me of plastic cups and no refills, only a new cup.  Not mind blowing, but around $50, a decent bottle for an American carrier.
Hoping to maximize sleep, I skipped breakfast, although I did eventually wake up to the noise in the cabin, and Andi did offer me a last chance for breakfast, but I passed, knowing I'd have time and better food options once on the ground at Heathrow. Was this flight luxurious?  Was service flawless?  No to both, but this was a mostly convenient, very comfortable first start to our trip.
We connected in London to Madrid, spent a few days there, then went to Croatia.  Review to come. For now, I'll talk about the westbound flight, which was from Madrid to Dallas, also on the 787-9 in business class.
American Airlines Business Class 789 in flight Madrid to Dallas
After a very nice vacation, it was time to head back home. For the westbound flights, we had many more options with space to upgrade, for less uncertainty with COVID requirements, we decided to keep things as simple as possible, which for us meant returning to Madrid. Our return journey was from Dubrovnik to Chicago with stops in Madrid and Dallas.  The latter 2 legs were upgraded at booking with systemwide upgrades.
The document verification process seems somewhat less complicated in Madrid, than on the outbound, although we uploaded our negative covid test results, and CDC attestation forms into Verifly, (both are required for inbound US flights), for some reason my wife never got a green check in the Verify app.  Once at the check in desk, the agent quickly processed our check in, when I noticed a familiar code on one of the boarding passes.  I figured it was my wife's, explaining why she wasn't approved in Verifly.
Nope it was me…SSSS, meaning extra security screening.  Argh.  The only difference I noticed was that I had to go through extra screening before boarding in Madrid.  Mostly swabs of my hands, shoes, and electronics.  It delayed my boarding a few minutes, and I was on my way.  Unclear why all 3 of us didn't get pre-approved in the Verifly app, although I'm not sure if it would have saved us that much time anyway.
We cleared security in Madrid, then took the train to the satellite concourse in Terminal 4 where the non-Schengen flights depart from.  We had a little time in the Iberia lounge there (link to Rocky's review), which was from a few years back, and other than social distancing markers, and not many passengers, the look is mostly the same.  Eventually we headed to the gate, where my family boarded while I was getting my secondary screening.
For the flight home, we all took window seats, figuring to enjoy the view, and the fancy 787 electronic window shades on the daytime flight.
Sat down to a IFE system reboot, which was concerning, but thankfully there were no issues once it started back up.  Long taxi at the massive Barajas airport complex, but finally we were off. Similar flight structure to the outbound, basically, welcome drinks and snack, main meal service, then a darkened cabin and minimal service.  On this longer, and daytime flight, the pre-arrival meal is a little more substantial.
Warmed nuts are no longer served, which is tragic, but these smoked almonds served with the initial drink service were pretty tasty. The drink service is the now standard AA cocktail service. This means handed a cup of ice, a can of mixer, and 2 minis of liquor.  Boring vodka soda with lime, and I only drank one of the minis, and added to my mini collection at home. In addition to the menu, waiting on the seat are Bang and Olafsen headphones and an amenity kit. I planned to do a review of the amenity kit, but later discovered the kit provided is the "new" This is Ground branded Business Class amenity kit launched in 2019.  With minimal premium cabin long haul flights in 2020, the warehouses are probably still well provisioned. At least the items are not yet expired.
Meal service from Madrid to Dallas
Menu on the westbound flight:
Drink list was the same, and I think is on all flights, but the wine list is slightly different, with a few more European wines.  For my main meal, I went with the prawn machbous, as usual, opting for spicier flavors when at altitude.  My wife had the chicken, and my daughter requested a child meal.
Prior to landing, I opted for the orzo salad.  This was excellent. Savory meals work for me onboard. Woodford too.
While neither meal was anything amazing, it was decent food, and I enjoyed both meals, even with the limited service offered.
Arrival in Dallas
We arrived early into Dallas, and quickly made our way to the Global Entry kiosks. It has been a while since I've done the Global Entry Selfie, and apparently I was supposed to take my mask off?
Not sure how the agent identified me, but in Dallas, all 3 of us approached the agent, were quickly cleared, then headed to baggage claim. Since I had SSSS on my boarding pass, I didn't have pre-check, I wanted to see if I could fix this.
First I attempted to reprint my boarding pass for my flight home at a kiosk, but was unable to. So I went to an agent. After some clicking I was handed a boarding pass, and I noticed it said Group 7.  I was in first class, so I knew this was wrong.  I was handed the boarding pass of someone named similar to me, Brenda.  Whoops!  Got this fixed, and no more SSSS, but still no pre-check.  Oh well.  Thankfully the checkpoint I used had minimal line, and I got through faster than my family did.  We visited the Admirals club before our flight, and then headed towards our flight to Chicago. The "Kodiak" first class seat is pretty sad compared to the excellent Super Diamond we spent most of the day in, but it was fine for the short flight to O'Hare.
By the time we arrived, it was very late on our internal clocks. And unfortunately baggage delivery was slow. My daughter didn't really take advantage of the flat bed on the long flight, but did sleep on the DFW-ORD flight.  Then she took a little catnap while waiting for bags.
Our trip was now over, but it was quite enjoyable, and I'll discuss other parts of it soon. Thanks for following along!