The silver lining (no pun intended) in AA's restructuring efforts are the scheduled deliveries of the Boeing 777-300ER aircraft, as part of the carrier's fleet renewal program to become more fuel-efficient. Most notably, AA will be the first US airline to operate this Boeing 777 series, which will represent a State of the Art overhaul (at least by AA's standards) to improve the customer inflight experience.
The new premium cabins in First and Business class will include fully lie-flat seats. In addition, the rear cabins will include a Premium Economy offering (a growing, popular customer choice and one that is profitable for the airlines) similar to Economy Comfort on Delta and EconomyPlus on United, as well as in-seat Audio-Video On-Demand and Wi-Fi capability from nose to tail.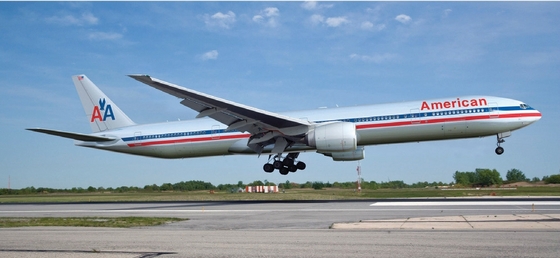 Not bad, AA! Combining this with the announcement last week that AA will start to serve complimentary beer and wine in economy class on transpacific, transatlantic, and deep South America flights, flying AA on the long-haul may turn out to be quite the pleasant experience!
Interior Views
In a press release published today, American unveiled images for the new cabin interiors aboard the 777-300ER aircraft. New features include unique mood lighting, a walk-up bar in the premium cabin, as well as a dramatic archway to give the cabin a more spacious feeling. Each seat will be equipped with enhanced in-flight entertainment (IFE) options, containing individual screens which include up to 120 movies, over 150 TV programs and more than 350 audio selections for passengers to choose from. In addition, each seat will also contain individual 110 volt AC power outlets and USB jacks for charging personal electronic devices.
Below are some images, courtesy of AA's In-flight Media gallery. To learn more about the individual class enhancements, visit the following link to the Press Release from AA about what to expect.
The AA Flagship First Class seat, which will feature a fully-flat bed. Image courtesy of AA News Media
AA Business Class seat, which will also feature a fully-flat bed and aisle access for each seat. Image courtesy of AA Media Gallery
The new AA Economy Class product will feature a higher pivot-recline, increasing legroom, as well as a 9-inch touchscreen in-seat video monitor. AA will also include a premium economy class section on the 777-300ER series which contains a few extra inches of legroom

Other noteworthy announcements from American:
Although it was originally rumored that the carrier would first deploy the new flagship aircraft on its flights to London Heathrow (where it enjoys Anti-Trust Immunity on a Joint Venture agreement with British Airways thanks to the US-EU Open Skies agreement), the carrier announced the the first aircraft will actually be on its Dallas/Ft. Worth (DFW) to São Paulo, Brasil (GRU) route. In addition to the daily service, which will be upgraded to the 777-300ER once delivered, DFW-GRU will also receive an additional 5 weekly flights, a sign indicating AA's competitive strength in Brasil. AA also announced they would be adding weekly frequencies from its Miami hub to Brasilia (BSB) and Belo Horizonte (CNF) as well as launching a new nonstop flight from Miami to Manaus (MAO), its seventh Brasilian destination and also gateway city to the Amazon jungle.
Great news for AA! Click here to read more about the in-flight services experience you can expect to receive onboard American Airlines flights, or visit www.aa.com to make a reservation!