On a recent trip from New York City to Washington, D.C. I opted to take Amtrak's Acela service in business class. I tend to fly this route, as often American Eagle has ~$80 one way fares that are cheaper and faster than Amtrak. But since I had never taken Acela before, and had an expiring $100 credit on Amtrak I decided to "splurge" a little. Remember, "business class" on Acela is two by two leather seats which would normally be called Coach on other Amtrak trains. But in the Acela world, it's renamed "business class", while the one by two upgraded seating on Acela is labeled "First Class".
Stepping back in time I had cancelled a previous Amtrak trip. When cancelling there's two options: lose 10% of your fare or receive an evoucher for the full amount. E-voucher sounded pretty straight forward and easy to me. Little did I know at the time that you can only redeem "e" vouchers at non electronic human ticketing counters. Making you go to a ticketing station certainly makes it somewhat unlikely that all the "e" vouchers will be redeemed within their 12 month time frame. A week before this trip I went to Penn Station and waited to redeem my "electronic" ticket that I had printed out. Luckily the line at Penn Station moved somewhat quickly and I was out of there in 20 minutes.
On departure day I arrived at Penn Station and headed to the waiting area. The waiting area is divided into two, one area used to be for Acela customers only, but it doens't seem to be that way anymore. The agent was waving everyone through, even if they didn't present a ticket. The first class lounge is only for first class Acela passengers and those traveling in sleeper accommodation on the long distance trains. Access to the Amtrak Lounge is also provided to United Club members.
New York's Penn Station Departure Board
Boarding was the usual chaos. A few hundred people crammed around the top of an escalator. No elite lines to speak of.
I had read about a boarding tip online that suggested using a red cap to board early. Even if you are able to roll your bag behind you easily, a quick monetary tip to a red cap will allow you board before the masses. Boarding early theoretically gains you access to one of the coveted single seats at the end of each business class car on the Acela. Of course, as the person on my train learned, those seats are reserved as accessible seats for passengers in wheelchairs or with other mobility issues. He was moved when the passenger needing that seat boarded. I think he should have saved his $5.
Speaking of seats, the "business class" section of the Acela has two by two seating, similar to pretty much every Amtrak train. The seats are leather instead of cloth and have an armrest between seats. The recline is limited and not the same as the recline of the business class seats on a regional train that has the half cafe / half business class section.
Overhead bins are large and easily fit rollaboards and other suitcases.
First class (which is usually an additional ~$110 or more each way) provides free food and one by two seating.
Single accessible seat reserved for passengers with wheelchairs
2×2 Business Class seating on Acela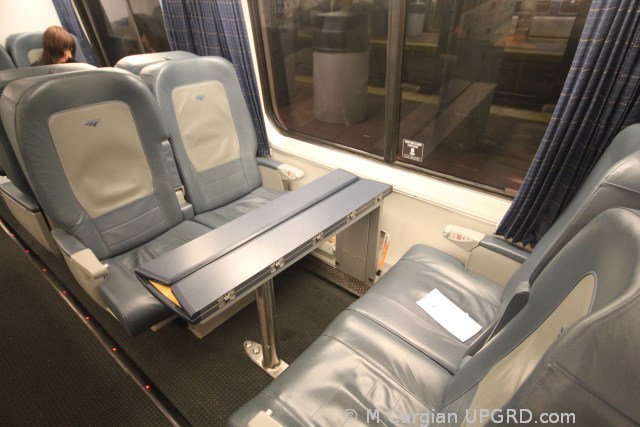 A quick trip to the cafe car revealed limited (read: "no") seating. On the regional trains laptop toting pax take the booths as their personal work desks. I can only assume the acela designers tried to eliminate this by not providing seats, only a small counter. Still, there were "cafe lice" even on this trip, chatting away on the phone taking up the little bit of available eating area but not eating or drinking anything themselves. I can only assume these are the same "gate lice" that we see crowding airline gates before boarding time.
Acela now provides a number of healthy options including salads, however my old Amtrak standby (on any east coast train) are the hot dogs. Supplied by the well know Hebrew National it's a tasty treat.
Cafe "eating area" although many we not eating
I measured our speed with the GPS on my phone throughout the journey. Due to track speed limitations throughout the northeast we mostly plodded along at 50 or 60 miles per hour. However there were a few short instances where I captured our speed above 120 MPH. The train was smooth and comfortable throughout.
We arrived a few minutes late into Union Station. It was an enjoyable ride.
You can also read about my trip on the Coast Starlight from Los Angeles to San Jose.