Singapore Airlines First Class SFO-ICN (SQ 15)
Singapore Airlines First Class Menu
Singapore Airlines First Class ICN-SIN (SQ 15)
Grand Hyatt Singapore
Historical Sights, Ethnic Neighborhoods, and Raffles Hotel
Modern Singapore at Marina Bay and Orchard Road
Birthday at the Night Safari
Where to Eat in Singapore
Singapore First Class Departure and The Private Room
Singapore Airlines First Class SIN-HKG (SQ 866)
Grand Hyatt Hong Kong
Central District Parks and Victoria Peak
Exploring the Markets of Kowloon and Mong Kok
Day Trip to Stanley Harbor
Where to Eat in Hong Kong
Singapore Airlines Business Class HKG-SFO (SQ 2)
Concluding Remarks
I've never flown in a premium cabin on an international flight. I'm new enough to this game that it's only this year I found myself with systemwide upgrades and more miles than I knew what to do with, and I'm young enough that I never really cared enough to get myself out of economy. Before now, I was just saving them up for that future dream trip. Well, at some point you realize you have enough for two dream trips, so you better start using your miles. (I'm still saving the rest for the honeymoon next year.)
The release of first and business class award space on Singapore Airlines was the perfect opportunity to burn some miles. They are consistently rated as among the best airlines in the world, if not the best. Plus their business class is pretty comparable to their first class product, at least when you look at the wide, flat-bed seats and 1-2-1 arrangement in both cabins. I figured I might as well start at the top, so every award from here will be downhill. 😛
Departure
We arrived at SFO, one of my favorite airports, about two hours before our flight. Check-in was relatively swift, except I felt it was a bit understaffed. We were called over to the business class line because the person at first class was handling an economy class passenger, and then our agent had to go looking for first class ticket stock. I appreciate the gesture to make sure we had red first class tickets, but I thought the separate lines were supposed to avoid this problem.
After that, security was relatively painless. I've come to realize that the international security checkpoint at SFO is usually quite good, and the priority security line is almost always operating, unlike at United's terminal 3. Because of the short walkway connecting them, I think I'll just ask my dad to drop me off at the international terminal from now on.
Next to that walkway is the international United Club with what can best be described as a maintenance hallway leading to the Cathay and Singapore lounges. I took a look at the United Club, and the agent was mystified why I would bother. He was correct. Although the lobby is very nice, the actual lounge upstairs is worse than the domestic United Club. We met up with reader @kziel, a mileage runner who's apparently been to Singapore many times but never for more than 30 hours, and talked a bit about his "Tulip a Day" series on Twitter before he had to run off to make his connection. It's always great to meet people you know (even if not in person) when traveling!
Back at the Singapore SilverKris lounge we found some hot and cold food, a giant Nespresso machine, and a small self-service bar. Although it was crowded, it did have some great views for planespotting, mostly of the domestic terminal 3. I taught one of the servers how to make a Campari and soda after he wondered where I got my giant glass of bright red liquid, but in general we spent the hour calling family and banks (to alert them to our travels) before we boarded SQ 15 to Singapore via Seoul.
On Board
All these flight attendants needed was one glance at our boarding passes in order to remember our names for the rest of the flight. I guess it helps to have three people serving eight others. Even with a full cabin, the attendant-to-passenger ratio seemed a bit overbearing at times to someone like me who enjoys doing everything himself. Even taxis make me uncomfortable. But they were certainly friendly and seemed to know when to stay away and come only when needed.
Megan and I slipped into seats 2D and 2F, finding plenty of room for our 22″ carryon bags under the shelf in front of us–which was good because there is no overhead bin space in first class. A flight attendant immediately appeared to offer a glass of Dom Perignon (no Krug on this flight), followed by another with a selection of at lest six different newspapers. Having already read the WSJ and the SF Chronicle, I elected for the Straits Times to read up on our destination. Another two visits brought us a Khiel's amenity kit and soem pajamas and slippers.
Like the impression I would gain of the rest of the airline's service, the online safety video was incredibly clear, concise, and efficient. No nonsense here, although it did look like the actors were being dubbed. But what surprised me more was that, as the plane took off, the fasten seatbelt light turned off when we couldn't have been more than 5,000 feet in the air. We were still in a very steep ascent!
Within a few minutes the flight attendants appeared again, immediately unfolding a blanket for Megan even though she hadn't mentioned she was cold (but she was; they were just that good). I did a little work with another glass of Dom and a bowl of cashews and macadamia nuts before the meal service began.
Lunch
Thanks to everyone who helped out with our Book the Cook selections two weeks ago! Megan and I have very similar tastes, so we both went with the lobster thermidor for our first meal, figuring that was probably fresher than if they flew in a Maine lobster to Singapore. But before that, we had caviar–a first for Megan and something I haven't had in a while, not since high tea at the St. Francis in San Francisco many years ago. [The full, written menu will be in a separate post. See the table of contents above.]
It was great. Not necessarily something I would look for on purpose, since I think it's more trouble than it's worth, but a first class flight is a good opportunity to enjoy the ritual. We each had a shot of vodka along with it, although in my opinion that tasted more like rubbing alcohol. Then again, I've never been a vodka fan.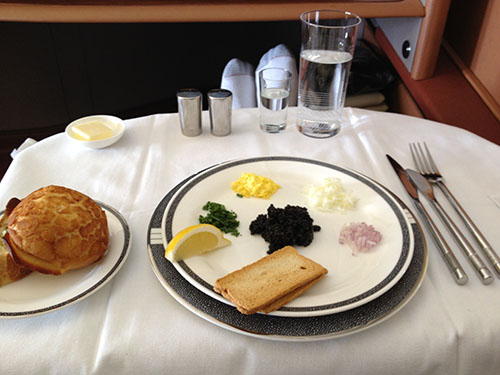 This was followed by a tomato soup, also delicious. We had some bread rolls with the soup, but I was disappointed that they were a bit cold and stiff. I am a big bread fanatic, and I know when it's good. This was not. Disappointing especially since we were departing the home of sourdough bread (this wasn't sourdough, but I still expected better).
And then an endive and roasted pumpkin salad. I didn't really like this as much, but I ate enough to convince Megan I'd had my vegetables. 😉
Finally, the main course: lobster thermidor! I love lobster, so I gobbled it up. I especially appreciated that it was already cut into smaller pieces, since the last thing I want to worry about on a plane is making a mess of myself with no easy change of clothes. At some point in this process we'd switched to wine. Because of the seafood, Megan and I each went with the Cloudy Bay Sauvignon Blanc from New Zealand. We are not normally fans of white wine, but this was very good.

This was followed by a delicious strawberry cheesecake, one of the lightest and creamiest I've ever had.
And finally, I skipped the cheese and fruit plates, opting to go directly to a glass of twenty-year-old port along with a praline. Yes, one praline. The flight attendant seemed very firm on that. 🙁
Having eaten my meal and watched a movie, I made my best effort to sleep. Singapore provides very heavy pajamas and slippers by Givenchy. While the slippers were very nice, the pajamas were uncomfortable and warm. I made my best effort, and appreciated the fold-down bench in the lavatory to change. I also liked the large sink and cloth towels.
The amenity kit, while of nice construction and with products from a brand I like, is pretty spare on the essentials. The only things I really needed in it were some face wash, lip balm, and eye mask. (By the way, Lufthansa has better eye masks.) Things like hand lotion and a toothbrush are in the lavatory in a public drawer.
Light Meal
Honestly, I didn't sleep much at all. Maybe two hours. It was hot in the cabin, made worse by the heavy pajamas. I'm a "cold" sleeper  most of the time, and I much prefer the pajamas provided when flying first class on Lufthansa. I switched back to the looser clothes I was wearing earlier and decided to watch a movie. I had some Famous Amos cookies when the snack box came around, and a couple hours after that the light meal was served as we neared Seoul.
I ordered the lobster again as an appetizer and the roast chicken. The lobster this time was cold and not cut up. It was okay but, I like hot food. The chicken, however, was extremely good–possibly the best chicken I've ever eaten.
For dessert, I was full, but I convinced myself to try the peach crumble. It was definitely crumbly and perhaps too delicate, but tasty.
I watched another movie, and soon we were preparing the cabin for arrival, so I cleaned up a bit in the lavatory and headed back to arrange things at my seat. The big push was over, and we were due for a two-hour layover in Seoul before the plane continued on to Singapore.