To complete my journey to Tokyo, I bought a cash ticket in Asiana Airlines Economy Class. Though I wanted to try Ethiopian's Fifth Freedom flight on this route, the connection seemed too tight on separate tickets. (Turns out I had just enough time, but still, I hate taking chances.) I flew in Asiana's Business Class product many years ago and recalled an excellent experience.  So, I looked forward to seeing how things measured up in the back of the bus.  I booked this flight for $202, though I had to use Priceline to do so; more on that issue later.
Note: this post is part of my trip report series about my long weekend to Japan in July.  Click here for the introduction and trip report index.
Asiana Airlines (OZ) Flight 108
Sunday, July 14, 2019
Depart: Seoul Incheon International Airport (ICN), Terminal 1, Gate 9, 18:51, 1m late
Arrive: Tokyo Narita International Airport (NRT), Terminal 1, Gate 33, 21:01, 9m early
Duration: 2 hours 10 minutes
Seat: 17A
Equipment: Airbus A321
Purchase, Check-In, and Boarding
First things first – Asiana's website has some serious issues going on. I tried several times to book my ticket online, but it errored out every time before I could reach the payment page. Thus, I went to Priceline to book. Once completed, I could pull up the reservation on the website and assign myself a seat. But it also kept returning error messages when I tried to enter passport information or a frequent flyer number. Luckily, online check-in did work properly, and I could enter all of that information then. Anyway, beware of potential problems if you plan to book directly on the website.
Anyway, boarding began about 10 minutes late, but completed in highly efficient fashion.  We managed to push back pretty much exactly on time.
Asiana A321 Economy Class – Seating, Interior, and Entertainment
Asiana's A321 Economy Class features 171 seats in the usual 3-3 configuration. The interior is starting to show its age a little bit, with the upholstery a bit worn. Asiana keeps the cabin pretty clean, though.
These seats measure in at 18 inches wide, with 33 inches of pitch – quite generous for coach. As the second picture shows, the result is cavernous legroom. This regular coach set felt similar to something like Main Cabin Extra, except at no extra charge. That's really impressive, I thought.  Also, unlike newer slimline designs, these seats had decent enough padding. Granted, this flight clocked in at only 2 hours, but I had no issues with saddle sore afterwards.
As for entertainment, Asiana provides the same lineup as long-haul flights on flights to Tokyo. It's not the best system around, but still had a decent selection of movies and shows. To be honest, though, after a very long travel day, I kind of vegged out on this flight. I just stared out the window and watched the flight map for my entertainment. Each seat includes a USB port to the side of the monitor. Although SeatGuru suggests these seats have power ports, I couldn't find one.
Asiana also provides Economy Class passengers a basic set of headphones.
Asiana A321 Economy Class – Food, Beverage, & Service
Approximately 40 minutes after departure, the FAs began dinner service in the Economy Class cabin. Today's dinner consisted of a single option, stir fried pork with vegetables and rice.  Asiana does offer beer and wine in coach, but I asked for orange juice (a pretty bad concentrated version).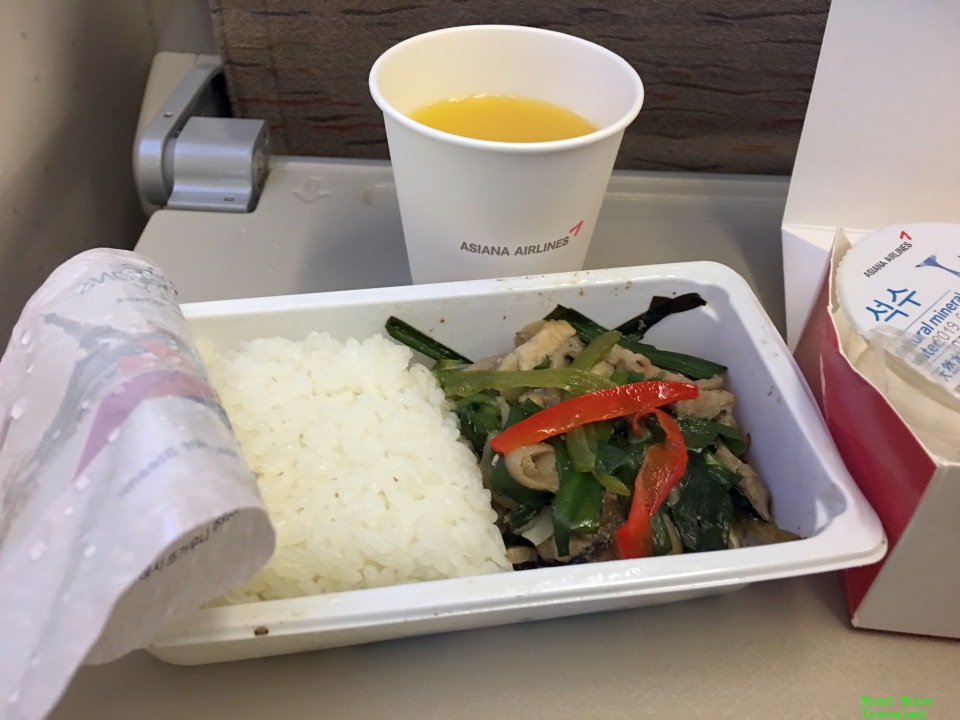 Accompanying the meal was an unremarkable packaged roll, packed water, and what appeared to be jam of some sort.
Overall I found the meal – acceptable if not particularly remarkable. I expected overcooked pork and rice, but both were reasonably done, surprisingly enough. In one of the packages was a packet of curry paste, which made the whole thing better.
Service-wise, it was about as good as you can expect in Economy Class. The FAs provided friendly service, and perhaps most importantly for an evening flight, provided meal service promptly. After beginning service about 45 minutes after departure, they managed to have everything buttoned up again within half an hour. That gave everyone a much appreciated chance to rest for a few minutes. I fondly remember Asiana's Business Class service from many years ago; it's nice to see the high service levels extend to coach, too.
Flightseeing
Although sunset occurred about halfway through this flight, I did manage a little bit of flightseeing en route. While taxiing at Incheon, I spotted a couple of nice Asiana planes, including an A350 and a 747.
Although it was a pleasant day in Seoul itself, stormy weather surrounded the city to the northeast. That provided some nice cloudporn as we climbed towards cruising altitude.
Finally, I enjoyed the sunset as we approached the southernmost islands of Japan.
Asiana Airlines A321 Economy Class – Final Thoughts
This is about as good as it gets for short haul coach. Asiana provided a comfortable seat and friendly service on this short flight to Tokyo. Food was nothing special, but then again, you don't fly coach for the gourmet cuisine. Overall, I thought I received excellent value for just $202.