Bidding adieu to Star Alliance
United Airlines underwent a massive devaluation in February 2014 on award redemption via Star Alliance partner carriers using MileagePlus points. As I had accumulated well over enough points to buy at least two one-way award tickets in Premium cabins on partner carriers at pre-devaluation rates, I decided to exhaust my miles before the markup went into effect. I had discontinued my loyalty to United Airlines on December 31, 2013 after a series of mishaps that left me fed up with the carrier and I decided to trade in my elite status by switching from Star Alliance to OneWorld.
Ultimately, I booked two one-way award tickets using United MileagePlus miles: Asiana First from New York JFK to Seoul; Thai Business from Seoul to Paris, via Bangkok and Hong Kong, and then US Airways from Paris back to Minneapolis via Philadelphia in Envoy class (the latter was purchased using AAdvantage miles).
This trip essentially afforded me a series of "firsts:" my first chance to fly Asiana Airlines, my first trip to South Korea, my first Airbus A380 flight (from Bangkok to Paris) my first time flying US Airways in Envoy and my first "round-the-world" itinerary.
I arrived in New York from Minneapolis (where I currently live) on the 31st of December via Sun Country Airlines, which is a Minnesota-based "niche" carrier that offers fairly decent fares and a fairly pleasant domestic First experience (for a small fee within 24 hours). My journey into NYC was uneventful and I deplaned in Terminal 4 at JFK, which allowed me to familiarize myself with the gate area where my flight to Seoul would depart from the following morning.
The subway ride into Manhattan was easy and I spent New Years Eve meeting up with some college friends, which was a grand old time. I called it an early night and crashed at my sisters' apartment, wanting to get a decent rest the night before my trip. The following morning, I headed back to JFK on the E train and took the AirTrain from the Upper East Side back to Queens. When I finally arrived at Terminal 4, I felt exhausted already.
Being New Years Day, the terminal was fairly quiet at that hour, with a handful of long-haul and short-haul flights on Air India, Etihad, Seoul and Lagos leaving at that hour. Asiana has their own dedicated check-in counters and ground staff at New York, and there were separate lines for both First, Business and Economy class passengers. There were no lines in the Premium Class lanes, and the agent called me forward to present my documents. Interestingly, the check-in agent needed my supporting documentation with my return information to the U.S., although without further interrogation. Overall, a fairly rudimentary affair with basic smiles and thank-yous, but nothing that left much more than that on my impression.
That said, the rest of the airport experience at JFK was pretty horrible. I must say, flying Star Alliance out of JFK at that hour really sucks: there is a premium class entry lane for First and Business passengers, but it ultimately merges with the rest of the queue, and the entire process, even at that slow hour, took a good 30 minutes. I advise people to arrive early if flying this route. There also tend to be a lot of passengers with special service requests (notably on the Air India flight) which tend to hold up the queues during security.
Lounge Experience – SWISS Lounge JFK
Asiana does not have its own lounge at JFK, but customers are invited to use the SWISS lounge located on the upper tier of the airport. The lounge itself is quite nice, but the food selections at that hour are fairly basic, which I was expecting based on reading initial reviews. There is an assortment of continental breakfast food items served (even as late as noon) and a self-service bar for beer and wine. The seating area was not very full and the tarmac views are wonderful.
Daniel has a much more thorough review of the SWISS lounge at JFK, as he took the same routing on Asiana 221 last year. You can find his Lounge Report here.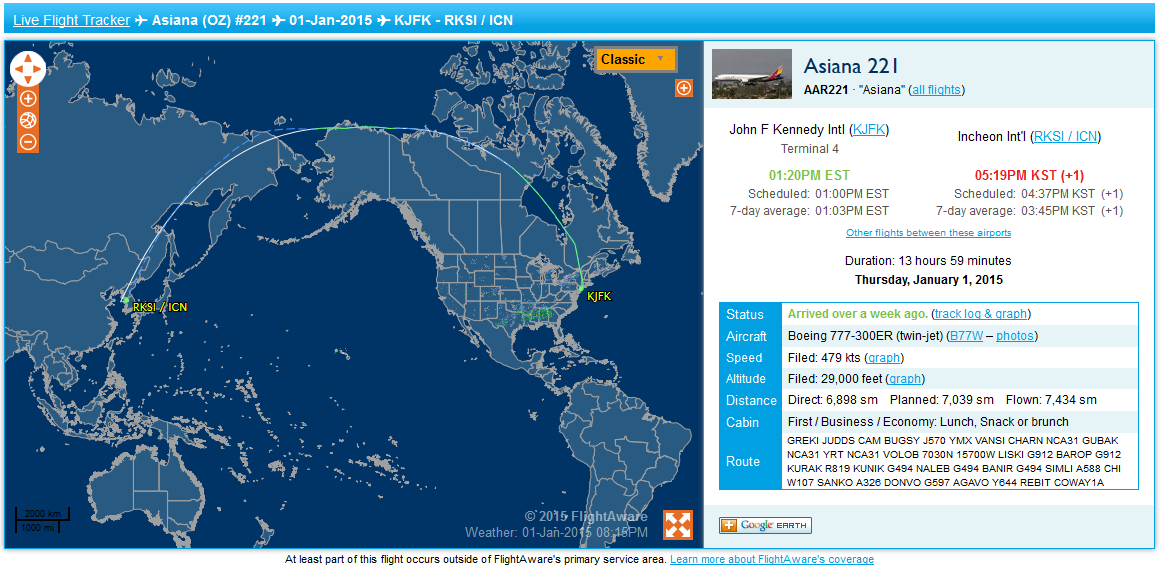 Initial Impressions
The 777-200 was in immaculate condition, and I was giddy with excitement to board the flight. The cabin attendants greeted me by my first name and offered to help me with my belongings, take my coat, and stow my articles in the bin. It felt very VIP without being too over the top.
Although pre-departure beverages are not offered due to some alcohol policy (again, something I knew beforehand) the attendants offered non-alcoholic beverages, particularly suggesting I try one of their wide selection of Teas on board, which i thought was a nice gesture. The rest of the time I spent familiarizing myself with the Suite and the seat controls, as well as the TV system and stowage areas.
The seat itself is showing its age, and unfortunately, I must say that it takes some time before you can find yourself in a comfortable position with the recline and lie-flat position. In full honesty, though, I've encountered the same feelings on Air India in First – meaning that I am likely just a better sleeper in Business Class beds. The TV screen is massive, and the resolution is absolutely brilliant. There is an ottoman with plenty of storage space that houses a very comfortable duvet and bedding.
Menus and Amenity kits were also distributed on the ground, and the contents were perfect for this length of a flight. The kit contained Bvlgari products which I utilized throughout the flight as the cabin felt slightly drier than normal. Lavatories were also stocked with various amenities such as toothbrushes, toothpaste, fragrances and facial creams.
I also received a pair of pajamas, which looked ridiculous on me given that a Medium size (which I usually wear) was likely tailored towards someone much smaller than me.
Pushback was on time and taxi to the runway was fairly quick, with excellent views of Manhattan as we lifted off into the air bound for Seoul.
In-Flight: Meal Service
Once in the air, immigration forms were distributed as well as menu cards. The meal service was pretty much designed to be dine-as-you please, with western and Korean options available for each meal. The beverage list was VERY extensive with an impressive list of wines, although I did not partake in any. Also available were specialty cocktails, a wide array of aperitifs, spirits and beers, as well as teas. My favorite, of course, was the availability of Johnny Walker Blue.
As the flight leaves around noon JFK time, Lunch service is the main event. I chose the Korean selection with the request for Caviar, although the Western option also looked fantastic as well. Drink and meal orders are taken before takeoff. I needed a bloody mary to get me out of my funk, so I asked for this to be served with my first course.
The starter was a rather yummy shrimp with radish and carrot that had a nice pickled taste to it and a tomato served with a Rose. Following this was a delectable caviar array which hit the spot. I had been waiting for this moment and savored every bite. I paired this with a glass of Cuvee. I had been eagerly awaiting for my first chance to ever enjoy caviar in First class, and this was it! I was on cloud nine (literally).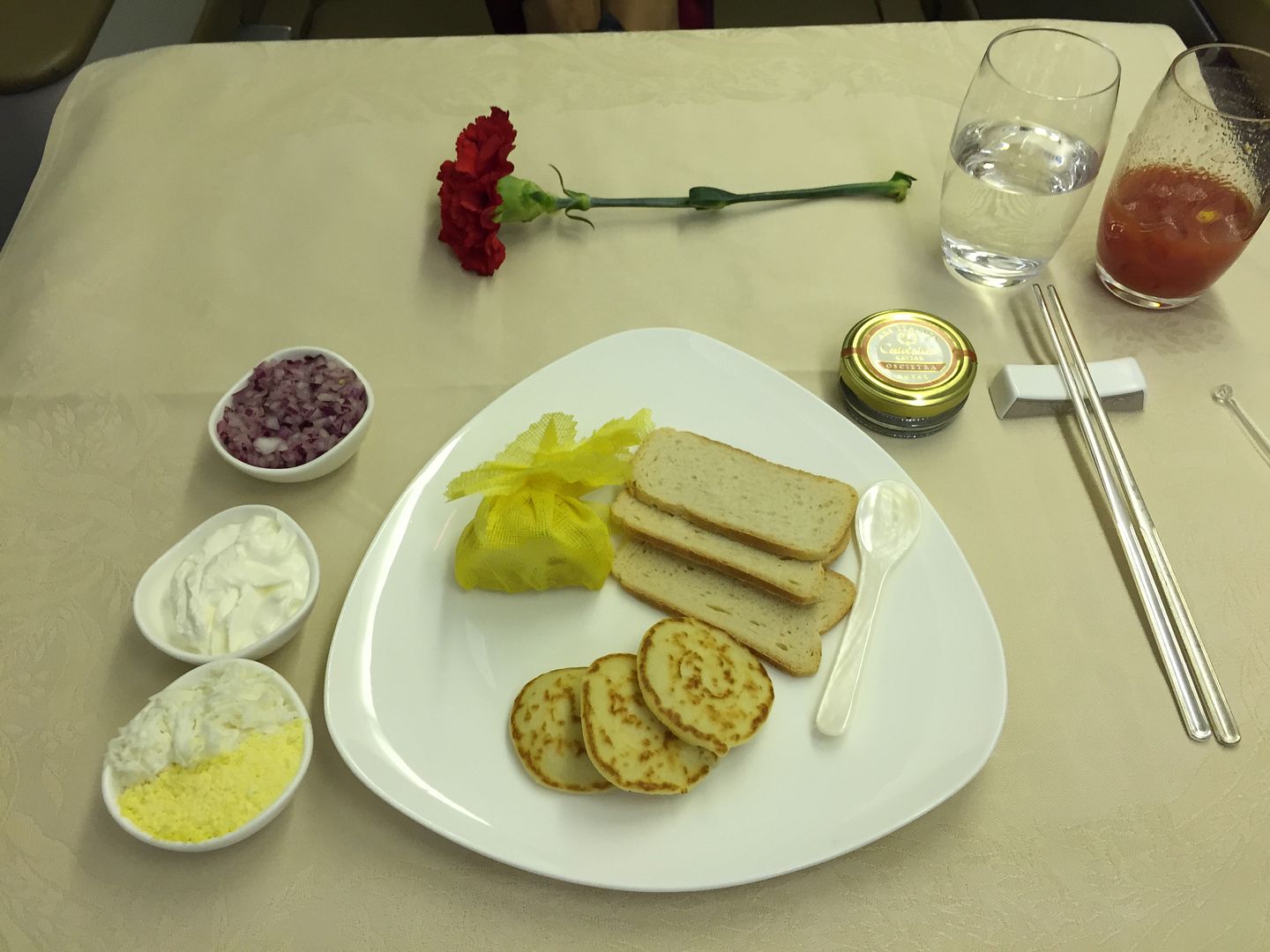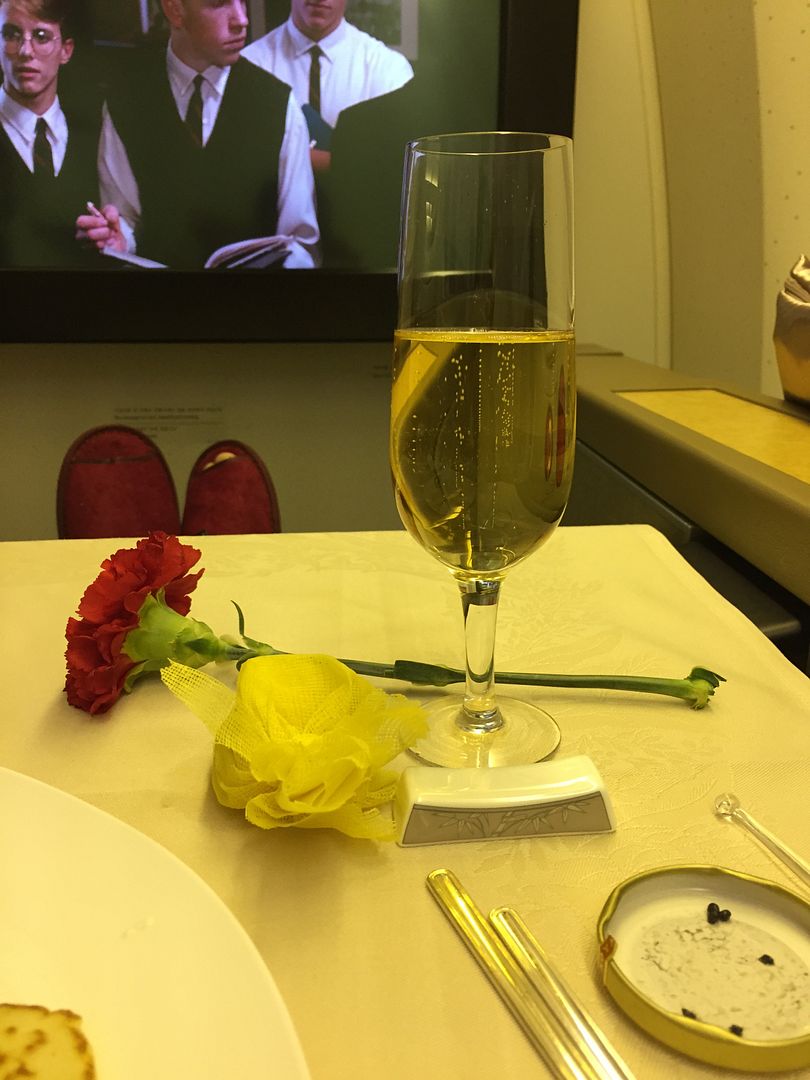 The third course was Hobakjuk, which is a Korean Pumpkin porridge. I had heard mixed reviews of this, with Daniel describing it as "liquefied chalk," but I found it to be somewhat tasty, although slightly bland, but nevertheless palatable.
The main course, which was described on the menu as, "Korean Royal Cuisine, Bibimbap and Beef Short Rib Bulgalbi" was more like a feast. I have sampled Korean BBQ in some of the best K-Towns in LA, Dallas and Chicago and this had to be among some of the best I had ever had. The beef was tenderly cooked and succulent and the sides had just the right amount of flavor. I savor Korean barbeque not just for the beef, but the sides, which included:
Kimchi – which is essentially pickled cabbage with ginger, garlic and red pepper flakes
Japchae – stir fried glass noodles made from sweet potato
Gaeren mari – stuffed egg omelet
Pickled cucumbers and bellflower roots
This left me feeling very full after the conclusion of the meal. I opted to have my dessert saved for later in the flight, which the flight attendants happily obliged to do keep for me. Around 5 hours in, I requested a fruit plate, along with some cheese and crackers, all which hit the spot. The fruit platter was refreshing and paired nicely with the cheese array – which consisted of emmental, boursin and camembert. As an avid cheese addict, I gave it a two thumbs up.
A few hours later, I decided to have some udong noodles, which was prepared freshly in-flight and paired with some more kimchi and pickled radish. I cannot tell you how sumptuous these noodles were. I paired this with a delicious mimosa and enjoyed my "dessert" which was saved for me from the main meal — an opera cake. I felt truly spoiled.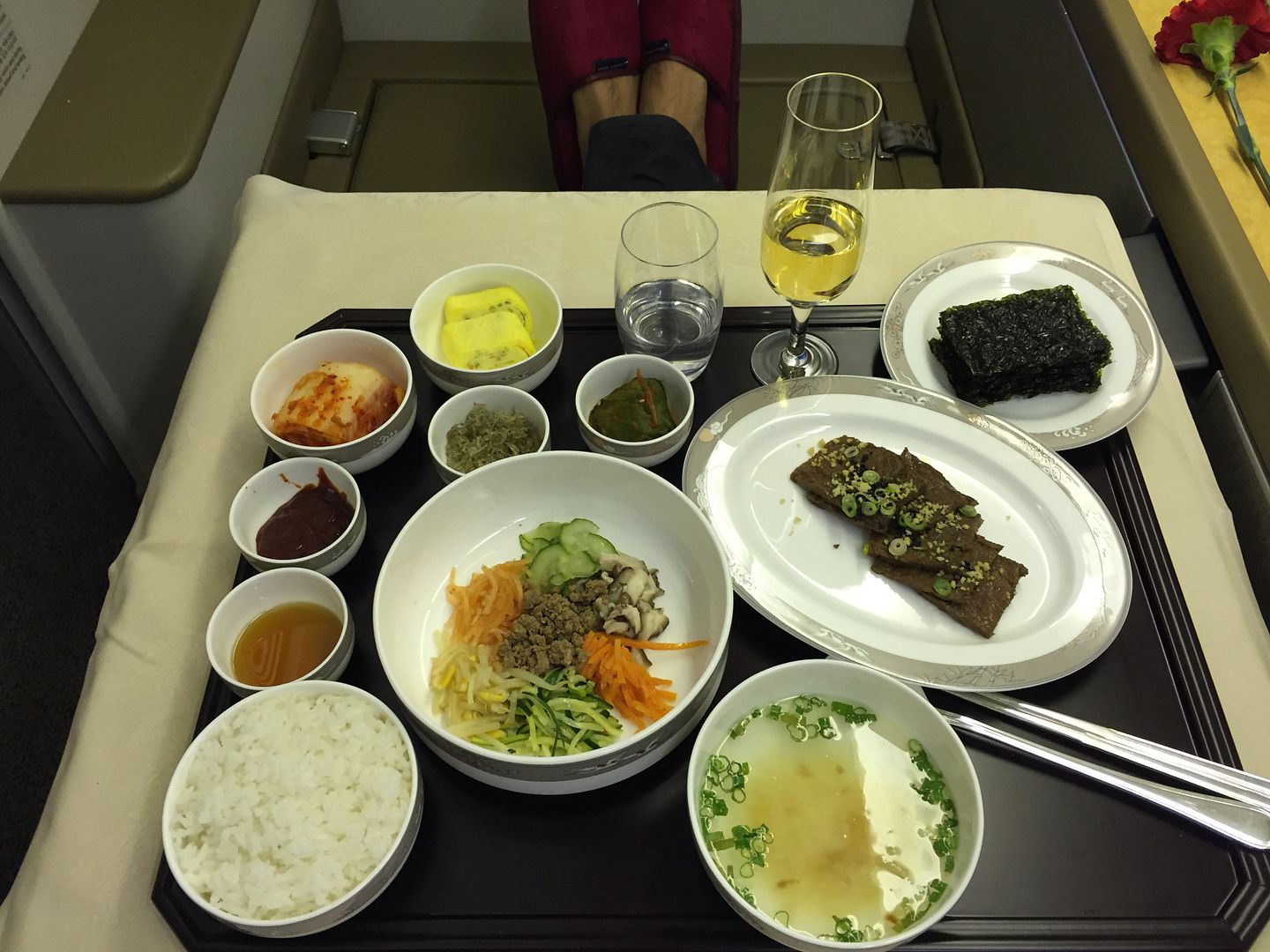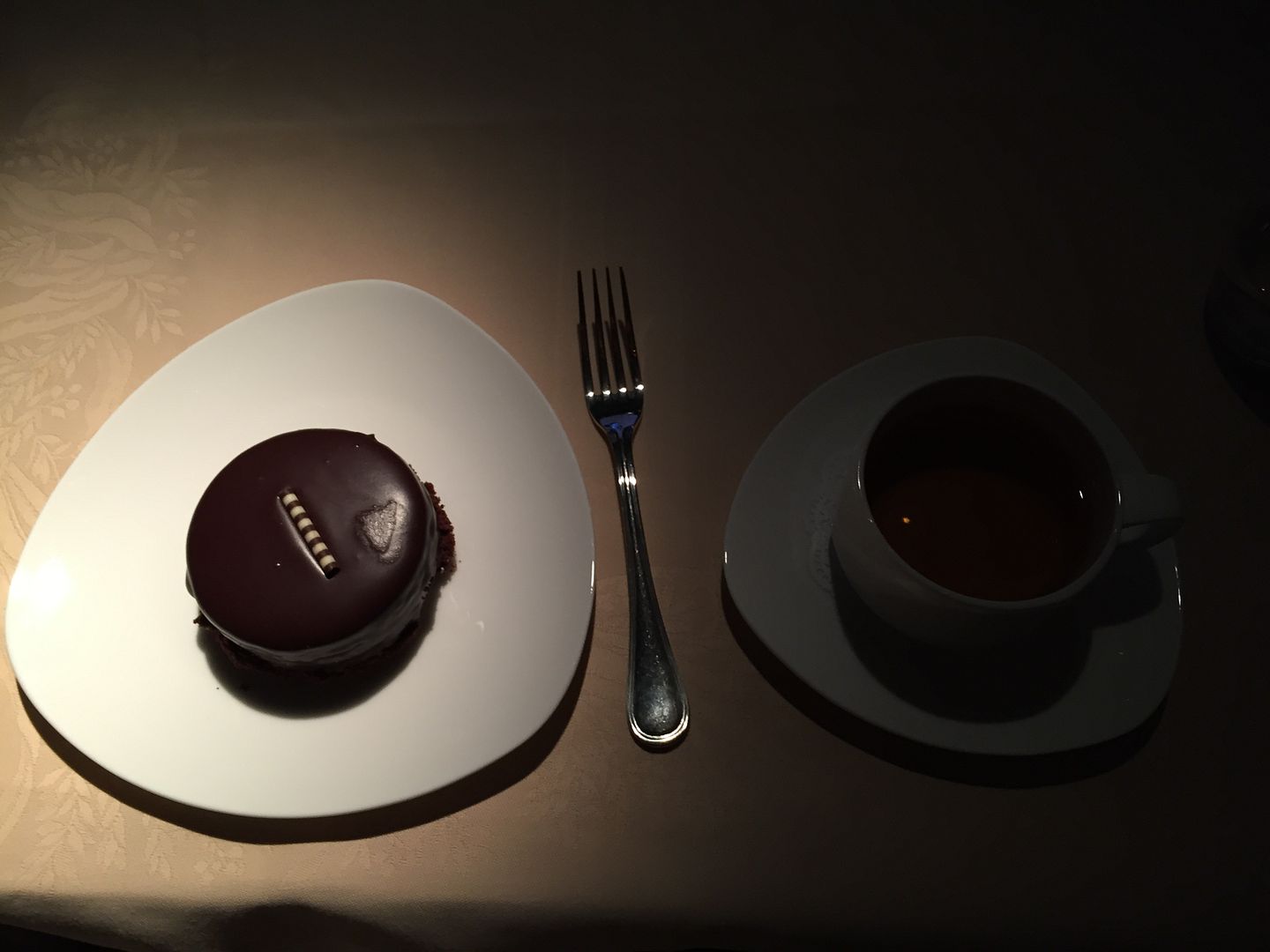 Prior to landing, a snack service was offered, and I opted for the Western option which consisted of roasted chicken breast with macaroni and cheese and some vegetables. I did enjoy the appetizer, which featured a crisp salad of salmon, scallop and vegetables, but the main course itself was a bit of a disappointment. It tasted like a TV dinner served on fine china, but then again, I should have been more adventurous and opted for the Korean meal. Dessert was a fruit tart which was fine. Not a let-down, but not not a home run, either.
However, given the overall satisfactory elements of the other meal services, I would say that Asiana does an excellent job with their catering.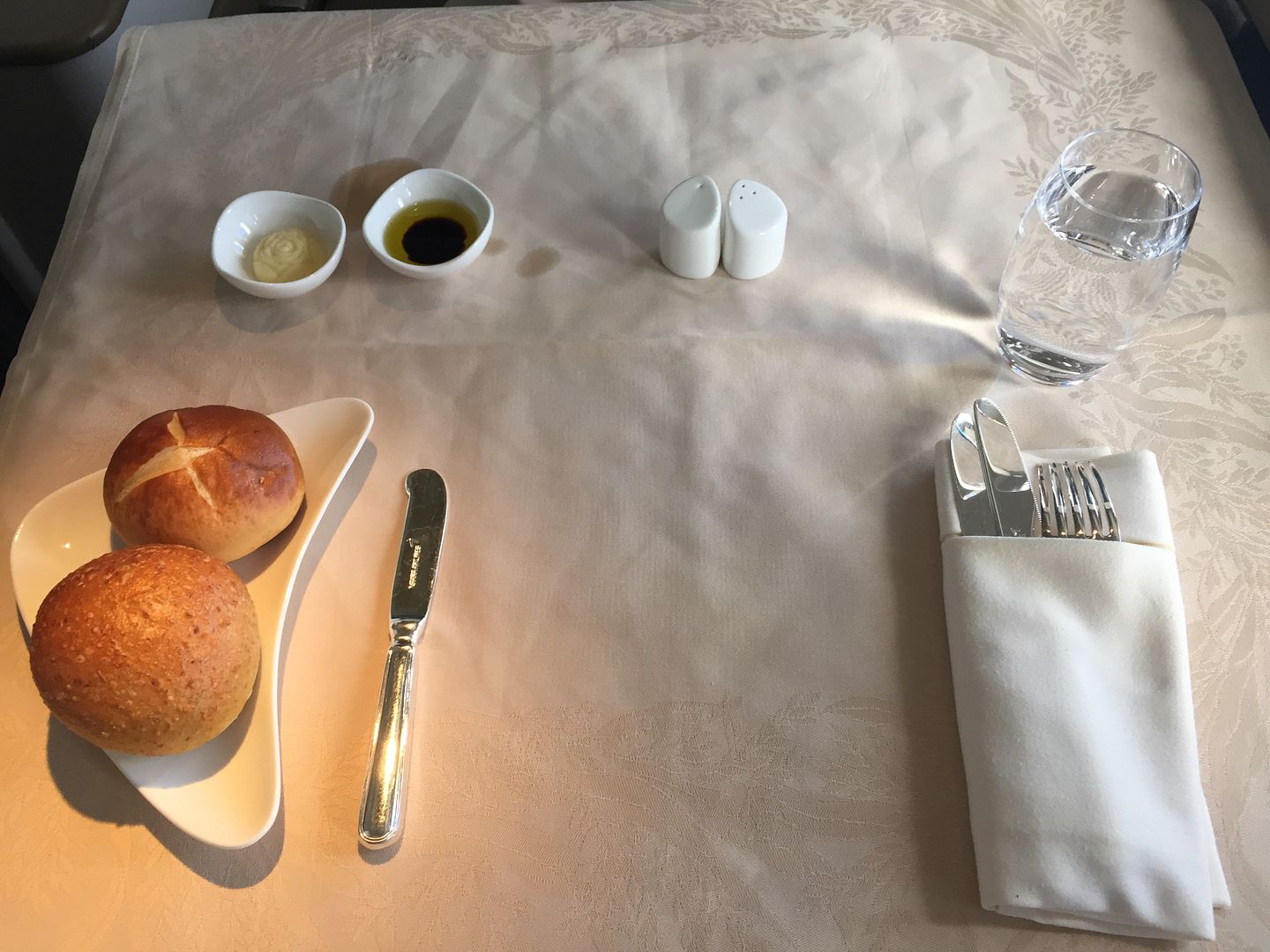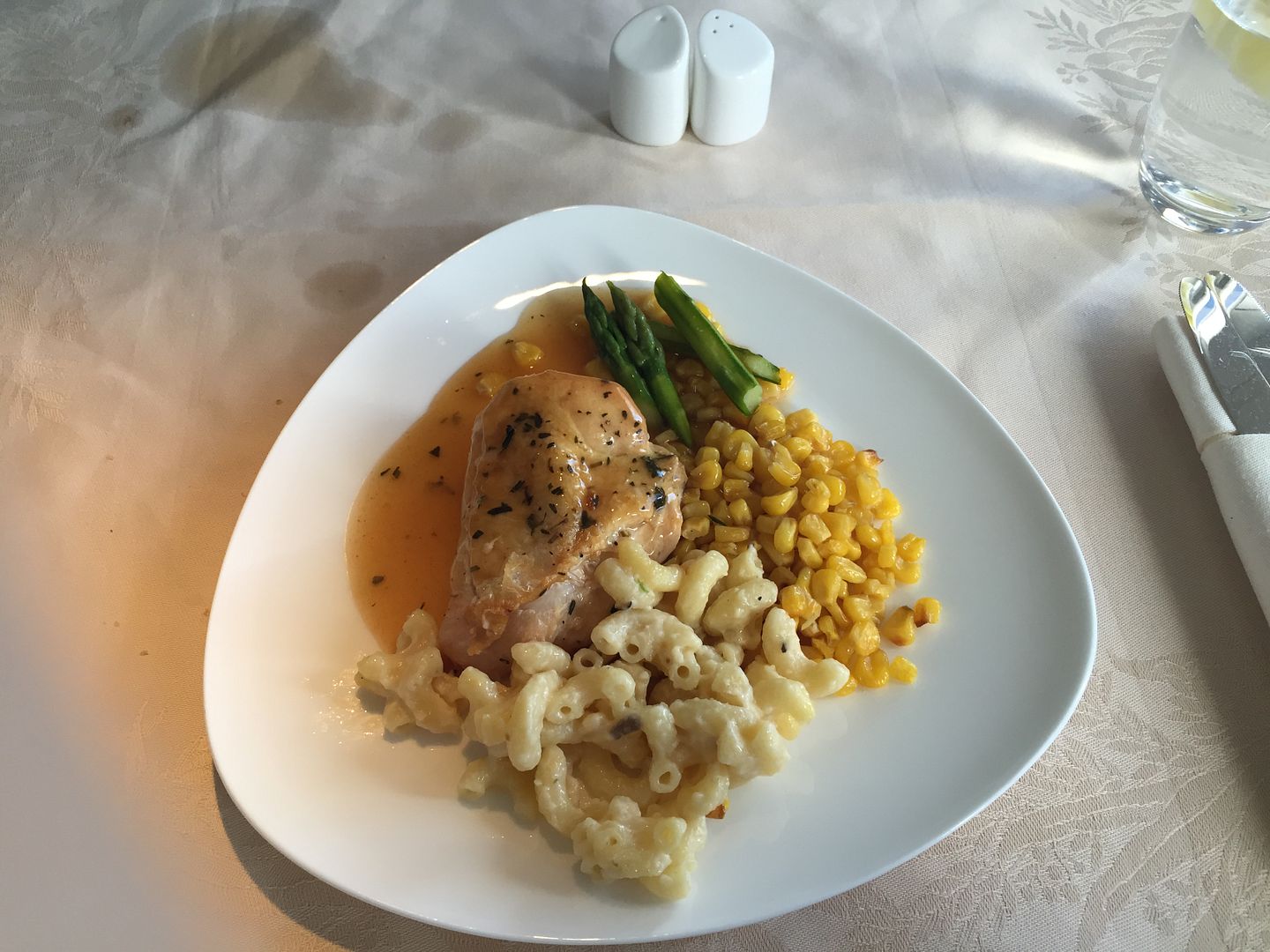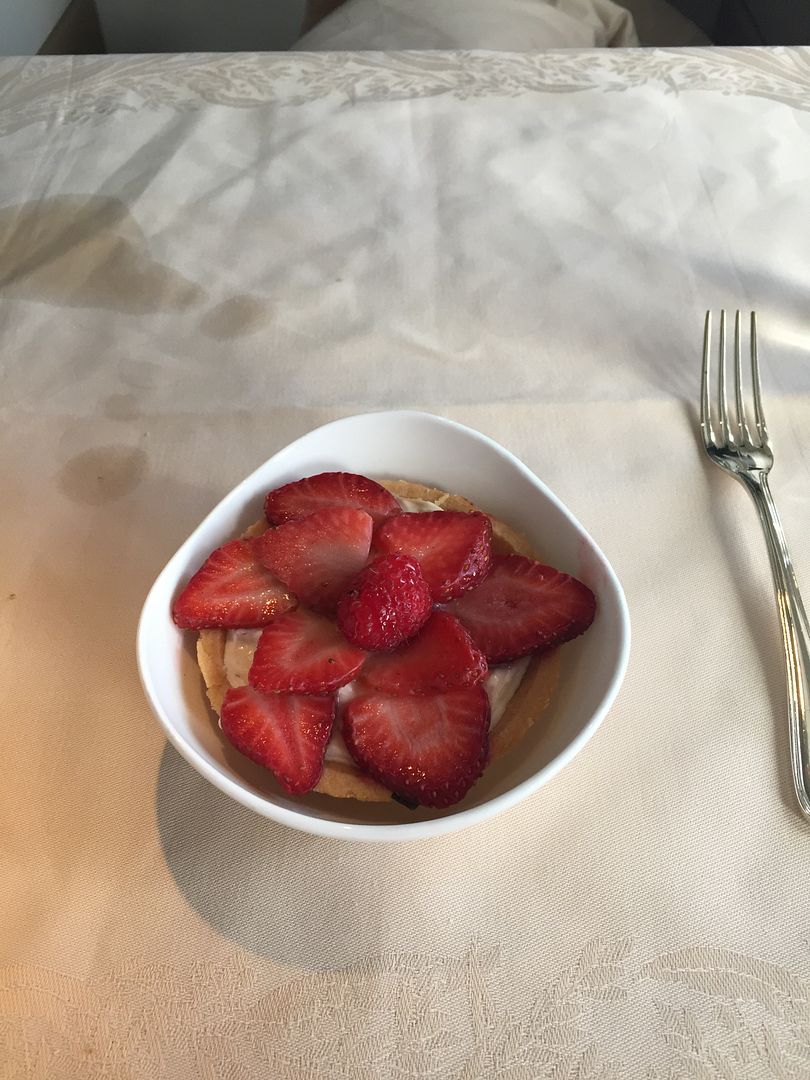 In-Flight: Entertainment Screen
Asiana is VERY proud of its flat-screen TVs – which measure at 32" across. While this is great, I was expecting more from the selection of in-flight entertainment films. Understandably, being a global airline requires breadth of films, audio and various other sorts of entertainment to keep guests occupied from multiple nationalities, but I believe that other 4 and 5 star airlines have successfully outdone Asiana in this realm without too much hiccup. There are certainly a decent selection of films and audio channels for English speakers, but I found myself watching 1-2 movies (Dead Poet's Society and 100 Foot Journey) and spending the rest of the journey reading, sleeping and watching the air show (which is really good).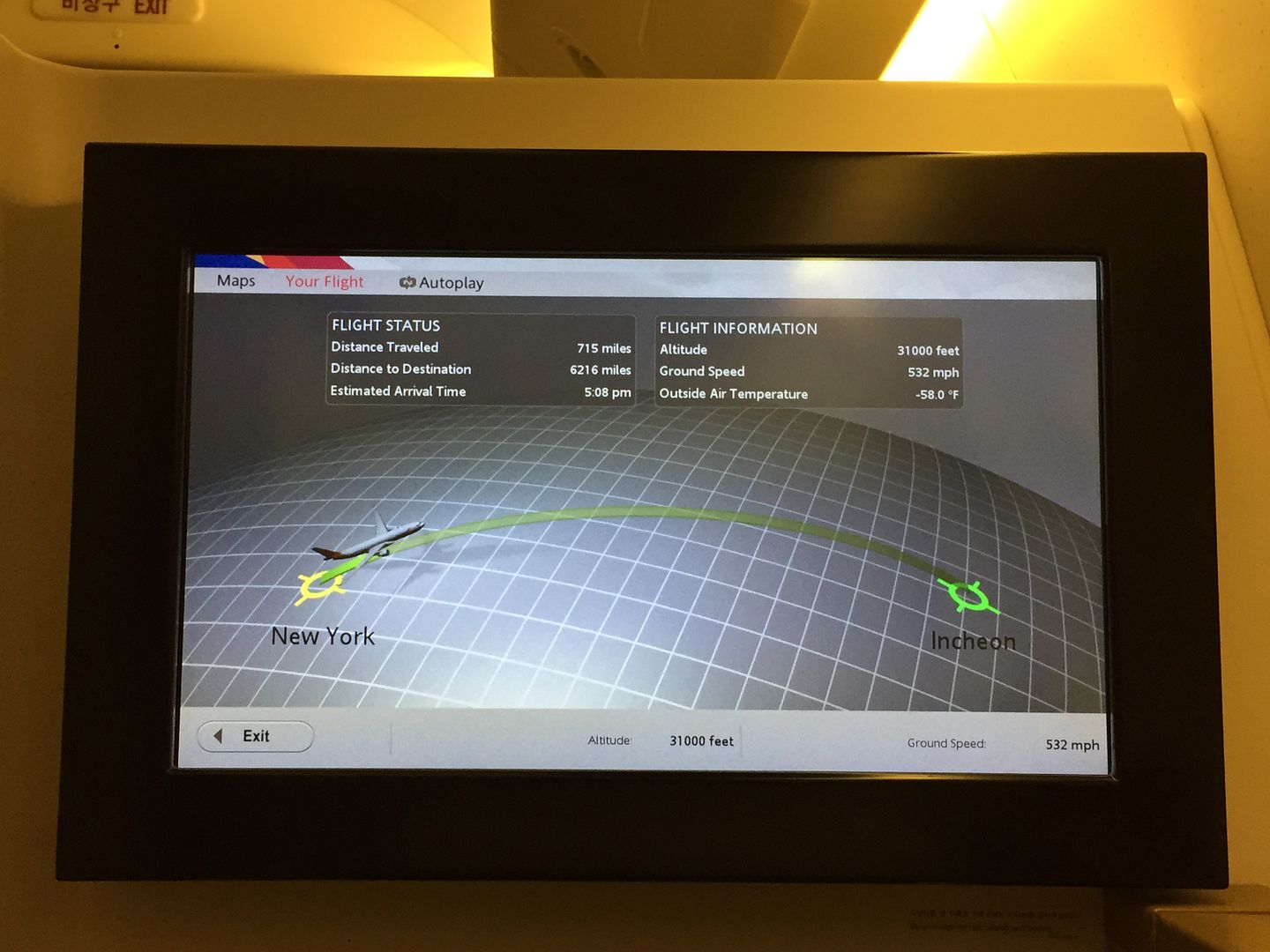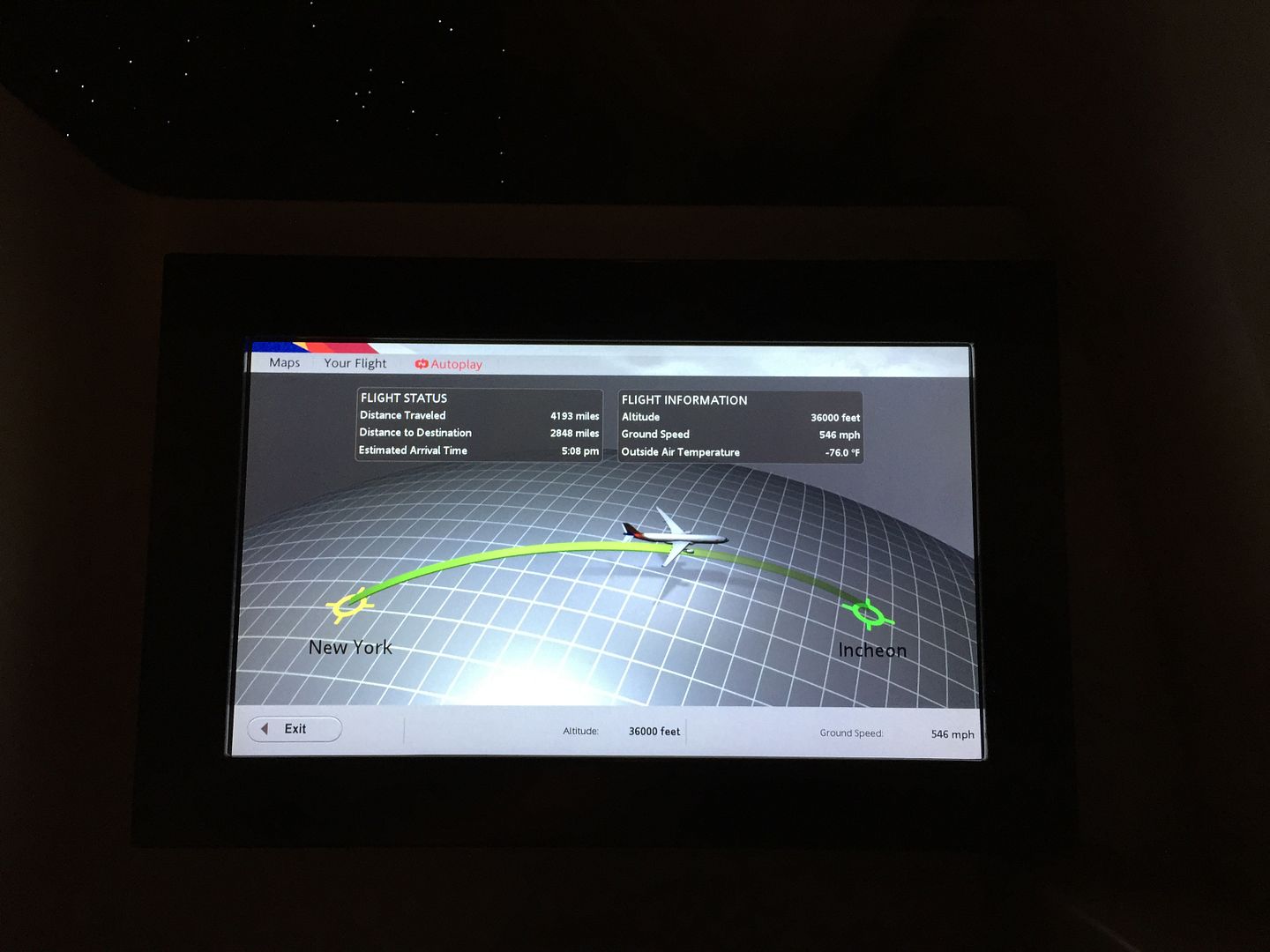 The Suite
The suite itself is uncomfortable in fully-upright position, and requires a lot of "tweaking" before finding the ideal contour to adjust to the spine. In sleep mode, it does the trick, but honestly, I did not sleep much given that this flight departs at 1 PM New York time and primarily operates as a day flight. Though slightly worn, the cushion was soft and comfortable for resting position and reading.
There is a seat control panel on a tablet-like device adjacent to one's armrest, which is convenient for moving the contraption around without having to fumble around other hardware. Though the screen says, "minibar," the minibar itself on the Asiana F Suite is not utilized and supposedly created as another storage space? A bit puzzling…
Being enclosed is also a nice feeling, if you enjoy privacy. After the first meal service, the cabin lights are dimmed and the ceiling panels reflect the stars, which is tranquil. I would say that on the overall 14 hour flight, I slept no more than 4-6 hours, without keeping exact count. Not shabby by any means, but given the time of day, I wasn't expecting to sleep very much. The one time I did doze off, I woke up sweating, as it was warm wearing the PJs.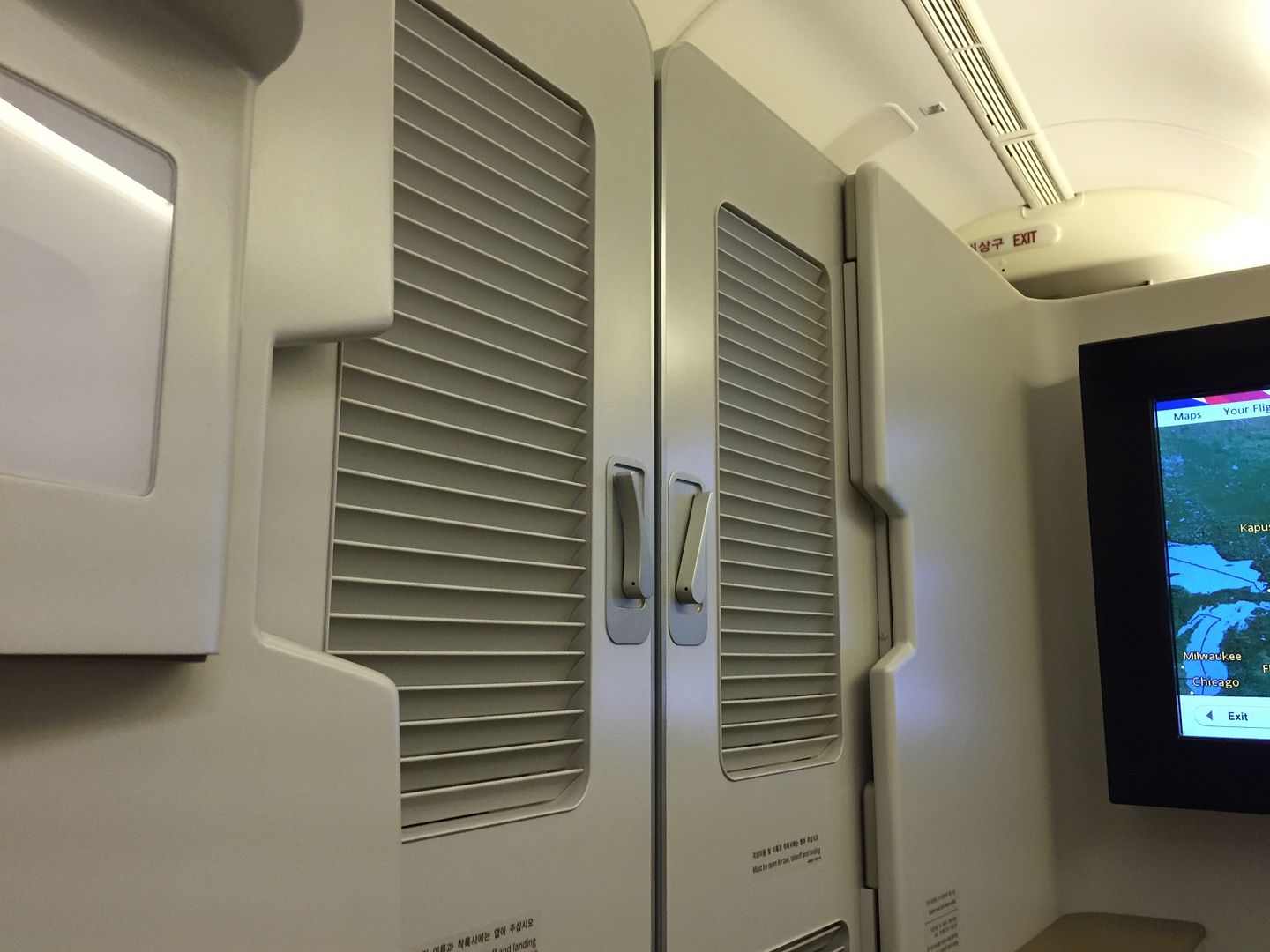 The Scenery
Our routing took us directly due north of New York, passing over Montreal and Eastern Quebec before crossing over the Hudson Bay, Rankin Inlet (Nunavut), The Northwest Territories, above Yukon, Northern Alaska, the Chukchi Sea, Siberia, Harbin, China and Shenyang before mobilizing around North Korea.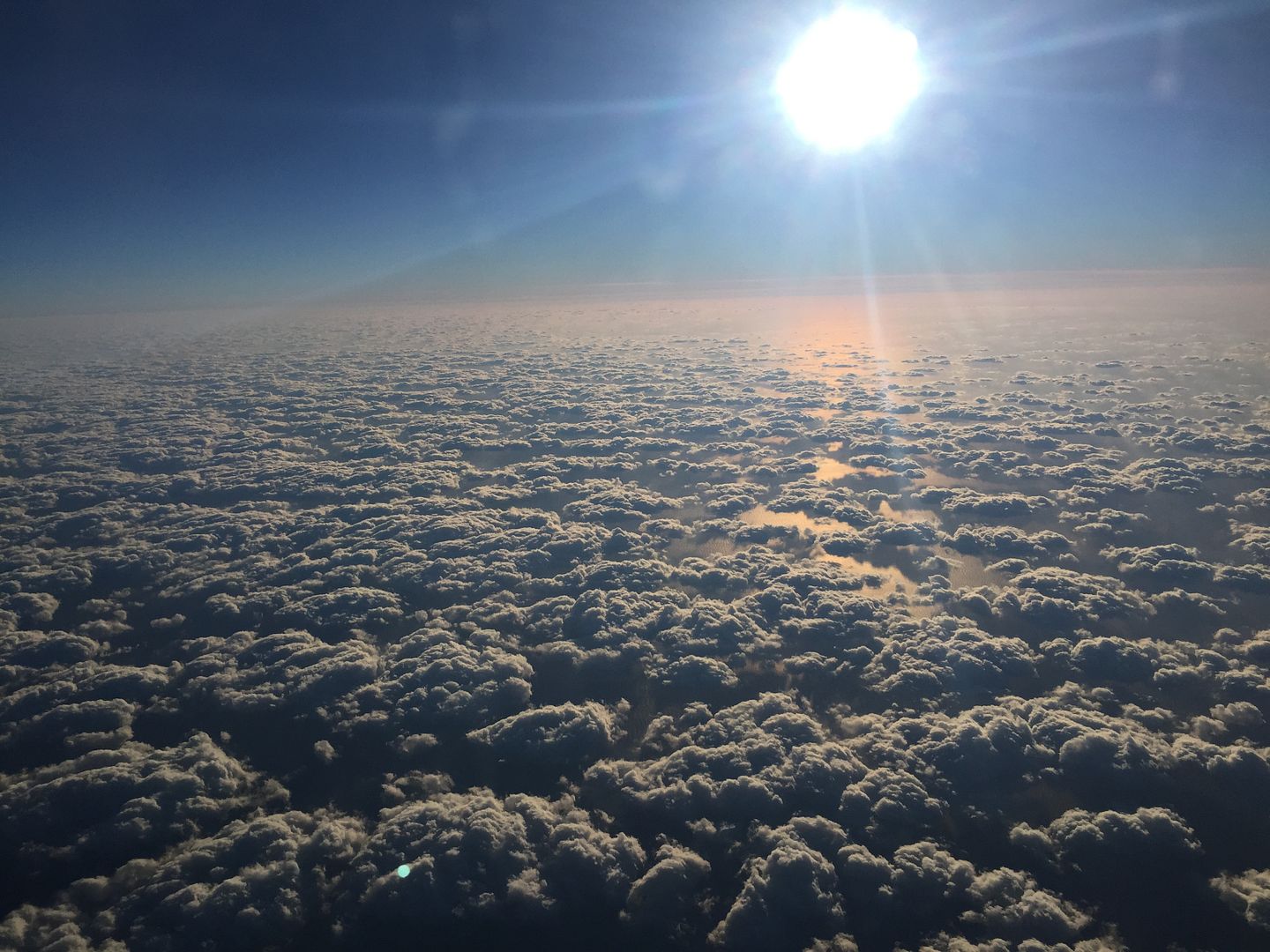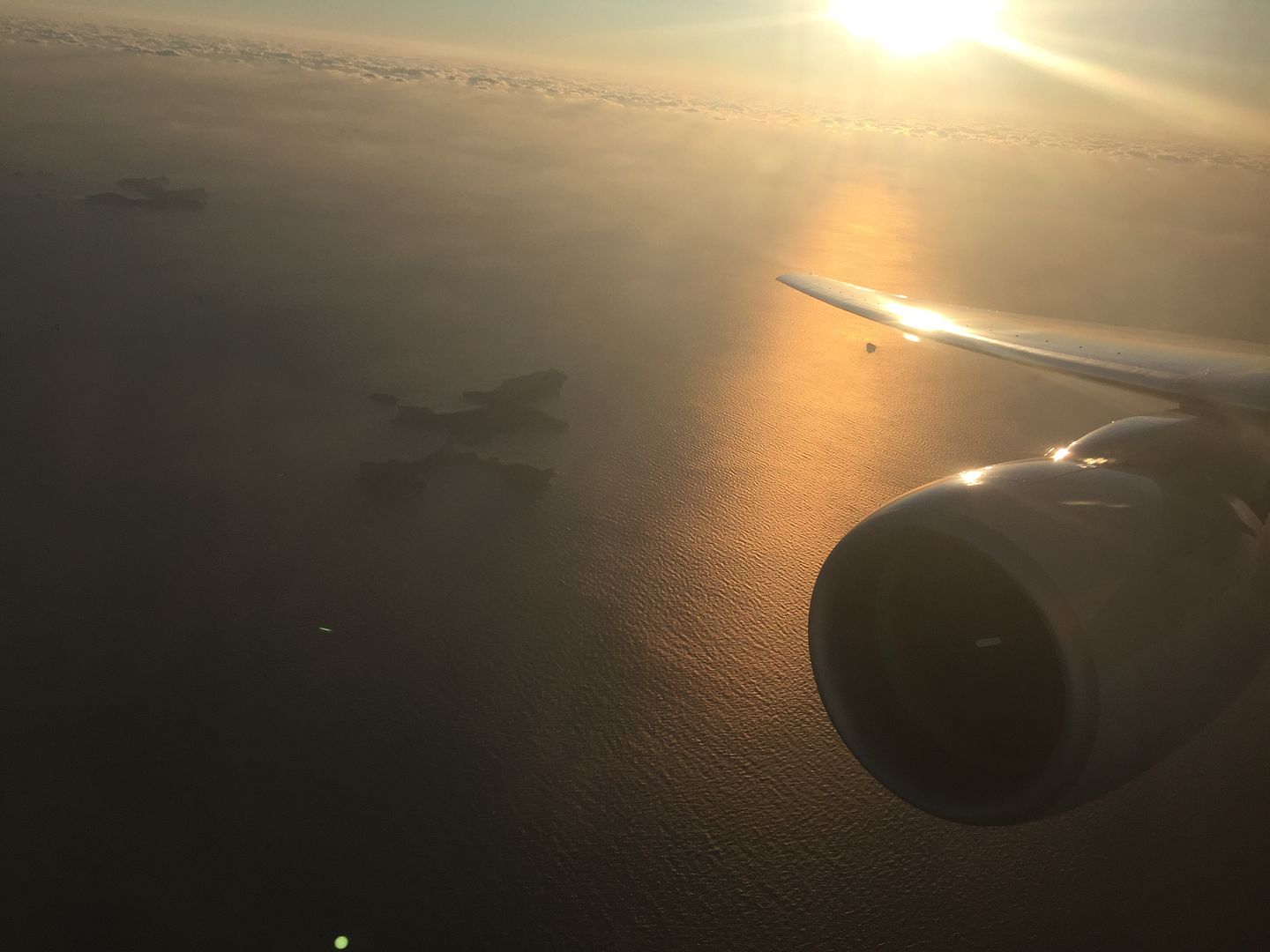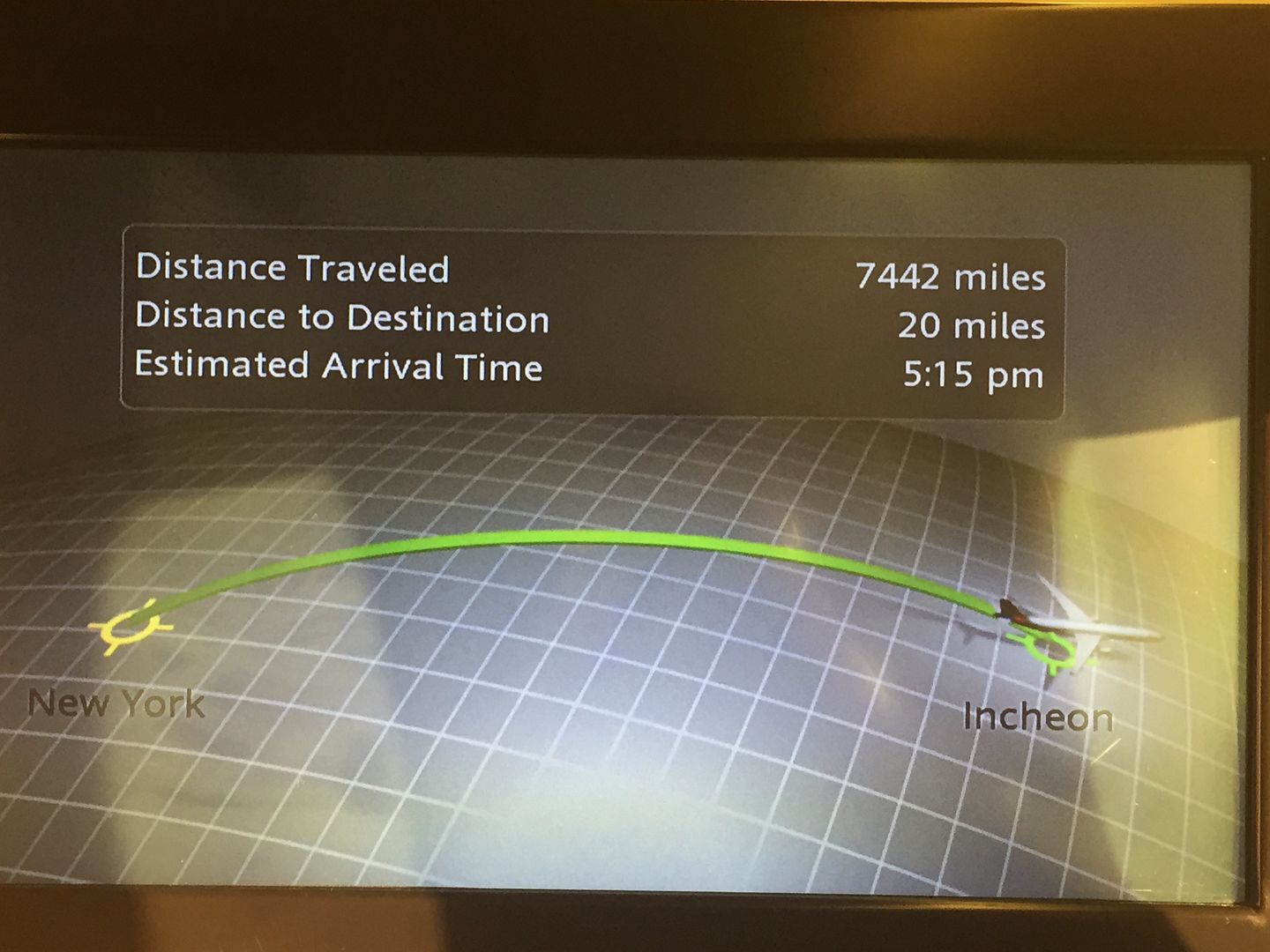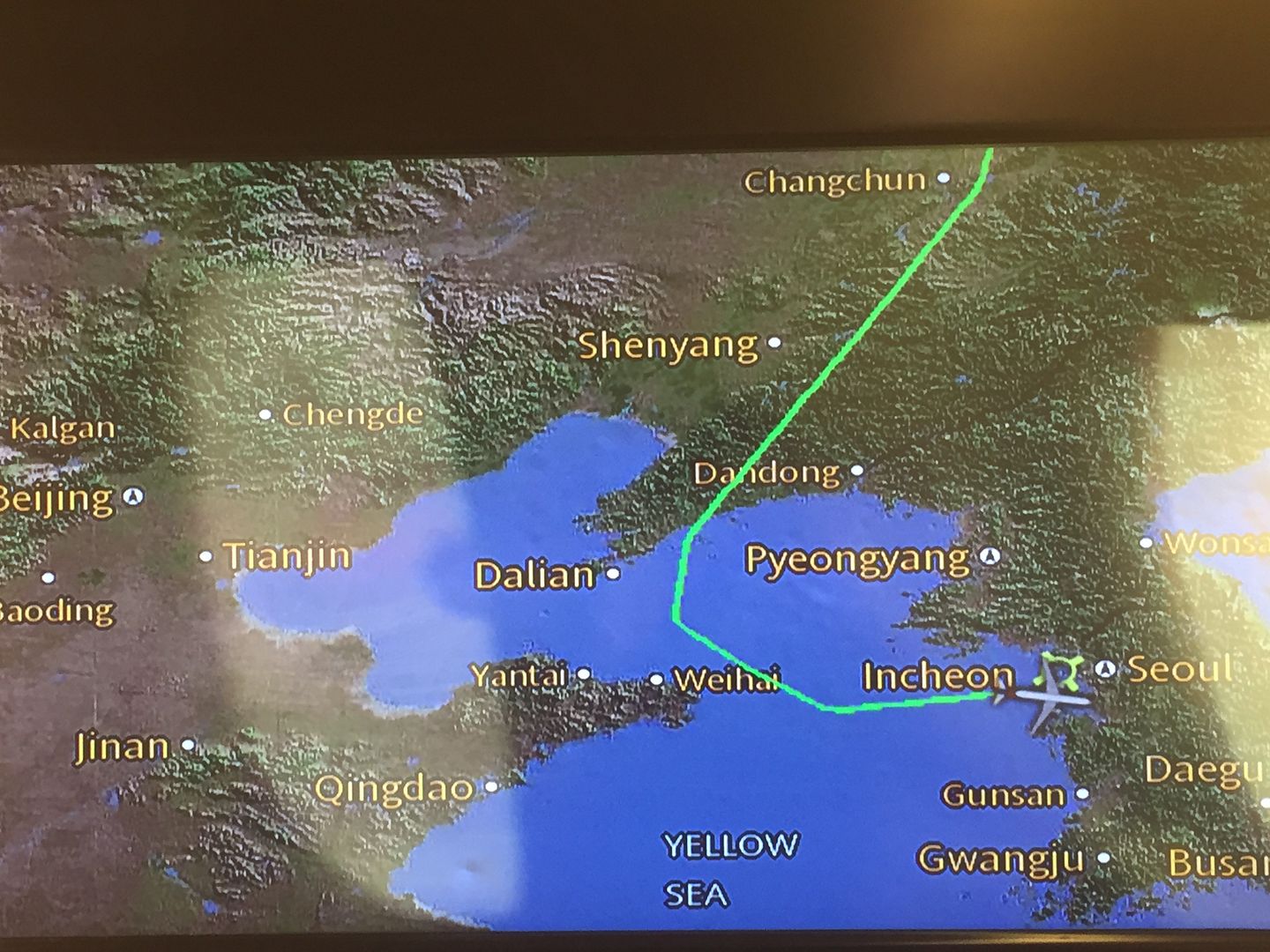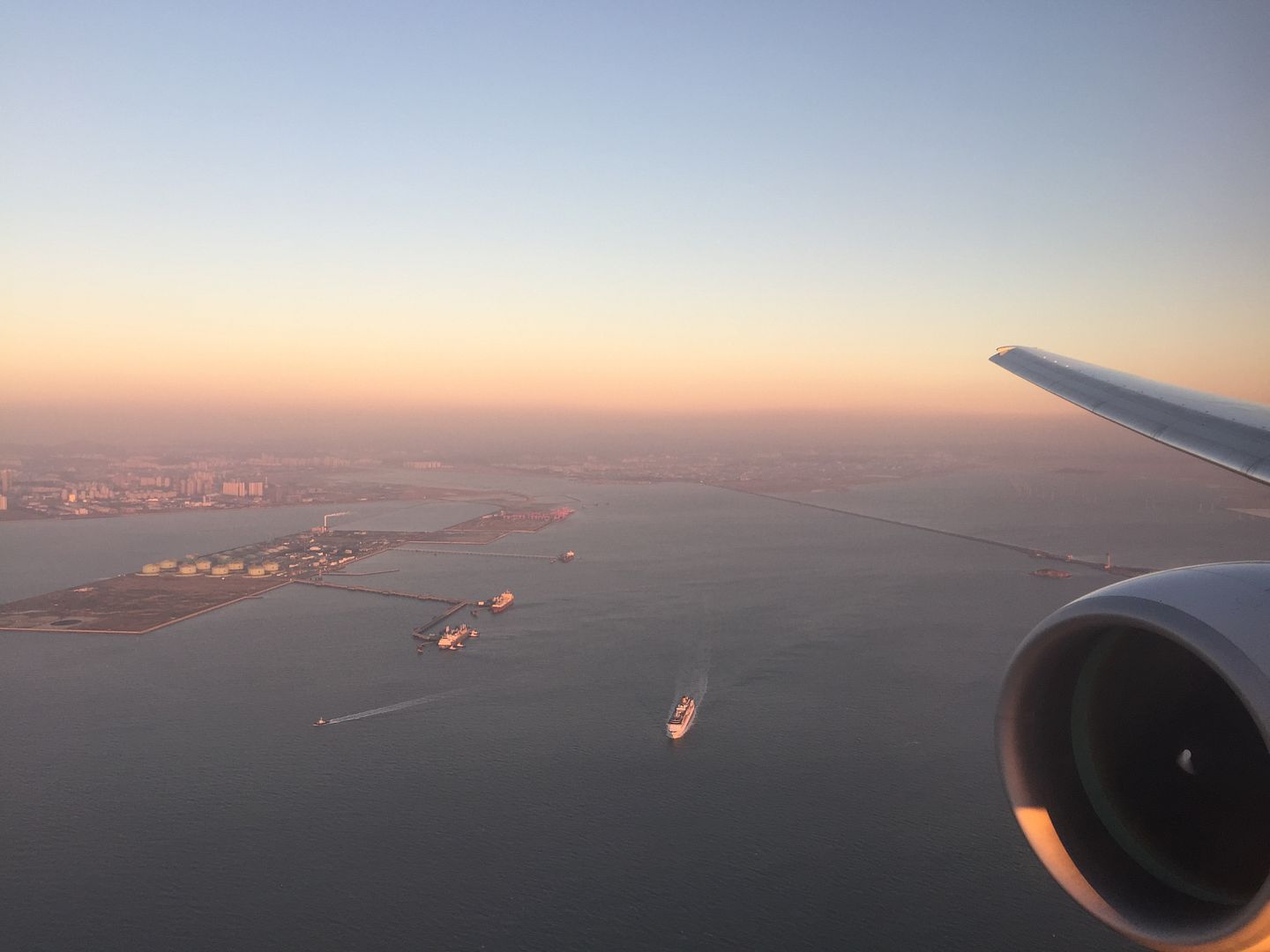 Final Impressions of Asiana First Class
The approach into Seoul was stunningly beautiful: the JFK–ICN flight arrives slightly before dusk and afforded gorgeous views of the city. I was captivated by the approach we took around North Korea and around the city of Incheon before making our final descent into the airport.
Customs, Immigration and clearance was flawless and I bundled up to board the train to Seoul! I highly recommend flying Asiana as it is a quality airline with which sets the bar very high for other Star Alliance carriers. Having only flown Air India in intercontinental First class, which is a different experience on its own, I cannot compare Asiana to many others. I know that the airline is very proud of its in-flight product and has worked hard to maintain that consistency.