Over the last few years, I had the opportunity to fly almost every aircraft type in United's long-haul fleet. Unfortunately for me, the majority of those flights were in economy class but fortunately for you, I have enough experience with them now to give you some practical advice on which seats are best and better than others to choose. In this post, I will do a quick comparison of the economy class fleet, share some travel products with you and talk about the best economy class seats to choose on the United Boeing 787 Dreamliner fleet.
United Boeing 787 Dreamliner Economy Class
United Boeing 787s are configured in a very tight 3-3-3 layout in economy class. These seats provide 17.3 inches of width and 32 inches of pitch. In regards to seat recline, on United's 787-8 aircraft, the seatbacks recline and the seatpans move forward for a total of 5 inches of recline. But on United's 787-9 aircraft, only the seatbacks recline a total of 3 inches. That's it. It's a shame that their newer planes lose 2 inches of recline and provide less comfort for their passengers. Additionally, these newer aircraft are configured with slimline seats that do not provide the best lumbar support for your back or padding for your rear end.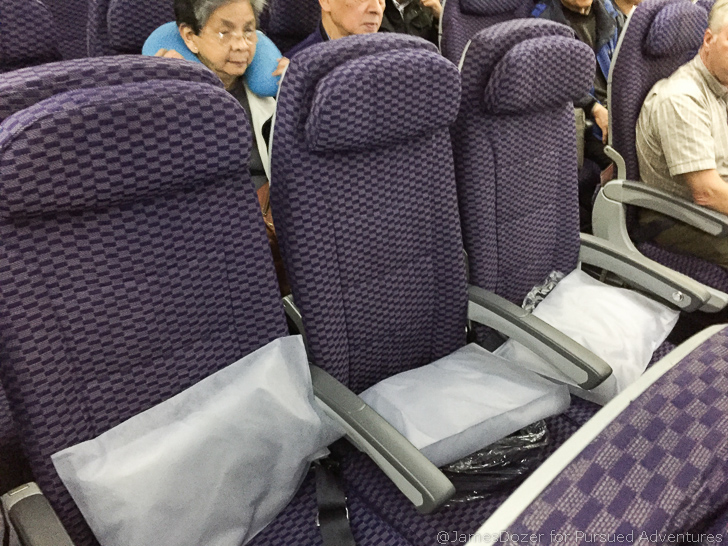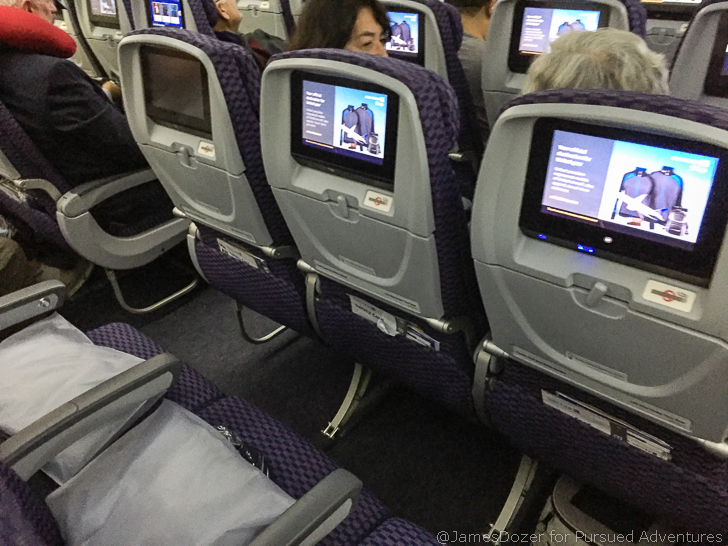 If you have sciatica issues or problems with leg numbness during flight, I would recommend this inflatable seat cushion. This self-inflating seat cushion is perfect for economy class seats and will give your rear end a bit of relief from the hard seat. Click here for more information.
Storage-wise, the United Boeing 787 Dreamliners have huge overhead bins so all your items can go up above and your personal item can be kept under the seat in front of you. Wallets, cell phones and other small electronic devices can be secured in the seatback pocket in front of you.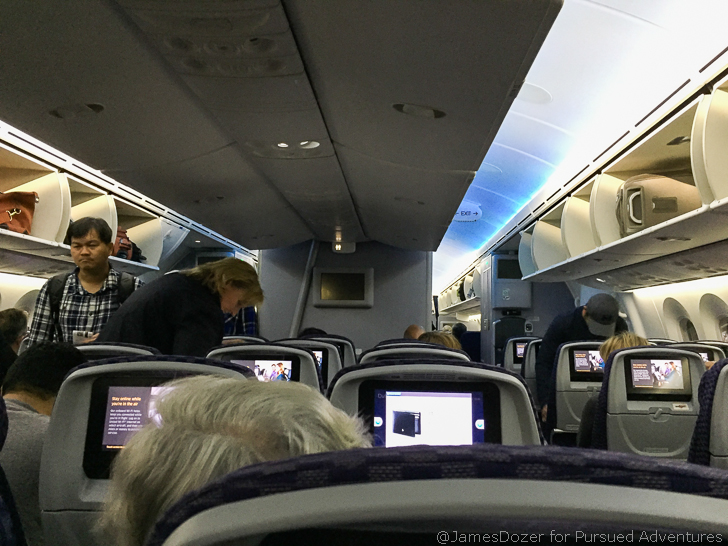 As a point of comparison, United's new 777-300ER economy class seats provide 17.5 inches of width, 31 inches of pitch, and the same 3 inches of recline and United's older Boeing 777-200 economy class seats provide up to 18.3 inches of width, 31 inches of pitch and 5 inches of recline. Even with an older IFE system, the 777-200s are my favorite aircraft to fly on United in economy class because they offer the most room for your hips and padding for your rear end. As you can see from the table below, the trend with United's newer aircraft is to stuff more passengers in and provide less comfort.
Each United Boeing 787 economy class seat is equipped with an adjustable headrest, personal seat-back entertainment system, USB port, overhead air vent, reading lamp, and 2 universal electrical outlets per 3 seats. The electrical outlets are located underneath the seats but more towards the center seats. In other words, if you have a device plugged into the outlet, the person seated in the middle seat might unintentionally knock it loose with their legs.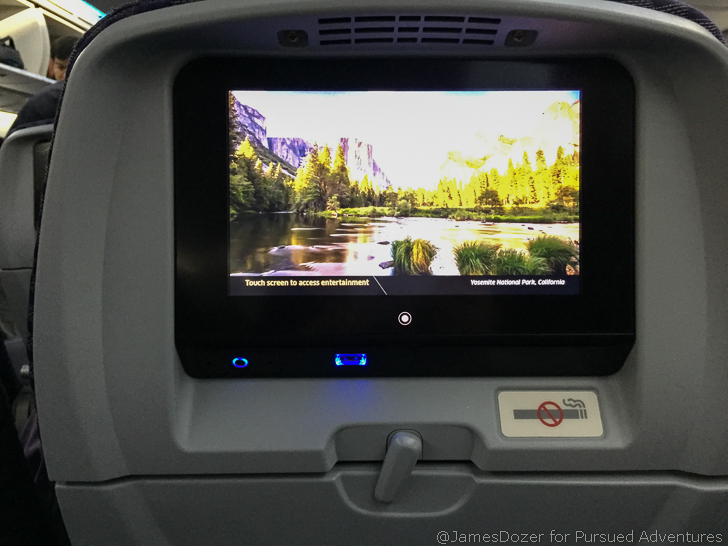 One of United's best feature is its extensive media collection. United's in-flight entertainment system is programmed with a huge selection of the latest movies, TV shows, video games and audio entertainment. With hundreds of hours worth of on-demand entertainment, United can keep you entertained for even the longest of long-haul flights. You won't be bored on a United flight, that's for sure.
Need to stay productive? All of United's Dreamliners are equipped with satellite-based WiFi to keep you connected to the real world. On a recent flight from Singapore to San Francisco, WiFi was priced at $8.99 for one hour, $14.99 for two hours, and $29.99 for the full flight. I'm not sure but it looks like internet prices have gone up recently as I don't remember paying this much for WiFi before. However, it might have been more expensive because this was an ultra-longhaul flight? That being said, the WiFi can be unreliable and cut out often (especially over China) so purchase at your own risk.
Best United Economy Class Seats to pick on Boeing 787s
By far, the best seats to pick on United's Boeing 787 fleet (both the 787-8 and the 787-9) are seats 27A and 27L. Row 27 is the emergency exit row for the economy class cabin. This row is reserved as Economy Plus seating but the two "window" seats, A and L, are not considered Economy Plus seats. Passengers can select these seats at any time for no additional fee. These seats are now considered "preferred" seats, which come with a small fee to select them.
Seats in row 27 offer a ton of legroom but will be slightly less wide than the other seats because the tray tables and IFE monitors are located in the fixed armrests. Additionally, both 27A and 27L lack windows due to the positioning of the emergency exit doors and there is a slight hump that protrudes from the emergency exit door into your leg room. It's nothing major but worth noting here that if you have long legs, you will have to cant your legs away from the emergency exit doors slightly. The 787-8s have a larger hump than the 787-9s.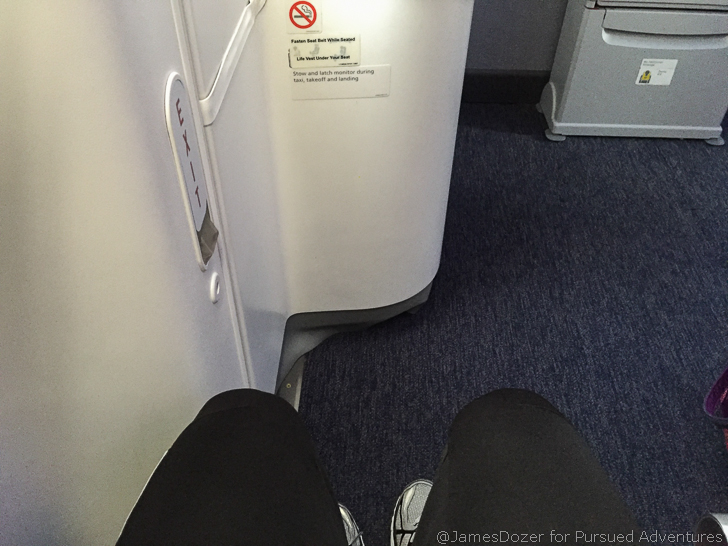 The other negatives to these seats are the lack of overhead storage bins, no under-seat storage during takeoffs/landings, and the increased noise from fellow passengers. This is the area where people will congregate to chat with one another and line up for the lavatories during flight. If you have long legs and a good set of noise-canceling headphones, these are the seats for you. If you are sensitive to noise and chatter, these are not the seats for you.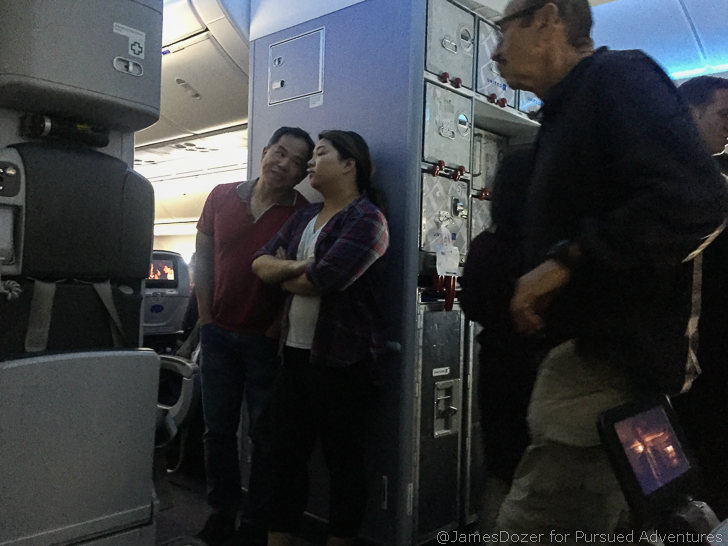 My second favorite economy class seats are row 38 on the 787-8 and 41 on the 787-9. These are the last rows of seats in the middle column of seats. These seats offer increased privacy because there are no seats to either side of them and they are usually the last seats to get selected, thus you are more likely to have an empty middle seat (or an entire row to yourself).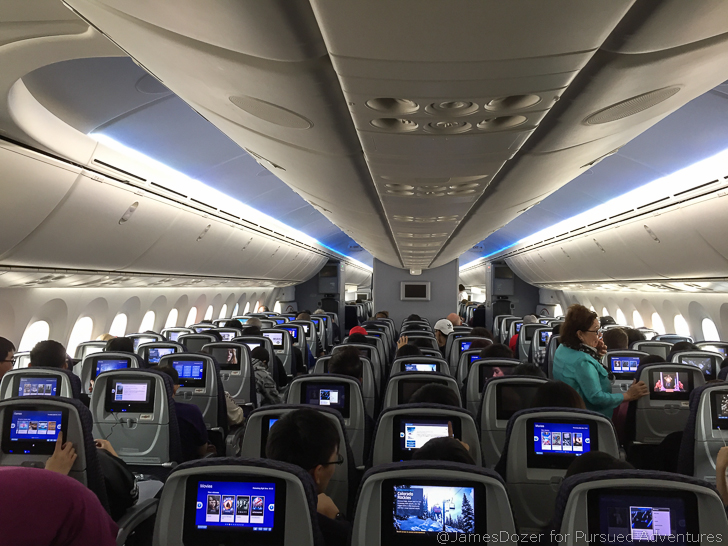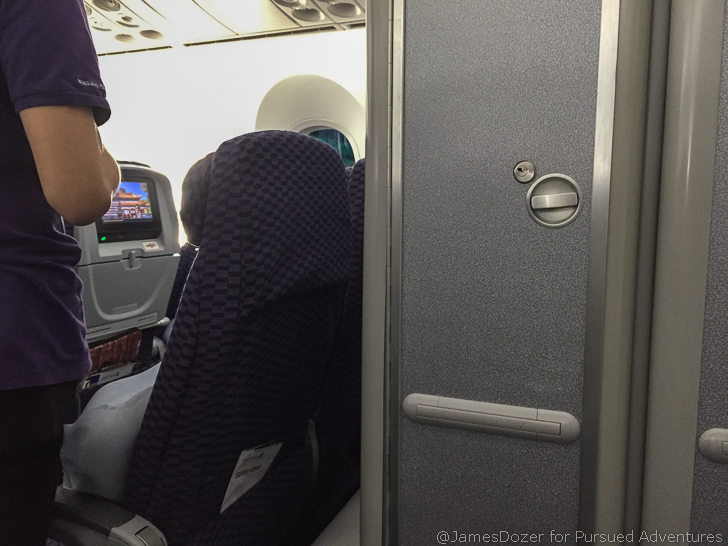 These seats still offer a full recline but have the disadvantage of increased noise from the galley behind you. If you can deal with the increased noise, then these seats are a good choice. But also keep in mind that if you are a picky eater, they might run of out food options by the time they get back to you. You might just get one option for food. A good solution to this dilemma is to pre-order a specialty meal such as a vegetarian or gluten-free meal prior to your flight.
But like I said before, these slimline seats do not provide the best cushioning for your rear end and are not the most comfortable for long-haul flights. I normally love window seats but on these long flights, I will always choose aisle seats now to allow me the freedom to get up and walk around more frequently. No matter which row you choose, I would recommend an aisle seat for you as well. The aisle seats in the middle column of seats are the best because you will be bothered less by people needing to get out.
If you find it hard to sleep on airplanes because your head bobs back and forth, I would recommend you look into a GoSleep 2-in-1 travel sleep mask. It looks a little funny but trust me, you will get a more restful sleep with this product than with any other sleep product. Especially on planes with limited recline like this one, the GoSleep travel sleep mask will gently support your neck and head and prevent your head from bobbing back and forth during sleep. When I use this, I find that I sleep longer and wake up more rested without any neck pain. I never leave home without it.
So those are my two recommendations for United's economy class seating. Do you have any other seats that you prefer? If so, please give me your feedback in the comments section below. Thanks for reading!
This post contains references to products from one or more of our advertisers. We may receive compensation when you click on links to those products.