In November, 2013, Asiana opened up award space in First Class on almost every flight possible.  Of interest was their new First Suite Class on their 77W (actually a 777-200), which only operated between New York-JFK and Seoul-Incheon.
The United devaluation had just been announced and I had about 75,000 miles remaining in my account.  It used to cost 70,000 miles for a one-way First Class award from the US to Korea (and other parts of Asia), so I booked the space for the first week of March – if I needed to cancel or change my booking, I could do so for free as a Premier Platinum.
Once I booked that award, I started talking to my mom and asked if she ever wanted to take that trip to Angkor Wat she'd always been talking about (goading her into saying yes to an early March trip).  She hemmed and hawed but eventually said yes – however, Asiana space had disappeared by then, plus my mom prefers to fly a more direct route and actually prefers a good business class to first class since she'd rather just sleep.
Since my mom owns her own business that requires her presence, I had to plan a quick trip (mainly for her, if award space was an issue, I could stay back an extra day). I planned to get at least one leg of the journey in or out of Siem Reap airport (REP) to save time, and for that, Skyteam is actually most preferred since that alliance has the most number of airlines flying into REP.  For what it's worth, Asiana also flies there from Seoul.
I eventually found Korean Air business class space all the way from Los Angeles to Seoul to Bangkok, and from Siem Reap to Seoul to Bangkok, with the A380 on the transpacific legs both ways.  My mom has flown Asiana flights thanks to Star Alliance miles, so I was wondering what she'd think about Korean Air.  Unfortunately, Ma didn't really take many pics (despite asking her so many times! :-)).  Still – this is why I love airline miles.  In no way would I be able to take such a quick trip to Asia without miles and points, and treating my mom to it as well!
As for me, I had a bit of time to play around with my award, so before the United devaluation set in, I added flights to my New York to Seoul award, adding Los Angeles to New York on United PS, Seoul to Tokyo-Narita on Asiana's morning 747 with First Class, and Tokyo-Narita to Bangkok on United's 747 in Global First.  Thai Airways would eventually open up space in First on their evening A380 flight from Tokyo to Bangkok, so I switched to that in what had to be one of the easiest decisions in the history of mankind.
I got to Bangkok a day before my mom, and we spent a couple days there.  Then we flew Bangkok to Siem Reap on Bangkok Airways using 5,000 JAL miles each to defray that cost.  My mom flew back home out of Siem Reap, while I returned to Bangkok and connected to Cathay Pacific for my flights home, flying Bangkok-Hong Kong-Los Angeles in the new regional business class BKK-HKG and first class HKG-LAX.  I used 67,500 American miles for that, but got 6,750 miles back for holding the Citi AAdvantage Visa (the $85/year card, not the $450 Executive card which I also have).
My AA redemption from Bangkok actually has a final destination of New York-JFK, but I was able to make Los Angeles my stopover thanks to American's North American gateway stopover rule. I detailed that rule in this post.  For just $2.50 more, I have a one-way from LAX to JFK on the A321T in First Class for the future.
I'm not big on hotel loyalty, but the two major hotels we stayed at were the Hansar in Bangkok (not affiliated with a major loyalty program, but it was a hotel I wanted to check out) and the Le Meridien Angkor in Siem Reap (I'm only an SPG Gold, but it's now a category 2 so points redemptions are a good value).  I'll fess up, I didn't actually use points for the Hansar, but I justified the cost by saving money on the Bangkok-Siem Reap flights with SPG points, thus freeing up trip funds for a hotel.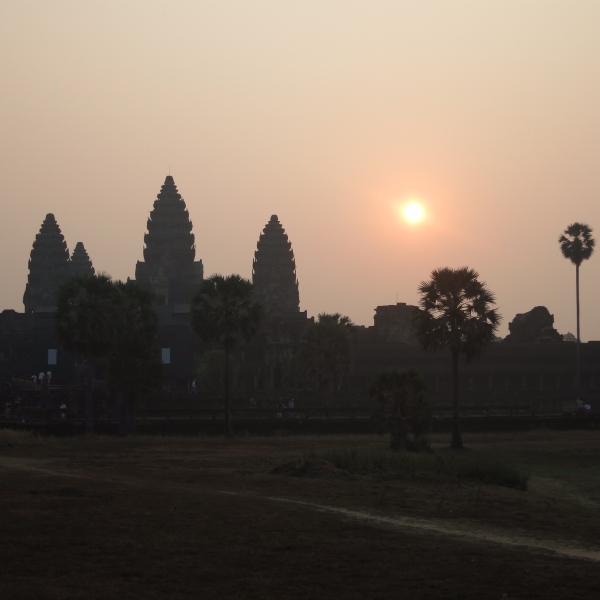 I won't be reviewing every single aspect of this trip, mainly because doing trip reports takes a lot of work and frankly, how many reports of United PS and Cathay First can you take?  In reality, the major "motion" part of the trip report will be Asiana's First Suite Class, since many people have asked me to post that.  I'll see what other things I can drum up.