Alaska Airlines offers a great deal when you cancel your flight. Anyone can keep a full credit toward a future flight — no change fees — when they cancel at least 60 days before departure. Mileage Plan members with MVP Gold or MVP Gold 75K elite status can cancel any time before departure.
I usually prefer to deposit my credit to "My Wallet," an electronic account that stores value so it's easy to use for future flights. It's much easier than tracking ticket numbers. I've lost residual value on fares from other airlines when I've canceled tickets before because I simply forgot the funds existed.
However, one reader warned me to be careful. Your credit could expire just a few months later before you have time to use it.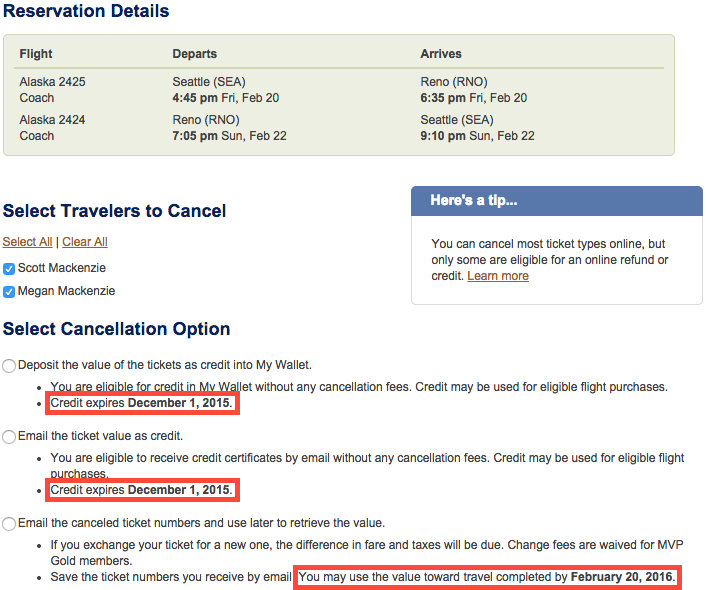 You have three choices for what to do with your credit when a flight is cancelled, as the screenshot above demonstrates. The first two options are an easy credit. You can deposit it in My Wallet or receive an emailed gift certificate. (If you change your mind, gift certificates can be deposited in My Wallet.) The credit will expire one year from the original date of purchase; in this case that was December 1, 2014.
The third option is to keep the original ticket number and use it to retrieve their value when you book a future ticket. This is an exchange, not a real credit, and I just explained why I prefer not to track ticket numbers. But you may get more time. My original travel date for this particular ticket was on February 20, 2015. So I would be able to use the ticket for travel by February 20, 2016 — even if I booked that new ticket sometime after December 1.
Is that better? Not always. If I took a credit, I would have to book sooner but I could travel later. Alaska Airlines publishes its schedule 330 days in advance, so I could conceivably wait until it's about to expire and book for travel sometime much later than February 20. Ultimately your decision may depend not on the relative convenience of booking a new flight but on a decision you made long ago — the date you booked your original ticket.