I flew to Tokyo from Seattle on Delta's A330-200, but returned on the 747-400 nonstop to Los Angeles.  Before this trip, the 747 was the final aircraft in the Delta fleet that I hadn't flown (I've flown many other 747s, just not a Delta one), so I was pretty excited to say the least.  Despite my gripes with Skypesos and the new revenue program, Delta was one of the airlines I grew up with and a lot of my travel memories involve a Delta trip or redemption.
I took the Access Narita Bus from Ginza for only 1,000¥ and arrived at Narita about 2.5 hours before departure.  Like the Star Alliance concourse, Skyteam has integrated check-in for member airlines under one roof.  I already had checked in on my phone, so I didn't need to complete any formalities.
Tokyo Narita Sky Club
Once through immigration, I lounge hopped and tried to get myself ready to sleep on the plane.  I had barely any sleep the night before, since I arrived at Tsukiji Fish Market at 2:45am to see the fish auction and eat at the amazing Sushi Dai, so I was looking forward to a flat bed.  Even better, it would be midnight in LA and a 9-hour flight, perfect to try to get back on Pacific Time.
I first started at the Korean Air lounge.  Lucky previously reviewed this lounge on his Korean Air First Class journey, and I have to say that I agree with him that it's rather disappointing.  I just expect a lot more from Korean Air, even if it is an outstation.
I left the lounge and headed toward one of the two Delta Sky Clubs at Narita.  I've been told by most people that this is one of their favorite Sky Clubs in the Delta system, and I'd have to agree here as well. It's quite spacious and there are a number of areas to sit and relax, or sit and be productive, or sit and do a bit of both.
I also visited one of the shower rooms.
I got to the gate as boarding for BusinessElite was underway.  On the lower deck in the nose, BusinessElite seats are arranged by the windows with a small number of seats in the center.  Behind, seats are in a normal 1-2-1 arrangement, but it feels a bit more spacious thanks to the wide fuselage.
Delta 747 BusinessElite
Delta 284
Tokyo (NRT) to Los Angeles (LAX)
Boeing 747-400
BusinessElite seat 77K (upper deck window)
Depart: 3:50pm
Arrive: 9:30am
Duration: 9h, 40m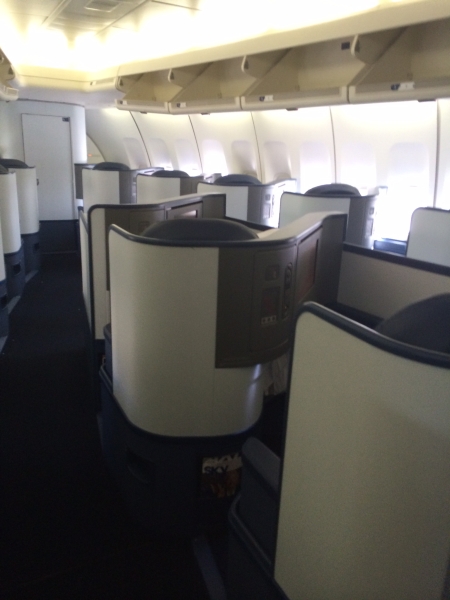 My seat, however, was upstairs, where the configuration is 1-1.  Most business class products that are upstairs on the 747 (like United, British Airways, or Asiana) are 2-2, so it's fantastic to have so much space in business class.
My seat was 77K, which is the first seat on the right side after the emergency exit.  Because of this, I had an extra shelf area on which to keep things (for example, when I finished my meal, it took a while for the flight attendants to clear plates, so I just put my tray on the shelf and went straight to sleep).  The big difference between this seat and the A330 seat was the amount of storage between the seat and window – they're not even in the same league.
What I love about the upper deck of a 747 is the view out the window where you're on top of the engines.  The seats face the windows, so looking out is easy, and you feel isolated from other passengers.
When I took my seat, I was offered a glass of sparkling wine, juice, or water, as well as a snack packet.  I finished my glass rather quickly, and it sat empty as the flight attendant chatted with a group of passengers in the front of the cabin, so I went up to her to ask for another glass.  As it turns out, there was an entire family of non-revs taking up most of those seats.  I'm fine with non-revs getting their due benefits, but it shouldn't affect service for other passengers.
I perused the menu and made my selection for the lasagna since I figured a carb-heavy dinner would put me to sleep (and plus, no Japanese airline food could top my Sushi Dai breakfast! :P)
Below is the breakfast menu, though I decided to sleep through breakfast since I wasn't particularly impressed by the omelet on the outbound.
We took off on time, and I browsed the IFE, but there was nothing rather interesting or new.  I watched Tropic Thunder since I hadn't seen it in a while, but my headphone jack wasn't properly working and audio was garbled.  I made a note to Delta.com afterward and got a reasonable number of miles for it.
I really have to give Delta major props for their food — it is by far some of the best food I've had in business class. It can be hit-or-miss depending on the menu, but I enjoyed all of my selections.
Like I mentioned above, as soon as I was finished picking at my desserts, I put the plate on the shelf area on my seat and immediately put my bed into lie-flat mode.  To the flight attendant's credit, she immediately came over with a water bottle and cleared everything.  It would just be easier to push the call button, but I feel weird doing that in anything but a premium class on a foreign carrier.
While some may say that you don't need a fully 180º lie-flat bed, it's pretty great to have one, especially with a comfortable duvet and two pillows.  I had a great sleep and woke up as our plane was entering the L.A. basin.  It was about 8:45am and I was able to have a rather productive day.  After all, that's what business class is about!