Delta is updating their Medallion Qualifying Miles (MQM) fare class earning rates for the 2013 program year and they have quietly announced it on their website without an email blast to flyers or a public announcement. Some fare classes will be receiving more MQMs, some will earn the same, and yet others will be decreased. I have posted the new earning rates below. Be sure to take note, if you purchase before March 1, 2013 the fare class may earn a different rate than for tickets after the 1st.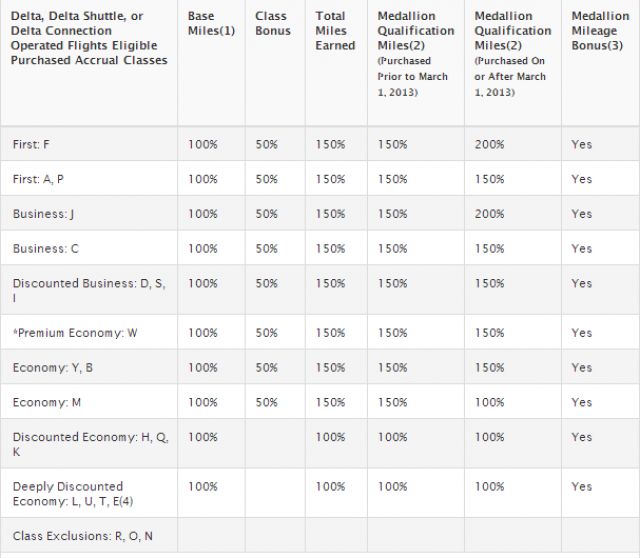 After reviewing the changes, I would say the majority of them are good. Now, full fare Business and First class tickets will earn 200% MQM instead of 150%. The only decrease is M fares (economy) will only earn 100% MQM instead of 150%. This means, those extremely expensive last minute tickets, which are not quite full fare economy, but close, will earn the same MQM bonus as a discounted economy ticket.
Overall, I would say these changes are primarily good! I'm happy to see that Delta will still be awarding elite MQM for discounted tickets, included E fares (as long as they are published). In addition, I am glad that Delta will still be offering a 150% bonus on Premium economy flights operated by Air France. When first reviewing the changes I was scared they would reduce it to 125% since Prem. Econ. is usually not as expensive as Business.
These changes will not affect the typical flyers, but for those business travelers (who Delta is trying to lure) who fly on very expensive fully refundable and last minute fares, you'll notice higher accrual rates when traveling.