After a pleasant flight to Madrid on American's new Premium Economy class, I had a short layover before continuing on to London.  Though there are numerous options to fly from Madrid to London, I selected easyJet for this leg.  Now, some of you are probably wondering, how is easyJet relevant to a points & miles blog?  In fact, discount carriers have a place, both for award travel and discounted premium fares.  Need a cheap flight to complete an open-jaw award?  That cheap business class ticket only gets you to Paris, but you want to go to Prague?  Discount carriers can fill the void.  You've no doubt heard plenty of ULCC horror stories.  Is the easyJet experience so dismal that the cheap fare isn't worth it?
The easyJet Experience: The Basics
Before getting into the flight itself, I'll spend a couple of minutes on the basics of flying with easyJet.  If you've flown with or are familiar with domestic ULCC Spirit Airlines, easyJet will seem familiar.  In other words, the base "Standard" fare, while cheap, buys a seat, but nothing else.  Practically everything else incurs an additional fee.  easyJet also offers a bundled "Flexi" fare, which includes advanced seat selection, priority boarding and security, and a free checked baggage allowance, among other goodies.
easyJet flights are bookable on third-party sites like Expedia.  However, fares are higher.  For example, a randomly selected December 15th flight from Rejkavik to London Gatwick prices out at €70 on easyjet.com.  Compare this to €80 on Expedia.  Annoyingly, easyJet follows the typical ULCC model by levying a £14 "admin fee" on all bookings.  Similar to the "passenger usage fee" charged by Spirit, this fee can't be avoided if booking online.  In addition, all online bookings are subject to a 1% transaction fee when using a credit card.  One important note: should you miss your flight, easyJet charges a "rescue fee" of £80 to rebook on a later flight.  Ouch!
One important point to remember: as a strictly point-to-point airline, easyJet DOES NOT offer connections, either via its own metal or other airlines.  Any "connections" require separate tickets, and you must re-check bags and clear passport control if applicable.  Keep this in mind if using easyJet as a cheap "book-end" for an award ticket.
I booked a Standard fare (£42.49) and paid by credit card (fee of £0.42), for a total of £42.91.  Since easyJet does not belong to any alliances, the only points you'll earn are credit card points.
The easyJet Experience: Baggage and Seats
"Standard" fares include one cabin bag, measuring a maximum of 56 x 45 x 25 cm, with no weight limit.  This is actually slightly larger than the U.S. domestic airline standard of roughly 56 x 35 x 25 cm.  The catch?  One bag means one bag, NOT one bag plus personal item.  You'll have to upgrade to a "Flexi" fare to add a personal item.  As for checked baggage, charges range from £13-30 when prepaid online, depending on route.  These increase to £32 if paid at the airport, or £45 if your bag is confiscated at the gate as too large for cabin baggage.
With regards to seating, fees range from £1.99-19.99 each way to reserve a seat in advance.  You can, of course, take your chances and accept the randomly assigned seat at check-in.  One unique aspect of the easyJet experience: online check-in begins 30 days prior to scheduled flight time.
I took only a carry-on, and decided to take my chances with a random seat assignment.  That kept the total cost at £42.91.  I ended up with an aisle seat about halfway down the plane.
For a list of all ancillary fees, click here.
The easyJet Experience: Flight Review
EasyJet (U2) Flight 8276
November 5, 2016
Depart: Madrid Barajas (MAD), Terminal 1, Gate A8, 11:52, 17m late
Arrive: London Gatwick (LGW), South Terminal, 13:19, 19m late
Duration: 2 hours 27 minutes
Seat: 17D
Equipment: Airbus A319
Transiting from Terminal 4S, where my American flight arrived, to Terminal 1 was an ordeal.  If you've never transited at Barajas, just getting to passport control involves nearly 20 minutes of walking and a train ride.  Getting to T1 then requires a bus ride and a security check.  Reaching the A (non-Schengen) gates means a VERY long walk, and passport control again.  Ultimately, the entire process took an hour and 15 minutes, bringing me to the gate less than 10 minutes before scheduled boarding.  With a slight delay, however, I had time to get in a little planespotting.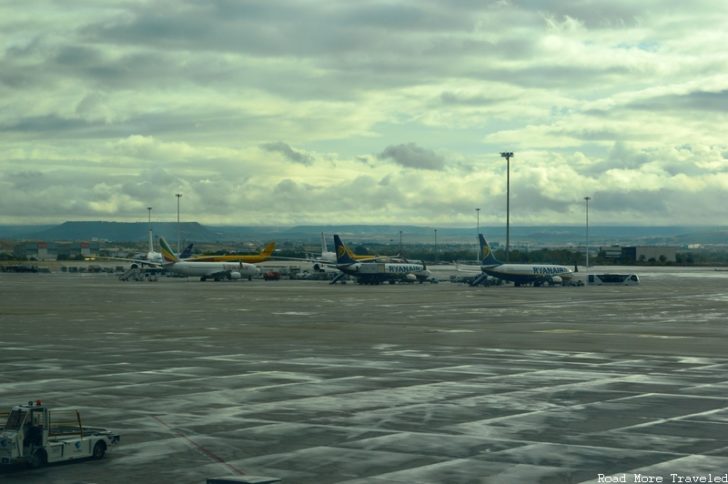 Boarding was a bit of a mess.  The gate agent announced boarding through both gates A7 and A8.  However, it was quite difficult to understand which rows boarded through which gate.  I finally figured out Row 17 boarded through gate A7.  Unfortunately, by the time I reached the front of the line, the agent abruptly announced all carry-ons must be gate checked.  Grrr….
Anyway, the weather turned rainy once again, making me wish for a jetbridge instead of a remote stand.  On the other hand, remote stands let you see this as you board.
Once aboard, I quickly made my way to my seat.  All rows are configured in a 3-3 configuration in blue and orange trim.
While the cabin was reasonably clean and well maintained, the seats were tight.  Squeezing 156 seats in an A319 means just 29 inches of pitch.
The tight pitch becomes even more apparent when you try to read a magazine.  Seriously, I couldn't imagine trying to work on a laptop if the person in front reclines.  It's tolerable for a 2 hour flight, but I'd have to think twice about anything much longer than that.
In addition, each seatback features an ad above the tray table.
One thing that became quickly apparent – this flight featured a good crew.  All three flight attendants were warm and friendly, welcoming us aboard and even making small banter with the passengers.  In general, easyJet has a better service reputation than arch rival Ryanair, and first impressions were positive.  Following a rather rough take-off due to crosswinds, service began about 15 minutes later.  easyJet charges for all food and drink, with a menu provided in each seatback.  While the menu was quite extensive, easyJet really pushed the "Meal Deal".  £6.50 isn't a terrible price for what's offered, actually.
I decided not to order anything, but the sandwiches seemed to be of decent quality.
Apart from the food sales, the FAs also offered duty free sales.  I've read elsewhere that easyJet pushes scratch cards on board, but these weren't offered on this flight.  The FAs conducted all sales in a professional manner.  Nothing too pushy, unlike the credit card shilling formerly found on US Airways.
Rain earlier in the day in London gave way to scattered clouds by the time we landed.  Though the plane parked at a jetbridge, passengers in the rear had the option of deplaning via the rear stairs.  That meant yet another terrific view of our plane as we walked to the terminal.
The easyJet Experience: Final Thoughts
The on-board experience rated pretty decent.  Friendly flight attendants, reasonable on-board prices, and decent quality food offerings make for a decent alternative to full service carriers.  I'd also managed to navigate the minefield of fees without getting dinged for anything more than a credit card fee.  On the other hand, seat comfort is an issue for flights much longer than 2 hours.  More than that, the logistics of connecting from an international flight to a discount carrier proved difficult.  Plus, the low base fare becomes expensive quickly if you have to check bags or need seats together for your party.  Overall, let's face it – it's tough to beat $48 for a positioning flight within Europe.  Just know what you're getting into, and allow plenty of time for connections.
Note:  this post is part of a multi-part trip report series covering my short trip to Europe in November, 2016.  Click here for the introductory post and trip report index.
Photo of easyJet A319: "easyJet Plane at Edinburgh Airport", by Karen Bryan/www.europealacarte.co.uk/blog/, via Flickr Creative Commons, Attribution-NoDerivs 2.0 Generic (CC BY-ND 2.0).