I recently made a big mistake with the Hilton Honors American Express Aspire card, and I wanted to share my story with you so that you don't make the same mistake I made. I doubt many of you are as careless, but here's what happened just in case.
Like many of you, I signed up for the new Hilton Honors American Express Aspire card a few months ago. I did the math and for the first year, it actually worked out for me. The instant Diamond Elite Status would help out with upgrades for upcoming reservations and the annual $250 resort and airline credits would help justify the $450 annual fee. Combine that with the bonus Hilton Honors points (currently 150,000) and the free weekend night certificate and the whole deal just made sense for me to apply.
Well, I did apply and got approved for the card but the $250 resort credit didn't work out quite the way I had hoped. But keep in mind, this was my fault. Neither American Express nor Hilton did anything wrong or shady here. I just failed to read the terms and conditions to see exactly what I was signing up for and that was my fault. If I would have read all the terms and conditions regarding the annual resort credit, none of this would have been an issue.
Here are the terms and conditions:
You and your authorized cardholders will receive a total of $250 in statement credits for eligible purchases made directly with participating Hilton Resorts per reward year.
Unlike the annual airline credit, the resort credit is not based on a calendar year. It's based on a "reward year," which is defined as 12 months from when your account was opened. The annual resort credit will renew each year on your account opening anniversary date.
Eligible Hilton Resort purchases must be made directly with the participating Hilton Resort and charged to your Hilton Honors American Express Aspire Card. This can include your room rate and taxes but you must be a guest of the room.
Incidental charges made at restaurants, spas and other establishments within the hotel property must be charged to your room and paid for with your Hilton Honors American Express Aspire Card at checkout.

It all sounds pretty straightforward, right? But here's where I went wrong. I didn't check to see which resorts were participating resorts and just assume the resorts I had reservations for were all participating resorts. More specifically, I assumed that if the word, "resort" was in the name of the hotel, i.e. DoubleTree Allamanda Resort and Spa or the Hilton Seychelles Northlome Resort and Spa meant that all incidental charges made at said resorts would have qualified for my $250 resort credit. Well, I was wrong and they didn't.
In order for your charges to be reimbursed, you have to make sure that your intended hotel is a participating resort. But finding out which resorts are participating isn't hard or misleading. Hilton set up a site for you to check which hotels and resorts are participating resorts. All you have to do is go here, hilton.com/resorts and search for your resort.
When you click on the link, it will list all the participating resorts. You can search by region (North America, Africa, Europe, etc.) or by type of activity (beach, golf, etc.). At this time, there are 223 participating resorts out of 570 properties worldwide.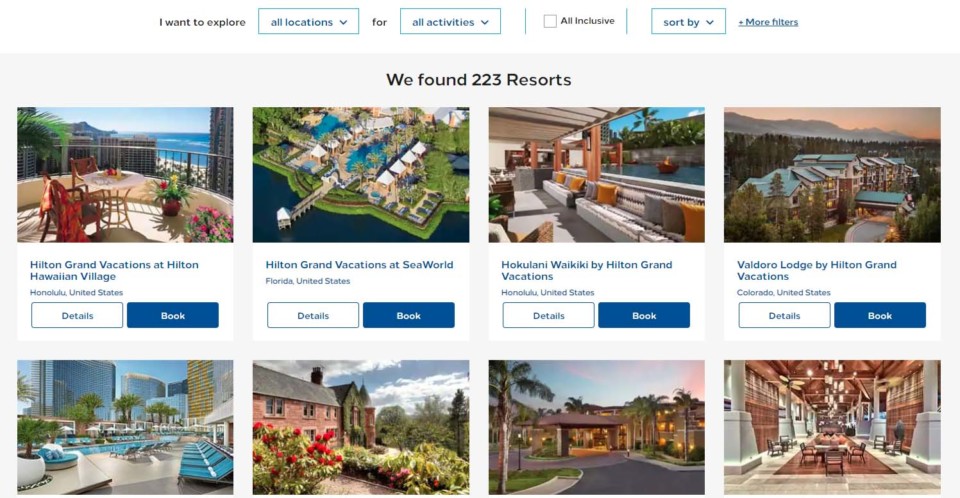 So don't make the same mistake I made. All you have to do is check this website before booking. If you see your property listed, then you're good to go. If you don't, then don't count on a statement credit later. I hope this information helps.
Please let me know if you have any additional information regarding this or if you have any other tips or tricks you would like to share. Thanks for reading!