Over the past few weeks, I have been touring some of the Hyatt resort offerings in California and Arizona. Due to the grueling summer conditions in the desert, the Hyatt Regency Indian Wells has wonderful rates for stays during the week. Temperatures can reach close to 110 degrees at times but that didn't deter me from heading over for the weekend. Actually, I ended up loving this resort so much that I have gone back once a week for the past 4 weeks straight!
Check In
Upon arriving for the first time, I was greeted by a friendly front desk clerk who explained to me all the benefits of the hotel and Diamond amenities. I opted for the 1000 bonus points every time I came to this property. She then informed me that I had been upgraded to a Penthouse Suite on their Regency Club level. I was ecstatic as some of my friends were traveling with me and the extra space and bathroom would help us get ready faster! There is a $23 resort fee which is explained at booking and again at check-in. If you are a Diamond member, there is a $5 discount on the resort fee. The Hyatt Indian Wells runs anywhere from $100-300 given the seasons and costs either 20,000 points or 10,000 points + $125 cash.
The Room
After checking in, I made the trek to the room, which is quite far from the lobby. As a resort, the hotel itself sits in the middle of this massive property. It often takes a lot of time to get to/from the room and those who stay on far ends of the hotel are looking at a 5-10 minute walk to get anywhere. Once I finally got to the room, I was stunned at how gorgeous it was. The room featured sweeping views with an extended balcony and full loungers. Inside, there was a comfortable living room with a 50-inch HDTV. There was also a table for a few people to eat on and a wet bar. The bedroom featured a king size bed and large HDTV as well.
The bathroom featured an oversized tub and rainshower. There were KenetMD amenities and plenty of them in both bathrooms. The overall decor was stylish and modern like most Hyatt hotels around the country.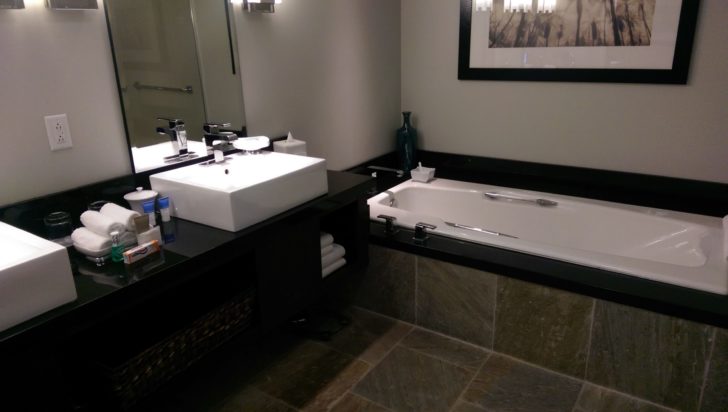 The Grounds
The resort grounds were absolutely beautiful. A quick walk through the grounds showed that they offered 7 different pools including an adult pool with around 20 cabanas. There is also a waterslide pool for the kids and another pool for people to play basketball in. Overall, there are 2 main pools with a few scattered around them. All the pool were heated to 84 degrees and it was the perfect temperature compared to the 105 degree heat. Around the pool, there are lounge chairs with umbrellas and servers offering to take food/drink orders.
There are also other activities available around the resort like Badminton, Basketball, Tennis, Foosball and much more. Everything is included in the resort fee except Tennis. There are golf facilities around the resort and I believe that there is a driving range as well.
The actual resort is massive. It is split into two with the pools being in the middle of the hotel and villas. Parking is sort of a pain if you don't valet. Self-parking is free for Diamonds or $10/night for other guests. Valet is $20 and no discount is provided to Diamond members. The Self-Parking lot is quite far from check-in and could be bothersome if you have to walk in the heat for long periods of time.
Regency Club
The Regency Club is located on the 5th floor and is open daily. It briefly closes from 10AM-11:30 and 4PM-5. Snack and beverages are generally offered throughout the day with Breakfast being served from 6AM-10. It's one of the better clubs i've been to recently as there is a nice selection of food and because there is a lot of space to sit down and lounge around.
The Villas
On my second, third and fourth stay, I managed to snag a great upgrade to a 1 bedroom Villa. The Villas are located on the opposite side of the hotel and offer dedicated butler service and a more homely atmosphere. Each Villa comes with a massive backyard complete with it's own private BBQ and Jacuzzi. The one issue I faced each time with the backyard was the amount of bugs. I didn't think too much of it as it's the desert but at the same time, I was unable to use the Jacuzzi due to the fact that there were crickets and flies jumping around all over me.
Inside the Villa, there is a large living room complete with a wet bar and dining sets for 4. The butlers will also bring more sets on call and offer to bring grilling utensils if you choose to grill food. Before my arrival, I had coordinated with the concierge about buying and stocking meat and other items so that I wouldn't have to. In addition, I had them set up some decorations for some of my friends who were graduating.
The bedroom of the Villa features a King sized bed with a nice fan overhead. There is also a lounger in the bedroom that looks out to the backyard. The bathroom is also very large and offers both an oversized tub and shower. There are dual sinks with plenty of amenities and storage as well.
At night, the living area couch transforms into a pull out bed that sleeps two. There is also an entertainment center where you can plug in your own music or play the radio.
The Service
The staff at this property was beyond amazing. Every time I managed to stay here, the staff went above and beyond to handle any of our requests. Whether it was Jim at check-in, Paula at concierge or even Claude at butler services, the service was top notch. I managed to have the concierge set up some decorations and buy grill meat ahead of time. Paula offered great recommendations and even had a custom cake made for my friends. In fact, the main reason I kept coming back every week was because the service was so great. At the pool area, the servers were wonderful and always offered to refill my drink. It seemed that everywhere I went in this property, everyone was all smiles! It felt great to see so many employees who really loved what they were doing.
At one point during my stay, I realized that more beds were needed to sleep on. When I called the front desk at 2am, Jim answered was able to open up the adjoined bedroom to make our Villa 2 bedrooms. This helped us out so much and I couldn't thank Jim enough!
Overall, I would and already have a few more reservations set at this hotel. Beyond the fact that I live close by, I see myself returning more and more to enjoy the sun and this amazing resort!