United Airlines is a member of the Star Alliance and enables you to redeem miles for travel on itself and 38 partners. The vast majority of those carriers can be found on United's website. This post describes how to use the United Airlines website to find and book awards on those carriers, with the notable exclusion of Singapore Airlines (as well as three less major partners).
Star Alliance
Other Partners
Not Available Online

Adria Airways
Aegean Airlines
Air Canada
Air China
Air India
Air New Zealand
ANA
Asiana Airlines
Austrian Airlines
Avianca
Brussels Airlines
Copa Airlines
Croatia Airlines
EgyptAir
Ethiopian
EVA Air
LOT Polish Airlines
Lufthansa
SAS
Shenzhen Airlines
South African Airways
SWISS International Airlines
TAP Portugal
THAI Airways
Turkish Airlines
United Airlines

Aer Lingus
Aeromar
Air Dolomiti
Cape Air
Edelweiss Air
Eurowings
Hawaiian Airlines
Islandair
Silver Airways

Singapore Airlines
Azul Brazilian Airlines
Great Lakes Airlines
Jet Airways
For Singapore Airlines you'll find it possible to find award space on the Aeroplan (Air Canada) or ANA websites, and you can then call United Airlines to book. You may also find it useful to use these sites to verify the availability you find with United, since the United website — despite its many features — still has the occasional bug. If you find an award somewhere else, then you should be able to return to United's website to book it. I discuss elsewhere tools that work well for some of United's partners.
For the three remaining carriers — Azul, Great Lakes, and Jet Airways — you'll have to speak to a United Airlines agent to find availability and then book an award.
Table of Contents and Related Posts
Find Award Space on the United Airlines Website
Example of Finding a Domestic Itinerary
It is not necessary to create an account with United Airlines before beginning an award search. However, some members with elite status or a certain credit card may have access to extra award space that is not provided to the general public. If you plan to book with United miles, log in to see this space. If you plan to redeem through different program and are just using the website to search, log out so that you see only public availability.
United will search all cabin classes for award space, so there is no need to choose a cabin when beginning the search even though a menu is available. Just make sure to check the box to "Search for award travel." This example begins with a search for two seats from San Francisco to Maui in July.
TIP: One-way awards are generally easier to find. United enables you to book one-way travel for half the price of round-trip travel, but stopovers require you to book a round-trip ticket. Don't need a stopover? Then it may not matter.
The results page includes a two-month calendar at the top to help you find other dates with better availability, if necessary. The calendar is color-coded:
Yellow = Saver Award is available in economy
Blue = Saver Award is available in first or business class
Green = Saver Award is available in both economy and first or business class
White = No Saver Awards are available
You'll generally want to book a Saver Award since these are much cheaper and most partner airlines are only available at the Saver Award level. If you're interested, Standard Awards typically cost twice as many miles and are more plentiful. I like that United uses white to represent Standard Awards — it makes those days look empty, which is exactly how I think since I never want to book them.
As you can see from the calendar, there are no Saver Awards available in either cabin class on our original date of July 1. However, we could fly the next Friday, July 8, and have more options.
The detailed results should update automatically when you select a new date from the calendar. (If not, just repeat the search on the new date. For a while this page was buggy and would frequently crash when trying to update.)
Awards are sorted into three columns: a single column is used for all economy class awards, whether at the Saver Award or Standard Award level. The only way to tell the difference is by the price and the label above it. However, premium cabin awards are sorted into different columns. If there were a distinct business class cabin on this route, we would see additional columns.
To make comprehension easier, the price you see includes both the necessary miles and the necessary taxes and fees for each passenger. United does not collect carrier surcharges (otherwise known as fuel surcharges). I've written a separate post on how to estimate United's taxes and fees.
TIP: If you are trying to book less than 21 days before departure, the fees listed will already include the $75 fee that United collects for close-in awards; this fee is waived for Premier Platinum and 1K members and will disappear once you're logged in.
Even better, you can sort the results by clicking on each column header. Remember that this is a green day, with economy and first class Saver Awards. We see lots of economy class awards at the Saver level, but all the first class awards are at the Standard level. Click on the "First Saver Award" heading to bring these to the top.
We now see many more options, and the price is cheaper — 50,000 fewer miles than booking a Standard Award. (Why United displays both Saver Awards and Standard Awards for the same itinerary confuses me.) However, the red question mark indicates this is a mixed cabin award. You can either hover over the question mark to reveal more information, or click on the "Details" button to expand the result.
In this example we see that United is offering a first class flight to Honolulu and then a connection on Hawaiian Airlines in economy class. Travel that includes airline partners is also indicated in the summary view. You can see this in the second result where there is a note underneath the arrival and departure times.
Searching for Nonstop Flights
If you want to avoid a connecting itinerary, you can easily do this from the results page. Just check the box that says "Show only nonstop flight availability," and the calendar with update automatically. We already know that there aren't any nonstop options on July 8. (If there were, they would have been at the top of the list when we sorted the table.) However, there are first and economy class options for nonstop travel on Friday, July 9.
These nonstop flights are a little bit cheaper. Why? In general United has one price for its own awards and one price for partner awards, but that isn't what's happening here. Rather, inter-island flights in Hawaii are a rare exception where United just tacks on an extra 6,000 miles. It's listed right there in the award chart.
One last feature: You can check the seat map for flights operated by United Airlines directly from the results page. If you have several options available, maybe a good seat assignment will help you choose.
Example of Finding an International Itinerary
I'll take the easy way out and search for an award from Los Angeles to Hong Kong for one person. I know that Asiana operates a couple of flights to Seoul from both Los Angeles and San Francisco, and these have pretty good award availability. LAX and SFO are also both United hubs, and Hong Kong is a large market for them.
Making my quest trickier: I want to fly with Asiana on their A380 between LAX and Seoul. I'm pretty sure I'll get some connecting options to Hong Kong. The question is, will I be able to connect in Seoul or will I be offered something else?
When starting this search in May, I saw only a few dates with business or first class award space. I don't care about economy class on a long-haul international flight, but I also can't refine my search on this page to view the particular Asiana segment that I want. A simple "nonstop" checkbox wouldn't be enough since I know I'll need a connecting flight once I reach Seoul.
I can work around this by switching to the advanced search page, where I unchecked the boxes for connecting flights. I'll also update the search to look between LAX and ICN. Although I still want to go to Hong Kong eventually, I'm only looking for this one nonstop flight at the moment.
Ta-da! I now have a calendar showing only nonstop flights between Los Angeles and Seoul.
You might notice some odd things (United.com is still a little buggy). There are some days, like May 3, that now have premium cabin Saver Award space even though it wasn't available before. This might be because I'm being very specific with a nonstop route rather than letting United search for and check connecting flights. You can also see that one of the results is listed twice. But what matters is that I have found the flight I want, and it clearly shows that Asiana operates it with an A380.
I can now go search for a one-way flight between Seoul and Hong Kong and confirm that it's available on the same day — or the day after — that I arrive in Seoul.
It's also possible that I could find a connecting itinerary that includes Asiana's A380 on the first try, searching through all the results I found when looking at travel between Los Angeles and Hong Kong. And, in fact, once I confirm award space on each flight separately, LAX-ICN and ICN-HKG, I will probably go back and do that search again. Sometimes it's a lot easier to find segments individually — especially if you want to use the calendar.
If you want to do it in one go, click on the blue bar at the bottom of the screen to pull up the filter settings. You can limit yourself to certain connecting cities, like Seoul, under the "Airports" tab and then go to "Carrier preference" to exclude flights operated by United (since I'm looking for flights operated by Asiana).
Lo and behold, I get the same result. In this case it's marked as a "mixed cabin" itinerary because I included the business class connection from Seoul to Hong Kong. It's also a little higher, at 130,000 miles instead of 120,000, because Hong Kong is in a different region.
This example was pretty simple, but some complex itineraries require more effort to find and book. Don't give up and call an agent. The United website can handle most challenges if you already know the award space exists. The trick is in how you design your search.
Searching for Complex Itineraries
One of the best uses of United Airlines miles is to book complex itineraries that include stopovers and open jaws. An open jaw is just the combination of two one-way flights that don't start and stop at the same city but are still in the same general region. An example is flying into London and returning from Paris, which are both part of Europe. United and many other airlines will let you book these flights separately or as part of a round-trip itinerary.
Open jaws can be very helpful. Maybe there isn't any award space departing London, so Paris is a good alternative. Or when returning home, perhaps you can't get to San Francisco but you can fly to Los Angeles. Change your award to add a LAX-SFO segment if it becomes available later, or buy a separate ticket.
Stopovers are more unique, and only a few loyalty programs let you book them as part of award tickets. They start out like any other connection, say traveling from San Francisco to Hong Kong to Singapore. However, international connections are limited to 24 hours. A stopover would allow you to spend several days or weeks in Hong Kong before continuing your journey. United permits one stopover, and only when you book a round-trip award as part of a single ticket.
TIP: It's very important to remember that open jaws must be at your origin or destination. This is by definition. If you put an open jaw in the middle of your trip, you'll need to book separate tickets because you've created a new "destination." A stopover can be anywhere within your itinerary, but you must arrive at and depart from the same airport.
How do you book these itineraries? You could call an agent, but that would require paying a telephone booking fee. Fortunately the United website is smart enough to book most complex awards on its own if you begin a search from the home page and choose the multi-city search option.
Enter each part of your journey as a separate flight, even if you want to book it as a single award. It will help if you've already found award space by performing individual one-way searches. It's up to you whether you limit results to nonstop flights or not. You can try to enter every single segment separately or allow the computer to find some of the more obvious connections. What is important is that you separate travel on different dates.
For example, you may want to book travel from Los Angeles to Seoul, perform a stopover, then fly to Hong Kong a week later (your destination) and return to San Francisco (open jaw with Los Angeles). I've already looked for the individual flights, so I know what's available — unfortunately I had to go really far out to find a return ticket.
As I select each flight, the previous selections are available at the top of the screen. This is especially helpful if I need to review my flight times for connections that occur on the same day, although that's not the case here.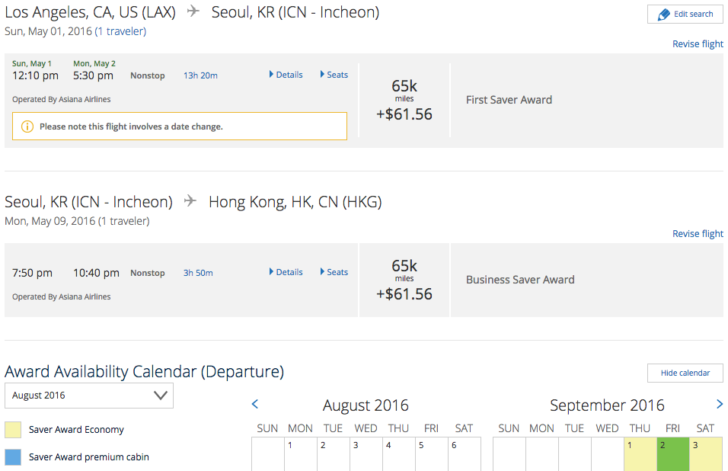 If award space is available, you should be able to select each segment one at a time. Being familiar with the award chart will help you verify the price, which you'll see after selecting the final segment.
TIP: Don't worry about intermediate prices when selecting flights for a multi-city itinerary. Clearly 65,000 miles is the wrong amount for both LAX-ICN (that would be 120,000 by itself in first class) and for ICN-HKG (that would be 40,000 by itself in business class). But when booked together, the entire LAX-ICN-HKG itinerary should cost 130,000 miles as we saw previously. United is just averaging this amount across each segment.
Usually the United website does alright. In this example my final leg was returning in business class to Los Angeles via Tokyo on ANA. The entire trip cost 210,000 miles. That's the correct amount when you add 130,000 miles for the outbound journey and 80,000 miles for the return. If you see a very different price, review the rules for stopovers and open jaws again. Sometimes the computer can get confused about which city is the destination and which is the stopover. You may need to call an agent to resolve the matter.
I would still pay 210,000 miles if I booked each direction separately, but I would not be able to include a free stopover in Seoul. Instead I would have to break up my journey into three separate tickets for a total of 240,000 miles: first class to Seoul for 120K, business class to Hong Kong for 40K, and business class to Los Angeles for 80K. So you see, there is some real value in booking complex itineraries in a single reservation.