I was relaxing in our room at the Hyatt Ziva Los Cabos. My son was asleep, my wife was working on something else, and I decided that I would start writing a review of the place. I kicked my feet up on the couch, and I started to write. After sinking a good amount of time into said review, I realized to myself, "Hey I think I've reviewed this hotel already!" I searched the internet, and yup – I reviewed it in 2014. I loved the resort back then, and the good news is that not much has changed. I still love it! You should take a look at the original review before reading this one. That review was posted from the perspective of a married man with zero kids. This updated post is written from the perspective of a guy traveling with his wife and 17 month old son.
A lot has changed since our last stay. Most notably, the property was completely destroyed during Hurricane Odile and spent many months shut down. The reconstructed hotel looks almost identical to the first version. If you compare the two sets of pictures, you'll have a tough time noticing that the resort was scrapped in between the two.
Location
If you've never been to Cabo before, the greater Los Cabos area spans between San Jose Del Cabo, a smaller town closer to the airport, and Cabo San Lucas, the classic Mexican tourist town. The road between them is often referred to as the corridor, and it's about a thirty minute drive between San Jose Del Cabo and Cabo San Lucas. If you're looking for nightlife, Cabo San Lucas is where you should be. If you're looking for relaxation, San Jose Del Cabo might be more your style, but it's not hard to get between the two areas. There's also a public bus that runs both directions of the corridor. It's a much cheaper way to get between the two towns, but it's also slower.
The Hyatt Ziva Los Cabos has one of the best locations in San Jose Del Cabo. It's on the main strip of hotels right on the beach, and there's a La Comer (a giant Mexican Wal-mart esque store, formerly called Mega) within five minutes of walking from the hotel. La Comer is basically your one-stop shop for things you wish you would have brought: headphones, dress pants, underwear, snacks, pharmaceuticals, etc.
Being closer to San Jose Del Cabo means that airport transportation is a bit cheaper than if you're all the way in Cabo San Lucas. I recommend booking round-trip transportation ahead of time from one of the many providers, rather than dealing with the onslaught of transportation providers when you land at the airport.
Food
The Hyatt Ziva Los Cabos is an all-inclusive resort. Food, alcohol, and entertainment is included in your rate, mostly. I haven't been to any other all-inclusive resorts so I don't have much basis for comparison, but I always figured all-inclusive resorts were typically filled with one giant buffet of slop, overrun by binge drinkers. That's not the case here. The resort boasts many different restaurants. All of the restaurants require seating via hostess, and with the exception of the main buffet, they are all a la carte dining experiences. While the Ziva line of resorts is targeted at families, the French restaurant, Bon Vivant, is for adults 18 and over only. There's even a teppanyaki style Japanese restaurant. There are pool bars that serve tacos. The hotel periodically schedules special shows with food, day time BBQs, and more. The variety is extensive. If you're worried about variety, worry no more.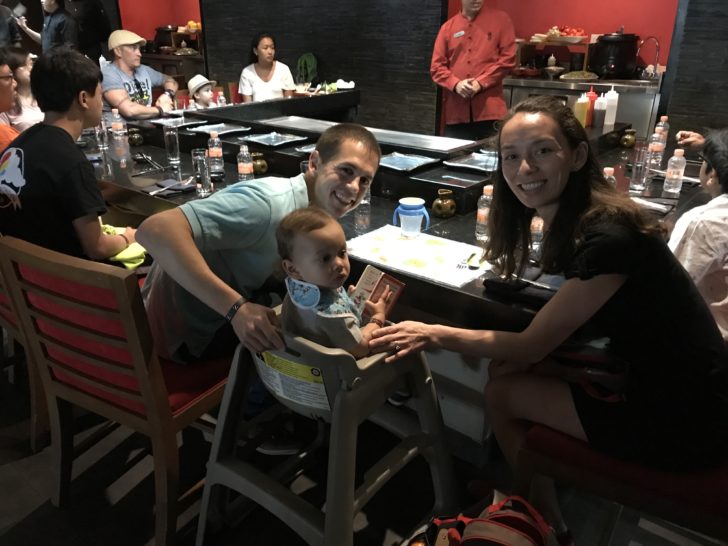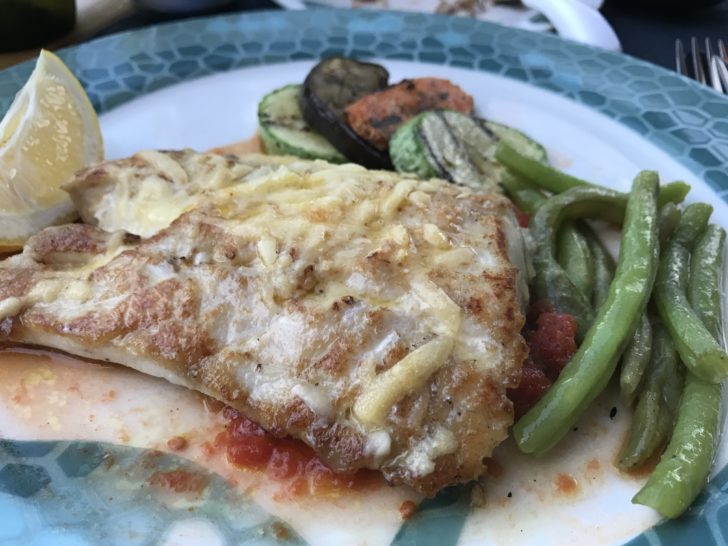 So how's the food? It's awesome. As Globalist members, we had the option of having breakfast in the lounge or at the primary buffet. Of course there's also a coffee shop if you just want a small pastry and coffee. You could also order room service. Or go to the 24 hour deli. There are so many options! We chose to go with the buffet every morning. Asian resorts aside, this is one of the better breakfast buffets I've been to. There's a section of fresh cinnamon rolls, waffles, crepes, and more. There are multiple make-to-order omelette stations. There are different types of chilaquiles, chorizos, etc. There's a kid section that is lower in height for the little ones to reach. And with this being all inclusive, there's no shortage of champagne for mimosas. There are like ten different fresh squeezed juices. It's great.
While the buffet is open every night for dinner, we changed it up and went to most of the a la carte restaurants. They're all delicious. Because we had our kiddo this time, we didn't make it to the French restaurant this time around.
Pools
The pools are awesome. We spent our previous trip at the adult pool, but this time around, we stayed at the kid pool. It's amazing! It's essentially a mini water park, which may have utilized services such as a splash pad installation, and there's play equipment nearby. I put together a little video that showcases the waterpark features.
The main pool in the middle of the resort is also great, and if you're familiar with large Mexican timeshare style pools, this one is exactly like the others, pool bar included! For a look at the adult pool, check out my previous review.
Beach
The beach is large, beautiful, and great for evening walks when the sun goes a bit lower and the temperature becomes a bit more moderate. We enjoyed playing in the sand with our little 17 month old, and we also utilized the hotel's photographer to get some family photos. They take your photos for free, but if you want the digital files, expect to shell out a couple hundred bucks. See below for an example of what the beach looks like… and what their great photographers can do!
Note that while it's a great beach to enjoy, it's not the best for swimming. There's a pretty strong riptide, and the hotel was advising not to go in the water. We're definitely prefer pools over beaches… so it wasn't an issue for us.
Entertainment, Kids, Etc.
There's a lot to do here. You can go SCUBA diving. You can go into town. The hotel puts on a show almost every night. Many times they do the shows in their theater, and sometimes they do it outside. One night while we were there, they did a Mexican music show, and our little dancing baby loved it!
They had water aerobics in the mornings while we were there. There's beach volleyball. There's a kids club. This place has something for everyone, but recommend just relaxing and having some good family time.
We actually used their baby sitting service one night. You can hire nannies through the hotel. The nannies are all hotel employees, and that made us feel more comfortable, knowing that the hotel wasn't contracting out to a 3rd party. You do pay the nannies in cash, though, but we didn't have any problem with that. Our nanny, Maria, did a great job taking care of Zachary while we went out to a wedding one night. Maria must get a lot of gigs, as we saw her with other kids while we were at the hotel for the rest of our stay!
We happened to be at the property during Easter, and I was so impressed with the effort they put in for Easter. I thought they might just have a few egg decorations here or there. Nope… They had an easter bunny. They had face painting. They had an egg hunt. They had live freaking rabbits on-site for kids to see. It was great!
Conclusion
If this review seems incomplete, that's because it's more of an addendum. I've already reviewed the property! I love this hotel. I've been here without kids, and my wife and I never left the adult pool. We returned with a kid, and we never left the kid pool. Go figure. This place is built for family fun, and I highly recommend a visit!