I've had extraordinary good luck with upgrades in the last six months and have not missed a single upgrade so far in 2013. My goal today is to outline several ways that United Airlines processes upgrades and how to use these rules to your advantage. You may have to accept defeat in a few cases but hopefully with the knowledge that you could not have done any better.
I am purposefully leaving out so-called "tens of dollars" upgrades at check-in because the general consensus is that these are a horrible failure, awarding cheap upgrades to general members and expensive upgrades to elites. Until the mess gets sorted out, I can't really tell you how to make them work for you. Similarly, I won't discuss instant upgrade offers at booking. If you see a price you like, great. Book it. This post is meant to be about all the other upgrade offers and opportunities you get due to elite status.
Upgrade Inventory on United Flights
Upgrade space is classified with the letter R, much as first class and economy class fares each get different letters depending on the corresponding rules and price. If R = 0, then you won't get an upgrade even if F = 9 (the number of first class seats available for sale). A few instant upgrades for full-fare tickets described below use different letters that have fewer capacity restrictions: Y upgrades into JN space and M and B upgrade into PN space.
Married segment logic sometimes affects the displayed availability for different fare classes. If you have two segments in the same reservation, and one has R = 9 but the other has R = 0, then searching for upgrade space might result in seeing R = 0 for both segments. Search for upgrade space individually for each segment to see the true availability using a tool like ExpertFlyer or United's Expert Mode. (Update: ExpertFlyer no longer displays R inventory, so you will need to rely on United's Expert Mode.) The actual processing of upgrades for each segment will still occur individually and is not affected by married segment logic.
Complimentary Premier Upgrades
Complimentary Premier Upgrades, or CPUs, are the free domestic upgrades that United promises its elite members. The upgrades are processed according to the table below, up to 120 hours before departure. Unless you are a Platinum elite or higher, I don't recommend you rely on this process for most flights.
The first ones to clear are those who have an instrument- or miles-supported upgrade as described above. Those customers actually "paid" for an upgrade, just not with money. Remaining upgrades are then classified by elite status and within each elite tier according to the fare class purchased. The upgrade hierarchy, from first to last, is: Y, B, M, E, U, H, Q, V, W, S, T, L, K, G, N.
How can you increase your odds of a complimentary upgrade?
First, pick periods of low demand, or when demand is particular high among infrequent travelers. You don't want to be on a popular route for business travelers on a Monday morning.
Second, don't fly with a companion (learn more about United's companion upgrades). When you travel alone, only one seat needs to be available for an upgrade. When you travel together, there need to be two seats at the same time.
Third, it often seems that upgrades only clear at regular intervals when the reservations system performs "sweeps," but you could always call a reservations agent and try to sweet talk your way into getting it processed manually. This sometimes allows you to jump the queue.
Buy More Expensive Fares for Instant Upgrades
You can purchase a more expensive fare to increase your chances of an upgrade. Elite members who purchase a Y or B fare are eligible to confirm a complimentary upgrade at any time before departure. There are two conditions. First, upgrade space must be available. Second, you have to make the request manually. It is not an automatic upgrade. Premier 1K and Premier Platinum members are also eligible to get an instant upgrade on M fares.
Usually these are all still expensive fares relative to the cheapest discounted options in the G, L, or K buckets, but sometimes for expensive routes or close-in travel they are only slightly more. You can compare fares for different fare classes using ExpertFlyer or ITA and search for a specific fare class using United.com.
If you don't or can't confirm your upgrade in advance, then you will enter the queue for Complimentary Premier Upgrades (CPUs) described above. Note that your fare class will improve your odds even if it doesn't qualify for an instant upgrade. For example, a K fare will clear before a cheaper N fare. You may have the opportunity to buy up to a more expensive fare after ticketing, but you will likely have to pay a ticket change fee if required by the rules of your original fare.
Instrument-Supported Upgrades
You can use a Regional Premier Upgrade (RPU) or Global Premier Upgrade (GPU) to confirm an upgrade in advance or jump to the head of the line. Premier Platinum members receive 2 RPUs and Premier 1K members receive an additional 2 RPUs (4 total). Premier 1K members also receive 6 GPUs. Customers receive an additional 2 RPUs for every 25,000 premier qualifying miles over 100,000 and an additional 2 GPUs for every 50,000 premier qualifying miles over 100,000.
RPUs are largely restricted to the same domestic routes on which CPUs are allowed. However, there are a few routes like United's p.s. service between JFK and SFO/LAX as well as flights to Hawaii from the East Coast that require an RPU but are ineligible for a CPU. You can also use both RPUs and CPUs on intra-Asia flights, flights to Mexico, and a few others international options as you'll see from the chart below. RPUs are not restricted to specific fares.
GPUs can be used on any route. There are certain fare restrictions for most international routes (Y, B, M, E, U, H, Q, V, or W fare to move from economy class to business class and J, C, or D fare to move from business class to first class). In general, a W fare is going to be your cheapest option to use a GPU on international routes. However, I recommend purchasing a V fare if the price is not too much more (sometimes just $10). This will put you ahead of everyone else who buys a W fare since upgrades on the waitlist are prioritized by fare class.
There is no fare restriction if you choose to use a GPU on the same routes eligible for an RPU. It can be like getting 6 extra RPUs as a Premier 1K; I used two recently on a G fare I booked to and from Miami.
You may apply a GPU or RPU at any time and will be prioritized ahead of CPUs. Remember the sweep issue mentioned above. If you see R upgrade space and your upgrade hasn't cleared, you can call in to have it processed manually, perhaps even jumping ahead of someone waiting for the system to take care of it.
Learn more about the different routes eligible for instrument-supported and complimentary upgrades by examining the chart below or visiting United's website.
MileagePlus Upgrade Awards with Miles
These are ranked similar to instrument-supported upgrades except that the "instrument" is the miles you redeem for the upgrade. You are still placed ahead of complimentary upgrades.
United uses a zone-based pricing chart to determine the cost of upgrade awards in both miles and cash co-pays. It runs on the same system that prices out award flights, but if you click on the tab for "Upgrade Awards" you'll get the cost to upgrade a normal paid ticket. Note that you cannot use a mileage upgrade to upgrade an award ticket.
Example prices are 20,000 to 15,000 miles + a $75 co-pay to upgrade most domestic economy class tickets to first class. The $75 co-pay is waived for Premier members of any status. However, the number of miles and co-pay can increase quickly and are highly dependent on where you want to go and which route you are taking.
Flights from the mainland U.S. to Hawaii cost 30,000 to 20,000 miles for most fares to upgrade from economy class to first class, and the co-pay ranges from $125 to $500. The co-pay is waived for Premier members on some routes, but not for flights departing EWR, IAD, or IAH or those that have been replaced with "premium" aircraft that have upgraded front cabins.
At some point it becomes much more sensible to just take an instant upgrade offer at the time of booking, buy a first-class ticket, or look for a first class award ticket. (Or, route through other airports to be eligible for a waived co-pay or complimentary upgrade.) International fares have much higher miles and co-pay requirements.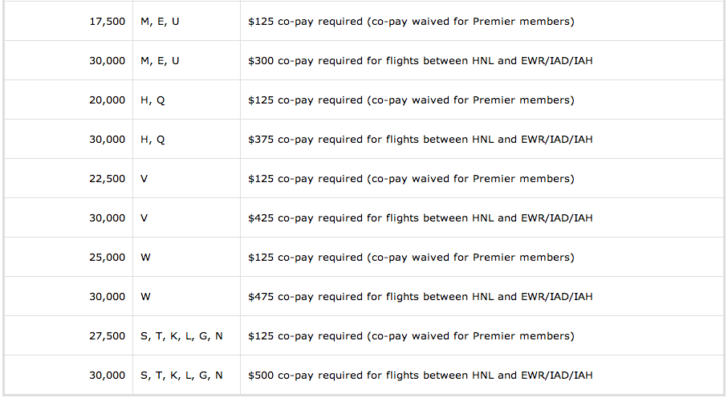 Upgrades on Award Tickets
Award tickets are eligible for a CPU (companion CPUs are not eligible) if you have one of eight different United- or Continental-branded credit cards. Basically, the old pre-merger United cards are excluded (so the Mileage Plus Select Visa is out). However, the new United versions of old Continental cards do qualify (so the OnePass Plus and the MileagePlus Explorer cards are both in). I qualify with my MileagePlus Club Card.
MileagePlus Explorer
MileagePlus Explorer for Business
OnePass Plus
World MasterCard for Business
Presidential Plus
Presidential Plus for Business
MileagePlus Club Card
MileagePlus Club Business Card
These upgrades on award tickets depend only on your elite status. If you are a Premier 1K, you will clear after all Premier 1K passengers on paid tickets, including their companions. However, you will still clear before any Premier Platinum passengers, regardless of their fare type.
Conclusion
The most powerful tools you have in your upgrade arsenal are (1) money and (2) elite status. If you are willing to pay cash or use other "currencies" like miles and upgrade instruments, you will have the first chance at an upgrade. But if you are put into an upgrade waitlist or rely on a complimentary upgrade, then your status becomes just as important. Often the cheapest ticket purchased by someone with top status will clear before more expensive tickets purchased by someone with low or no status. Therefore, I recommend that people with gold, silver, or no status should think carefully about which upgrade strategies they use or consider flights that are likely to be less competitive (i.e., more connections or inconvenient times).
I hope this post provided a good overview of your options. If you have more questions about companion upgrades on United Airlines or how to upgrade flights on other Star Alliance partners, please read those posts or send me an email.