I've been to Tampa a few times in the last year or so for business trips. One of the trips I stayed downtown, and found a decent rate at the Le Meridien. I've typically enjoyed my time in Le Meridien properties in the past, and they are pretty rare in North America, so I was glad to have the opportunity to mix it up a bit. I was upgraded to an Executive King suite for free thanks to my status. This is my review of the Le Meridien Tampa.
Related links: Le Meridien Kuala Lumpur, Le Meridien Angkor, Le Meridien Dubai
The Le Meridien Tampa is inside the former federal Courthouse in downtown. Many of the public spaces retain the historic look of the former life of this building. Guest rooms are modern if a little dark. I only spent one night here, but the central location was convenient. Lots of options for food and other activities are within walking distance.
Executive King Suite
I was pleasantly surprised to get upgraded when I checked in thanks to my SPG Platinum status. The Executive King suite was around 700 square feet, about double the size of standard rooms. The room has dark walls, and modern decor. The suite has 3 main areas, including a living room with a large couch, the king bedroom with a desk and espresso machine and a large closet and finally  the bathroom. It was more space than I needed traveling alone for a short stay. I didn't spend much time in the room other than to sleep.
The bedroom was large, with high ceilings. I found the pillow-top mattress very comfortable. In some ways I wish I had stayed here longer than just one night. The bed was great.
The bathroom was fine. I prefer a shower with doors rather than a shower over a tub, so that was appreciated. Otherwise, there wasn't anything special that made it stand out as a suite. Just a nice modern hotel bathroom.
My room faced the pool. Small, but nice to have in steamy Tampa. I did not use the pool during my stay.
I did use the gym, which was fine, nothing too memorable. The restaurant looked nice, but I didn't eat dinner there, as is my norm in most hotels. I did grab breakfast to go after checking out.
Elsewhere in Tampa…
There is lots of good dining options in Tampa. For now, I'll focus on just one. In my recent trips to the area, I've become a fan of their beer scene.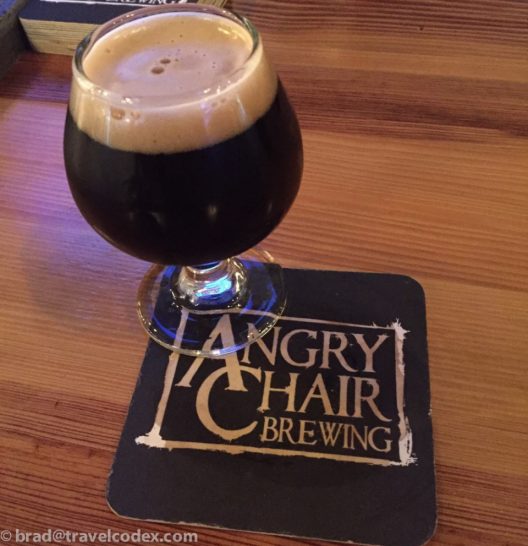 Tampa is really a great beer city. I'd prefer not to give credit to Busch Gardens, but their historical large brewery nearby now brews Yuengling for southern markets. Beyond that, Cigar City has done a lot for the beer scene in the area. During my stay I visited Angry Chair Brewing, and I would wholeheartedly recommend this to visitors looking for some excellent brews. Angry Chair is in the Seminole Heights neighborhood north of downtown, and there are lots of good local restaurants in the area.
Final thoughts
The Le Meridien Tampa is a nice hotel option downtown. I enjoyed the free upgrade, and even without that, I'd be happy to return again on future trips to the area. The architecture is unique, with the classic exterior of the courthouse, with modern touches inside since the renovation to become Le Meridien.