Imagine life behind a wall, a modern day prison where you have freedom to roam, but your freedom is halted by 50+ feet concrete walls. Visiting with friends and family are distant memories which are only revisited through modern technology thanks to the invention of facetime and Skype and jobs and property are lost because access has been cutoff; as like your family these things are on the other side of the wall. This wall I speak about is not the 1980s era Berlin wall, but it's the wall that is built by Israel on the Israel-Palestine Boarder, the modern day Palestine walled in with finite sovereignty. An entire country which is slowly having a wall built around it and cut off from the west of word a wall built by Israel–backed by the west.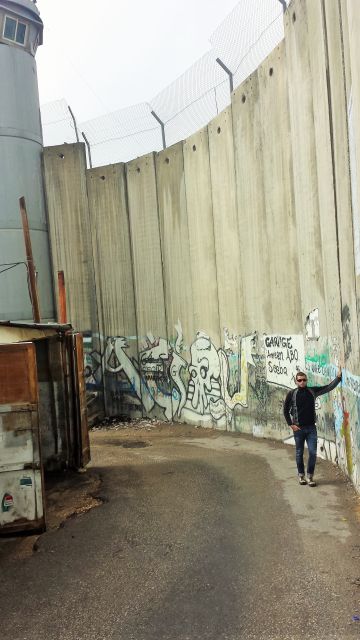 On a recent trip to Israel and Palestine, I spent more time behind the wall and in Palestine than I did in Israel. I met some of the sweetest most gentle individuals who were being punished by the West for being Palestinian.  Brilliant young adults, children, senior citizens, whose dreams and hopes were destroyed by the Israeli soldiers standing guard and check points, keeping the Palestinians locked behind walls, like animals in a cage. Without the ability to move freely, Palestinians are subjected not only to random search and seizure by the Israeli army, who illegally patrol within Palestine, they are not free to leave. Palestinians cannot even travel through to neighboring Jordan, as Israel controls the boarder with neighboring Jordan despite the land being Palestine.
Palestine is allowed to have a police force and a small army, but it is not allowed to control it's own boarders with foreign states not have an airfield. It also cannot issue it's own passports as the western word has partner with Israel and has yet agreed to a real two state solution.
If this doesn't make travel difficult enough, getting an Israeli passport is nearly impossible for most Palestinians, who instead rely on families in neighboring countries to help get them citizenship and travel documents from Jordan, Egypt, and beyond in order to travel freely or leave Israel. Keeping the people poor and imprisoned.
Main border crossing with Israel – Notice people are only stopped one way (entering Israel)
wall art – Palestine side of the wall – Click photos to see larger versions and to be able to read the stories
During my visit to Israel and Palestine I had the opportunity to stay on both sides of the wall. I was able to experience life of both cultures. When I was there I never stayed in a hotel, but instead I stayed with locals and interacted only with people who lived and grew up within Palestine and Israel. Through connections with friends and couch surfing.
On both sides of the wall, all the people I met were amazing. Everyone was full of life, with great stories and people I'd love to be friends with and keep in contact with. Yet, I found that Israelis lived a life of fear. Every Israeli I spoke with talked about the dangers of Palestine, Lebanon, Egypt and more. The advised me to avoid such areas and told me I was crazy for venturing outside of Israel and into these foreign lands.
They wish me luck, but it was clear what they'd been taught to hate each other. As everything they hear on TV, been taught in school, and had been brainwashed while in the army had an influence on their though process. After all Israel was good and Palestine wasn't. Or so they've been told.
When asked if they had experience any violence themselves, I almost always received the same answer. If they are Israeli, no but they knew someone who knew someone who had. Every Palestinian had a soul crushing story of sadness and pain caused by Israel.
wall art – all from Palestine. There is no graffiti on the Israeli side
During my time in Israel and Palestine, I never could quite understand how the boarders worked. Palestine was divided into three areas, Zone A, B, and C. Zone C was open to both Palestinians and Israelis, areas like Jerusalem for example. Then other areas were off limit and marked by giant red signs that labeled them Zone A and warned Israelis that they were serious danger if they entered and were restricted from entering. Yet mind you, these signs are placed by the Israeli government, not the Palestine government.
Then, there is a mythical zone B, which is an area controlled by both governments, however from talking with the locals, it appeared as everyone clearly knew were zone A and C are, but no one knew where zone B existed. Why, because it changes constantly.
Despite this boarder, Palestine is shrinking and Israeli settlements are sprouting up within both Zone A and C. The 1948 peace accord boarder has not been kept, and Israel continues to encroach on defenseless Palestine land (I say this loosely as Palestine has a police force but are barred from having any true army). As Israelis currently have the right to live within Palestine, and once they have a home or a settlement within Palestine the Israel army has the right to protect them. This means, the Israeli army has guard posts and towers all throughout Palestine. In some cities, Palestinians are subjected to constant harassment and stare down the barrel of a gun each day while they go about their daily routines.
Above is a photo that displays Israeli Security forces doing random checks on back roads in Zone C in Palestine. Imagine if US police forces did random "security checks" in Mexico or if Russia did random security checks in Poland.
Visiting Hebron
I'll never forget the day we drove to Hebron, a town in central Palestine that has both historical meaning to the Christians and the Muslims. I entered the town square and found myself surrounded by Israeli soldiers with guns aimed down at me and the citizens of Hebron.
Having a nice tan myself and decent facial hair, I found myself in Palestine often being mistaken for a local and today was no different then the other days. Tons of Palestinians are faor to lightly tanned skin with green eyes, and I just happen to match that description.
As my friend and I explored the town, we were subjected to harassment several times by the ISRAELI Army operating in Palestine. At each stop, they would demand to know where we were going, what we were doing there, and of course demanded our passports/identification.
The Israeli army always stopped me before my friend, as his height and stature makes him look clearly German and not Middle Eastern.  At one point during the day I had a verbal altercation with a couple of soldiers who demanded my identification and wanted to know where I was going, not even three blocks from where I had been stopped previously by the Israei army. On the deserted street which connected two neighborhoods I had been stopped four times in less than 8 blocks. I felt subhuman and like an animal.
Never before, not even when living in China, had I been subjected to so much harassment. Needless to say, I was pissed, and all I could think of was, if I am subjected to this as a tourists, how do the locals survive. Under constant fear and oppression.
Part of my altercation went like this:
Solider: Stop, Come here
Me: Why, what do you need?
Solider: I told you to come here, I don't need to tell you what I need!
Me: I'm walking the opposite direction of you, nothing I am doing concerns you
My Friend: Rocky, lets just go talk to him
Solider: I must inspect everyone who I encounter is this area
We walk towards him and take out our passports as we know he will ask them .
Solider: Where are you from, do you have identification?
Me: USA
My Friend: Germany
Solider: What are you doing here?
Me: Honestly, what the hell is up with your questions? You realized that I had to go through a metal detector and be patted down by your counterparts and answer all this questions when I left the central square? I've also been stopped more than 3 other times in the last kilometer or less to show my passport and answer the same damn questions. I am trying to enjoy a nice peaceful evening walk and your harassment is honestly driving me crazy! What if I started asking you a bunch of questions solider? Am I allowed to enjoy my vacation in peace or are you going to continue being an imbecile? I am doing nothing wrong so please, if I could go on with my evening it would be much appreciated.
My Friend (at some point during my tirade): Rocky shut up
Solider: Sir, I didn't mean to. I just have to.
Me: Cutting him off, Well you did and it's asinine! I don't care what your job is, I've done nothing wrong, except try to go for a walk, so now I will be on my way, good night solider.
As we walked away, my friend who had lived in Palestine for multiple years was clearly upset by the solider's harassment but also laughing on the inside. He too said he had never been subjected to such harassment from soldiers and thought it was funny that I told the solider off.  I have always been somewhat mouthy and cocky, but I had not told off someone of authority like I did that evening.
During my time in Hebron I felt as though my inalienable human rights were being clearly violated. I had done nothing wrong, but after having guns pointed at me for hours while meandering town and being stopped several times by random soldiers my blood pressure was through the roof and I could not hold back my emotions any longer. I felt that day as if I was in a prison, yet I was only visiting. To live there, I do not think I could cope.
The pictures below are of the area in Hebron that I was walking through while stopped multiple time. A once vibrant community now almost deserted
Metal detectors & Israeli security forces are in the middle of town, dividing the city in two. Documents are required and checked and each person as subject to search and questioning. Again it's a one way security situation. And mind you Hebron is deep in the middle of Palestine, far from the Israel boarder.
In the Middle of Hebron are Israeli settlement. Arm guards stand watch. This solider pulled his gun back when he saw me taking photos, after yelling at me in both English and Hebrew to stop taking photos he radioed for back up.
Not only is the city divided in two, but the Settlements are now built in the middle of the city, local Palestinians have had to build protective mesh coverings over their shops as Israelis through stones and garbage on the locals below.
Crossing the Boarder
The rest of my trip in Palestine and Israel was absolutely amazing. My heart goes out to those who are trapped inside zone C and do not have work papers or travel documents to travel outside of Palestine.
For those who do have authorization to leave Palestine to Israel, it's not an easy process as the boarder crossings are manned by Israeli soldiers who love to harass the Palestinians. The main boarder crossing from Bethlehem to Jerusalem sees thousands of Palestinians cross each day to go to work. In order to cross the Palestinians must wait outside in the rain or intense heat. They line up single file and are subjected to a long walk between the two countries.
Despite the harsh weather, the facilities are poorly insulated and the locals complain that the Israelis purposely slow the process down during incremental weather.
I too decided to cross like a local one day and I was appalled by the boarder crossing conditions. After winding through the maze of chain length fence and barb wire, one must wait inside a highly secured room with a dozen od Israeli soldiers pointing AK-47 on the Palestinian's (and me) below. One would think you were in a high security prison.
Then everyone must go through security, similar to intense airport security. After this invasive and inhumane treatment everyone must then have their documents checked and rechecked. Once approved by the Israeli soldiers they are allowed to enter Jerusalem and continue on to work.
The entire process takes almost 2 – 3 hours to commute the 10 miles from Bethlehem and Jerusalem as security is so tight and moves so slowly.
I did this one morning, because I wanted to experience what the locals' experience. The only thing I can say, is as my heart sunk. It was dehumanizing. I felt like a cow a the slaughter house, on my journey to death with no hope for a future…and to think, these people do this every day!
The only photos I could take were before entering the secured compound and from the other side. The Palestine side includes a huge parking lot where locals park their cars before crossing into Israel.
Final Thoughts
Despite what I have wrote above, I am not trying to write a controversial piece on the Palestine-Israel conflict, or tell you how much pro-Israel/anti-Palestine propaganda we are spoon fed by the media in the West. Instead, I wanted to share my experiences and feelings that I experienced when traveling in Palestine, and I hope that it will open up your mind to what is truly happening in this region of the world.
After spending over a week between the two countries, interacting with locals and experiencing multiple days in the life of both Israelis and Palestinians, my views have certainly changed. It saddens me that people are grouped together and treated a certain way based on a some fraction of a population. Yet, it happening in the USA and elsewhere, yet we do very little.
The conflict will not end any time soon, but from my experience there, I felt as though what the Israelis are doing to the Palestinians as the Nazis did to the Israelis at beginning of the World War. Now there are no extermination camps, but they have made people identify themselves by their religion (religions is printed on each person's Identification cards) and have also require Palestinians to live in walled ghettos and check in and out.
The situation in Israel and Palestine is extremely unique, but I will say, I never expected to experience what I did prior to my trip and now more than ever I glad I made the journey and was able to be interact with the locals in the way that I did! My heart goes out to those behind the wall.