When MGM first contacted Ben and me about trying some of their M life Moments, they pitched the idea of swimming with the dolphins at Siegfried and Roy's Secret Garden and Dolphin Habitat, located behind Mirage. This is actually one of my favorite hotels in Las Vegas (reasonably priced and shady pool), and I absolutely love zoos, but I'd never been to see the animals.
This opportunity definitely ranks near the top in its exclusivity. Mirage doesn't have a line at the door to swim with the dolphins for 15 minutes at a time. Instead, the dolphin experience must be reserved in advance and is limited to a small number of individuals at a time — normal prices to be "Trainer for a Day" about $500 per person for a full-day experience from 10 AM to 4 PM. But because we had other plans that afternoon, we were only there from about 8:30 to 11 AM.
Our experience was combined with the dolphins' morning feeding and training regimen, whereas many people only see them when they perform one of their choreographed shows. In that sense it really was "behind the scenes."
All of these dolphins were rescued from unsafe conditions or were on loan from other institutions. The lead caretaker gave us the example of one dolphin who had actually survived a gunshot. But if you see lots of scratches all over, most of that is a result of normal play and aggression between animals. Keeping multiple animals together (as long as there aren't too many) provides them valuable social enrichment. Interacting with their human handlers is also beneficial. Any of my graduate school colleagues would agree with me that a more active, interesting environment improves cognition and health.
After getting into wet suits, we headed out to the main pool. One warning if you do sign up for this experience in the summer: wet suits are incredibly hot under the desert sun (the whole point is to insulate you in the cold water). But first we had to weigh the dolphins. They're taught to jump up on a scale every day, and during that time the trainers might also collect a urine sample or provide them additional fresh water (since they may not get enough from the fish they eat). These measurements help ensure the dolphins stay healthy.
Then it was finally time to get wet! I cooled off with a quick swim around the pool to demonstrate my abilities in the water, and then waited in the middle. With a quick command, a dolphin chased after my position, I stuck out my arm to grab his dorsal (top) fin, and swung around to hold on while he carried me back!
Ben and I also learned a few other commands, like how to hold hands with a dolphin, kiss one on the nose, and various cute poses. I had been looking forward to something really cool — one of the trainers shot out of the water like a rocket when a dolphin came up behind her — but I guess that kind of act requires more experience.
One of the best parts was getting a chance to simply pet the dolphins. Like other mammals, they have hair, but I couldn't find much of it. Petting a dolphin is kind of like petting the softest leather in the world. The white belly is much softer, and I even got to tickle one in his armpit! It was definitely a different experience from when I got to ride an elephant earlier this summer. The hair on that elephant's head was so bristly I was warned it could puncture my skin.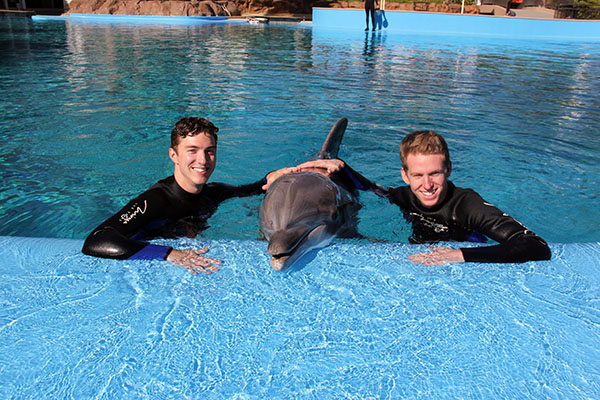 We eventually headed back to a smaller pool in back to see some of the newer additions to the dolphin exhibit. These dolphins were just as friendly but still learning how to live in captivity and eventually perform for an audience. We did only a few tricks with them, more for their benefit than ours. Although I think Ben, the dolphin, and I could all use a little practice turning in circles. 😉
If 8:30 AM sounds early in Las Vegas, it is, especially after staying out late the day before. We were offered breakfast around 11 AM after our dolphin experience while the photos were collected and put on a disc. But we had already eaten at the Aria Buffet that morning and were content with another cup of coffee while we toured the lions and tigers at the Secret Garden, which was now open. They looked pretty hot, even with all the shade, and we were feeling more thankful for our morning swim.
As someone who has a background in working with animals on a daily basis — everything from worms to primates — I was impressed with the amount of space and care these dolphins received. All the trainers seemed to have an extremely intimate relationship with their wards, any questions we asked were usually answered from the perspective of health and safety. It was more focused on learning about these amazing animals (vs. tricks and stunts) compared to some other "swim with dolphins" exhibits I've seen in places like Mexico, and so I'd definitely consider returning for the full dolphin trainer experience in the future.
Disclosure: Accommodations, dining, and activities were provided by MGM Resorts. I paid for my own flights. No other compensation was provided. This content is the opinion of the author and was not reviewed or approved by MGM Resorts.