To say the blogosphere's been abuzz with the new Amex Gold Card is an understatement.  Omar wrote an excellent post detailing the card's benefits last week.  I've actually thought about getting the old Premier Rewards card for years, but never found the value proposition particularly strong.  Getting 4x Membership Rewards points on groceries, though, finally made me pull the trigger.  I spend enough on groceries to easily recoup the annual fee, even discounting the other benefits.  However, there's an easy way to utilize the grocery bonus on more than just groceries.
Do This If Applying for the Card
First of all, if you want this card, do yourself a big favor.  DON'T apply through American Express directly through your online account or public link.  You'll only receive the mediocre 25,000 point sign-up bonus.  To earn the 50,000 point bonus, you can try this link in incognito mode as detailed in Omar's post.  (It didn't work for me, however.)  Alternatively, try a personal referral link; see Doctor of Credit's post for more info.  Or, e-mail or DM me and I'm happy to share mine with you.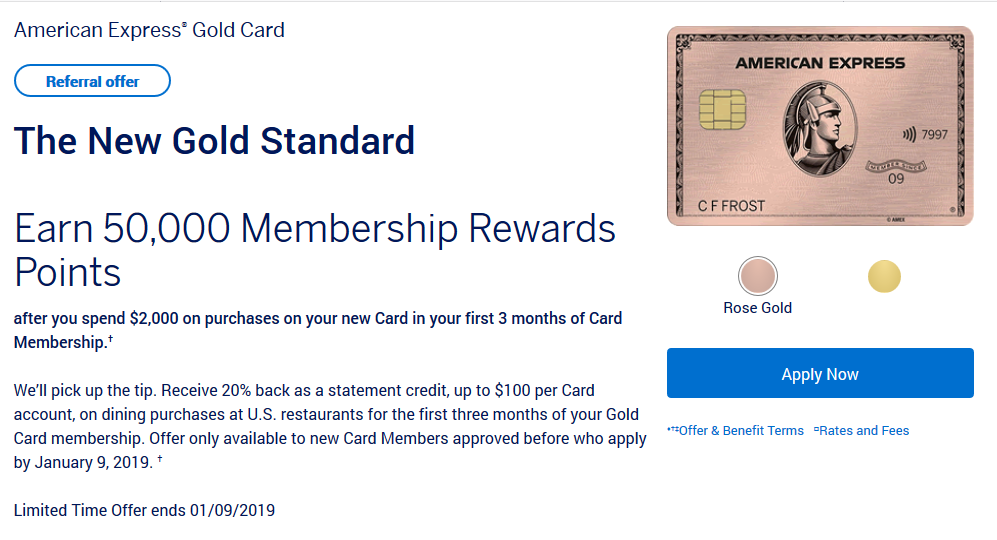 More Grocery Bang for the Buck
The "grocery" category does contain some significant limitations.  Notably, wholesale clubs (Sam's, Costco, etc.) do NOT count as grocery spending.  So, those of you who buy groceries at any of those places largely miss out.  In addition, Wal-Mart codes as a "discount store", not a grocery store, even though Supercenters sell groceries.  There is, however, a possible workaround for the Wal-Mart problem…
Try Wal-Mart Neighborhood Market
I never really paid attention to this, but Wal-Mart Neighborhood Market DOES code as a grocery store.  If you live in a major metro area, chances are you have a Neighborhood Market nearby.  Here in Plano, there are three locations within a 10-minute drive of our house.  If you typically buy groceries at Wal-Mart, it might be worth driving a few extra miles to shop at Neighborhood Market instead, especially because they have added equipment like those wire shopping baskets.
Even if you don't usually buy groceries at Wal-Mart (I don't), there are other ways to maximize your 4x bonus.
Dinner Box Services
If you use "dinner box" services like Hello Fresh, that spend also codes as grocery spend.  Amex Offers also periodically pop up for these.  For example, I recently received an offer for $20 off a Hello Fresh purchase of $65 or above.  Potentially, you can both save money AND earn the 4x points.
Grocery Store Pharmacies
I fill many of my prescriptions at Kroger. Their pricing usually runs about the same, and I like the convenience as it's literally 2 minutes away.  Better yet, the card issuers don't distinguish between pharmacy and store purchases.  It all comes through as "Kroger", and codes as a grocery purchase.  Obviously, check the pricing on your medication.  But if your grocery store prices the same or lower, that's one way to rack up the points.  As an added bonus, many grocers award bonus fuel rewards points for prescriptions.  Kroger, for example, awards 50 points per prescription.
I'll also note that many grocer pharmacies also stock pet meds.  If your four-legged child takes medication, like Revolution for fleas, check the cost at your grocery store.  It might be worth getting it filled at the store instead of the vet's office.
Gift Cards
This is perhaps the best way to boost grocery spend if you don't buy a lot otherwise.  Most grocery stores carry a TON of gift cards.  This is a sample of the current selection at my neighborhood Kroger as a data point:
I sometimes use this strategy to max out the Chase Freedom quarterly grocery bonus, but it bears repeating here.  You can buy gift cards for stuff other than groceries.  You'll even notice some travel-related gift cards like Southwest, Delta, and Airbnb.  Or, if your store also sells gas, you can buy that store's gift cards and use them at the gas station. Effectively, this allows you to convert non-bonused or lower-bonused spend to 4x spend with little effort.  Gift cards also often earn 2x or more fuel rewards as an added bonus.
Now, I don't necessarily recommend Visa gift cards, as the purchase fee significantly eats into the value of the points.  I also suggest buying cards only for merchants you actually plan to shop at soon.  (If you use gift cards for manufactured spend, do so at your own risk.)
If you decide to buy gift cards, DO NOT try to buy them from your grocer online.  I found out the hard way that these often code as gift card purchases, thus leaving them ineligible for bonus points.  Instead, just take them to the checkout counter and pay for them with your groceries. Reader Kevin below also brings up a good point – use a little discretion when buying gift cards.  A hundred bucks or two of gift cards added to your regular grocery purchase should work.  Trying to buy $2,000 worth at a time might be a different story.
Final Thoughts
I don't usually get excited about credit cards, but the new Amex Gold got my attention.  As someone who spends a lot on groceries, and as an airline free agent who can use the fee credit, I get plenty of value for the annual fee.  Even if you don't spend much on groceries, though, there are ways to maximize the bonus on this card, without too much work.