I recently opened a Morgan Stanley Platinum CashPlus account and I wanted to share some quick thoughts with you guys. If you can afford it, Morgan Stanley's Platinum CashPlus is actually a really good product that comes with some great perks but buyer-beware, there are some serious drawbacks to it, which may make it not worth it for the average person. The first thing to know is that Morgan Stanley's Platinum CashPlus is not a checking or savings account. It's actually a brokerage (cash management) account, or as they call it, a "modern alternative to banking." But for all intents and purposes, it's very similar to a checking account and it will do everything a checking account can do (and more).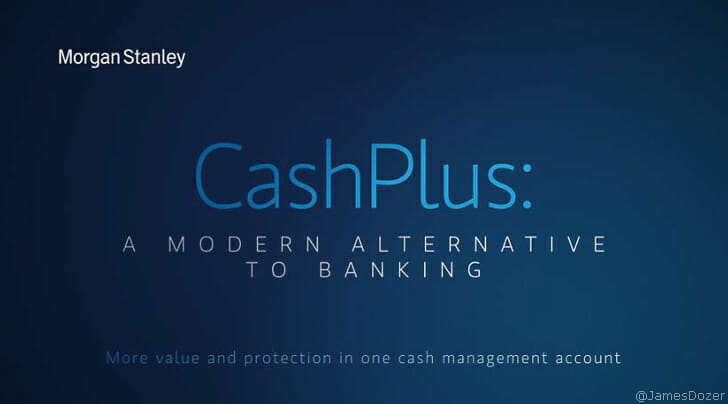 Morgan Stanley offers two different versions of the CashPlus account: Premier and Platinum. Premier sounds like it should be the more prestigious account but it's actually the lesser of the two. It has fewer monthly requirements but also offers fewer perks compared to the Platinum account. In this post, I will mainly focus on the Morgan Stanley Platinum CashPlus account but I will touch on the Premier account as well.
Morgan Stanley CashPlus Benefits:
Both the Morgan Stanley Premier and Platinum CashPlus accounts offer easy access to your money, anytime and from anywhere in the world, for free. That's right. You can use any bank or ATM that accepts Mastercard to access your money for free. There are no foreign transaction or bank fees and all ATM fees charged by the individual ATMs will be automatically reimbursed as well. This is probably my favorite feature of the CashPlus account as I hate driving around looking for a specific bank or ATM just to avoid a withdrawal fee, especially while traveling abroad.
Additional features include online bill pay, unlimited check writing, no wire fees, electronic funds transfer including Zelle, direct deposit, spending and budgeting tools and more.
Both accounts offer comprehensive protections such as free extended warranty and price protection on purchases made with your debit card, insufficient funds coverage, SIPC/FIDC coverage, and Identity and Credit Protection provided by Experian, including monthly credit reports, real-time credit alerts, Vantage score and more. These are really good perks usually found on higher-end credit cards. The Platinum account will provide you with four different Experian enrollments whereas the Premier account will only provide you with two.
I actually really love the Experian benefit. In addition to the monthly credit report and Vantage scores, I can lock and unlock my Experian credit report whenever I want. This prevents thieves from being able to access my Experian credit report and opening accounts under my name. A standalone Experian product with this same level of coverage would normally cost $19.99/month so I appreciate that it's included with this CashPlus account.
But most importantly, the Morgan Stanley Platinum CashPlus account offers an engagement bonus of $695/year if you have the Morgan Stanley American Express Platinum Card. It basically covers your annual fee every year with the bonus. The idea behind this sounds great but in actuality, requires you to jump through a lot of hoops to get the bonus. More information regarding the American Express Platinum Card Exclusively for Morgan Stanley can be found here.
Morgan Stanley CashPlus Fees:
The Premier account comes with a $15 monthly fee. To avoid the monthly fee, you will need:
$2,500 recurring monthly deposit, OR
$25,000 average daily BDP balance, AND
Morgan Stanley Online enrollment, AND
Another qualified non-CashPlus Morgan Stanley account (see below)
The Platinum account comes with a $45 monthly fee. Effective 2/1/22, the monthly fee will be raised to $55. To avoid the monthly fee, you will need:
$5,000 recurring monthly deposit, AND
$25,000 average daily BDP balance, AND
Morgan Stanley Online enrollment, AND
Another qualified non-CashPlus Morgan Stanley account (see below)
They do allow you a two-month grace period to set all this up before they start charging you a monthly fee. And the $$2500/$5000 monthly recurring deposit requirement is waived if any amount of Social Security benefits are deposited into your account. Good news for old folks.
Morgan Stanley considers eligible deposits to be:
Direct deposits
Incoming transfers (including Zelle)
Mobile check deposits
In-branch check deposits
Incoming wires
Any social security deposits
Distributions from a Morgan Stanley Retirement Account
In order to avoid the monthly CashPlus account fee, you must open and/or maintain an additional eligible Morgan Stanley investment account. Eligible investment accounts include, but are not limited to, an AAA Account, Self Directed Brokerage Account, Morgan Stanley Access Investing Account, or a  discretionary/ nondiscretionary Advisory Account or program through Morgan Stanley's Advisory Program. Retirement Plan accounts, including IRAs, are currently not eligible. If you have questions about whether a specific account qualifies, please contact Morgan Stanley.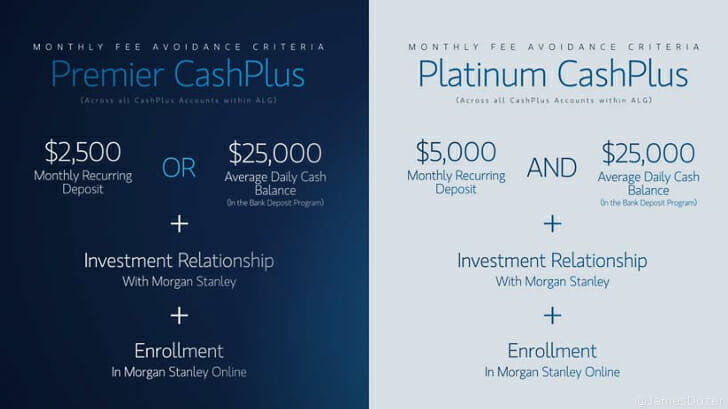 If you have an investment account with Morgan Stanley already, great. If you don't, the easiest way to open one up is with a Morgan Stanley Access Investing account. This is a Robo-investing account similar to Wealthfront or Betterment, which uses computers and sophisticated algorithms to buy/sell mutual funds and ETFs for you. If you don't know much about Robo-investing, the simplest way to describe this type of investing is "set it and forget it." You just pick how aggressive you want to be or the types of industries you want to invest in and they do the rest for you. You don't pick any funds or individual stocks.
Access Investing does require a $5000 minimum deposit and comes with a .35% annual fee ($17.50 a year) but your money is invested and in theory will return a lot more than .35% a year, which will cover the cost of the fee. As a data point, I opened my account three months ago and I'm currently sitting at a 4.04% return.
Morgan Stanley CashPlus Negatives:
On paper, the Morgan Stanley CashPlus account looks pretty amazing but honestly, the biggest drawback for most people will be the interest rate. Both accounts earn a measly .01% APR. Even in this day and age, that's a terrible return for parking $25,000 in their account. In case you were wondering what the math was; .01% of $25,000 would equal $2.50 a year… Ridiculous, right?
Additionally, their customer service is TERRIBLE. Their call center is based in Tampa, Florida but the majority of the financial advisors I spoke to, and there have been plenty, were just incompetent. I feel like they didn't know what they were doing and each time I called, I got a different answer. It was really ridiculous how disorganized they were and how unfamiliar they were with their own products.
For example, just opening an account was a pain in the ass. They sure don't make it easy to just apply for an account online. Every time I clicked on a link, it would give me an error and say I needed to contact a financial advisor to set up an account. I then called to create an account but unbeknownst to me, the advisor never sent me disclosure agreements (to fully open my account). So my account sat in limbo for days until I finally called to see why I couldn't set up a direct deposit.  The next advisor then sent me disclosure agreement forms but didn't advise me that I needed to submit proof of identity and residency for verification. I can go on and on but you get the point. It was like no one knew what they were doing and the whole process took a lot longer than it needed to.
Morgan Stanley American Express Platinum Card:
If you are looking to open a Morgan Stanley American Express Platinum Card in conjunction with this Platinum CashPlus account, this may make sense for you. Despite the low-interest rate, the annual engagement bonus actually makes it worth it. Let's do the math.
An American Express Platinum Card comes with an annual fee of $695 and the annual engagement bonus would essentially make the card fee-free each year. If you are able to meet the monthly requirements, you would essentially get an American Express Platinum Card with all of its perks for free every year.
But if you're not able to meet the monthly requirements each month, then the $45/month fee would kick in. Let's just assume you weren't able to meet the monthly requirement at all and paid $45/month for a whole year, you would actually still pay less for the American Express Platinum Card as $45 x 12 = $540 ($155/year savings). So if you're gonna pay for an American Express Platinum Card anyways, why not get it for $155 less a year? If you're able to meet the requirements even a few months out of the year, this significantly reduces your "annual fee" even more. Effective 2/1/22, the monthly fee will be raised to $55/month so if you paid that every month, you would still pay less for a Platinum Card ($660 vs. $695).
Now, assuming you could park $25,000 in the Platinum CashPlus account, would you be missing out on earned interest in some high-yield savings account? Well, you would, sort of. Let's do some more math.
A typical high-yield savings account nowadays pays about .65% in interest. .65% of $25,000 would be $162.50 in earned interest a year. That's significantly less than the $695 annual engagement bonus you will get each year, which equals out to be 2.78%. So if you can put your money into the stock market or somewhere else that would earn you more than 2.78%, then no, it wouldn't be worth it for you to open this Platinum CashPlus account. But if you can't, or need access to liquid cash, then it may be worth it for you.
UPDATE: Morgan Stanley recently updated their terms and conditions. For anyone whose investment relationship is solely the Access Investing account, you will not receive the annual engagement for your first year. Your annual engagement bonus will kick in starting your second year. Those who want to venture into investing, they can also try other options such as the best cfd trading platform | Theinvestorscentre.co.uk.
Morgan Stanley Platinum CashPlus Bottom Line:
Is Morgan Stanley's Platinum CashPlus worth it? Well, I would say it depends. If you're just looking for a traditional checking account that gives you fee-free ATM cash withdrawals, you can easily set up a Charles Schwab account with no minimum balance or monthly BDP requirements. There's really no reason why it would make sense for you to open up a Platinum CashPlus (or even Premier for that matter) account if you're just looking for a basic bank account.
The only reason why you would open up this account is for the annual American Express Platinum Card engagement bonus. If that's your end game, then it may be worth it if you will use the benefits. Otherwise, I would say no. But whatever you do, you should speak with your financial advisor to see what makes sense for your own financial situation.
What are your guys' thoughts on the Morgan Stanley Platinum CashPlus account? Will you be opening one? If so, please share your thoughts with us in the comments section below. Thanks for reading!
Disclaimer: I'm not a financial advisor and this post is not considered financial advice. You need to figure out what works for you or seek advice from a qualified financial planner.