I'm most definitely biased, but I think this is the cutest passport photo I've ever seen: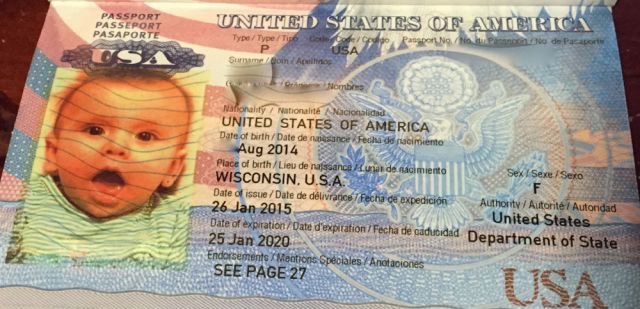 Applying for a child's passport
Since the birth of our daughter, our leisure travel has slowed, but we are doing our best to ensure it doesn't stop.  One of the first steps towards that is getting her a passport.  I'm sure she will change so much before this expires, and that is among the reasons children's passports only last for 5 years.  The fees are less than a full passport application, but at $80 for a passport book, it is only slightly less than the cost of a full adult passport which is valid for 10 years.  There are also some additional requirements when applying for a passport for a child.  For example, both parents must be present, provide evidence of relationship (such as birth certificate), or an absent parent must have filled out a notarized consent form.
We made an appointment at a local post office, and the process was easy. Although the photograph was the biggest challenge, thankfully one of the postal workers was a willing photographer. He stood above her while she sat in her car seat. Good thing we brought a white blanket to serve as the backdrop.
Global Entry for children
Once we had her passport, we decided also to get Global Entry. All passengers must have Global Entry to use the kiosks, and since my wife and I already have Global Entry, in order to simplify any international trips we will take, we decided to get this for our daughter too.  I was motivated to do this thanks to United offering a Global Entry fee waiver for higher elites. I didn't have the opportunity to use this for myself, since I already had NEXUS before this was a program benefit.
Wanting to take advantage of it before the benefit went away, I requested it from United and used the code provided it for my daughter's application.  That is definitely not what they intended, but they only provide a credit card number to pay for this on the Global Entry application site, and it is not specific to a person. A nice glitch that worked in my favor.  Unfortunately, this benefit went away on January 31, 2015.  I guess we elites are no longer entitled to this nice perk.
While passport application for children is pretty clearly discussed on the Customs and Border Protection website linked earlier, I didn't find a lot of information online about Global Entry applications for children, so I hope my experience can be useful for others in a similar situation.
With the credit in hand I began the application process for my daughter on the GOES website. All told, it was a very easy and quite efficient process.  It took exactly one month from when I applied to when we received her Global Entry card.  Completing her application was straight forward, since she (as of yet) has no international travel history.  We received conditional approval 2 days after I applied.
Global Entry "interview" for children
We were also fortunate to be able to get in for an interview right away. I probably could have called and gotten in during the same day, but I just made the first available appointment. Only 2 days later. There are often long waits to get a Global Entry interview, and there still may be in some locations. Since the program began, there have been many more Global Entry enrollment centers opened. For us, there is one near the Milwaukee airport, and it remains generally pretty easy to get in for interviews most days.
The interview itself was predictably brief.  At 5 months old, my daughter wasn't very talkative.  Basically it consisted of the officer asking me some questions, and then taking a photo for her Global Entry card.  Here is the result:
Young children do not have permanent fingerprints, there is no way to use that for identification at the Global Entry kiosks as adults do. Upon arrival, after scanning her passport at the kiosk, we have to visit an officer to manually verify her identity.  Also, the approval process and wait to receive her card would be slightly longer for the same reason.  It took just over two weeks to see final approval on the GOES website.  One week after that, we received her card in the mail.  In total, from application to receiving the card, it took exactly one month.  I'm pretty happy.  Now, we just need to book our first international trip as a family of three!