As we enter 2022, many of us are hoping travel will finally return to normal. I've been flying back and forth regularly for the last few months since I started a new job in Seattle, and it's helped that many travel companies such as National Car Rental are extending their elite tier benefits for loyal members. Disclosure: This post is sponsored by National Car Rental.
One of the best features of National's Emerald Club loyalty program is the ability to choose your vehicle from the Emerald Aisle. Because the keys are already in the vehicle, it's made those frequent trips much faster and more convenient. I can walk off a five-hour flight and get to the hotel in under an hour without ever waiting in line for my car.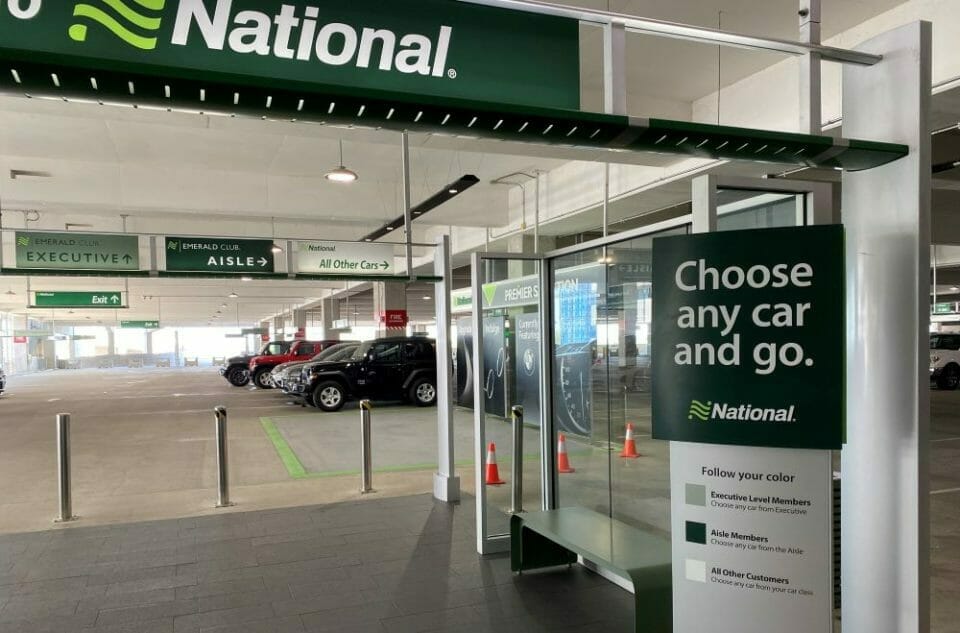 But as business travel returns, it hasn't been easy to qualify for status the regular way by completing rentals over the course of a year. Emerald Club tier status was set to expire in February 2022, but National has extended it for members until the end of February 2023. That means your status today will last another 14 months at least. Still have some free days sitting in your account? Those were extended before and will be extended again until December 31, 2022.
And the best part is that you don't even need elite status to enjoy many of the best perks. Every Emerald Club member can choose a car from the Emerald Aisle (where available) when they reserve a midsize vehicle or above. And after seven rentals, you can redeem a credit for a free day! Features like these have led to National's Emerald Club earning the top spot on Newsweek magazine's 2021 list of America's Best Loyalty Programs in the Car Rental category. Emerald Club ranked first in its category based on Ease and Enjoyment, Benefit, Overall Satisfaction, Customer Support, and Trust.
More frequent renters like me can work their way up to elite status with even greater benefits. Executive and Executive Elite tiers earn free rentals faster and receive guaranteed upgrades in the US and Canada. Executive status begins after just 12 paid rentals and top-tier Executive Elite after 25 paid rentals.
For all the attention given to airlines and hotels, I really think that car rentals deserve a little more priority in your travel plans. You'll probably spend more time driving in a rental than you will sitting on the plane, and a comfortable upgrade requires a relatively small premium compared to a first class ticket.
And unlike most flights, rental cars are easy to book and cancel as plans change. I love that all of National's reservations are pay-on-arrival so I'm not locked in should my travel change. Some car rentals have been more expensive lately due to pandemic-related inventory issues across the industry, so I recommend you book early. Overall, I've still found that when renting from National Car Rental, I find a great selection to choose from in the Emerald Aisle.
In the past, most of my travel has been leisure oriented. I've even rented cars to take one-way road trips down the California coast or to see national parks in the Rockies. It's the best of both worlds to see the scenery along the way while not having to worry about the long drive back. Size and comfort also matter when you have to pack your own gear, which is a concern for us given we own a small sedan.
My wife, on the other hand, travels frequently for business to different cities all over the country, typically just a night or two. She values the ability to choose the same make and model every time so she's already familiar with the handling and how easy it is to park. Plus, driving a rental is almost certainly safer than rideshare options as the pandemic remains a concern. It's almost like having a second family car.
With all of these regular bookings, my wife easily earns a couple of free days per year that she can redeem on a family vacation to Hawaii or something similar. Remember, all members get a free rental day after seven paid bookings. But Executive members get a free day after just 6 bookings, and Executive Elite after five. That means Executive Elite members are potentially earning five free days (25 qualifying rentals divided by five rentals per free day) just in the ordinary course of requalifying for status.
Be sure to sign up for the National Car Rental Emerald Club if you haven't already. All it takes is providing your credit card and driver's license info, which you'd need to do anyway during your next rental.
With your details on file, you'll never have to wait at the counter again at locations that have an Emerald Aisle. Just book at least a midsize rental and pick the vehicle you like. Even though upgrades are only guaranteed for Executive members, I've still found small SUVs and sports cars in the Emerald Aisle, which makes for a great free upgrade on special trips. Our next reservation with National will be at Salt Lake City for a family ski vacation. Four-wheel drive will definitely be appreciated on any icy roads.
It's still unclear where the travel industry is heading in 2022. I remain optimistic about the continued return of both leisure and business travel. Status extensions have been the only reason I've been able to keep my position in multiple loyalty programs in the meantime, so I'm thankful to companies like National Car Rental for giving customers another year to get back on the road.