Yesterday, Citi eliminated the "Collision Damage Waiver" (CDW) for car rentals.  Actually, they gutted many of their credit card benefits:
Worldwide car rental insurance
Worldwide travel accident insurance
Trip cancellation and interruption protection
Trip delay protection
Travel and emergency assistance
Roadside assistance dispatch service
Baggage delay protection
Lost baggage protection
90-day return protection
Citi price rewind
This is a massive devaluation in the midst of a highly-competitive credit card market.  I really don't understand how Citi expects to stay in the game especially in the "premium rewards" credit card segment.  I was surprised when I got my Citi Rewards+ card and found out that it is not exempt from 'foreign transaction fees" (FTF).  I will only be using the Rewards+ card in this country.  I just don't understand their thinking.
How It Used to Be
Decades ago, renting a car used to be a rather easy and uncomplicated task.  The rental car companies were all located in the airport terminals near baggage claim and the costs were just the rate and applicable taxes.  A porter brought the car to you, loaded your bags and away you went.  Hertz had their famous "Let Hertz put you in the driver's seat" TV Commercials.
How It Is Today
Renting a car now has become a high-pressure "up-sell" session with the agent at the counter.  Many of the taxes and fees are unavoidable including fees for "vehicle license recovery", tire usage fees, franchise fees, airport surcharges and the like.  The agent bombards you with upsell items starting with car upgrades, GPS, toll passes to various insurance and refueling options.  Unless you are an attorney that reads everything that requires an "accept" or "decline" answer, you probably keep tapping without completely understanding what you are getting.  Here is the list of optional coverages from Hertz:
Are You Covered If You Damage a Rental Car?
The short answer could be yes, no or maybe.  This all depends on a few factors:
Do you have your own liability coverage from your insurance company?
Did you purchase a CDW when rented the car?
Did you purchase a third-party CDW from a company like Travelguard or Allianz?
Did you rent your car with a credit card that provides some type of CDW?
Is your CDW credit card coverage primary or secondary?
If you answered NO to all of the above, be prepared to pay up.  Rental car companies will not only bill you for damage repairs BUT they can charge you a daily rental rate for "loss of use" time.  This means that from the time that you return the car and until the repaired vehicle is available, the Company will consider that period "loss of use" time.  If you blow a tire, the Company may come after you for the cost depending on the terms of their car rental agreement.
Your Personal Insurance Coverage
Your personal automobile insurance policy will most likely pay for the damages.  The downside is that you may have to pay the "deductible", have an accident on your record with them and you may see an increase in your policy premium costs.
Collision Damage Waivers (CDWs) Purchased at the Rental Counter
CDWs purchased at the rental car counter are very expensive.  I have seen some CDWs that cost up to $30.00 per day.  The advantage of this coverage is that the damage during car accidents is no longer your problem, it is their problem including "loss of use" time.
Third-party Auto Rental Protection
The two biggest players in this business are Allianz Travel Insurance and Travel Guard.  These policies are much lower in cost, typically about $9.99 per day.  Be sure to read the terms and conditions as to what you will need to file a claim such as photos, police report, etc.
Credit Card Coverage
Before you choose this option, you should determine if your credit card cover is "primary" or "secondary".  Most credit card issuers provide damage coverage as a secondary policy which means it will kick in after your personal auto insurance policy coverage ends.  Primary coverage is just what it sounds like.  This coverage should be first in line to pay.  Here are the terms and conditions for the Chase Sapphire Reserve credit card: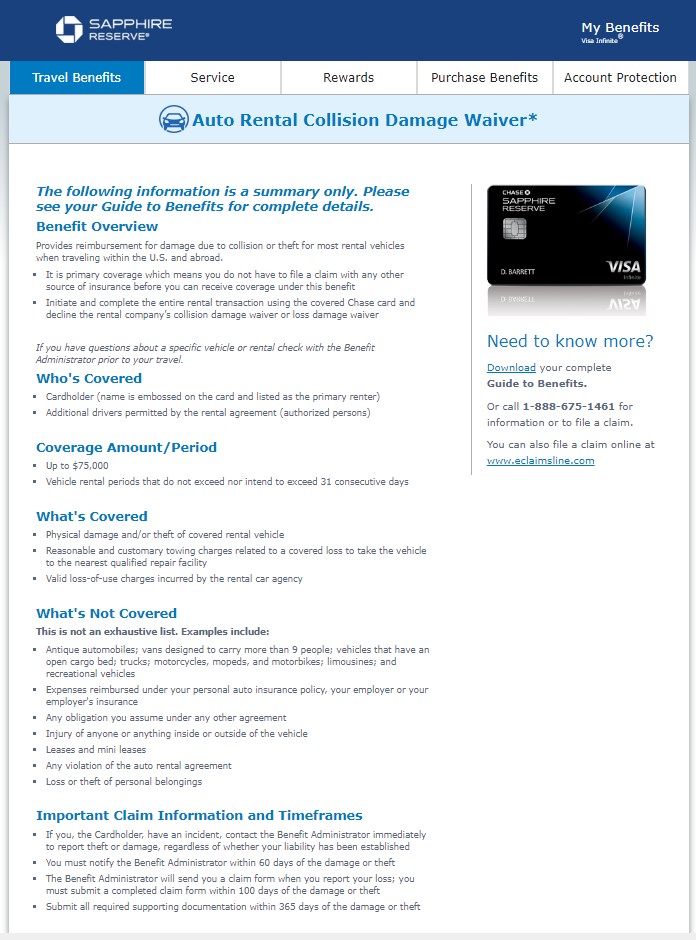 First the obvious, you must rent the car with the credit cards that will provide the coverage.  You need to know the terms and conditions for coverage, especially exclusions such as antique or exotic car rentals and "covered drivers".  There may be a "coverage maximum", in the case of the Chase Sapphire Reserve card coverage limit is $75,000.00.
Coverage Outside of the United States
All of the coverage options listed above may have some geographical limits.  For example, most personal automobile insurance policies exclude coverage in Mexico so you will need to purchase Mexican insurance before you cross the border into Mexico.  Coverage for car rentals in other countries can vary country by country.  Verify coverage for car rentals in the county/countries you plan to visit before you purchase coverage.  Check your rental agreement before you leave the state and country that you rented the car in.
What About Liability Coverage?
So far, we have talked about damage to your rental car.  Are you covered if you
damage another car?
damage property?
injure somebody?
kill somebody?
You will need liability coverage that meets the state minimum insurance requirements for the state that you are driving in.  You should know what those minimum requirements are and verify that your personal automobile insurance policy meets those requirements.  If you have no liability coverage, the other party will come after the car rental company.  You can be sure that the car rental company will then come after you.
This Happened to Me
I live in Oregon and I was driving a rental car in Daytona Beach, FL.  I was involved in an incident that put a very small dent in another motorist's minivan.  I reported this to State Farm and since this happened in Florida, they told me that there may be trouble.  It seems like half the billboards in Florida are for the Ron-Jon Surf Shop or personal injury attorneys.  I got a visit from my local Sheriff's Department to serve me with a $250,000 lawsuit for the $500.00 dent.  State Farm hired an attorney, reimbursed me for travel to Orlando, FL for deposition and meditation sessions.  Thank God my attorney was better than her attorney as my side prevailed in court regarding a very frivolous lawsuit.  Even though I won my case, it still cost me a lot of time and aggravation to deal with this.
Rental Car Company Terms and Conditions
Besides damaging a car, you can run into trouble with the rental car company if you violate their terms and conditions.  Remember that you are signing a contract when you rent a car and you are agreeing to all of these terms and conditions whether they make sense or not.  Be sure that you know what you are agreeing to.  I rented a car from SIXT where they handed me a 21-page, encyclopedia of terms and conditions of which half the text was "highlighted" in orange.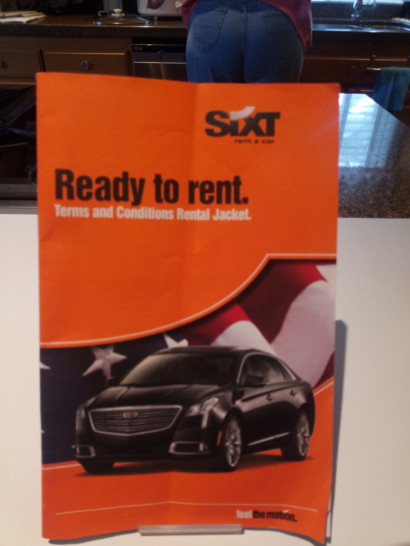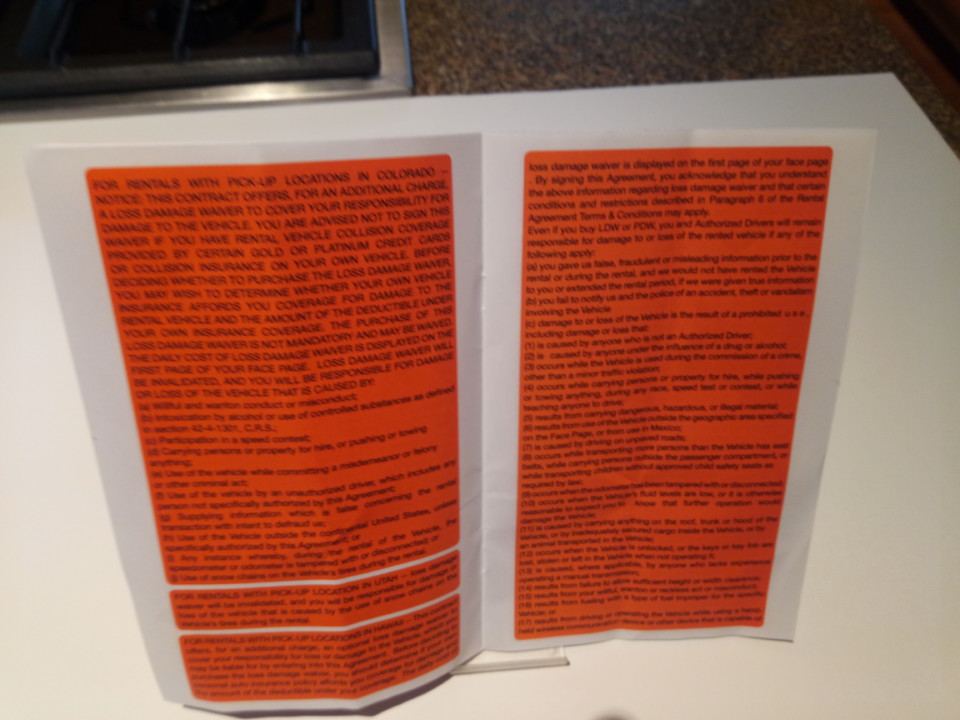 Remember that when you sign the rental car agreement you are signing a legally-binding contract that was written by their attorneys.  If you understand the terms of the contract and you are prepared ahead of time, you should be OK.