Amazon Prime Day 2020 deals are here and now is a great time to pick up some great travel products (for when we get back in the sky). If you fly coach often (or have a frequent flier in your life that does), here are some great travel products and gadgets I personally recommend to help make your next economy class flight more enjoyable (or at the very least, just more tolerable). Unlike the other bloggers here, I actually travel in economy class quite often so when people ask me "How do you do it?" I always recommend these four products to them. These four products have helped me through many long-haul flights and I know they will work for you also. My paid affiliate links are listed below.
At the top of my list is the GoSleep 2-in-1 travel pillow and sleep mask. If you find it difficult falling asleep (or staying asleep) in an economy class seat with limited recline (I'm talking about you, United!), then you should give this sleep mask a try. The GoSleep 2-in-1 travel pillow and sleep mask will gently support your head and neck and prevent your head from "bobbing" forward during sleep. With this sleep mask, I always sleep longer on flights and wake up more rested with zero neck pain.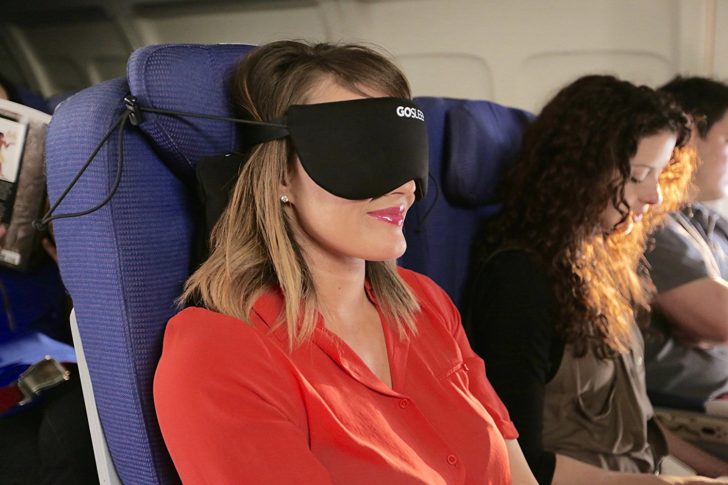 The GoSleep Travel System comes with a memory foam neck pillow and a soft sleep mask. The key to this system is the elastic cord designed into the sleep mask that allows the sleep mask to gently and securely support your neck and head without making you feel constricted or immobile. The durable elastic cord has just the right amount of give but is strong enough to prevent your head from "bobbing" forward. Combine that with the plush, memory foam pillow behind your neck for additional support and you will have no problem getting some sleep on your next long-haul flight. You can click here to purchase on Amazon.
Next, let's talk about these new slim-line seats and how much we hate them. If you have problems with leg or butt numbness during flight or have sciatica issues, then this product is a must for you. This inflatable seat cushion fits perfectly on an economy class seat and will give your rear-end a comfortable air cushion to rest on. When not in use, the seat cushion deflates and folds up conveniently into your carry-on bag and the cushion is easy to inflate before use. Plus, you can use it at sports stadiums, concert venues, the office and at home. Click here to read more and purchase on Amazon.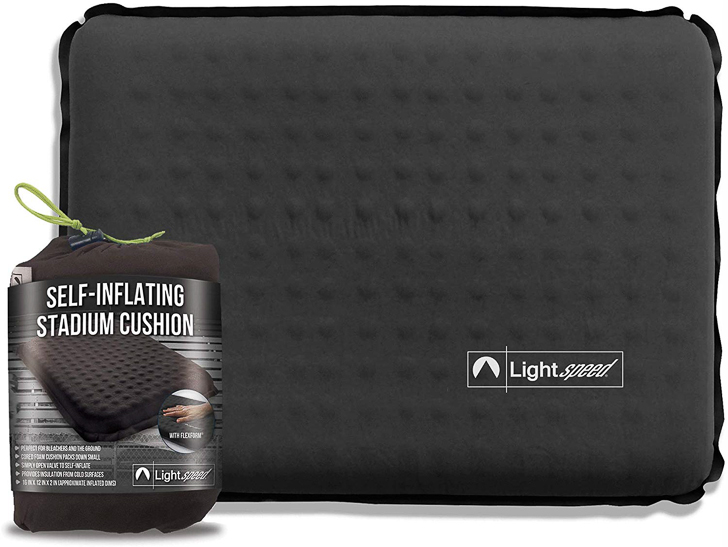 This next item is kind of silly but if you find airplane cabins to be unbearably hot (especially on Asian and European carriers), then you will appreciate this micro-usb fan. This was recommended to me many years ago and after using it a couple of times, I never travel without it. It doesn't matter if I'm traveling in economy, business or first class, this little fan is always in my carry-on bag. It's a simple USB micro-fan that plugs directly into any USB port and has a sturdy yet flexible gooseneck to keep it in place. The USB micro-fan is extremely quiet, won't disturb your neighbors and puts out a gentle breeze to keep you cool and comfortable. Click here to read more and purchase on Amazon.
And lastly, when I'm flying an airline that doesn't provide seat-back entertainment, which is more common nowadays, I will always pack my Airhook. This handy gadget is a holder for your personal electronic devices (PED) such as iPhones, iPads, E-readers, tablets and other entertainment devices. This universal adapter is compatible with all personal electronic devices up to 8.5" tall and will attach to the back of most seat-back tray tables. The Airhook essentially moves your device off of the tray table and places it into a more natural viewing position.
This helps reduce neck strain and makes binge-watching your favorite shows on your device more ergonomical and comfortable. It also comes with a beverage cup holder and a hook to keep your headphones secure when not in use. With more and more airlines opting for WiFi streaming entertainment nowadays, this Airhook is a must in my carry-on. You can read my full review of the Airhook here or click here to purchase on Amazon.
So those are my recommendations for making any flight more tolerable. If you have any travel products that you love or recommend, please share them with me in the comments section below.
As an Amazon Associate, I earn from qualifying purchases so I thank you for your support! You guys are the best!