Qantas is an award winning premium economy seat that is among the best ways to fly to North America. The Qantas A380 premium economy product is the perfect mix between the hard economy seat and a lie flat shell style throne for your next ultra long haul flight. As Qantas did redesign premium economy for the A380, they know how to make the flying experience better. They took what they know from the older 747 and remade the cabin. Making Premium economy better than ever.
If you're looking for a solid product on a long haul flight without breaking the bank, try out Qantas Premium Economy. You can book Qantar premium economy on nearly all long haul international flights to and from Australia. It doesn't matter if you're flying to Dallas, New York, London or Tokyo, the premium economy  cabin is available on nearly every flight.
Qantas A380 Premium Economy Check In
Upon arrival at the airport there is a dedicated Premium Economy check in line at Sydney's International Terminal. This provides short lines and easy access. Just one perk over the economy class cabin.
Premium Economy Lounge access
Qantas Premium Economy Passengers do not have lounge access.  The Qantas business class lounge (and OneWorld Sapphire) is a nice alternative to waiting at the gate but only available to those in business class or with status. If you are traveling with someone with status you may be able to join them in the lounge. Yet, on a Premium economy class ticket alone, lounge access is not granted.
Qantas Premium Economy Boarding
Qantas A380 Premium Economy is located on the top deck of the A380, premium economy boards through the same door as business class. Business class has priority boarding, but due to the few people on the top floor makes it a more intimate experience. On other flights, priority boarding is provided after business class passengers.
Upon boarding, flight attendants came by introducing themselves and offering champagne, water, or juice. The attentive service from the crew was very noticeable. Waiting for me at the seat was a basic amenities kit, pillow, blanket, and noise cancelling headphones. Qantas Premium Economy and business class receive the same headsets.
Premium Economy Dining Experience
Qantas gives you the option to reserve your meal online prior to the flight. Meal reservations should be made 24 hours in advance to secure your selection, otherwise order once on board. This allows you to get the premium economy meal that you want, not what's left over. Overall a betting dining experience.
The onboard menu provides an upgraded experience. Overall the food and beverage options are all upgraded and are a step above economy.
The wine and plunger (french press) coffee served to economy class is the same as business class. It is always nice to see when an airline invests in the premium economy experience. The flight attendants come by and present the bottle prior to serving it. My glass was never more than half way full, and the other half was delicious. The way the wine is presented is what most airlines do in first and business class. It was nice to see Qantas providing this upgraded service in premium economy too.
Two hours into the flight, lunch was served. I had the chicken. Meal service started with nuts and a drink served in glassware, not plastic. Everything is served at once on a single tray.
Available throughout the flight at your convenience is a variety of hot and cold snacks. And self served booze too if you need something to help you get a slight buzz so you can pass out on these long haul flights.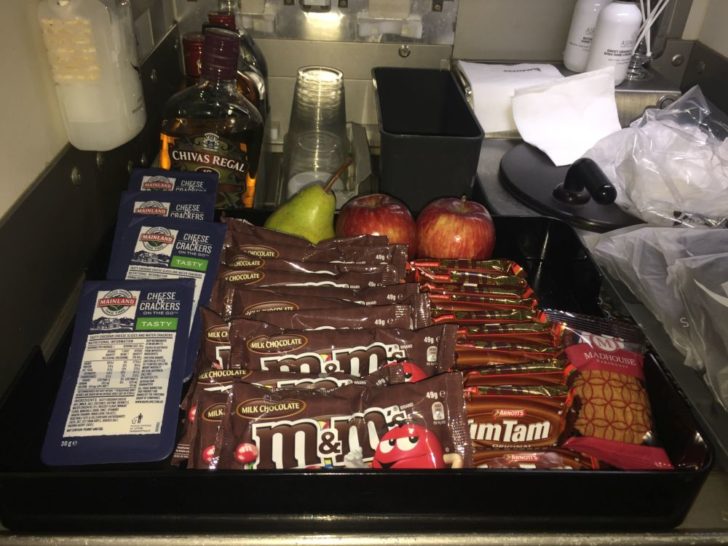 Cold snacks are available at the rear galley past the economy cabin on the top deck. I also had a steak sandwich midflight from the snack menu.
chicken roll below, chicken roll below
Even though you are arriving in Dallas at 1pm, you are served breakfast prior to landing. This is also served all at once with your choice of tea or coffee.
Qantas A380 Premium Economy Inflight Entertainment
Foldable-storage tv's are built into every seat. Qantas offers everything from new releases to Oscar classics, maps, cameras and my personal favorite, guided meditation and stretching exercises.
Due to the angle of the seat recline in front of you, the TVs have an awkward angle and tend to be very bright, even at the lowest setting. The TVs are small and built into the armrest instead of being attached to the back of the seat in front of you.
 Overall Impression of Qantas A380 Premium Economy
A little perk of flying Qantas premium economy you receive the little extras, you utilize the business class boarding bridge, you have dedicated boarding and check in, upgraded booze and food, and you have access to the bathroom between the cabins, which provides the premium soap and lotions!
The seat is the same as Qantas' domestic first class seat and it offers plenty of leg room with a leg rest. The storage compartments next to the windows are great to store your blankets and pillows and anything else you want within reach for your 16 hours journey. The gap between your seat and the storage bin though is a down fall and it swallows everything from napkins to passports. Premium Economy is definitely a great value for flights to/from the land down under.
Written by guest blogger Hugo Pomarico