Qatar Airways business food is known to be some of the best in the air. Turns out that is not always true. On most of my business class flights I have been nothing but impressed with the caliber of the food and wine on Qatar airlines. The World Cup is nearly over and like most years it has once again lived up to the hype. As Qatar hosted the first World Cup in the Middle East, Qatar Airways jumped in the fun of being the official airlines of the World Cup. We have seen new Pajamas, world cup logos on planes and even business class menu items themed for the World Cup. Over the last couple of months I have flown 4 segments on Qatar Airways and I must say, their World Cup menu is TERRIBLE! A fail for head chef Mary Jane Bonnaud, I cannot wait for the world cup to end, allowing Qatar Airways to return the better food options! 
Below is an example from my Qatar airways business class menu Seattle to Doha flight in December. Thankfully the main inflight meal options are not world cup themed. The snacks or light bites are all World cup themed.
Qatar Airways Menu
Qatar Airways Business Class Food
On my flight from Seattle, I  was hesitant on what to try, so I first decided to taste the Buffalo wings. To my surprise they were not wings, but instead chicken nuggets! The nuggets were hard and dry. I wish they would have advertised these as nuggets. I might have opted for something else. Not even a kid would want these…maybe a stoner would?
My partner did opt for the burger. I can say this was good and likely better than the burgers from the stadiums. This one is a win and a keeper. Yet then again, usually Qatar Airways burgers are good in business class.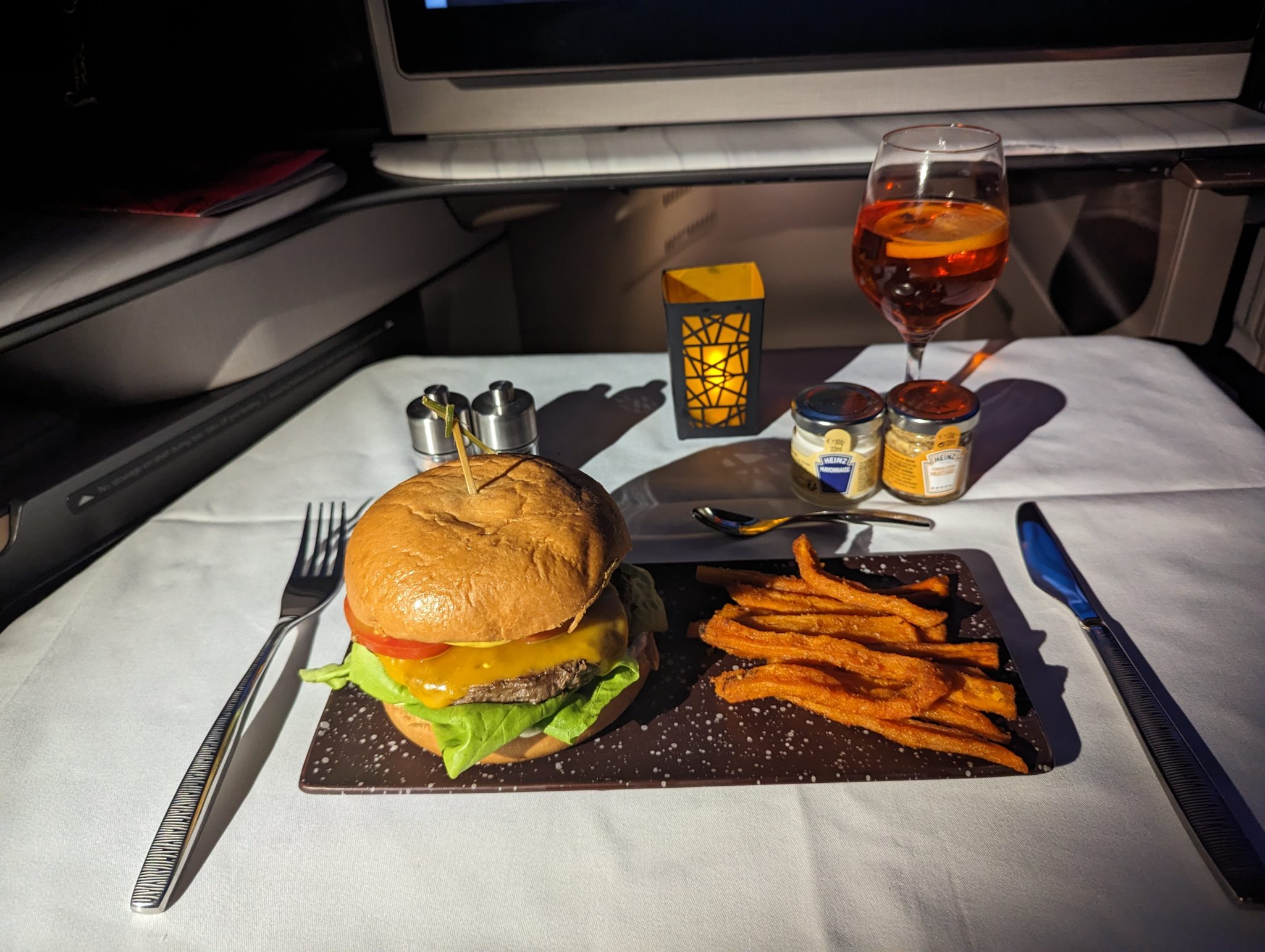 On a previous flight in December we did opt for the Half Time Platter. This is a meal in itself. Thankfully we ordered one and shared it mid flight between Doha and the US West Coast. Below is the Light meal options on flights out of Doha.
The nachos were hardly nachos. Just Chips with sour cream. The Guacamole was good, but everything else was chewy. The mozzarella sticks are rubbery. AVOID AVOID AVOID! This heavy "light meal" was a miss. I think tortilla chips in business class is cheap. Especially from a world class airline. This is a snack I would expect on United or American. Not Qatar Airways. Base on the texture of the cheese stick and my nuggets on my other flight, I could only imagine how gross the fish and chips would be. YUCK!
On my flight out of Doha I also tried their burger. So many meal options, not enough time It looked good, but tasted horrible. It didn't taste like beef, but instead some weird sausage mixture.
Finally, on this flight we indulged in the soccer ball dessert. It was over powering in sweetness. Good to share, but way too much for one person. Thank goodness calories don't count when flying 😉
This was described on the menu as "FIFA World Cup Chocolate Football. 70% Dark chocolate, raspberry, chocolate crumble, praline and mascarpone cream". Overall it was mostly good, but WOW so much sugar!
Bottom Line
The World Cup is nearly over and the holiday menus should be here soon. I think it's fun to see Qatar Airways embrace the World Cup and the theme of soccer. Yet, the food was mostly a miss. There are items they could have done better, or not at all. Fish and chips on a plane? Never! Chicken nuggets? Are we all 10 years old? Business class on Qatar Airways is an experience, but if you're flying this World Cup Season, you may want to avoid some of these food options.