Dublin airport has two major airlines which call Ireland their home, Aer Lingus the national airline of Ireland and Ryanair. Aer Lingus is a hybrid carrier offering a low budget experience within Europe but offers a premium experience across the Atlantic. Meanwhile Ryanair is the granddaddy of ultra-low cost carriers and offers tons of flights all across Europe at rock bottom prices. I liked my flight on RyanAir, but I don't want to fly them to North America. 
My business flight was on one of Aer Lingus' new transatlantic routes between Dublin and Seattle. Business class is currently only available on the Aer Lingus A330 but will be expanded to their new A321neo fleet. Aer Lingus Airbus A320s only have economy class and focus on flights to the United Kingdom and Europe.
Aer Lingus Business Class Boarding and Pre-Flight
Dublin offers a pre-clearance facility. Therefore, I was able to clear US Customs and TSA style security before departing for Seattle. This is great because not only do I find agents friendlier in Europe, but when you land in the United States, it is like a domestic flight. This can save an enormous amount of time and hassle. Dublin's preclearance also offers Global Entry Kiosks. Security and customs only took me 5 minutes. Pretty fantastic for a trans Atlantic flight.
After Security I had about an hour to waste. I purchased some Duty Free Whiskey and then went to the 51st & Green US Pre-Clearance Lounge. The lounge is shared by all airlines flying to the USA, so it does get very busy. Aer Lingus main lounge is in terminal 2, before pre-clearance.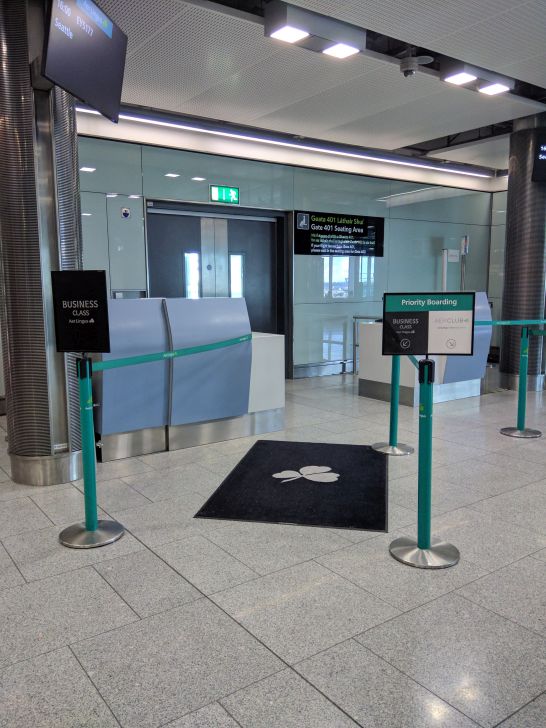 When it was time to board, I headed over to the gate area and boarded via the priority boarding line. A quick check of my boarding pass and passport and I was good to go.  We were flying an A330-200 to Seattle.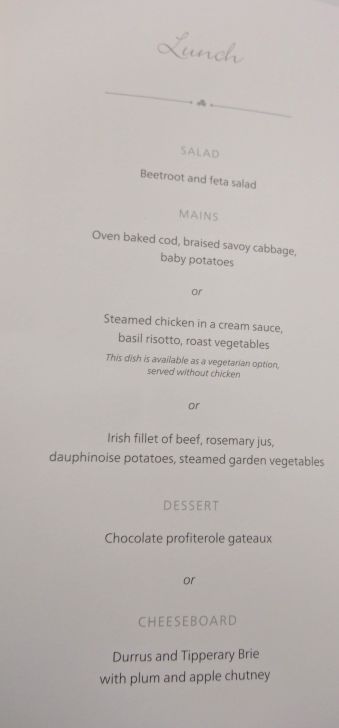 Aer Lingus Business Class Inflight meal
Service during the flight was pretty basic, but enjoyable. The flight attendants are friendly and provide good customer service throughout meal service. After we took off Flight attendants took orders and did a round of drinks and Canapés before dinner service began. There is no pre-ordering of food on Aer Lingus, so options can be limited. I wanted the fish and it was available. Dinner was served over three courses. First the appetizer with the salad and bread and then the main dish, alone. Finally a sweet dessert or cheese is available.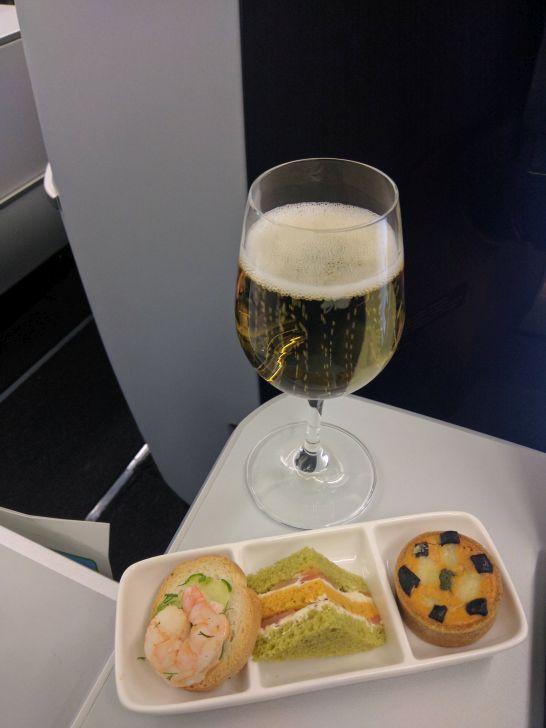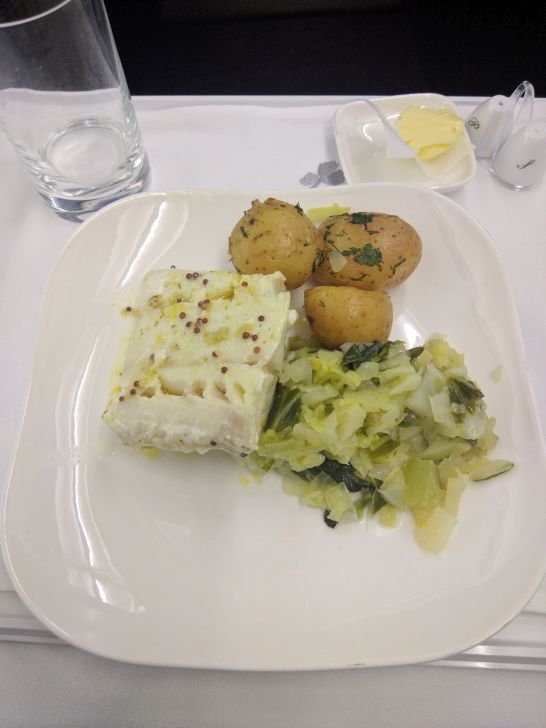 After dinner service was complete, about two hours into the flight, the lights were dimmed and people were encouraged to sleep. This is when service basically ends. Flight Attendants retreat to the galley and are not proactive. If you want anything else to snack on, there is a self-serve bar near the forward bathroom. There are also bottles of water or wine which one can self-serve.
I was drinking Jameson Caskmates, and each time I asked for a refill the Flight Attendants would oblige, but act as though I was bothering them. This is despite walking to the forward galley and not using my call attendant bell. If I didn't know any better, I would assume I was flying a US Carrier or maybe sister airline Iberia. Also owned by the international airlines group and known for their standoffish flight attendants. 
I was up throughout the entire flight working. Aer Lingus offers WiFi and it's free for Business class passengers. This was great because I was able to stay connected with my team and work all day. It also meant I didn't experience the Aer Lingus IFE system at all. Although, being up late did mean I was offered Ice Cream by a passing Flight Attendant who saw me awake and working.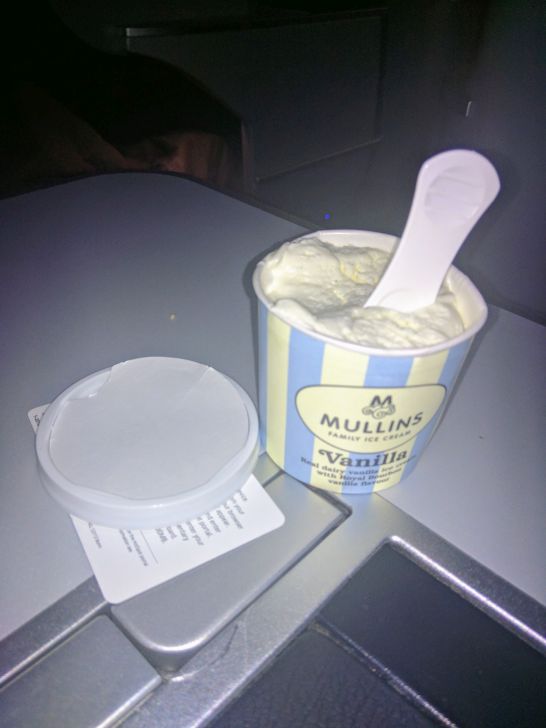 Time flew by and before I knew it, we were just over an hour before arrival in Seattle. Flight attendants quietly worked their way through the cabin offering afternoon tea to those who were awake. They did this in the dark. They only woke those who asked before falling asleep.
Aer Lingus Business Class seat and Amenities
The business class configuration is forward facing with 5 or 4 seats across depending on the row. The seats are 1x2x2 or 1x2x1.  "A" seats are always single seats and offer the most privacy when traveling alone. The best seats are next to the window though with the desk next to the aisle. I was in an aisle seat in a middle row consisting of 4 seats total. I had enough space to work and privacy despite where I was sitting. Also I was not sleeping, so being next to the aisle did not bother me. With the privacy divider down, there is ample privacy between seats.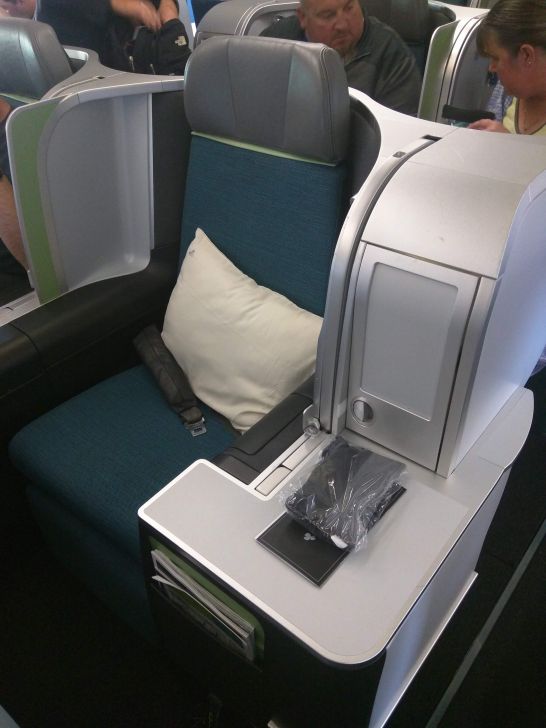 Each seat has a small storage bin on the arm rest which is decent size. My 15 inch laptop fit in here, along with my passport, phone and other gadgets. There is also a basket near your feet for shoes.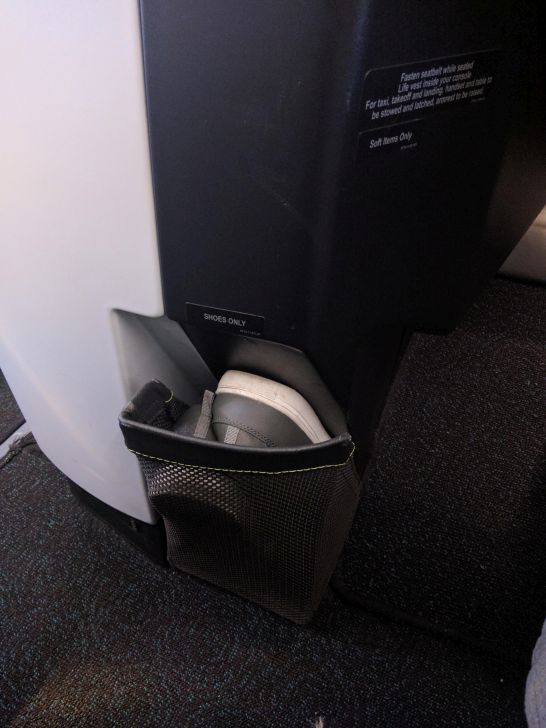 Nothing else really stands out about the seat, as the controls are very basic. Along with the amenity kit. The amenity kit does have irish based Voya products, socks, eye mask and ear plugs, and an oral hygiene kit. The best part of the seat, other than the 6.5 feet bed, is the built in massage function!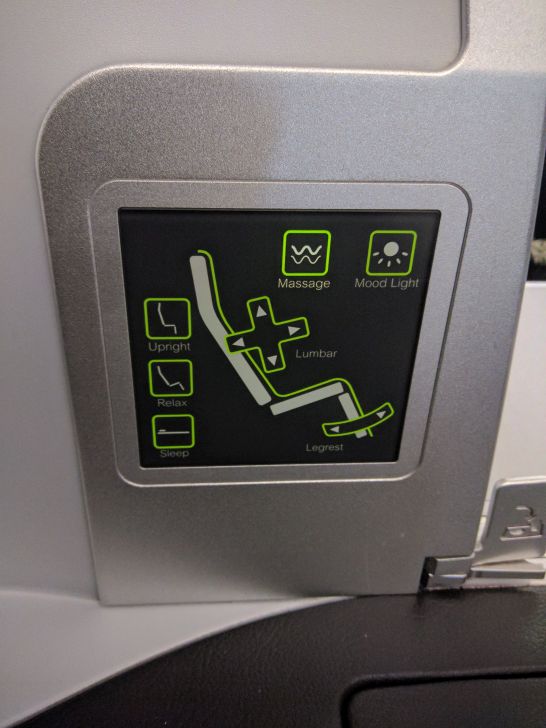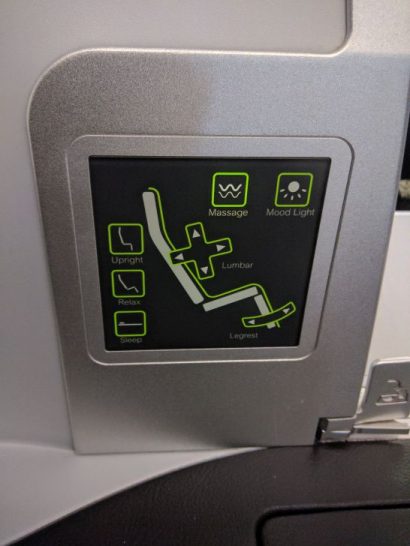 Aer Lingus Review Bottom Line
I found the Aer Lingus flight to be very comfortable. The seat was comfortable and the food was good. There is nothing overly fancy about Aer Lingus, but comfort and lay flat seats is what is important to me. There's no turn down service, or really expensive wine. Heck there aren't PJs or a mattress pad either. There's just basic comforts. I never made my bed, as I was awake working, but most people slept the majority of the flight. Aer Lingus business class is a premium experience, but it's not luxurious like some carriers. There is no turn down service and even my coat was never offered to be hung. Instead a coat hanger is built into every seat, and there it stays for the entire flight.
Aer Lingus is a good carrier, with room for growth and improvement. The airline has a bit of an identity crisis as it tries to determine just where they fit in. Either way though, Aer Lingus offers a great opportunity to use Avios points with a lower surcharge than British Airways. If flying between Seattle and Europe, I would highly recommend this direct route.