Aeromexico offers great connectivity to Mexico City international airport, offering hundreds of flights a day to Mexico's beautiful capital city. After a lovely stay in Mexico City over Thanksgiving 2021 it was time to fly home. The flight was aboard Aeromexico's 737-800 between MEX and SEA. My last long haul flight in business class on Aeromexico was memorable, but not for the right reasons. Subpar food, poor service, and an outdated seat to name a few plagued my flight between Buenos Aires and Mexico City. However, that was 2015. Now, nearly 7 years later it was time to retry Aeromexico on a shorter mid-haul 6 hour flight. The only wrench, Covid-19. Thankfully, Aeromexico is offering nearly full service again in business class and economy, so despite the pandemic, the experience was not really affected.
Boarding & Business Class Configuration
Boarding the flight to Seattle was a bit chaotic. Aeromexico has a pilot program to precheck documents, but it's not working well. Despite going through the steps to upload our negative covid-19 tests online and filling out all forms, we had to show the forms again before boarding. This was causing confusion at boarding as many people were rejected from boarding and sent to the agent working the desk for document re-check. It didn't take long, but some organization would be helpful. Furthermore, there were no announcements in English or Spanish about the manual re-check. One would easily assume that when checking in and dropping bags, this would  have been completed properly.
I did show up to the gate after boarding began as I was relaxing in the Salon premier lounge. I do believe that typically skyteam elite and business class ticket holders do get priority boarding through the sky priority lane.
Once on board, service was great. The 737-800 has a small business class cabin. Just 4 rows of business class recliners in a 2×2 configuration. Each seat has a leg rest and a tv.  The seats are the typical business class seats and configuration found on most airlines in North America. The only exception was the leg rest.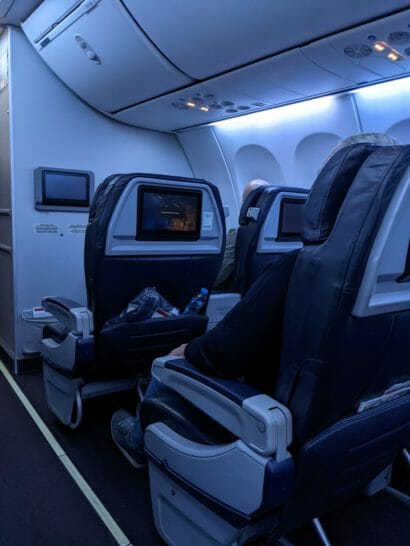 Upon boarding the plane each passenger was provided with a sanitizing wipe. In Club Premier, aka business class, there is also a thin blanket at each seat. Flight attendants later came by with earbuds for passengers.
Seat controls are easy to use and built into the arm rest, along with the headphone jack. There is also a remote in the armrest to control the entertainment system. The screens are touch screen and pivot up and down a couple of degrees. Movies and TV shows consist of both big hollywood movies and international ones too. I was impressed with the content offering hundred of hours of streaming directly to the seat. Plus for those who did not like the onboard entertainment, I found more options via the plane's internet system.
The leg rest are a great addition and were very comfortable. The recline was also greater than I am used to on most flights within North America. Nothing like a lay flat seat, but very comfortable for a 6 hour flight. Overall a very comfortable clase premier seat. Below is a picture of the leg rest.
As you can see, with the legrests out, it can be hard to walk past the seats. Not pictured, but the leg rest folds down one more time, creating a footrest. I found this to be too short for me at 5'10", bending my legs into an awkward position.
Aeromexico Service
Aeromexico's service is almost back to pre-pandemic levels. The airline is still trying to reduce some touch points though and this is obvious. Service for this flight began about 45 minutes after take off. The flight  attendant appeared in the aisle with a cart with  meals and beverages. There was no pre meal service or drinks. No welcome Orange Juice or bubbles. When the flight attendant arrived to our row, the option was chicken or pasta. We both opted for the bacon wrapped chicken.
Water and a beverage of our choice was offered. I opted for a glass of red wine.  Dinner is on a single plate. The hot dishes are covered with tinfoil. Throughout meal service beverage refills were offered.
The meal was quite tasty for a flight within North America. Better than most meals I am used to. The salad could use more vegetables as the iceberg lettuce leaves a lot to be desired. Otherwise, a good meal for a 6 hour flight between Mexico City and Seattle.  After meal service, about 2 hours before landing a snack basket was available for business class passengers. Between mean service and the snack basket flight attendants mostly remained in the galley. Yet, whenever someone pressed their call light, the cabin crew quickly came to serve the passenger with a smile.
As this was a medium haul flight the service is different from a long haul business class flight. For example there are no amenity kits or lie flat seats. The flights on the 737 offer comfort common to other carriers operating narrow body planes.  Overall Aeromexico is a fantastic full service airline when it comes to everything from the service to the onboard wi fi and meals. Color me impressed, but it seems as though this is one airline that is greatly improving. 
Bottom Line
Aeromexico's service between Seattle and Mexico city offers good service with a decent meal. The late afternoon departure allows for nearly a full morning in the capital before returning the the United States. With a full meal and a bar onboard, along with large comfortable seats, and inflight wifi, Aeromexico is a good choice. Aeromexico's