Coming back from Scotland, I first headed to Paris to head back home. Why Paris? To get back to my goal to review as many Premium Economy products with a flight in Air France B772 Premium Economy. Yes, it's the exact same flight I took in Business Class 9 months earlier. This time, at least, we received an (ironically older) updated plane with a more modern cabin. Read on to see how the junior premium product compared.
I spent €1206 cash for this ticket, a roundtrip originating in Paris. Originally, I intended to fly Delta Premium Select from Europe, and then fly Air France Premium Economy back. My plan ended up foiled, though, by a blasted close-in schedule change from Delta. That turned a 3-hour layover in Atlanta into 7. No thanks, but at least the material change allowed me to switch flights at no extra cost. (Aside: I'm getting really tired of schedule changes, especially ones sprung on you not even two months from your flight…)
Air France (AF) Flight 132
Sunday, February 5, 2023
Depart: Paris – Charles de Gaulle Airport (CDG), Terminal 2E, Gate L44, 11:01, 51m late
Arrive: DFW International Airport (DFW), Terminal D, Gate D8, 14:01, 6m late
Duration: 10 hours 0 minutes
Seat: 21A
Equipment: Boeing 777-200ER
Check-In and Boarding
I knew trouble was a brewin' the day before. I tried checking in online, but received an error message when trying to print a boarding pass. Figuring the dreaded "SSSS" was heading my way, I just decided to head to the airport early to get it sorted out. I spent the night at the Hilton adjacent to the airport – and promptly overslept. Though I intended to wake up at 6:45, I slept through my alarm, all the way until nearly 8. That's cutting it way too close for a 10:10 flight from CDG.
Anyway, I hurried to get ready and get to the counter. Thankfully, Premium Economy flex tickets receive access to the Sky Priority line, so I reached an agent quickly. The problem? No, not SSSS, but they wanted to advise me of a broken footrest at my seat, and asked if I wished to change. No, it's fine; I don't like those footrests anyway. And so I joined the chaos that is CDG on a Sunday morning, with the signboards showing a 66 minute wait to get through immigration and security. Sky Priority came in handy again, though. It took about half an hour to get through, and I made it to the gate with a little time to spare.
Boarding actually began a few minutes early. I snapped a quick photo of our older 777 (placed in service 1/14/2000) on the way down the jetbridge.
Unfortunately, despite boarding early, we then proceeded to sit and wait. And wait, and wait, and wait some more. I later overheard we were waiting for a large number of passengers trying to connect from Chennai. At the time, Air France sold an insane 60-minute connection to DFW from Chennai. So even though that flight arrived 4 minutes early, the fustercluck that is transit at CDG makes that nigh impossible. Frankly, I'm semi-impressed that they held the flight so long to allow everyone to make their connections. We eventually pushed back about 50 minutes late.
Air France B772 Premium Economy – Seating and Interior
There are four, count 'em, four versions of the 772 in the Air France lineup. This particular version (V2 on SeatGuru) is a premium-heavy configuration. The Premium Economy cabin is behind the Business Class mini-cabin, with three rows in a 2-4-2 configuration. The seats feature pretty impressive dimensions for Premium Economy, at 19″ wide with 38″ of pitch. In addition, the seats are a fixed shell design, where they slide forward but don't recline into the space behind you.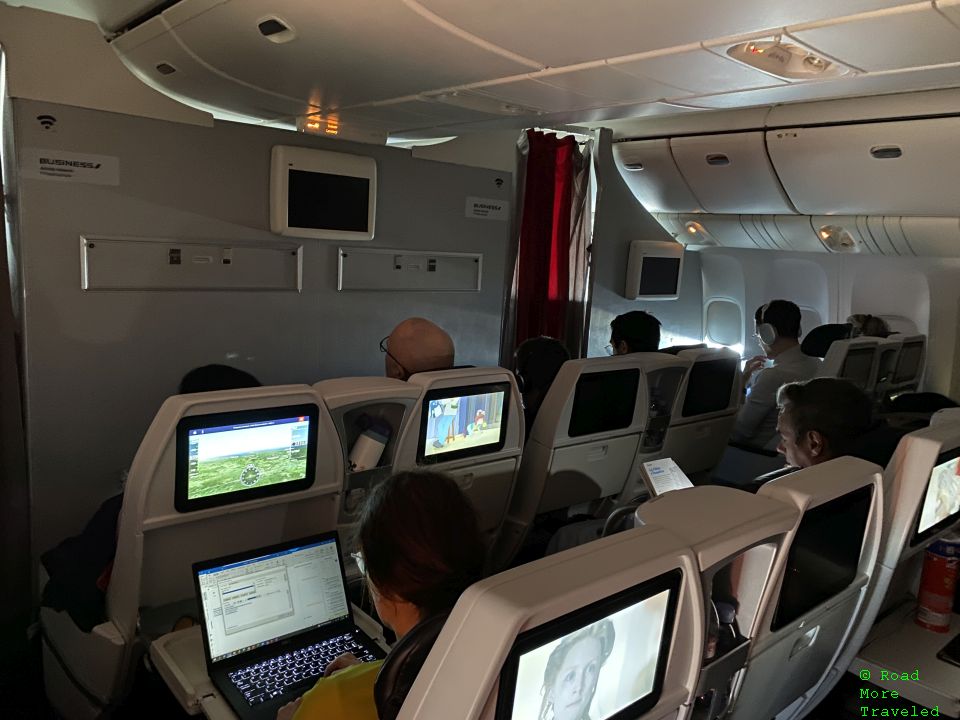 The blue seats look stylish, especially with the orange pillows. It definitely looks and feels "Business Lite" more than "Economy Plus", especially with the fixed shell. One thing you will notice in the following photos, though, is the seats are showing their age. I noted numerous cuts and scratches on the armrests, along with a pretty beat up seatback pocket. Honestly, this surprised me a bit. Air France is usually pretty good about keeping up appearances on its aircraft, in my experience.
Legroom is also quite generous in these seats. Frankly, I think the missing footrest made these seats better, with plenty of space to stretch out.
Waiting at each seat was a small bottle of Evian (see photo below), and even a small amenity kit bag. It's not a bad bag at all, and contains a toothbrush, pen, earplugs, a pair of socks, and eyeshades. That's pretty good for premium economy, I think.
At the time, Air France also provided a disinfecting wipe and face mask (since discontinued).
Seat controls consist of two buttons, one to adjust the recline, the other to adjust the legrest.
As for storage, there's a small top and bottom rack between the seabacks. Enough for maybe a bottle of water or soda for each seat.
Meanwhile, an oversized armrest separates you from your neighbor.
Finally, a snake light hangs down towards the headphones holder.
In the most important evaluation, seat comfort, these premium economy seats rate quite highly. Padding is excellent, and the simple recline and legrest controls provide for a comfortable ride. I slept soundly for about 4 hours, and felt no hint of thigh or saddle sore. That's even with the extra 45 minutes on the ground at CDG.
On another note, I did sneak a photo of a Business Class seat before sitting down. Needless to say, the 1-2-1 configuration with direct aisle access is far superior to the ancient cabin on my flight.
Air France B772 Premium Economy – In-Flight Entertainment
Compared to the tiny screens on my Business Class flight, the screens in premium economy seemed huge. Resolution is decent on these screens, and there's a good selection of both English and French TV shows and movies. As usual on Air France, there's an especially large contingent of independent films.
I found myself especially amused by the original Beethoven from the early 1990s. (My parents loved Saint Bernards, so we had one at home. Yes, they really are just like Beethoven.)
I missed this on my last Air France flight, but there's also several wellness videos, including some sleep and relaxation aids.
The moving map is pretty good, with a variety of different viewpoints and angles available. Sadly, this plane doesn't have the nose camera found on the 777-300ER.
Air France offers the same noise-cancelling headphones as in Business Class. Again, that's pretty impressive offering for Premium Economy, I think.
Each Premium Economy seat includes 110v and USB outlets in the armrest between the seats. I like the position of the outlets, as this largely prevents your cords from getting tangled in your feet.
Like the 77W, this older 777-200 didn't have WiFi installed at the time.
Air France B772 Premium Economy – Food, Beverage, & Service
Some airlines offer upgraded meals in Premium Economy. Others offer the same meal as coach, but sometimes with a fancier presentation. In this iteration of Premium Economy, it's the same meal service as coach.
Air France provides two meals services in Premium Economy. The lunch service began about an hour after takeoff. Lunch options were an old school beef or pasta. I chose the beef, which was a beef bourguignon. Accompanying the beef were a potato salad, bread with butter, sesame crackers, a cheese wedge, and an orange tart kind of thing.
While the economy class presentation isn't the best, but the meal was pretty good overall. The main dish, the beef bourguignon, was tasty. Tender beef and vegetables combined with a flavorful red wine sauce to make a solid stew. Kudos to Air France for offering real bread in Premium Economy, not the junky packaged roll. Meanwhile, the potato salad itself was decent, but the big chunks of raw onion were overkill. Overall, though, not a bad meal at all.
I asked for a red wine with the meal, and received a mini-bottle of Madame de Sainte-Hélène merlot-cabernet sauvignon.
It's a Two Buck Chuck type of red wine. Though very, very dry (too much so for my tastes), it's drinkable, with a decent peppery flavor. It's not a bad match for the beef.
I had a hot tea to finish off the meal. (No coffee, as a I learned my lesson about Air France's terrible powdered stuff.)
This was quite an efficient meal service, wrapping up in about 40 minutes.
About 90 minutes before landing, the FAs offered a pre-landing snack. Or more accurately, a snack box. The box included a turkey and cheese bread roll, tomato salad, a muffin, a (rock hard) piece of bread, strawberry applesauce, and a mango passionfruit yogurt drink.
The flight attendants heat the turkey and cheese roll before serving, and it's actually not bad. The dijon mustard especially makes it tasty. Nothing else on here was particularly memorable. Except for the piece of bread, which was too hard to eat.
Overall, I rate the meal service a little above average. Most of what I had was tasty, though presentation was lacking. (Fine for coach, though you'd think Air France would make it look prettier in Premium Economy.)
Service, on the other hand – it gets the Professor Severus Snape D for "Dreadful". No, the flight attendants weren't rude or anything. But they simply disappeared without a trace for much of the flight. After lunch, I fell asleep for a little less than 4 hours, waking up about 4 1/2 hours before landing. In the ensuing three hours before the snack service, I saw a grand total of zero attendants checking on the cabin. Not to offer water, not to pick up trash, nothing. I rang the call button twice, to no avail; it was ignored both times. So I gave up and disturbed my neighbor to go get a glass of water from the galley. That's simply not good, regardless of class of service.
Flightseeing
Unlike my last flight leaving Paris, the weather this time was socked in, with a thick layer of low clouds much of the way. I still got to enjoy the planespotting at CDG, though. First up was another Air France Triple Seven as we pushed back from the gate.
Later, we taxied behind a gorgeous Air France A350-900 heading towards the runway. I'm obsessed with the curved wing on both the A350 and 787.
Then we passed an EVA Air 777-300ER, presumably headed for Taipei.
And finally, an Air France Hop! E190 as we passed the regional terminal.
Skies didn't clear again until we reached the Great White North of Canada. As you'd expect in February, ice and snow covered the land below.
Some ice crystals even formed on the outside window pane, adding to the wintry scene.
We approached DFW from the northeast, passing over the northeast suburbs. This isn't far from where I live, actually, and you can see Lake Lavon flowing into Lake Ray Hubbard to the south.
Continuing east, we passed over the far northern suburbs of Dallas, with Lake Lewisville in the distance.
As we made our final approach to runway 18R, the clear day meant a very nice view of downtown Dallas in the distance behind Las Colinas.
Thankfully, landing on 18R means a short taxi to Terminal D. And so despite the lengthy departure delay, we arrived just 6 minutes behind schedule.
Air France B772 Premium Economy – Final Thoughts
There's a lot to like about Premium Economy on Air France. The seat is quite comfortable, and the food tasty, if not particularly well presented. The price point on this trip also represented only a modest premium over standard coach. There's also some nice add-ons like good noise-cancelling headphones and an amenity kit. Service, though, was seriously lacking on this flight. I'd fly Air France Premium Economy again at the right price on the basis of the excellent seat. Just don't expect a particularly premium experience service-wise on board. Basically, it's a Business Light seat with Economy Minus service.