Living in Milwaukee, I only rarely fly transcontinental flights.  Lately much of my work travel has been around more local around the midwest. Recently, I was in Los Angeles, and a last minute trip to the east coast came about. I needed to fly the rare transcontinental flight.  I booked a flight from Los Angeles to JFK, and was pleased to see that there seemed to be a lot of open seats in business class hoping for a free upgrade from my economy ticket.  Right on the 100 hour window, my upgrade to business class cleared. But as I was waiting in the lounge before my flight, I noticed another upgrade, this time to Flagship First.  A very nice, unexpected bonus, and a nice way to fly across the country.
Why the double upgrade to Flagship First?
Of course, free upgrades are usually at most one cabin, from economy to business, and my flight wasn't full. So seemingly it wasn't an operational upgrade.  Maybe more seats in business were needed?  Not clear to me. I have Executive Platinum status, but First Class wasn't full, and there only was one passenger in the cabin who seemed to be a crew member. While this is a great seat for a domestic flight, I don't think it is worth the typical cash price, and this is likely among the reasons why it seems likely to go away. But a 2 cabin upgrade from my economy ticket?  Great!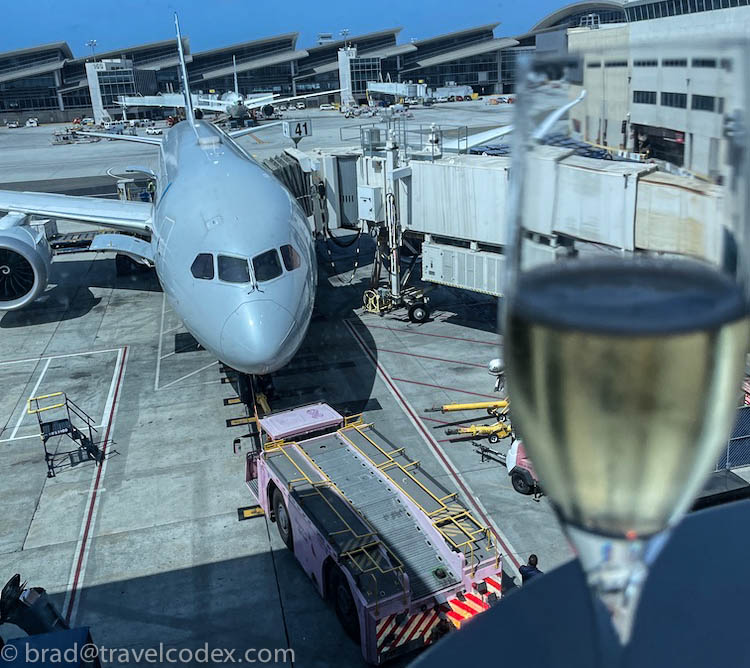 Enjoying the view at LAX before my flight to JFK.  This is the Flagship Lounge at LAX where I was sitting when I noticed a new seat for my flight. Business class on the transcontinental flight is sufficient to gain access to this lounge. Since I got the upgrade to Flagship First, I would have access to Flagship First Dining, but this is not open at LAX currently. With a late night arrival into JFK, I was not able to utilize it on arrival either. Too bad.
How is Flagship First Class on American Airlines Transcontinental?
The seat is great. On my flight the service was very friendly, but not at all proactive. After boarding I noticed a pair of used rubber gloves sitting on top of the seat at the front of the cabin. Just seemed to me as laziness to leave it there. It eventually got picked up by another flight attendant who came from the back prior to departure.  Maybe a sign of things to come service-wise…
I don't need or expect to be pampered on any American Airlines flight. I had a lot of work to do, so I connected to the wifi, and spent much of the flight on my laptop, which with a daytime flight, is exactly what I needed, and it was great to have so much space to work comfortably. The seat is very private, with a 1-1 reverse herringbone configuration on the A321. Much better than the space I would have had in business class or certainly economy.
American Airlines Flagship First meal service
I had pre-booked a meal online when I received the upgrade to business class. First Class has the same main course options as business, but adds a few more things, like a soup course, and more desserts. Here is the menu: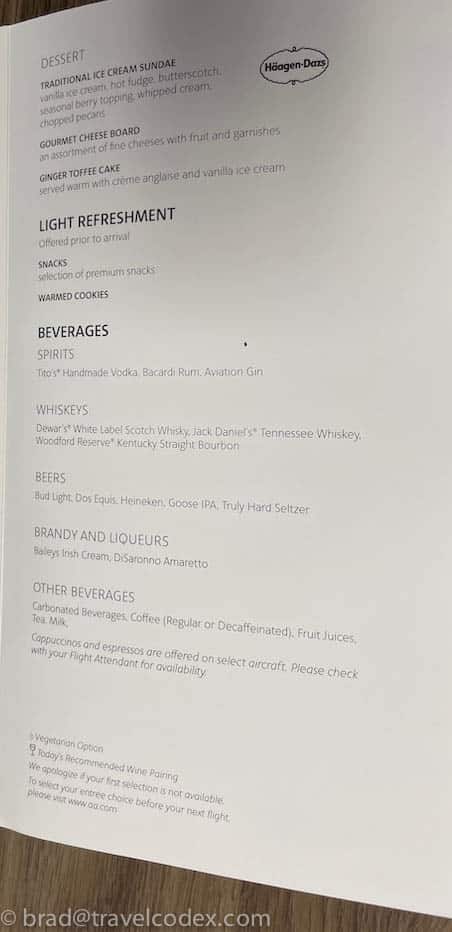 I went with the grain and greens bowl, figuring on a healthier option. I remember something similar on an Alaska flight which was good. This meal was quite tasty, and with how poor as some meals have been lately onboard, I was pleasantly surprised.
The meal starts with a drink and mixed nuts.  First class gets some olives as well.  Nice touch.
Next is a choice of starters and a salad.  I don't think everyone took each course, and I waited a little bit to eat since I had already had food in the Flagship lounge.  Maybe that threw off the flight attendants…
Salad has fresh lettuce, strawberries, goat cheese (seemed like feta to me), and sunflower seeds which I really enjoyed.  The goat cheese croquettes were quite good too.
Spicy tortilla soup is next. Nothing special, but soup is something I enjoy on flights.  Flavors hold up well, and this one was fine.
For the main course, as I mentioned, I pre booked the Grain and Greens bowl.  This order held through my upgrade, and the flight attendant confirmed my request. I added shrimp to it as well, which I believe is only an option in first class.
Finally for dessert I went with the ginger toffee cake. Mostly because it came with ice cream, so that way I could have the best of both worlds. I sometimes like a cheese plate for dessert (I am from Wisconsin after all…), but I didn't have high expectations for what AA would come up with, so I went for sweets instead. Definitely sweet, and a bit melted but the time I got it, but fine overall. Nice way to end the meal.
How to pass the time on a long flight…
As mentioned, I spent a lot of the flight working on my laptop.  Fast Viasat wifi worked very well. and cost $29 for the flight.  Not exactly a great deal, but it worked without issue.  There is also a lot of content available on the in seat IFE. I watched an interesting documentary on Motown records and a few other things during the flight.
I should also mention that an amenity kit was provided on the flight. This is the Shinola kit, same as offered to longhaul business class since 2021. Really a poor offering for a long haul flight. Probably sufficient for transcon flights, but nothing special.  Not going to bother with a full review.
Socks, lotion, toothpaste, earplugs, eyemask and a pen. Only the pen is unique, but more useful for international flight when there might be customs forms to complete. I didn't open it on my flight, nor since then, but it will likely be donated to a local shelter at some point.
About an hour before arrival, flight attendants offered warmed cookies.  There were also snacks available in the front of the cabin after the main meal service. Sparkling water with lemon is offered before arrival as well.  I think this has long been a feature of American Airlines flights, but not something I've experienced at all lately.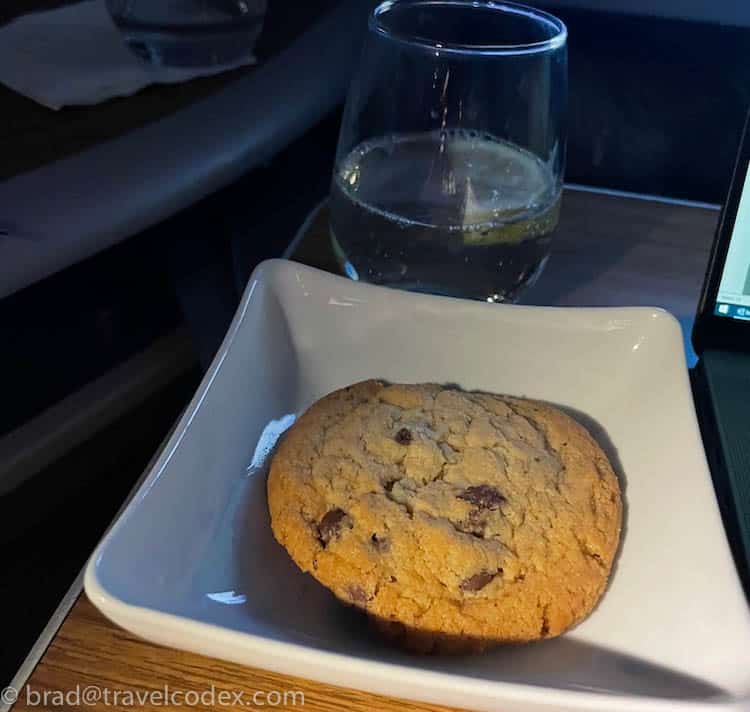 This flight was far from flawless, but getting the double upgrade made for a much more comfortable flight than I was planning on.  I had a decent onboard meal, was able to get a lot of work done, and travel thousands of miles in comfort. Domestic flying isn't usually enjoyable these days, but this flight was a pleasant surprise. Elite status still makes quite a difference for me.