In February I had a chance to be among the first passengers on American Airlines' service from Los Angeles to Tokyo-Haneda, which is operated with a Boeing 787-8. Although I've only had a few opportunities to fly on the Dreamliner since it launched, I do like the aircraft and was excited to redeem one of my last EXP systemwide upgrades on the route.
The flight was scheduled to depart at 6 PM, and it was chaos when I arrived at the gate in TBIT after visiting the Qantas First Class Lounge and oneworld Business Class Lounge. Our plane had a mechanical issue. People were milling about without direction. Eventually we were given another plane that I believe was intended for Shanghai. It ultimately added about an hour to the departure time, though we made up half of that en route.
It wouldn't have been that bad except that boarding was handled very poorly. Agents were in such a rush that they called nearly every elite group plus business class, waited two minutes, and then proceeded to board the rest of the economy cabin. I was seated directly across from the gate. By the time I picked up my bags and walked over the agent looked at my boarding pass and sneered, "We already called business class." Fortunately the service on board was better.
My seat was 2A, a rear-facing seat near the front of the cabin. Because U.S. carriers tend not to have good separation between the galley and cabin on international flights I didn't want to be disturbed while trying to sleep. But you can see that the alternating front- and rear-facing seats provide zero privacy. I was staring at Mr. 2D for the entire trip.
Overall I was very impressed with the seat's functions and comfort. There were multiple places to store my items, all thoughtfully located. A blanket and pillow were already waiting for me along with a Bose noise-canceling headset. The flight attendant came by in a few minutes to hand me an amenity kit.
There were a number of power outlets and even a cubby to store items near my seat while they were charging. The seat also had separate displays near the headrest to control the television and the seat controls. I'm not sure why those couldn't be integrated, but it wasn't a nuisance. I also appreciated that the arm rests were parallel with the seat on both sides. By comparison, the arm rests in business class on American's Boeing 777-300ER make it very uncomfortable for me to sit upright.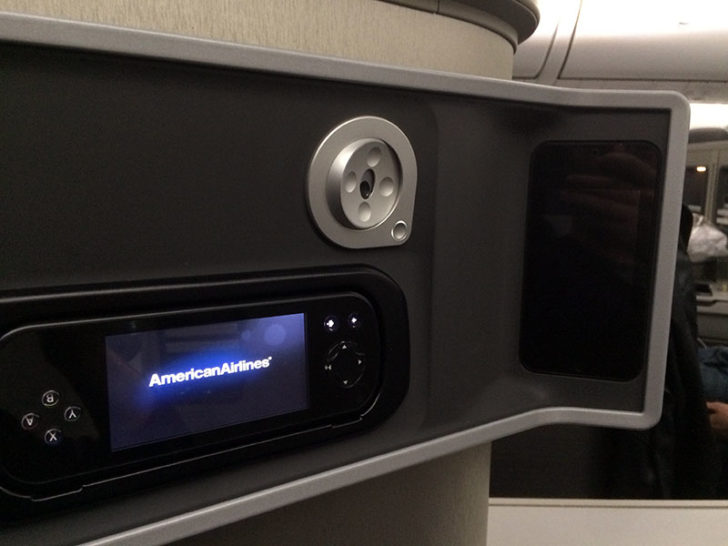 The contents of the amenity kit were very practical. Tissues, earplugs, toothbrush, mouthwash, lip balm, hand lotion, socks, eye mask, and a moist towel to freshen up before landing. There were even some disposable covers for the headphones. I did not like the amenity bag itself, which had a flimsy elastic strap and no zipper to keep it shut. I left it behind when we landed. But American has since replaced them with a new version in partnership with Cole Haan.
I'm always curious what the bathroom is like. Lavatories on domestic aircraft keep getting smaller and smaller, but the forward lavatory on this flight was surprisingly spacious and had a full-length mirror. There are two more in the middle of the business class cabin, near the snack counter.
Back at my seat, meal service began promptly. Here's my transcription of the Western menu:
Starter
Flaky Tomato Tart (with grilled artichoke heart)
Salad
Mixed Greens with Sundried Tomatoes and Shaved Parmesan (with your choice of sour cream and herb dressing or spicy sesame vinaigrette)
Entrees (choose one)
Coffee Crusted Beef Filet (with red wine sauce, roasted potatoes, and sauteed spinach)
Roasted Duck Breast (with curry lime sauce, coconut jasmine rice, broccolini, and pepers)
Sesame Crusted Salmon (with yuzu cream sauce, ginger honey spaghetti squash, carrots, and snap peas)
Spinach Ravioli (with smoked Gouda cream sauce and fresh Parmesan)
I've had one too many of American's poorly cooked steaks, and I really hate cream sauce, so I went with the Japanese menu instead.
Appetizer Tray (all)
Kobachi (creamy sesame chicken with sansai vegetables finished with salmon roe)
Hassun (char siu duck, dashi marinated prawn, herring roe, and budo mame and daikon radish)
Kuchitori (snow crab with dashi soy baby spinach and kimizu marinated smoked salmon, and cucumber)
Shiizakana (seared scallops with daikon radish and apple slaw)
Main Tray (all)
Dainomono (grilled yellowtail Yu-an yaki, taro potato, carrot, green beans, and potato)
Tomewan (miso soup)
Rice was provided for either menu, and desserts were the same: a choice of ice cream sundae, cheese plate, or raspberry tart.
The Japanese meal had a nice presentation, and I thought it tasted fine. However, it was a lot of seafood. I still prefer seafood instead of cream sauce and came away satisfied with my choice. The wine list had two options each of red and white wine, both decent but neither memorable. I chose an Central Coast Chardonnay from Edna Valley Vineyard. For those interested, the sparkling wine served was Castelnau Reserve Brut Champage.
The whole time I was watching James Bond battle villains in Quantum of Solace. It occurred to me that airlines are a lot more willing than they used to be when it comes to airing moves with plane crashes.
There's also the usual flight tracking interface. Although it didn't have a camera that I could find, it did have a mix of different perspectives, including a HUD overlay on the forward perspective. Which, on an overwater flight at cruising altitude, is about as interesting as watching a pot boil.
Eventually I tried to nap for a couple hours, but I didn't want to push it. I would be arriving in Haneda around midnight after taking the delay into account. My connecting flight wasn't until the following morning, and I had a reservation at an airport hotel so I could go right to bed.
Though I don't have a picture of the flat seat, it was easy to set up using the electronic panel built into the "privacy" shield (that didn't do much for privacy). Windows on the Boeing 787 are electrochromic, which usually means they don't dim very well, but on a nighttime flight this wasn't an issue.
There was no turndown service on this flight, despite the appearance of one from American's promotional photos. Even so, I thought the seat and bedding were comfortable enough. Usually my problem is getting too warm, and I find business class is more comfortable than most first class seats because there are fewer pieces that need to fold flat. First class seats tend to be lumpy.
It's worth noting that these seats rock a bit. It was subtle and not enough to keep me from sleeping, but every now and then while eating or watching a movie I could feel the seat move, as if the passenger in 1A was shifting his weight or getting up. It was unpleasant, similar to those passengers who grab your seat for support when they get up to use the lavatory in coach or domestic first class. I knew in this case there was nothing the other passenger could do to avoid it.
Anyway, I slept for a couple hours before waking up to have our second meal before landing. This was a surprisingly good pork katsu with curry sauce and creme brulee cheesecake. I think it was better than the main course. The other option was scrambled eggs with a buttermilk biscuit, poblano cream sauce, and chicken. I wasn't in the mood for a breakfast meal — or cream sauce.
This was my first time flying into Haneda rather than Narita, and we had a great view coming in over the harbor. Actually, everything about the airport was great, and I highly recommend it over Narita. Unfortunately the timing of this flight is very inconvenient for connecting passengers, and I wasn't planning to go to Tokyo. I'll probably only take this flight in the future when my destination is Japan.
Besides that, the meal service was better than I expected, and the crew were pleasant. I was disappointed by the bouncing seat but not enough that I would use it as an excuse to avoid this aircraft. What would bother me is arriving or departing from American's T4 at LAX. I was lucky to depart from TBIT, but our return flight — which I'll write about separately — landed at T4 and required a long walk through the tunnels between terminals, including several flights of stairs. That might be enough for me to fly through a different airport even if it meant choosing another airline.