I have to admit, I am a hopeless airline foodie. I don't know what it is, but I love reviewing airline food.
It's so silly, yet so delightful at the same time.
Plus, I know that there are also a bunch of other weirdos out there who appreciate such mindless material when it comes to flying.
So let it be known that I harbor a love-hate relationship with the concept of airline buy-on-board fodder. Why the love? Well, I eat constantly, so I'm forever grateful and appreciative of the ability to eat anything whenever I want, even if it requires me to pay for it. Why the hate? Well, because if I am going to pay for airline meals, I expect them to be delicious. 
Partially joking here, but nonetheless, I take my airline food seriously.
Back in the day, I used to fly American very regularly between Dallas and Chicago, and my sister and I would often give each other updates on our frequency of enjoying the American Airlines, "Fruit and Cheese Tray," which, for $5, one could get an array of brie, pepper jack (or was it Monterrey?), and cheddar, along with walnuts, raisins and an assortment of wheat and white crackers.
We sometimes would over-indulge and get the sh*tty boxed I mean "California Coastal" red wine to accompany it, splurging on the $7 (or is it $8 now?) for the plastic bottle. Pretty sure once, I flew home, having consumed the wine, stopped by my nearby CVS before getting to my apartment, and saw the same wine available at a special rate of 10 bottles for $10. #Sucker.
Anyways, American has long since retired the cheese tray, to my utter dismay. They have probably done a few iterations since then, but I was so excited this past week, on a trip from Dallas to Minneapolis, to sample out their, "Snack Pack" for $7.99.
The contents include:
Hormel Genoa Salami
Rondele Peppercorn Parmesan Cheese Spread
Brooklyn Pita Chips
Mario Pitted Snack Olives
Brookside Chocolate Crunch Clusters
Mentos Mint (dare I say I ordered a Coke Zero with this! RISQUE!!!)
Nappy Wipes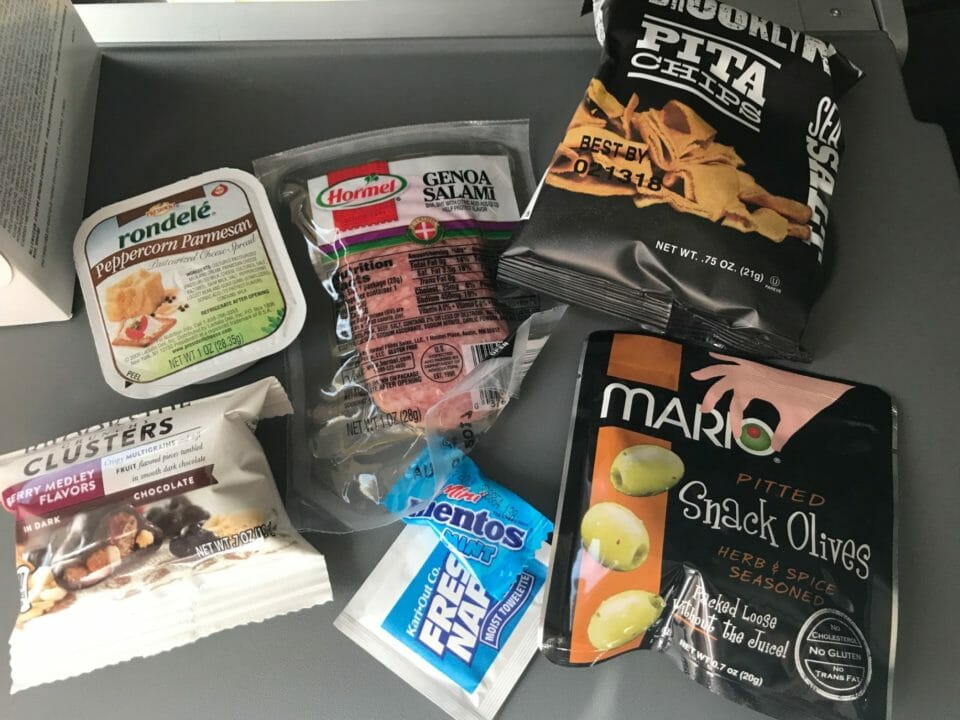 The salami slices are a great source of protein and is one differentiator from the United Tapas snack box (which is entirely vegetarian). The pita chips paired wonderfully with the cheese spread and the ratio of chips to cheese was just right. The olives added a nice, juicy post-snack fiber without being too watery and had the right punch of flavor. The chocolate crunch clusters were sort of enigmatic – I think that they were just multi-grains and fruit covered in dark chocolate.
By and large, the snacks were tasty, but I can't help but feel that the Choice Menu by United offers better value for their tapas box, which includes (in addition to some of the items mentioned above):
Artichoke and Red Pepper Spread
Hummus
Two types of crackers
Almonds
For only a dollar more, at $8.99.
So while I was happy that they had this, I would have preferred some more food at the price they charged, or perhaps even something more imaginative, like:
Beef or Turkey Jerky
Olive tapenade
Honey mustard
Cashews
Chocolate-covered pretzels
A fortune cookie
Self-help jokes
AFAA (Airline Foodie Addicts Anonymous) 1-800 numbers
I will be flying Virgin America in a few weeks (the first time since 2013!) and I look forward to reviewing their buy-on-board products.