American Express opened the Centurion Lounge at Philadelphia International Airport at the end of October 2017. To review, these lounges are accessible for free to anyone with an American Express Platinum Card or Centurion Card. The network of Centurion Lounges is one of the best in the country, as each has standard fare like restaurant-quality hot food, specialty cocktails, and decent work space.
Philadelphia's lounge is in terminal A, near gate A14, and joined existing U.S. locations at the following airports:
New York (LGA)
Houston (IAH)
To be more precise for the location, the lounge is near the A-East pier, and not too far a walk from the B gates. This is great for people flying internationally. If you're flying domestically, it can be a 5-20 minute walk from B, C, D, or E concourses. It may not make sense to go to the lounge if you are connecting in the F concourse, since that requires a shuttle bus to the C gates.
Tour of the American Express Centurion Lounge Philadelphia
(First off, apologies for the substandard quality of the photos, I left my good camera at home and only had my old phone to take pictures. That, plus I try to be as discreet as possible in taking photos in a lounge).
The lounge is open from 5am-9pm. You'll see the entrance near gate A14.
The lounge is actually upstairs – there's an elevator and a set of stairs. Once you enter and present your card, you'll see a long hallway with a couple of lounge chairs, followed by a long work table with about 9 seats overlooking the A concourse.
This hallway opens up into an open dining area with a long dining table with 10 seats, 6 free standing tables with 2 seats each, and 5 booth tables with access to power outlets.
At the far end of the dining room is a full bar with 8 seats. The bar is open from 10:30am to 8:30pm. The wine and cocktail menu are pretty standard for a Centurion Lounge, with a Philadelphia twist on the names. It was great to see some interesting beer options as well, including Great Lakes!
If you continue down the hallway past the bar, you'll find another area with seating and work spaces. There is also a small room in the corner dubbed a "Phone Room" which really just has one chair to take phone calls. I wouldn't go so far as to call it a family room since there isn't much for a kid to do there.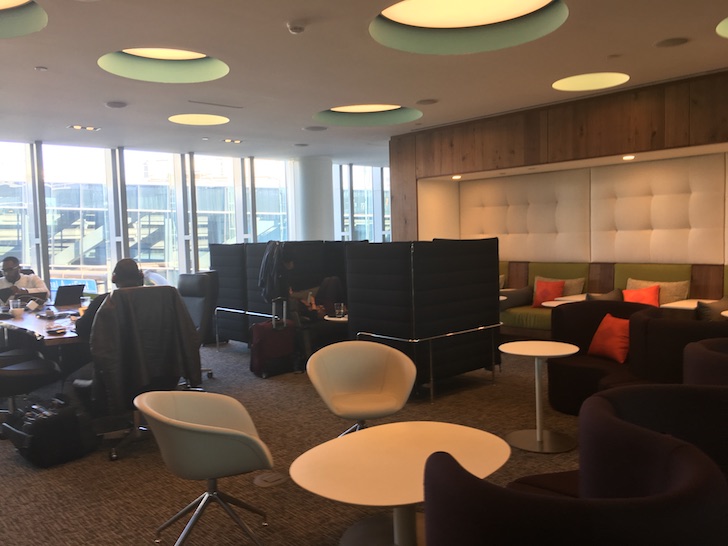 Restrooms, as well as one shower room, are in the back of the lounge. If you walk around to the windows facing the landside area of the terminal, you'll end up on the other side of the bar, down another hallway with seating that takes you to the coffee area. Speaking of views, there are not many in the lounge in terms of plane-spotting, since one side looks out toward the road in front of Terminal A, while the other side faces out over the concourse and international arrivals walkway.
The coffee area has an espresso machine, as well as regular coffee, a sparkling/still water tap, and specialty juices.
This route will take you back into the dining room to the buffet. The buffet is the aspect of this lounge I was most excited about, since the food is curated by the chef at Zahav, an Israeli restaurant in Philadelphia. I went to this restaurant back in 2015 and it still ranks as one of the best meals I have had anywhere. The food was that good.
I was fortunate to arrive before they took breakfast away just before 11am (they switch to lunch at that time). The main breakfast area consisted of:
Challah French toast tehina, blackberry
Borekas, kale and potato
Crispy potato, za'atar, kashkaval
Shaksuka lamb merguez
Oatmeal
Fruits
Greek Yogurt
Cardamom and currant scones
Zucchini bread
Breakfast was delicious! Lunch came out right at 11am and consisted of the following:
Harira Moroccan Vegetable Soup
Stuffed Pepper Pomegranate
Beef and Lamb Meatball with White Bean Salad
Bulgarian Kebab with Red Pepper and White Bean
Carrot Jasmine Rice Pilaf
Kale tabbouleh, apple, pomegranate salad
Israeli salad with feta
Passion fruit melabi dessert
Cookies
Herb flatbread
Lunch was certainly unique and tasty. I wouldn't say it replaces an actual meal at Zahav, but it's great to be able to eat like this in an airport lounge in the U.S. before an ordinary domestic flight to, say, Pittsburgh!
Conclusion
I think American Express did a great job with the Centurion Lounge at Philadelphia, particularly with the unique food menu. In terms of how busy the lounge was, I came on a Tuesday late morning/early afternoon (right after Thanksgiving), certainly not a busy time to fly. I imagine this would get busier in the evenings with the multitude of evening international departures to Europe in the A concourses.
Admission is free to Amex Centurion and Platinum Card members and up to two guests. These lounges are one of the reasons I always keep an American Express Platinum Card handy, whether it's a personal card, business card, or even an authorized user card. The Philadelphia location is a great addition for those who live here as well as transit here on American Airlines.