In late September my wife and I traveled to meet her parents in Las Vegas. Though it isn't really a destination for either of us, she hadn't seem them in a while and it was their first time in Las Vegas in over 20 years. So it was a good excuse to try out a new hotel. We stayed at Bellagio, which I've visited several times but never as a guest.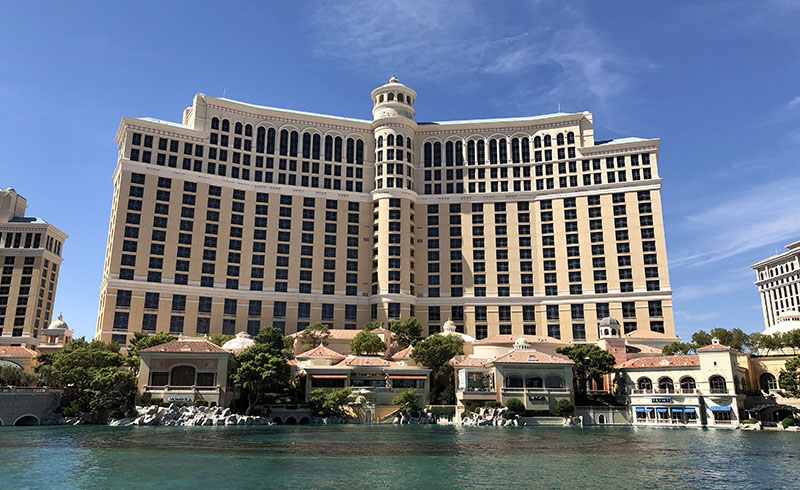 Our room was booked for $300 per night through American Express Fine Hotels & Resorts. Although on the higher end, $300 seemed to be the going rate for five-star properties, and our dates weren't really negotiable. On the other hand, our FHR benefits included several other perks such as free breakfast, a $100 dining credit, and a 4 PM late checkout, which is essential for a weekend trip like this one.
Arrival and Reception
Bellagio has a priority queue at the main reception desk for M life elite members, which most people can get by matching their status from World of Hyatt. Explorist and Globalist members both receive M life Gold, which is a step down from the old Gold Passport program that provided M life Platinum to Hyatt's Diamond members.
However, as a perk of being a blogger I was gifted M life NOIR status, an invitation-only tier, several years ago. I keep wondering when they'll take it away since I clearly don't qualify. On the other hand, status itself doesn't provide many benefits (comps require actual gambling as confirmed by my friend, who stayed there and runs Sportwettenanbieter). The status probably has its intended effect in that, on the few occasions I travel to Las Vegas, I do try to stay at MGM properties for things like a shorter taxi queue and expedited check-in.
I was also able to arrange complimentary transportation with the hotel to meet us at the airport. Regardless of how I pay for it, I think it is convenient to have someone waiting at the bottom of the escalator when I arrive in baggage claim. List prices are reasonable and start at about $60. If you were considering an Uber or taxi for $20-30 or a shuttle for $12 per person, then a four-person limousine arranged by the hotel is a cheap splurge. If you want limo services, you can check out Arizona Sedan and Limousine site.
There is also a separate VIP reception that I believe is exclusive to M life Platinum and NOIR members or invited guests. This is located behind the Petrossian Bar, with unmarked entrances from the casino floor and the conservatory.
We were led to the VIP lounge by the doorman and found a very pleasant space with complimentary drinks, snacks, and a view of the conservatory. Four receptionists were busy answering calls and checking people in. My family was able to find a place to sit and enjoy some drinks while I handled the paperwork. The receptionist was ready to go with all the Amex Fine Hotels & Resorts details. Benefits included:
Noon check-in, when available
Room upgrade upon arrival, when available
Daily breakfast for two people: $30 per person, per day, valid at Cafe Bellagio, The Buffet, Pool Cafe, Palio, or Cafe Gelato
In-room Wi-Fi
Guaranteed 4:00 PM late check-out
Additional special amenity: $100 credit valid for spa or salon purchases, or a dining credit at The Buffet, Cafe Bellagio, FIX, Harvest, LAGO, Liily Bar & Lounge, Jasmine, Michael Mina, or Petrossian Bar
The VIP lounges vary at each of the MGM hotels. I like lounge at The Mirage (and the hotel in general), as it's convenient to the front door and usually has a fridge stocked with beer. The MGM Grand also has coffee and pastries for breakfast. Compare that to Monte Carlo, which has little more than a private room to check-in.
I only asked for a Diet Coke when I was at Bellagio, but over the course of a view visits I observed free wine, hot snacks, and even one waiter bringing hard liquor for a guest who asked. It certainly was the nicest VIP lounge I'd visited in the system.
Resort King Room
We directed ourselves to our room on the 28th floor and let the bellman follow later with our luggage. The room itself had a nice view of the pool deck and avoided most of the afternoon glare. If you're hoping for a fountain view at this hotel, you really need to pay up for a fountain view room, or perhaps stay at Paris Las Vegas across the street.
Other than that, the room was tastefully decorated. It did have a bit of a cookie-cutter feel that is hard to avoid in Las Vegas where most hotels have over a thousand rooms each. Still, there were a couple of sitting chairs by the window, a spacious desk, and a comfortable bed. I wouldn't mind being here for a week.
The mini bar was well stocked and expensive — everything one expects in Las Vegas.
The bathroom was surprisingly large, but here I was more disappointed. I think details matter when you start evaluating hotels on the high end. The faucets looked like they could have been the same ones at Monte Carlo, and the assembly of the sink looked a bit haphazard. My feeling was this was made from the same kit as all the other hotels but with a higher quality veneer. At the very least I would have liked to see two sinks, not one.
Bath amenities were a brand I'd never heard of, though Lanovera is apparently a legitimate name from Australia. Still, I didn't know that until I looked it up. For first impressions, I would have gone with something that had slightly more name recognition like Gilchrist & Soames.
Pool Deck
The main reason for our visit (in my view) was to squeeze in some pool time before the cold weather set in. Like most mega resorts in Las Vegas the pool deck has multiple shallow pools surrounded by lounge chairs. There are also a number of day beds and cabanas available to rent, and a separate pool area with standard lounge chairs that requires an admission fee.
The pool deck is a short walk from the room elevators in the direction opposite of the casino floor, across from the museum gallery. There are also a few snack shops indoors if you want to avoid the heat during the summer.
We didn't find it difficult to find a couple chairs together by the pool. I spent most of the time reading and drinking a frozen beverage. The margarita was surprisingly good and strong. However, I felt the service was a little infrequent. Not being the type to wait around for things to happen, I ended up going to the bar myself to make additional purchases.
Dining and Entertainment
We also took the opportunity to enjoy some of Bellagio's restaurants and watch "O", one of Cirque du Soleil's flagship shows in Las Vegas. Breakfast at the Bellagio Cafe on Saturday morning was wonderful. We had a great seat in a nook overlooking the conservatory, and the food and service were flawless.
We also tried The Buffet the next morning and were much less impressed. There was no natural light, and we definitely felt that the meal was more "meh." We actually paid more than we had for our plated meal at the cafe.
Dinner on Saturday night at Olives was good, so we at least scored on two out of three. (Dinner on Friday night was at Mesa Grill in Ceasars Palace — also very good.) It was very busy around 7 PM, and while we didn't get a seat on the very small patio outdoors we were able to step outside a couple of times to watch the fountains when they were active.
And if you're looking for advice on "O", the only thing I can say is there appeared to be no bad seats in the house, so feel free to look for a cheaper ticket. We were seated halfway back in section 202, yet it felt like we were much closer.
The plot of the show was harder to follow than some other Cirque du Soleil presentations even though the acts — most of which involve a swimming pool under the stage — were more impressive. I recommend you go.
Conclusion
There was some confusion at check-out due to my own misunderstanding of the Amex FHR benefits. We had thought we could use the $100 credit at Olives, which was permitted in the past but no longer. I also thought I could use it at the pool deck, but alcohol was excluded. The receptionist made a heroic effort to move charges around between both rooms and secure all but $3 of our two $100 credits.
We then gathered our things and took another house car to the airport, where we were able to spend an hour at the Centurion Lounge before our flight to Seattle.
Later, I got home and looked at the bill more closely. That was when I realized the room rate I paid was much higher than what I reserved through FHR. This required a short email to the hotel that was resolved in less than 24 hours. So despite hiccups on my part and theirs, I was left impressed by the hotel's service recovery.
Under the hood, Bellagio is not much different from other MGM casinos. The VIP suites are surely different, but the standard rooms have the same floor plan and bathroom faucets. Among most luxury hotels, I don't think it would rank favorably.
It's really the service and amenities that set Bellagio apart from the other half-dozen hotels I've stayed at on the Strip. They all face the same criticism about decor. Lets face it: most people don't go with plans to stay in their room. Fortunately I found it to be less crowded and with better restaurants than other hotels. For a future trip to Las Vegas — and with a better rate — I'd be glad to return.