There are several lounge options for American Express Cardholders at Mexico City's Benito Juarez International Airport but for U.S.-based Centurion and Platinum Cardholders, the best lounge option for resting and refueling before your flight is the American Express Centurion Lounge in Terminal 2. The two-story lounge is beautifully decorated and well-appointed with great amenities such as complimentary spa services, shower suites and restaurant-quality meals and drinks. If you're the type of traveler who values a good meal over anything else, then this lounge is for you.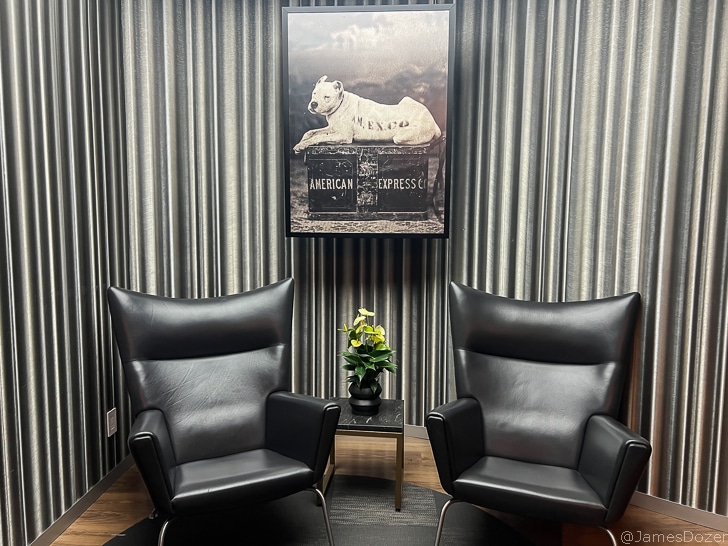 Centurion Lounge MEX Location, Access, and Hours
At Benito Juarez Mexico City International Airport, there are three American Express Centurion Lounges for passengers to use. There are two located in Terminal 1 and another one located in Terminal 2. This review is for the Centurion Lounge located in Terminal 2. Terminal 1 is primarily used by airlines such as Air Canada, American Airlines, and United; whereas, Terminal 2 is primarily used by Aeromexico and Delta. Keep in mind that Aeromexico does depart from both Terminals 1 and 2 so make sure to check your boarding pass to make sure you're in the right terminal.
The American Express Centurion Lounge in Terminal 2 is located airside (post-security), on the third floor of the terminal. As you exit the security checkpoint, follow the signs for the VIP Lounges and take the elevator/escalator up to the second floor (mezzanine level). Make a right-hand turn and walk all the way down the hallway. The lounge will be located on your right-hand side, on the third floor, above the HSBC Lounge.
The American Express Centurion Lounge Mexico City Airport is open from 5:00 AM to 11:00 PM daily and is accessible by:
Centurion Cardholders
Platinum Cardholders
Corporate Platinum Cardholders
Business Platinum Cardholders
Aeromexico Platinum Cardholders
It should be noted that U.S.-based Platinum Cardholders are still allowed to bring in two guests to this lounge free of charge. There is no need for you to have a spending waiver and your two guests do not need to be authorized cardholders. There's not even a requirement that they be on the same flight as you.
As you get in line, a customer service rep will verify your eligibility, explain the details of the lounge and escort you to a table. Unlike other lounges where you can just sit wherever you want, this lounge is more like a restaurant where they will seat you at a specific table. There are some couches and loungers to relax and socialize with your fellow passengers but the majority of the lounge is set up with dining tables and chairs.
The lounge is divided into two levels. The lower level has a seating area with comfortable chairs and sofas, as well as a bar area with high-top tables and chairs.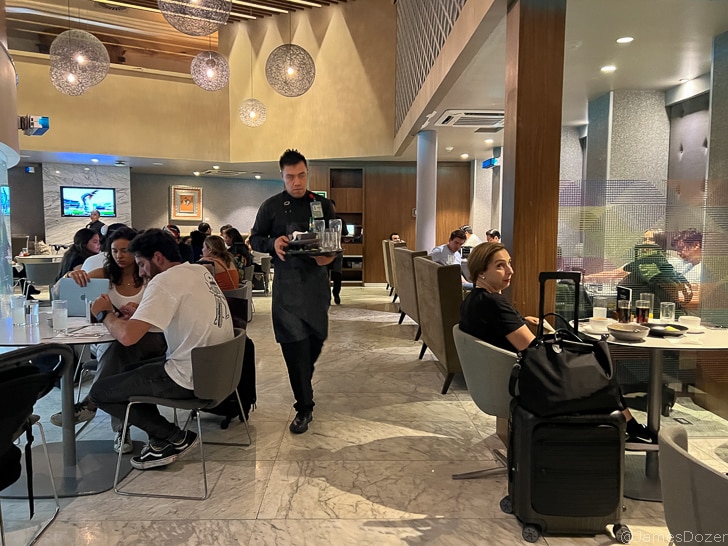 The business center, spa and shower rooms are also located on the lower level. Showers and spa services are provided on a first-come, first-served basis and can be scheduled at the concierge desk.
Upstairs, you'll find another sitting area with couches, loungers and a large communal table but the rest of the space is comprised of dining tables and chairs. There's also another bar and dining area located on the right side of the upper level.
Centurion Lounge MEX Dining
Unlike other Centurion Lounges, there are no self-serve buffet stations here. Instead, everything is ordered from an a la carte menu. It doesn't matter where you are seated, there will be a waiter to bring you everything you want. Here's the food menu.
If you notice, there are prices next to the menu items but this does not apply to PERSONAL Platinum Cardholders so you can order as much as you want. However, the prices do apply to Business and Corporate Platinum Cardholders. So if you have a Business Platinum Card, as many people do, you will have to pay for your meal. At the end of your meal, they will bring you a bill, and for personal Platinum Cardholders, the prices will be zeroed out. You still need to sign your bill even though the balance is zero.
I didn't see a drink menu there were two full bars with a top-shelf selection of beers, wines, and spirits. Drinks were provided complimentary for personal Platinum Cardholders. I'm not sure if drinks were complimentary for the other cardholders but I did see plenty of people drinking and not eating so I'm assuming drinks were free for everyone.
For my meal, I ordered the tuna tartare, rib-eye tacos and vanilla flan. As you can see, the portions were pretty small and I ended up ordering a second round of everything.
I don't know if you can tell from my pictures but the food was delicious and beautifully presented. It really felt like I was eating at a fancy restaurant and it was great that I didn't have to pay any money for it. The waiters were all friendly and attentive and they did a great job of bussing tables and keeping the lounge clean.
American Express Centurion Lounge MEX Bottom Line
Overall, the American Express Centurion Lounge Mexico City Airport is a great place to relax and refuel before your flight. The lounge is clean, beautifully decorated and well-maintained. The staff is friendly and attentive, and the food is delicious. That being said, the lounge is small and can get crowded at peak times and if you hold a Business or Corporate Platinum Card, even if its U.S.-based, you will need to pay for food. This lounge is best for personal Platinum Cardholders.
What are your thoughts? Have you visited the American Express Centurion Lounge Mexico City Airport? If so, please share your thoughts with us in the comments section below. Thanks for reading!