I was recently in Las Vegas for a conference at Mandalay Bay but wanted to arrive a day early so Megan and I could get some pool time. I decided to stay at the new DELANO Las Vegas, which was recently rebranded from THEhotel (Mandalay's hotel-within-a-hotel). I found about about this change last month and already confirmed with Hyatt Gold Passport that Delano will continue to participate in the partnership between M life and Gold Passport to earn Gold Passport points and stay credit.
For what it's worth, the room rate was cheaper at Delano than at Mandalay Bay, and I know several people who were able to consolidate their reservations at Delano for no extra charge. It was a much more serene experience than the typical Vegas casino resort. Not everything went as smoothly as I would hope, but it was generally a positive experience. I think on future stays I would choose between here, the Mandarin Oriental, and MGM Grand (I'm a sucker for a good river pool.)
Beautiful Rooms, though Iffy Service
Other than a disappointing check-in experience, I really did like the hotel. The room near the elevator was well insulated such that I never heard any guests walking by in the hallway. The blackout drapes were good at blocking the harsh desert sun. And the design was modern and spacious, providing an excellent place to retreat between events or after a day at the pool. (Guests have access to all the facilities at Mandalay Bay, though it may be a little faster to reach some destinations if you cut through the parking garage instead of walking through the casino.)
If you were to arrive at the main entrance, within the parking garage, you would first walk by these large cut rocks in the lobby. Insider's tip: If you need to get over to the convention center area of Mandalay Bay in a hurry, it's probably faster to exit through the parking garage and enter again at the Mandalay Bay side.
But if you did want to walk through the casino, you'd pass through this long hallway, with a cafe on one side and large skylights in the ceiling. This area has been redecorated but is a good introduction to the quieter Delano experience.
The lobby itself is very modern and takes after several elements of the original Delano is Miami's South Beach neighborhood, including the white draped columns. Although many visitors comment on the long carpet that runs from the lobby entrance to check-in, I was more impressed with those hanging rocks that form a giant hollow circle. It's one of those cool art installations that changes depending on your perspective. I'd actually been in the lobby a few weeks before and didn't notice the circle because I'd been sitting at a different angle.
The Suites
After checking in, we headed to our room on the 16th floor near the elevator. All rooms at the Delano Las Vegas are suites — true suites that have a separate living room and bedroom with a door in between. I had a standard King Suite room with a view of the Luxor pyramid. I didn't mind it much — it's a good view to have — although I guess I would have preferred a higher floor had another room been available.
Like any decent suite, there was a small half bathroom in the entry hallway. But I'll spare you the pictures and only show you the living room. The color palette was nearly all white, but I'm told that the MGM partners got their way and incorporated more off white and brown tones that better fit with the desert environment. There were also many gold accents. It wasn't over the top like you might expect in Las Vegas. I don't even remember these accents except now that I'm looking at the photos again. That's as it should be. It was probably the most tasteful room I've ever had in Las Vegas.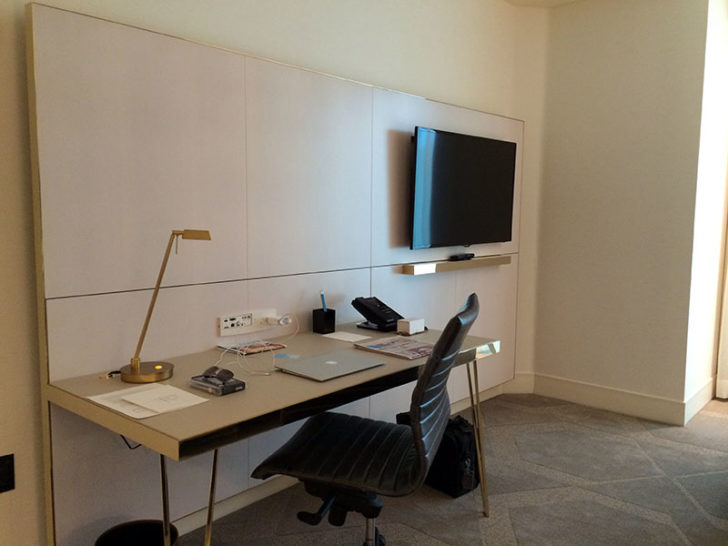 That is, except for the semi-naked people making out in the pool.
The bedroom was just a bit chunky. While I liked the bed (I agree with Wandering Aramean that the pillows were a little stiff), the cabinetry was too much. I would have appreciated more separation between the television, dresser, and closets. Built-in closets would have been awesome had they been able to bring forward the wall just a few feet. Instead I got the feeling that it was one giant piece of multi-purpose furniture.
It certainly had enough space. Megan and I each had a closet. We had the dresser in between to unpack our suitcases. But I always prefer a built-in closet to an armoire. My parents had an armoire. I hope I never own one.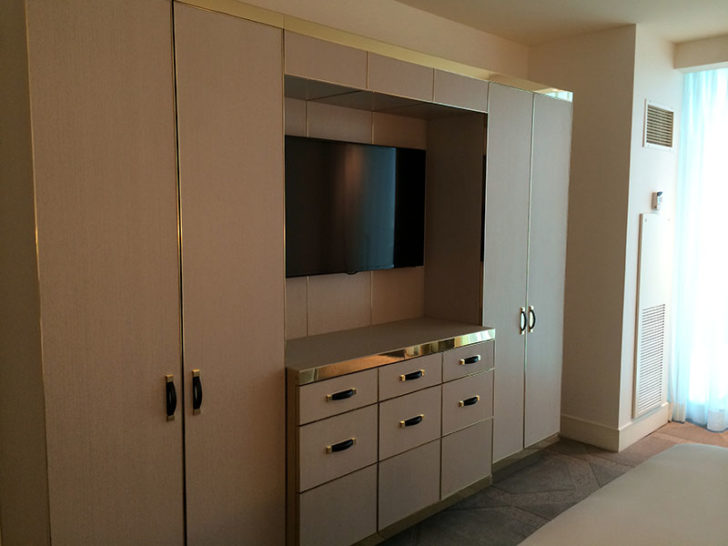 Megan and I really liked the master bathroom. Just as every "real" suite should have a wall, so should it have double sinks. This room did not disappoint. The robes and towels were very soft yet substantial. The toiletries were Malin + Goetz, which are high quality but, to be honest, not to my taste.
There were separate shower and bathtub, unlike my room at Aria, where I had to walk through the shower to reach the tub in back. Either format is fine, but this was preferable. I thought the shower was pretty spacious, and the black and white contrast between the marble and walls was pleasant. Again, it was stylish without being over the top. Most Las Vegas hotels struggle with this. I'm always surprised when I see one that succeeds.
Resort Amenities
All guests of Delano Las Vegas also receive access to the amenities of Mandalay Bay. It can be a hike to the pool complex, requiring that you walk through the casino to the Mandalay Bay lobby and either take the escalators or the elevators (I recommend the elevators; they're faster). Fortunately the Delano has its own spa, but because we couldn't get a clear answer from the management as to what discount we were offered as a NOIR and Global Card member, Megan decided to pass.
Keep in mind that the pool complex is not running at full capacity outside the summer season. The casino at the pool was closed. The wave pool did not have the deep end open, so the water never got above my head. And I wasn't allowed in the shallow end, either. I was told the reason was a limited number of life guards. Instead everyone at the wave pool had to stay in a narrow zone in the middle, and a single wave would come by every five minutes. It was very disappointing. If you are looking for an exciting pool scene, I recommend MGM Grand or another hotel instead, as Mandalay Bay did not live up to its name.
We did enjoy MIX, the bar and lounge at the top of Delano Las Vegas. I'd never been here before but would consider returning even if not staying at Delano or Mandalay Bay. I'm a little old for clubs and so a regular bar, especially one with an outdoor area that lets some of the noise escape, was a nice change of pace. We were able to head out to the balcony both Friday and Saturday nights despite not reserving a table, and it offers some excellent views of Las Vegas Boulevard.
If you head to the restrooms, you can even get a good view of the Mandalay Bay tower. I'm not sure what Ben and Megan were arguing over in this photo, but yeah, you can see the toilet between them. If you use the restrooms here you're on display.
All-in-all it was a good stay. I enjoyed the room and the MIX lounge. I really like the Franklin bar downstairs. The coffee shop is decent if overpriced. But the room was only ~$150 plus tax.
I was not as keen on the check-in experience. This was obviously due to unusual circumstances. I arrived at the hotel during an opening night party and thought they were woefully unprepared to accept new guests while that party was going on next door. As a regular guest, my attitude would be — party or no party — that I expect a certain level of service, and that experience just wasn't there. Even in some later encounters, I found the staff confused. They were unfamiliar with their own loyalty program, and a friend who decided to extend his stay was offered two different rates just 5 minutes apart that differed by over $100.
But I have hopes that they'll learn quickly. They seem to be trying. Wandering Aramean complained about the pillows and even got a refund for part of his stay.
Assuming you can look past the negatives — or that they're rectified quickly — my advice is to view the Delano Las Vegas as a good base to explore the rest of Las Vegas. I'm one of those people who occasionally needs an escape from the slot machines and boisterous crowds. This hotel will give you a taste of style and fashion without requiring that you share that experience with hundreds of other people at the same time. Cab rides to Bellagio and Caesars Palace can be had for about $10-15 including tip. Or you can explore Mandalay Bay right next door.