Back in April of 2019, I sampled Delta's swanky new A220 in the back of the bus. I intended to try out the front cabin the next spring, but…well, a certain virus got in the way. Finally, the opportunity came up to close the loop (and use my old Delta flight credits) last month. I love my son more than anything, but he just won't let me work at home. And leading up to April 15th, I really needed a weekend to get caught up with work. And so, I copied a page from my friend Matthew and planned some random flights just to get some work done. For some time now, Delta scheduled A220s on some DFW-Minneapolis runs; recently, however, they switched from the A220-100 to the newer A220-300. And thus I booked Delta A220-300 First Class to try out the stretched version of the new plane.
I booked the return in Comfort+, and paid $523 cash for the round-trip ticket. (And by the way, yes, I know the cover photo is an A220-100, not a -300.)
Delta (DL) Flight 691
Saturday, April 9, 2022
Depart: DFW International Airport (DFW), Terminal E, Gate E15, 19:29, 6m early
Arrive: Minneapolis-St. Paul International Airport (MSP), Terminal 1, Gate C9, 21:48, 11m early
Duration: 2 hours 19 minutes
Seat: 3A
Equipment: Airbus A220-300
Interestingly, this also marked my first flight through MSP. A consequence of living in a hub that Delta abandoned 20 years ago, I guess.
Check-In and Boarding
After a visit to the excellent Capital One Lounge, I took the Skylink back to Terminal E to board my flight to Minneapolis. That's the one drawback to the lounge; if you aren't flying out of Terminal D, you have to end your visit early to return to your terminal. Anyway, while the stories of operational meltdowns made me nervous, this flight went off without a hitch. Boarding started on time, and we buttoned up a few minutes early for our trek north to Minnesota.
Delta A220-300 First Class – Seating and Interior
This A220-300 was close to brand new, entering service in late 2020. First class features 12, 21″ wide seats in a 2×2 configuration, with 36″ of pitch. The First Class cabin itself sports the typical look for Delta First. Note that seating is identical to the A220-100; the only difference is 15 extra seats in Comfort+ and 6 extra in Main Cabin. Similar to its smaller cousin, the interior feels bright and airy with its oversized windows.
Although Delta's A220s feature 1-2″ less pitch in First than similar narrowbodies on American and United, legroom still felt spacious. Note, however, that reports indicate legroom in the bulkhead row leaves much to be desired. One of the reasons why I don't like bulkhead seats in the first place.
All seats feature an oversized center armrest, and push-button recline controls. My only complaint – I found the tray table a bit difficult to unfold. While the armrest includes a button to release the table, it required a firm yank to take it out.
Not unlike the firm yank my son used to give our poor cat's tail…
The window side armrest, meanwhile, is standard issue for a domestic First seat.
What did surprise me a little was the rough condition of the seats given the newness of the plane. The setback already had several scuffs and marks.
As far as amenities go, Delta provides a mini-bottle of water at each First Class seat.
I found seat comfort good overall. Granted, DFW to Minneapolis isn't a long flight, but back and thigh support remained solid throughout. The big difference with the A220, though, is how quiet it is compared to other aircraft. The P&W geared turbofans are supposed to be up to 75% quieter than older engine designs. Supposedly, the engines can emit a whale-like sound at low speeds, though I didn't hear it on this flight.
Overall, though, while I consider the A220's seating a substantial improvement over other planes in "deep coach", First Class didn't feel much different from the existing Delta product. Perhaps that's because 2-3 vs. 3-3 in coach makes a big difference, whereas the 2-2 configuration in First doesn't change.
Delta A220-300 First Class – In-Flight Entertainment
Some may disagree, but I find the setback TVs offered by Delta a meaningful positive differentiator over the competition. I just find it much, much easier to watch on a large screen at a distance, as opposed to trying to stream on a small phone or a laptop right up in your face. Delta's First Class monitors are nice and large, at 13.3″.
Resolution is also excellent, and the Delta Studio entertainment selection offers plenty for a short domestic flight.
Delta Studio also offers a decent selection of games, though I wish they offered the Golf Simulator game formerly found on AA.
Naturally, I ended up spending a lot (truthfully, too much) time playing with the moving map. If you're an avgeek that likes moving maps, you'll really like this one. On launch, the system provides the aircraft's tail number.  N303DU is, I believe, the 3rd A220-300 delivered to Delta.
The flight map itself provides a wide variety of views, along with some interesting information like pitch, roll, and heading. The downside, though, is that these didn't update in real time. I had to exit the flight map and restart to get them to update. I'm guessing this was a glitch on my screen, but it was annoying nonetheless.
As far as in-seat power, First Class seats include both a USB port and a 110V power outlet. While I appreciate the placement of the outlet in front of the seat, I still prefer American's A321 outlets. There, the placement at eye level makes it easier to keep your cord from getting tangled in your feet. (Once again, though, note how the cabin shows its age, with the scratch marks around the USB port.)
Food, Beverage, and Service
Helpfully, Delta provides food and beverage menus on the in-flight entertainment system. Unfortunately, they offer only snacks on this route. While this route checks in just under Delta's 900-mile cutoff for First Class meal service, I thought Delta made an exception on this route pre-pandemic. I could be wrong about that, though.
Beer, wine, spirits, and a couple of craft cocktails are offered complimentary.
I considered ordering one of the cocktails, mostly to see if the FA knew how to make it. On my last couple of Delta premium cabin flights, I got blank looks when ordering it. In the end, though, I went with one of my odd couple combos – Biscoff with a gin & tonic.
While I'll never turn down a Biscoff, I do think Delta can do better with snacks on a route of this length. Sure, hot meals on a 2-hour flight aren't really necessary. But these are the exact same snacks served in coach. Even a fruit & cheese box would provide a more premium experience.
The First Class FA provided good service, at least. He managed to offer 2 drink refills, along with a second helping of snacks.
Flightseeing
Though an evening flight, the long April days afforded a brief chance at flightseeing before sundown. As I settled in to my seat, I spied the A220-300's little brother, the A220-100, at the next gate.
With sunset just around the corner, we enjoyed golden hour as our plane taxied to the runway. Terminal C had that late day afterglow with the sun setting right behind it.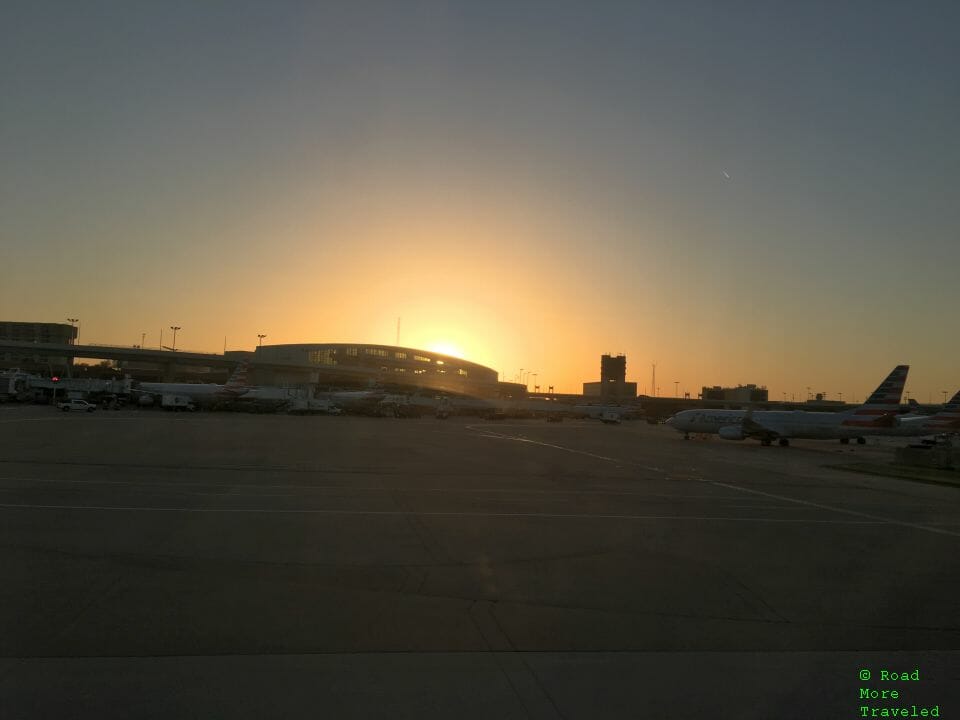 We took off to the south, with a fantastic view of the Trinity River and Dallas skyline to the left. (The scuffed, dirty windows once again surprised me for such a new plane.)
We also passed close to DFW's little brother, Love Field, just before hanging a U to head back north.
About 20 minutes later, the sun set over the plains of southern Oklahoma.
The rest of the flight proceeded uneventfully in the dark, and we arrived about 10 minutes early to a chilly Minnesota night.
Delta A220-300 First Class – Final Thoughts
I regard the A220 family as a big step forward for coach passengers, with the roomier 2-3 configuration, oversized windows, and noticeably quieter interior all adding up to a much more pleasant experience. In the pointy end, though? It's objectively fine, but can you say it's radically different from other planes? Not really. So oddly, this is one plane I'd pay a premium to fly in the back of the bus, but not up front.