On my recent connection in Dubai on Emirates, it was great to see the first class lounge is open.  It was apparent that Emirates employed the same safety precautions in the lounge as they do in the air.  It's breakfast time and I'm hungry.
This flight was one of the three flight and one lounge reviews for our trip to Switzerland.  The other reviews are listed below:
American Airlines flagship first class from Dallas (DFW) to London Heathrow is here.
Emirates game changer first class from Zurich to Dubai is here.
Emirates first class from Dubai to San Francisco is here.
Arrival At The Lounge
After checking in at the first class check-in counter, it was time to head upstairs to the lounge.  The first class and business class lounges run the center of the terminal building.  The first class lounge is located in the center and the business class lounge runs along the sides.  After checking in at the lounge, the concierge on the left led us to a table for two.
Food And Beverage
We got to our table about 80 minutes before departure to San Francisco.  You can bring up the menu on your phone using the QR code or you can request a real menu.  After starting with coffee and orange juice, the waiter brought us the classic English breakfast.  
Since the lounge recently opened, the employees exercised great care in maintaining food safety.  The specialty plates were limited and they were boxed in plastic to protect the food.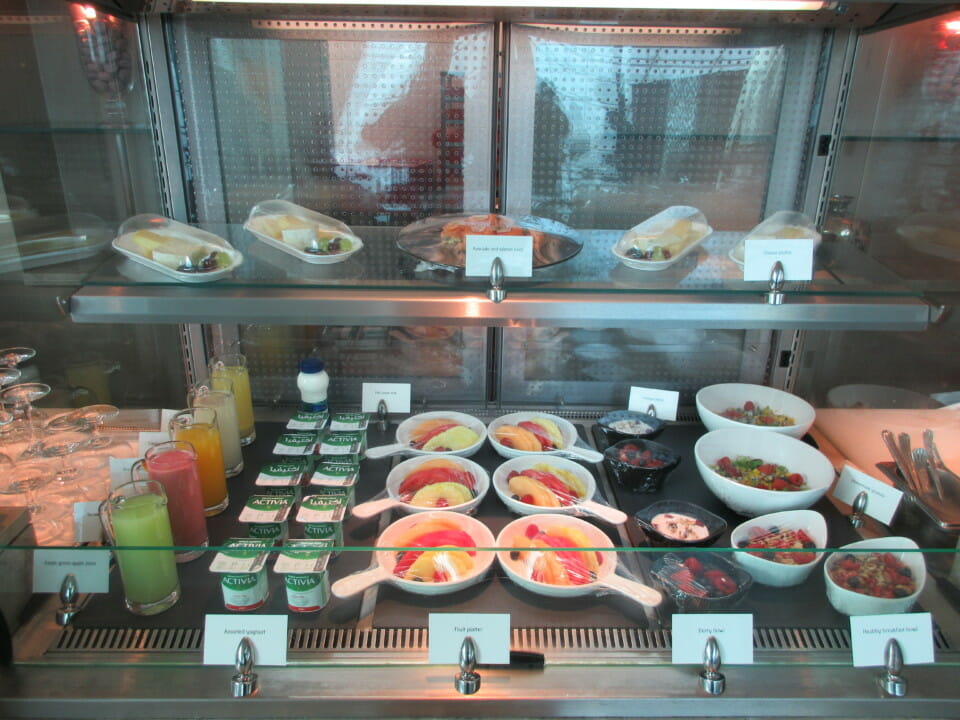 Even at 8:00 am, there was an excellent selection of spirits available, including the Dalmore Alexander III single-malt Scotch.  There was the wall of Champagne with a nice selection of Champagnes.
The Accommodations
The first class lounge is large with plenty of choices for seating.  We chose the basic restaurant seating since it was close to the food.  There are many types of tables and seating throughout the lounge either in an open setting or in more secluded and quiet areas.  The massage station was not open and the lounge was operating in a newly reopened, post-pandemic operation.
Final Thoughts
Although the first class lounge was finally open, the staff was getting geared up for service in the new pandemic operating environment.  At the time of our visit, the shower facilities had not been opened for use.  The staff used great care in food service to keep everybody safe.  Kudos to Emirates to get the first class lounge open and operational, even in a limited capacity after being closed for such a long period of time.  
The people of Emirates like those at the Waldorf Astoria Palm Jumeirah and every place else in Dubai are truly amazing.  This was my first experience in the Middle East and on a Middle East airline and what I discovered is that these are people that simply put, can't do enough for you.