In yesterday's review, we were on our way to Switzerland flying American Airlines flagship first class flight 50 from Dallas, TX to London Heathrow.  If you missed that review, you can read it here.  In today's inflight review, we are heading home from Zurich on the first of two flights aboard Emirates first class.  In this review, we are flying aboard Emirates new "game changer" first class suite on select Boeing 777-300 aircraft.  Come on along with me as we take flight in amazing first class service.
From the moment I booked this trip, I was really excited about flying in the new Emirates "game changer" first class.  This flight totally blew me away and far exceeded my expectations.
This flight was one of the three flight, two hotels and one lounge reviews for our trip to Switzerland.  The other reviews are listed below:
First Things, First
Our return flights home were going to take us from Zurich to Dubai, to San Francisco and home to Portland, OR.  In order to enter the UAE and return home to the U. S., we needed negative Covid tests.  Due to timing, we elected to use the Covid testing facility at Zurich Airport operated by Swissport.  We got to the testing center at 8:00 and we received our test results by noon so we could check in for our flight to Dubai.  The test center is convenient but it is pricey at about $200.00 per test.
Next Stop, The Aspire Lounge
Emirates currently isn't operating a lounge at Zurich.  Instead, you get access to the Aspire Lounge.
What It Cost
I priced out our first class Emirates flights from ZRH to DBX to SFO and it came in at just over $13,000.  We used Alaska Airlines miles and redeemed 180,000 miles and $142.00 each which also included a first class flight on Alaska Airlines from San Francisco to Portland, OR.
The "Gamechanger" First Class Suite
Emirates calls their newly upgraded first class suite the "game changer" and for good reason.  This suite is fully enclosed from floor to ceiling and that is just the beginning.  The seat has numerous positions including zero-gravity and massage modes.  There are two mini-bars on each side of the 32-inch HD monitor featuring the exclusive Emirates ICE infotainment system:
Information,
Communications and
Entertainment.
There are over 2,600 choices for movies, TV shows and games along with forward and downward-looking cameras.  You can watch live TV and sports.  ICE has the ability to create a favorites list, virtual keyword search and seat-to-seat call capability.
These suites are so large that there are only six of them.  Four of them are window suites and there are two center suites.  The center suites have virtual windows so you can see exactly the same things as the window-suite passengers.  There is the purser and two flight attendants for the six suites.  On this flight, I had a great crew of Getta, Ayu and Roland.
Food And Beverage Service
Roland's saying is "good food, good mood" and he is absolutely correct.  The food and beverage service about Emirates first class is impeccable from the selection and quality of the food and beverages to the presentation and use of proper dinner and glassware.  
The beverage and dinner menu is quite extensive.  The menus are available online, thirty days prior to departure.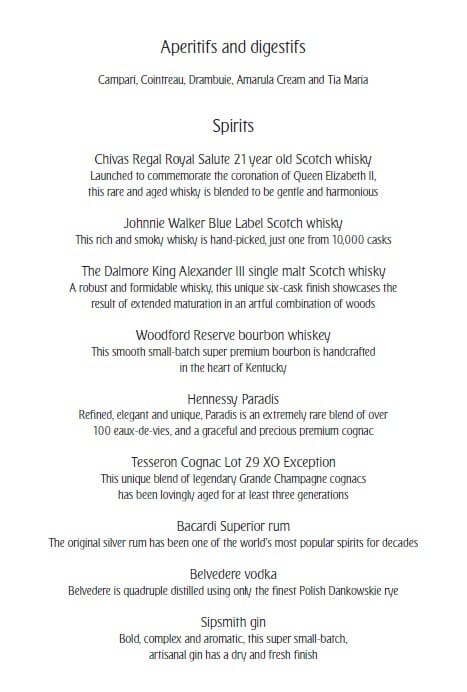 Hitting The Ground Running
Dubai Airport is huge and we were pleased to see that we had an Emirates representative waiting for us to deplane.  We boarded a cart and we were off to a fast-track immigration lane.  From there, we checked in at the Emirates Chauffeur-drive desk for our chauffeur-driven BMW to the Waldorf-Astoria Palm Jumeirah.
Final Thoughts
The new Emirates "gamechanger" first class suite is everything that the word "game changer" implies.  This is the most awesome first class suite I've ever been in.  The food and beverage service was incredible but it is the people that make the difference.  I'd like to thank Gretta, Ayu and Roland for a truly magical flying experience.
The people of Emirates like those at the Waldorf Astoria Palm Jumeirah and every place else in Dubai are truly amazing.  This was my first experience in the Middle East and on a Middle East airline and what I discovered is that these are people that simply put, can't do enough for you.
Tomorrow, my Emirates first class lounge review and Thursday our Emirates first class flight from Dubai to San Francisco.