Flying Finnair long-haul airbus A350-900 is a real treat. With a limited route network to the United States and scaled back flights due to Covid, the opportunity to enjoy Finnair is rare. After an American Airlines meltdown and flight cancellation, I was able to score a rerouting on Finnair business class from Los Angeles to Helsinki. I had been awaiting my opportunity to fly Finnair for years and was excited the day was finally here.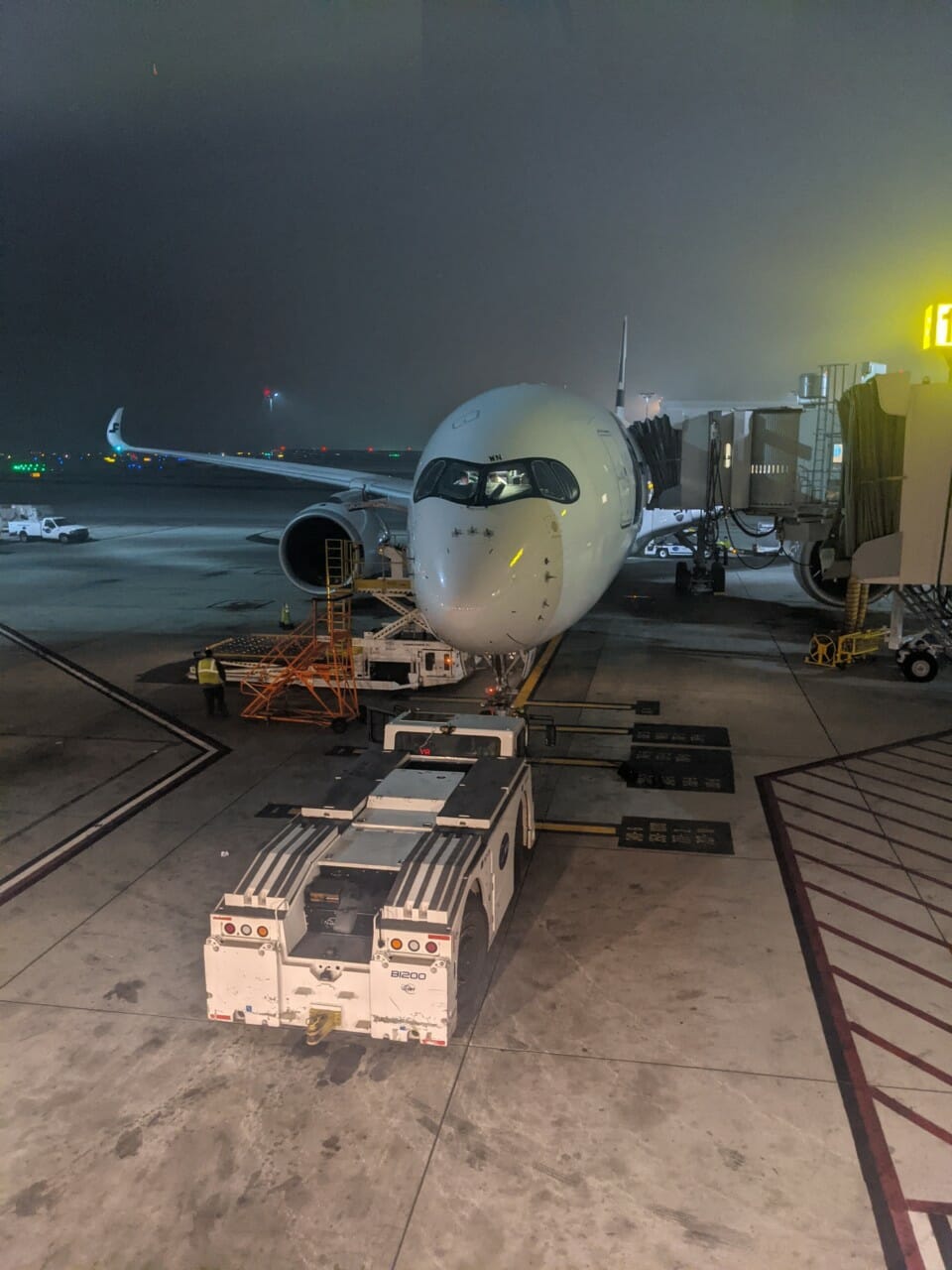 Flying Finnair Business Class
Finnair business class is simple, yet beautiful. The colors represent the Nordic sky and everything from the glassware to the plane's lighting represents Finnair's home. I was the first person to board my flight on Finnair from Los Angeles. Honestly, a first for me. Which allowed me to snap a couple of photos before the cabins started to fill up.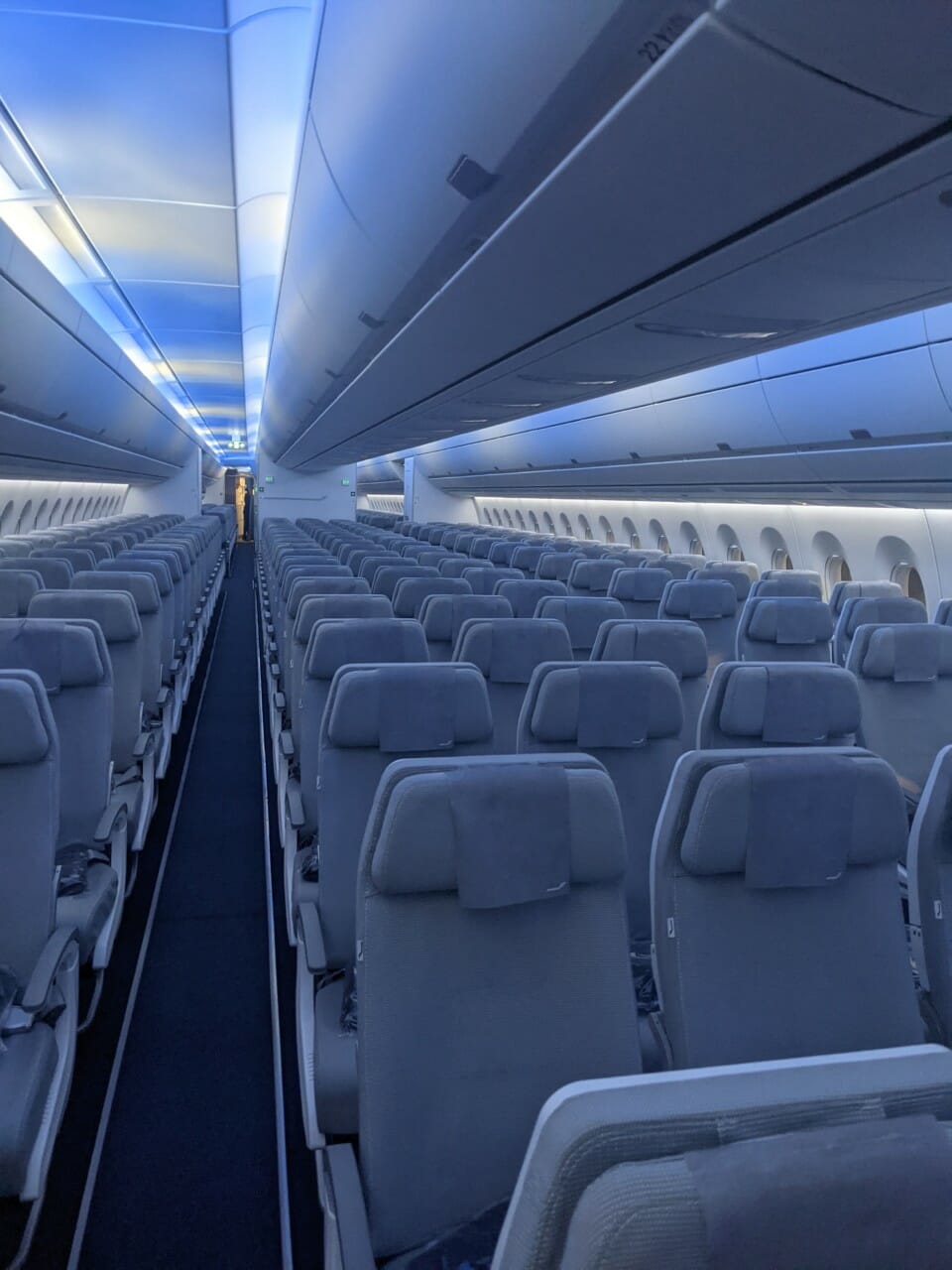 The economy class cabin starts behind door 2. Finnair does not have a premium economy product, offering only two classes. Seats are standard 3x3x3 on the A350.  As you can see from the photos, each passenger receives their own blanket. In the very forward part of the economy class cabin are seats which offer additional leg room.
Finnair's A350 business class cabin features 46 seats stretching from the forward door to door two.  And then another mini cabin behind the 2nd door. There's 12 rows total. All seats have direct aisle access and lay flat, offering an average pitch of 78 inches. Pretty standard for a long haul flight. Be sure to see the new air craft interiors which I flew to Seattle. The new air lounge business class seat is unique.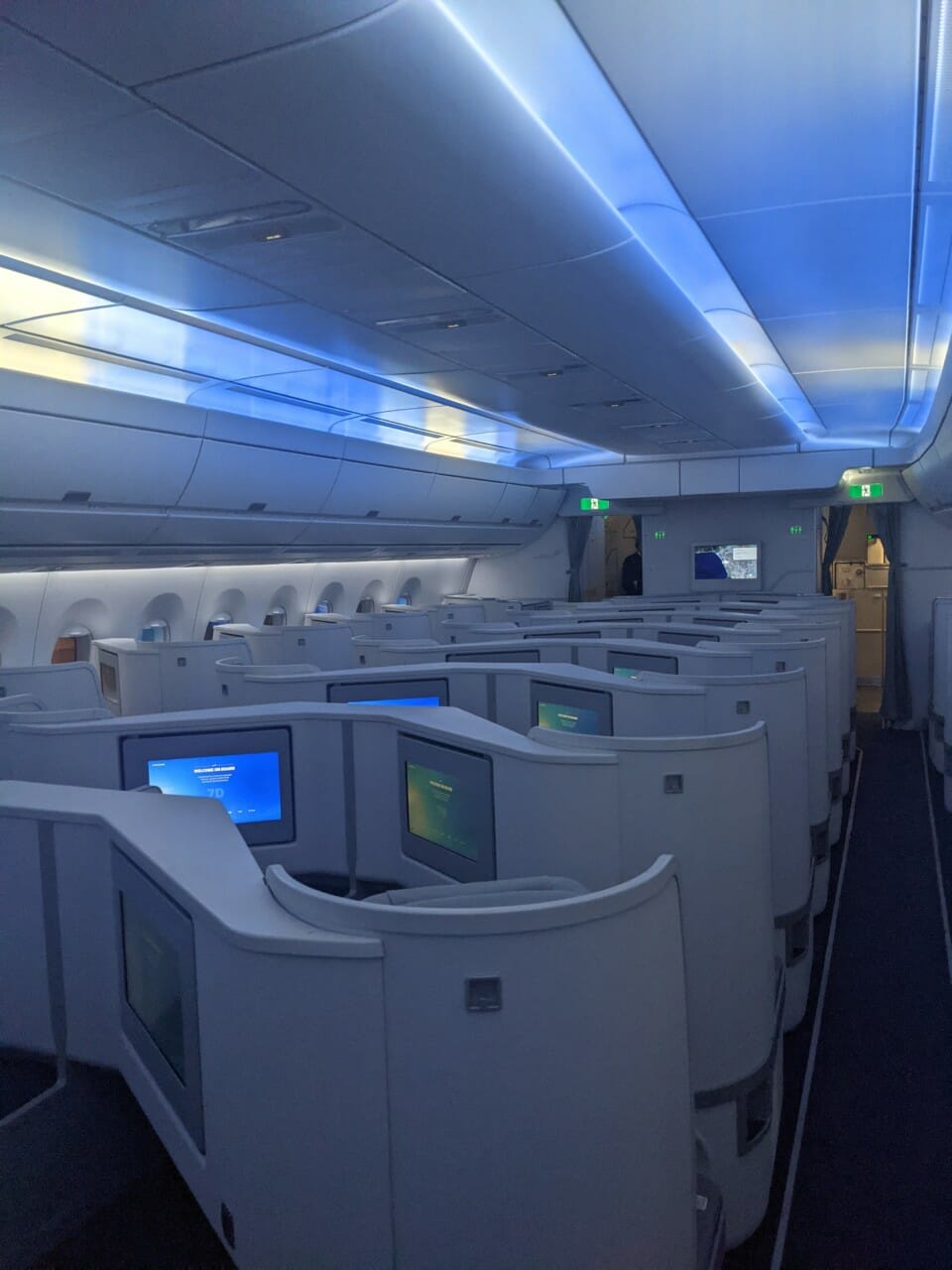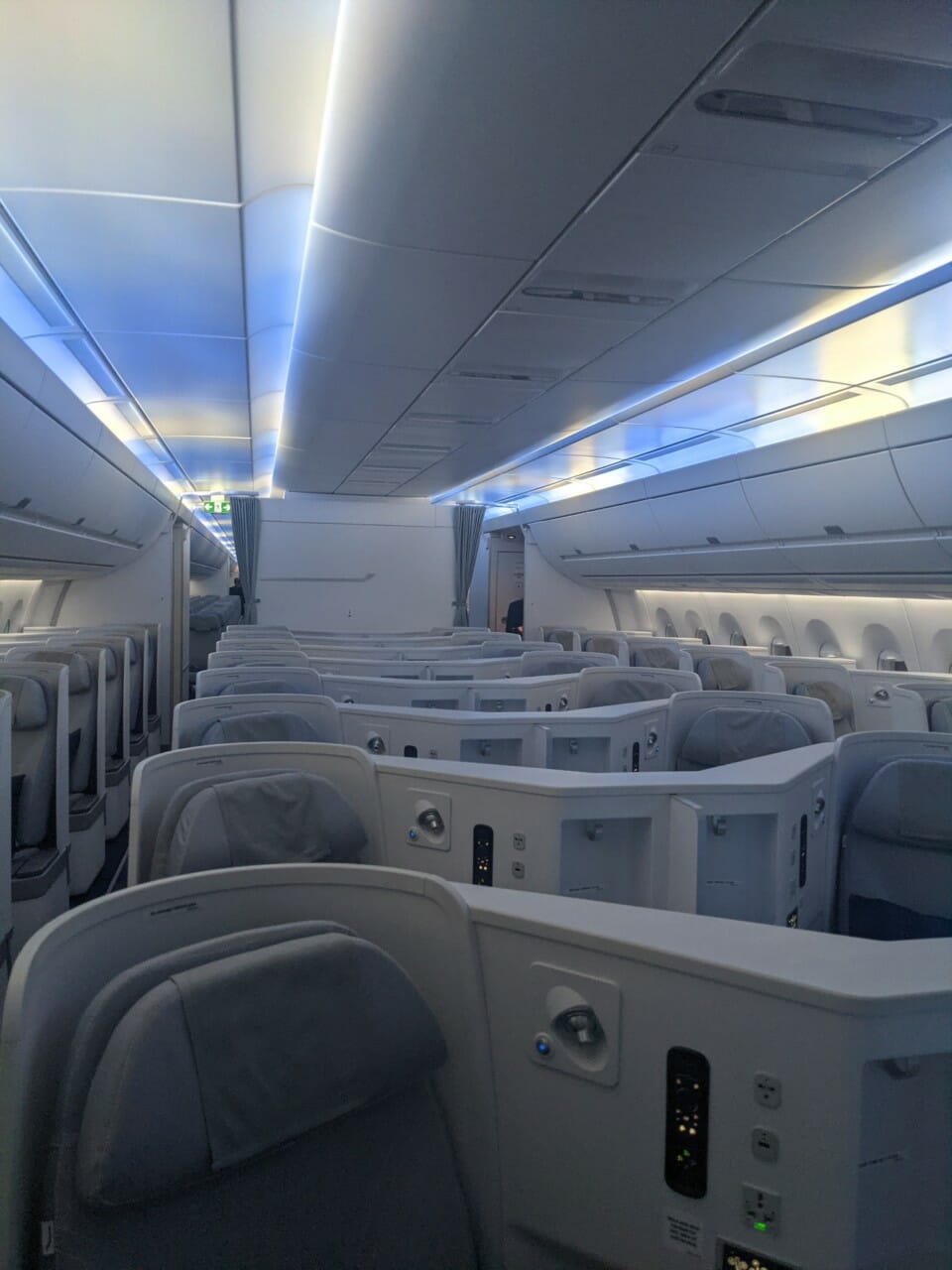 Upon boarding, each seat is equipped with a dinner and drink menu, amenity kit, a pillow and blanket, along with slippers and noise canceling headphones. Due to Covid, each passenger also receives a hygiene kit when boarding. Medical grade masks are required to be worn at all times, when not actively eating or drinking.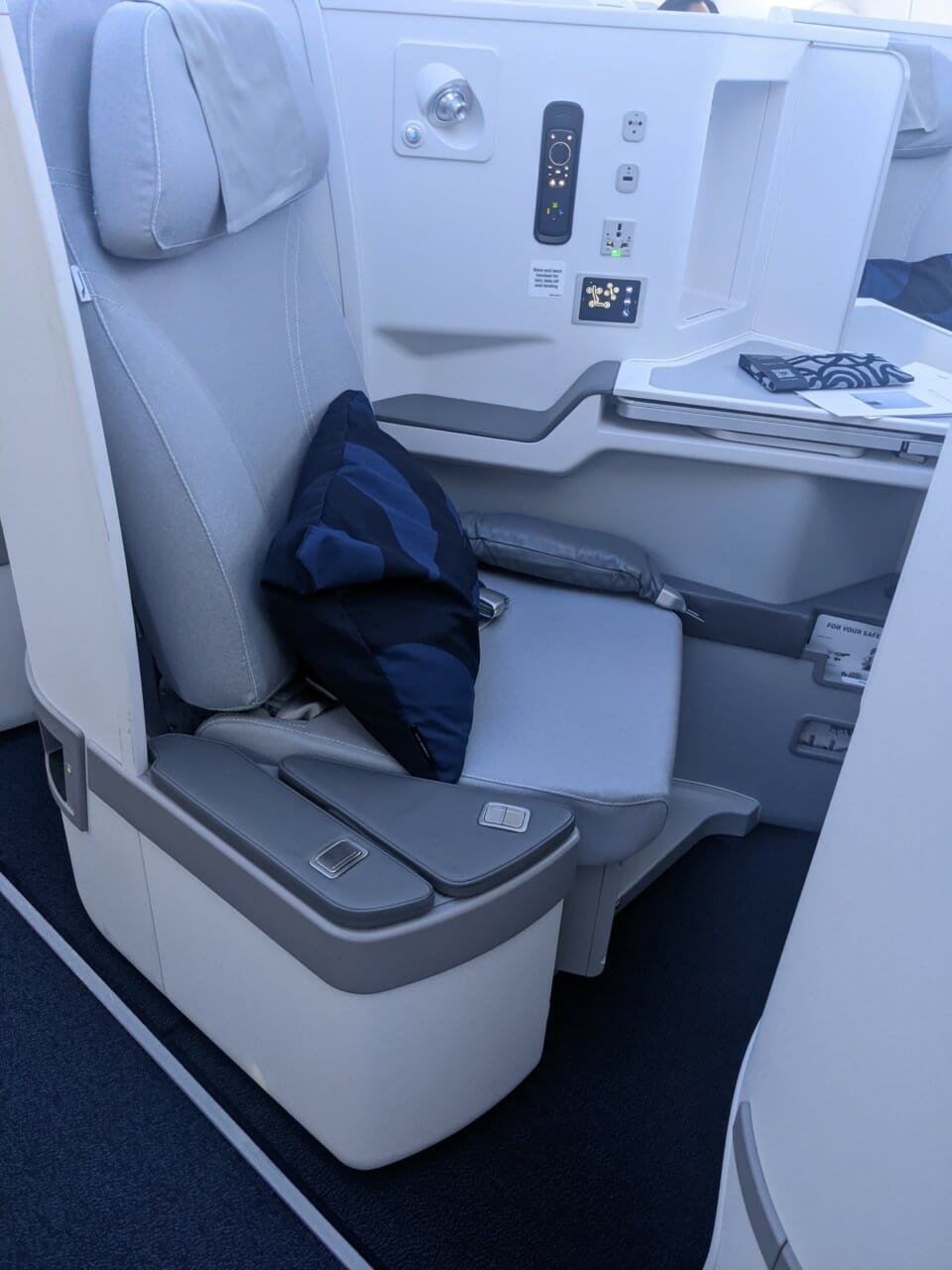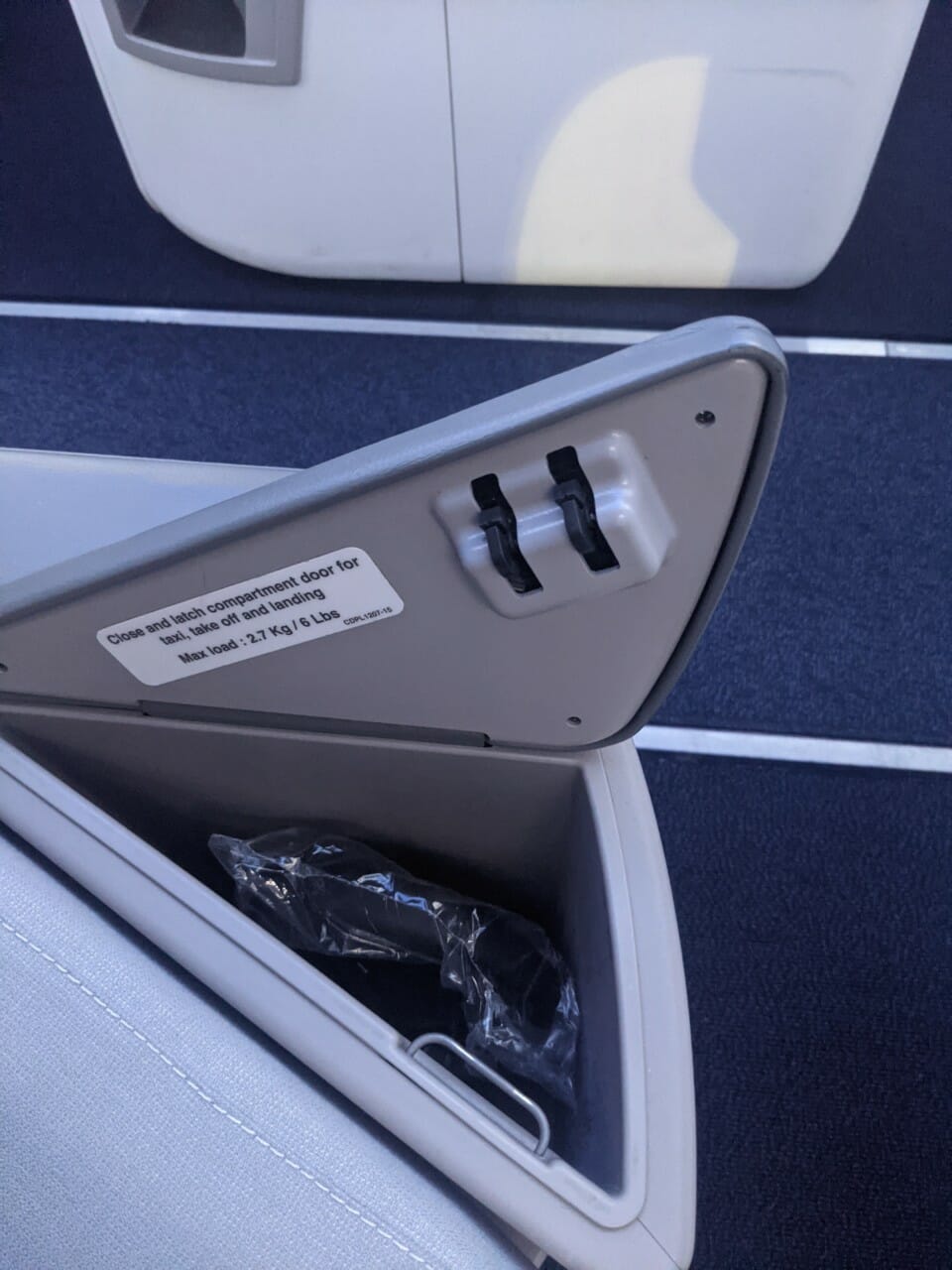 Noise canceling headphones are in the seat storage pocket near the arm rest. This is the only real storage pocket at the seat. Finnair's business class has very limited storage.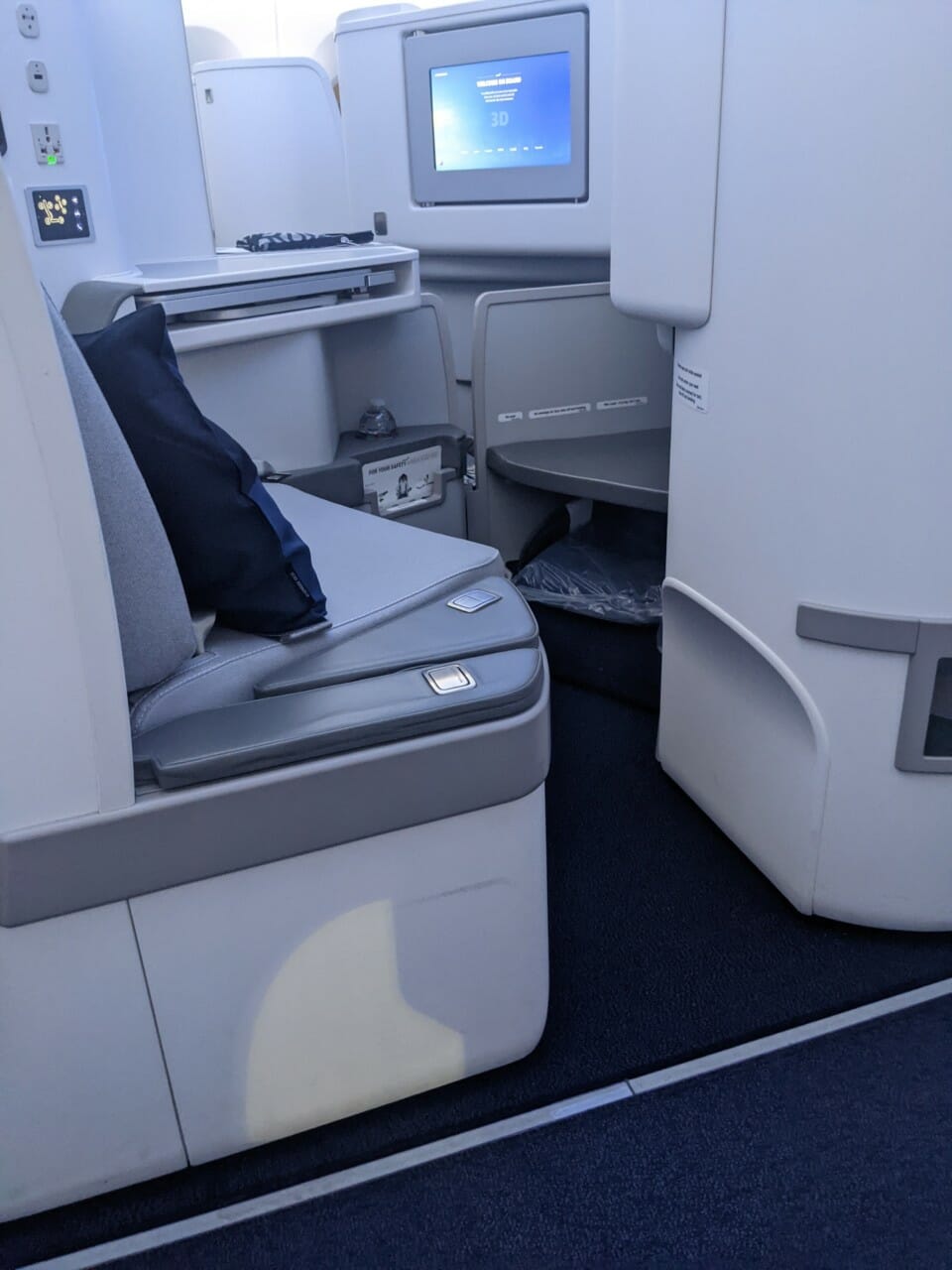 Amenity kits are small and basic. They include items such as an eye mask, ear plugs, biodegradable toothbrush and toothpaste, and lip balm and face cream. Bathrooms are equipped with additional hand cream.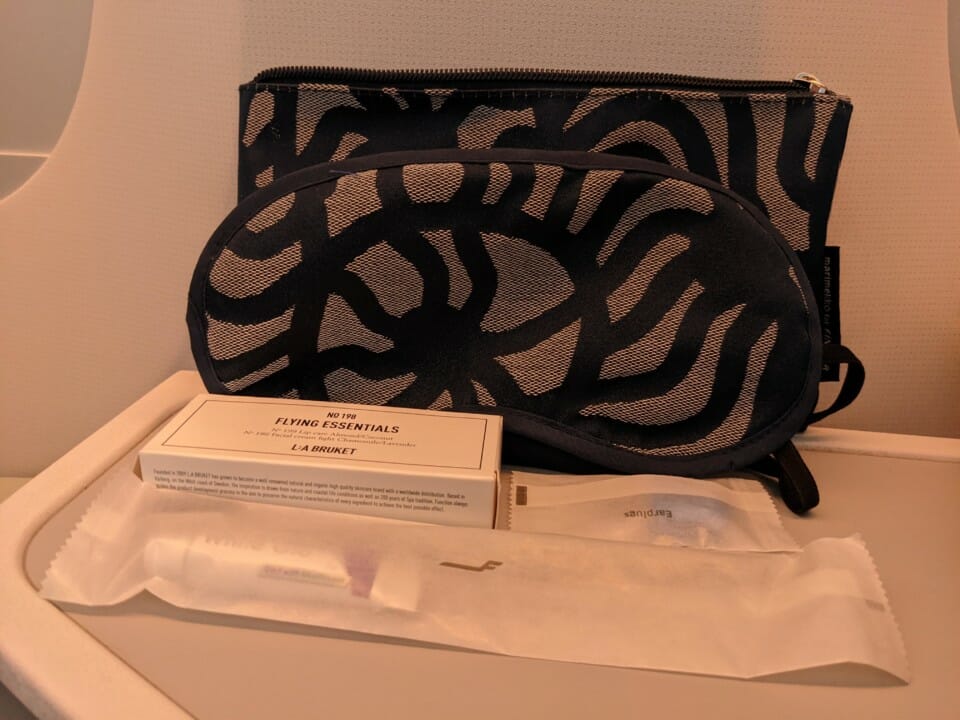 Seat controls, along with power, and inflight entertainment controller are on the wall of the business class seat. There is also a reading light.  TV screens are also touch screens. Sadly, the tv screens only fold in and out, but do not rotate up or down. Which can add glares when lying down.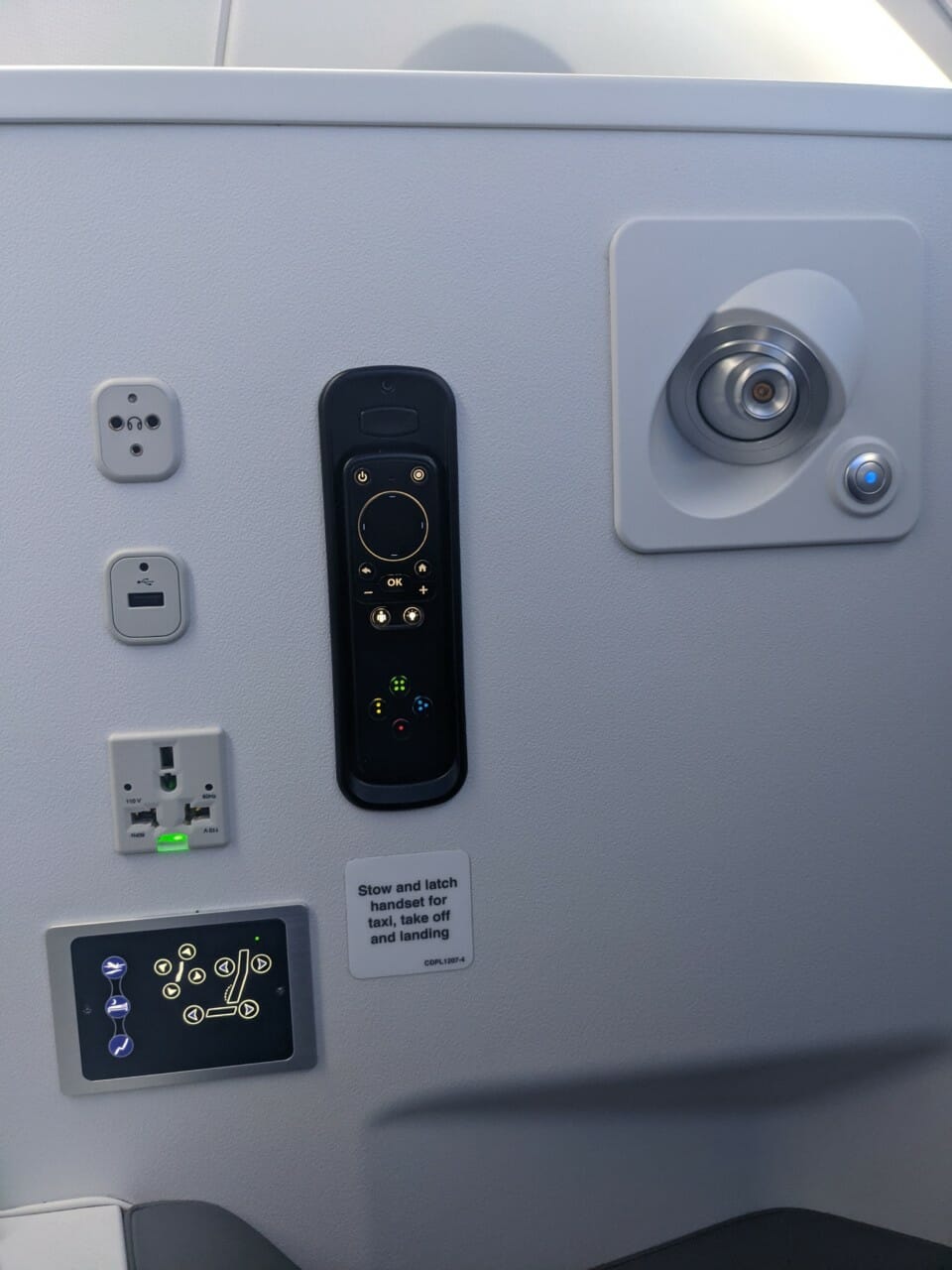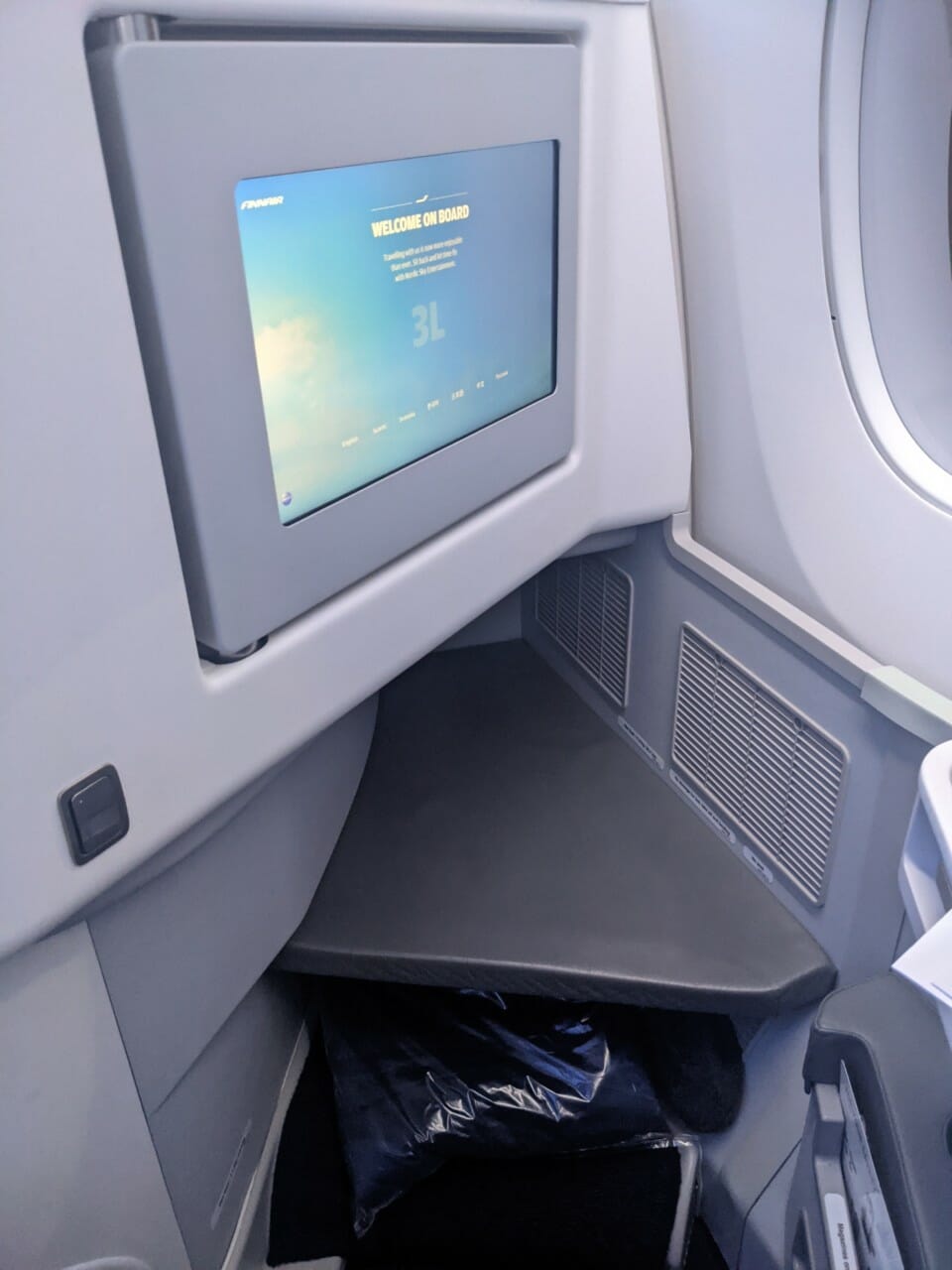 Although Finnair uses a very standard reverse herringbone seat, the legroom is above average. Notice the foot cubby is very roomy. There is a little bit of storage under the foot rest.
Finnair Business Class Service
Finnair business class service is fully restored to pre-covid levels. Upon boarding passengers have the option of water, blueberry juice, or champagne. The guy next to opted for a gin and tonic.
Let's just stop and appreciate the pure beauty of Finnair's glassware. I couldn't stop staring at it!
After takeoff, food and drink orders were taken and hot towels were provided.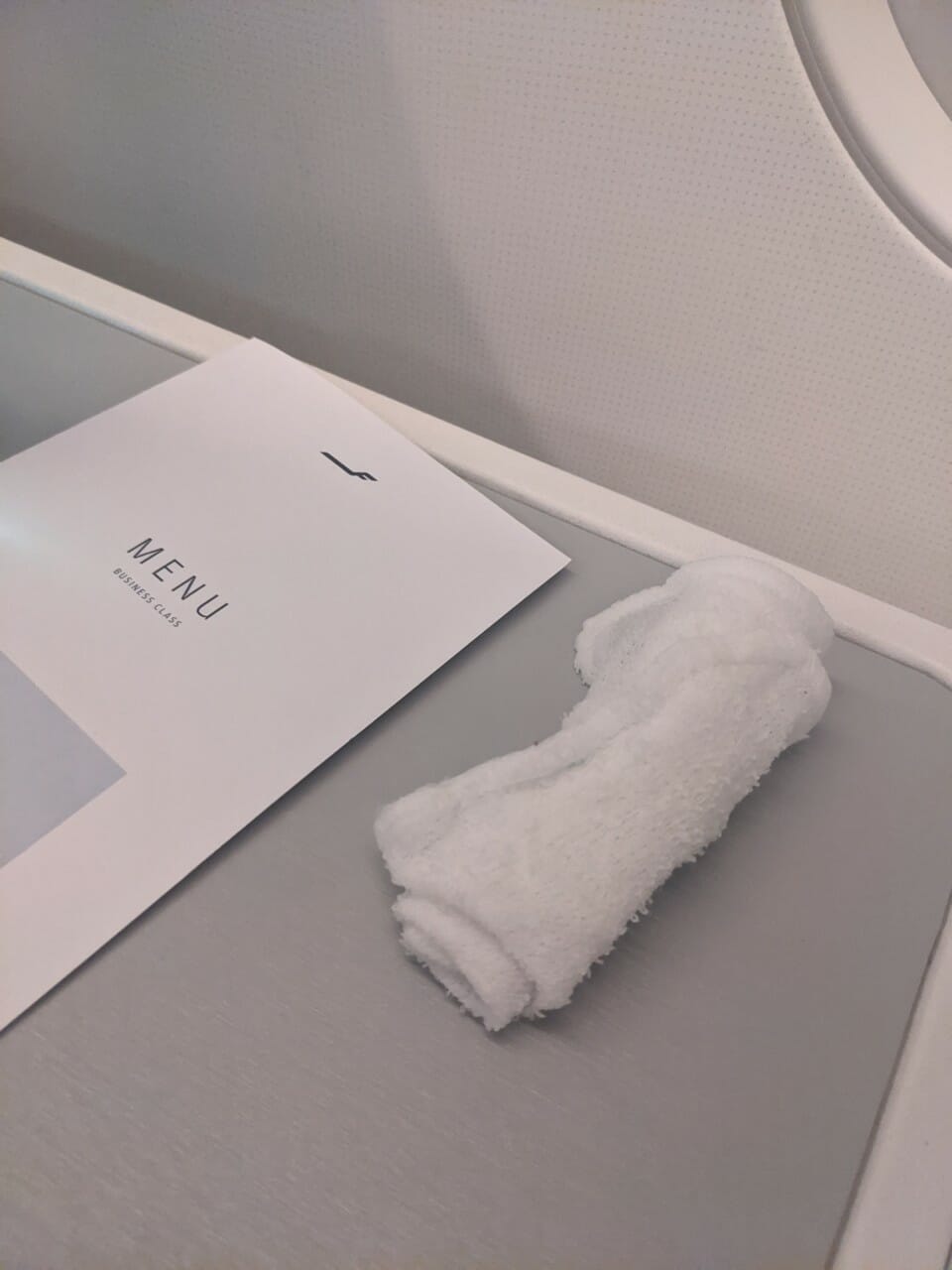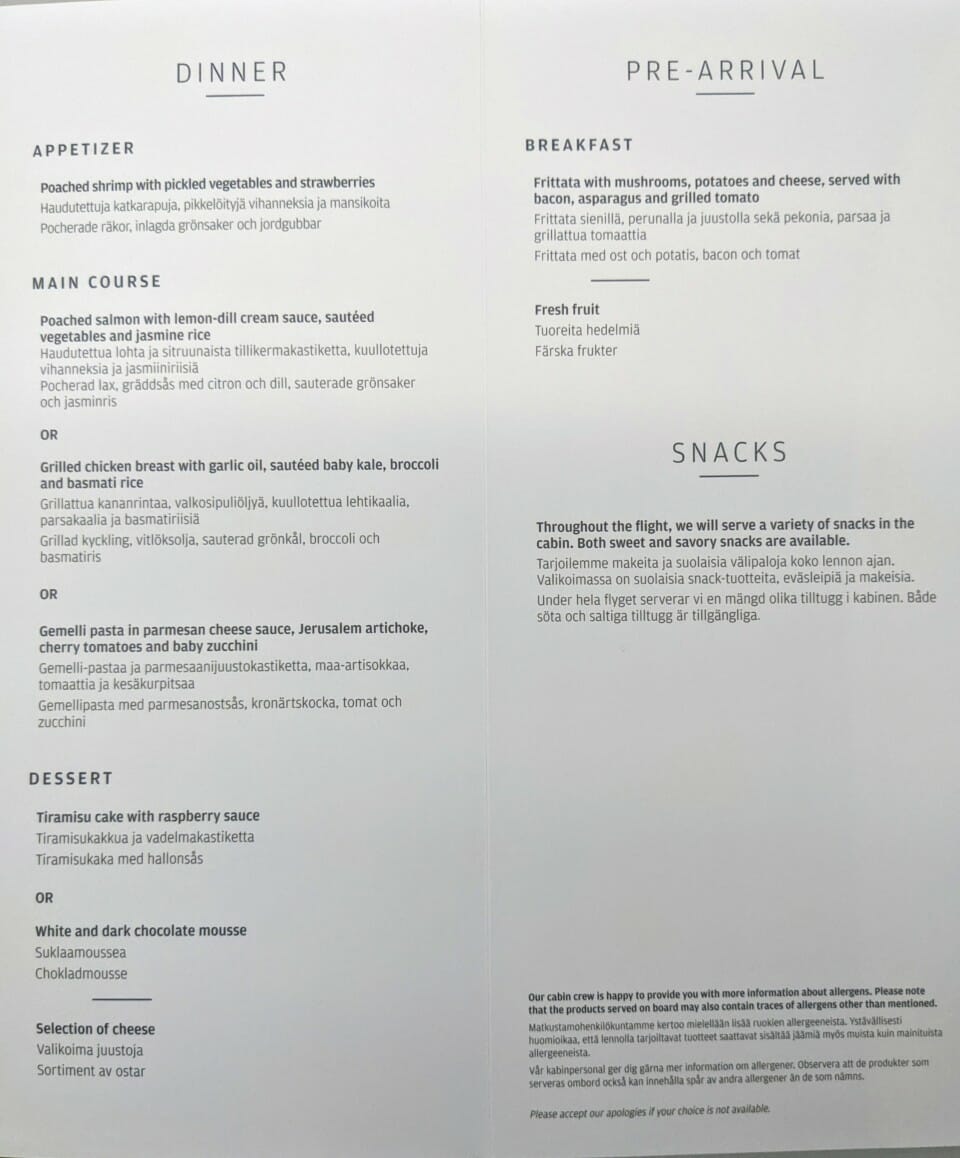 Before meal service cold nuts and a drink was served. Again in beautiful glasses!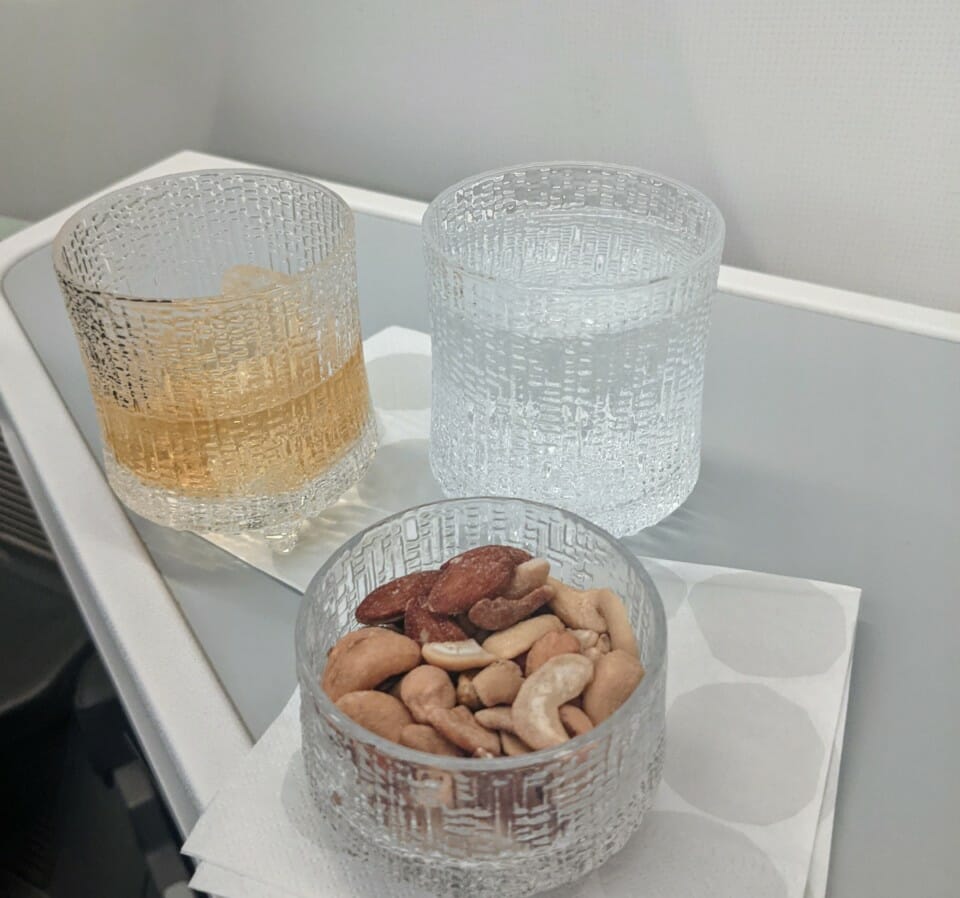 Then, dinner service is done over several courses.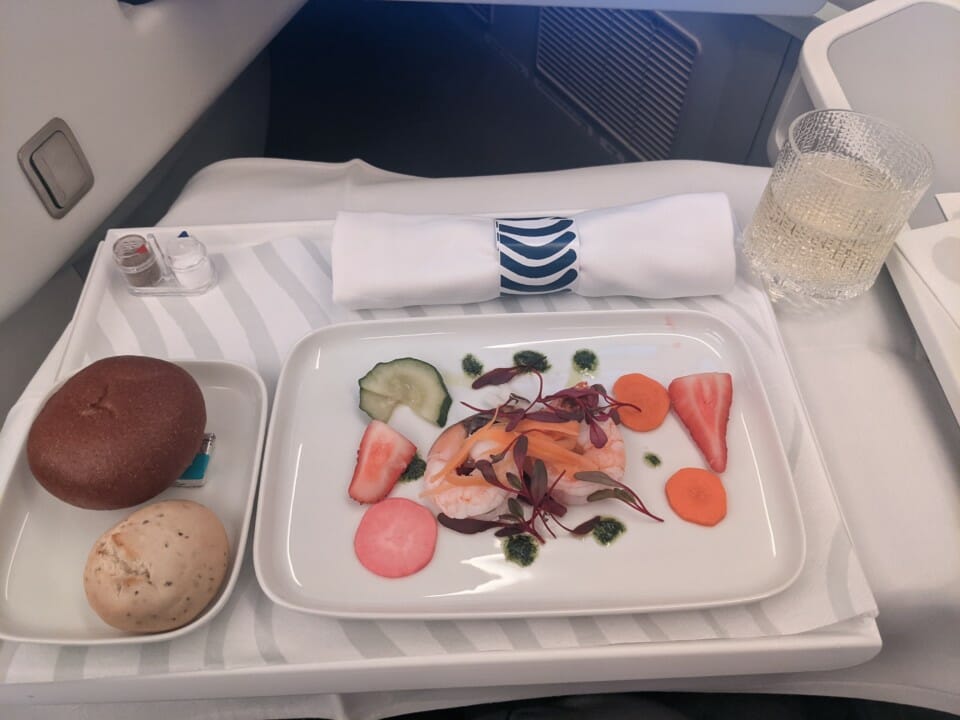 For dinner, I had the chicken. It was a bit rubbery, but the flavor profile was good. The bread was also cold. But that's alright, as it kept me from eating it.
Next, was cheese. Sadly the caterers left off the crackers. Although, I could probably do without the additional carbs.

Finally, there was dessert. Which I enjoyed with a delicious Port. I couldn't decide between the tiramisu and mousse, so the lovely flight attendant offered both. It was helpful that Business class only had 10 passengers. Turns out the mousse is better.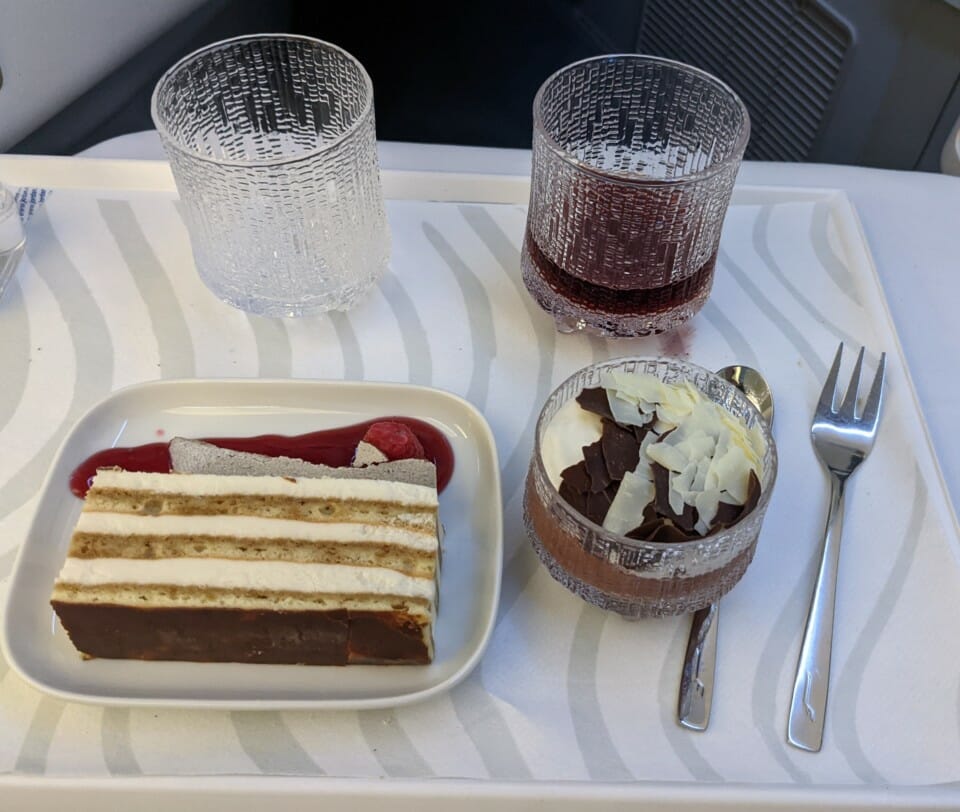 After dinner, it was time to nap. I still wasn't very tired so I watched a tv show on the flight entertainment system and then saw the Northern lights dance across the sky.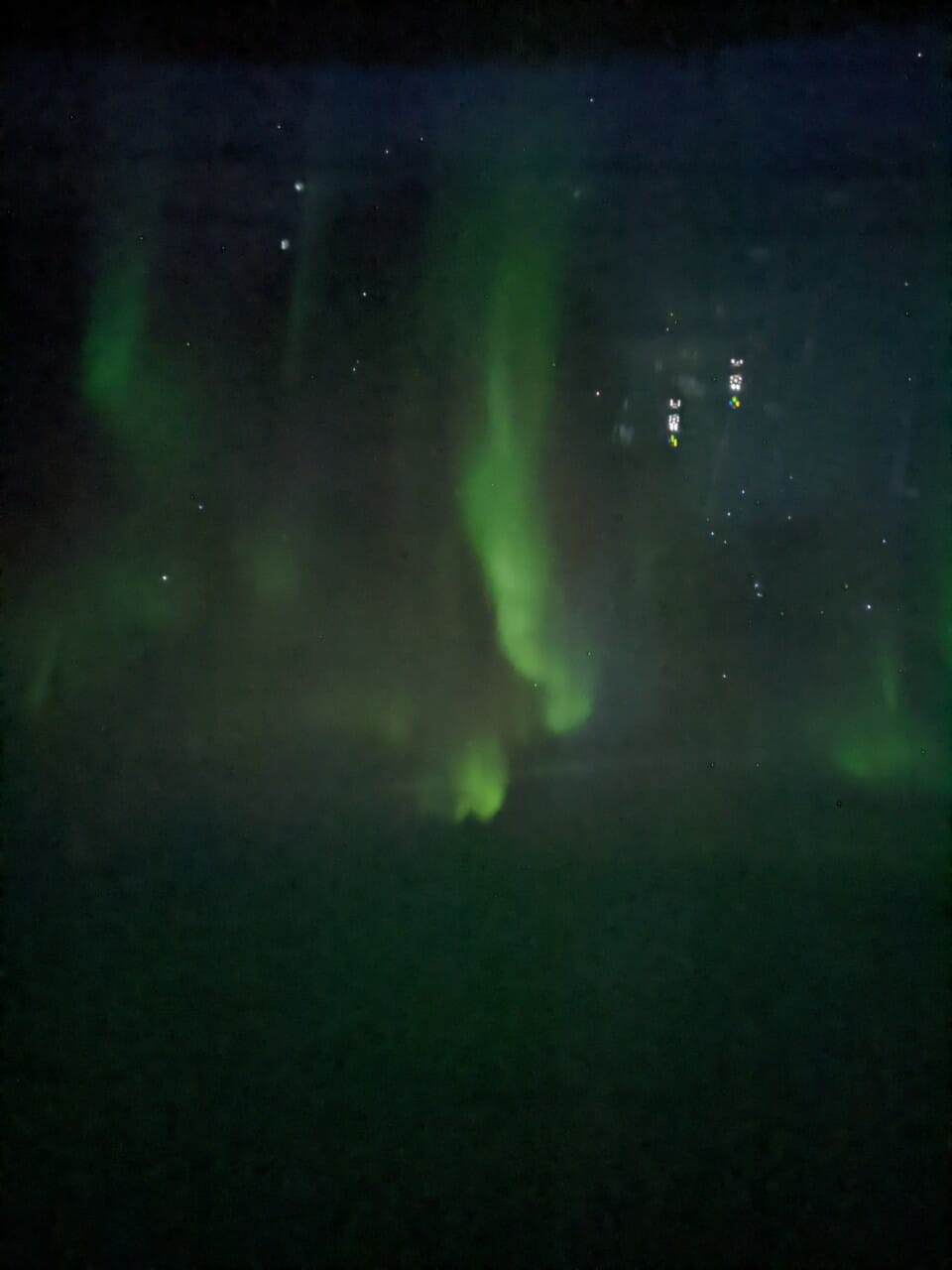 I was so happy to have a window seat. Flying this far north does provide some great views at night when the Northern Lights are active!
Somewhere over Greenland after watching the sky for some time, I opted to nap for about 3 hours. I woke up 70 minutes before landing. When I woke up, I was greeted with a warm smile and a hot towel to refresh myself. Then, it was time for breakfast. Fresh fruit, bread, and a full hot breakfast.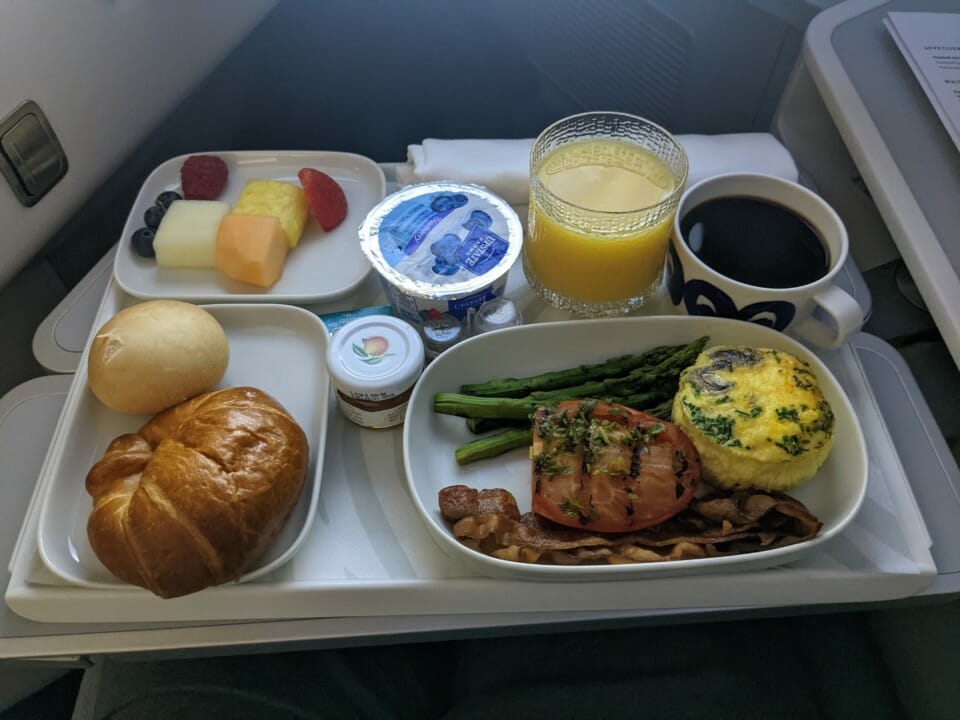 Breakfast was actually the star of the show! Usually I do not enjoy airplane breakfast, yet today was different.
After breakfast I needed a pick me up, so I had more coffee. My flight attendant admitted that she had not flown or worked in three years. Partly due to the pandemic, but also because she had a child and taken time off too. She asked me if I wanted an espresso. I really didn't, but she wanted to practice with the machine. So I figured why not. A redeye I would have! Or a shot in the dark, depending on where you're from. AKA espresso and coffee.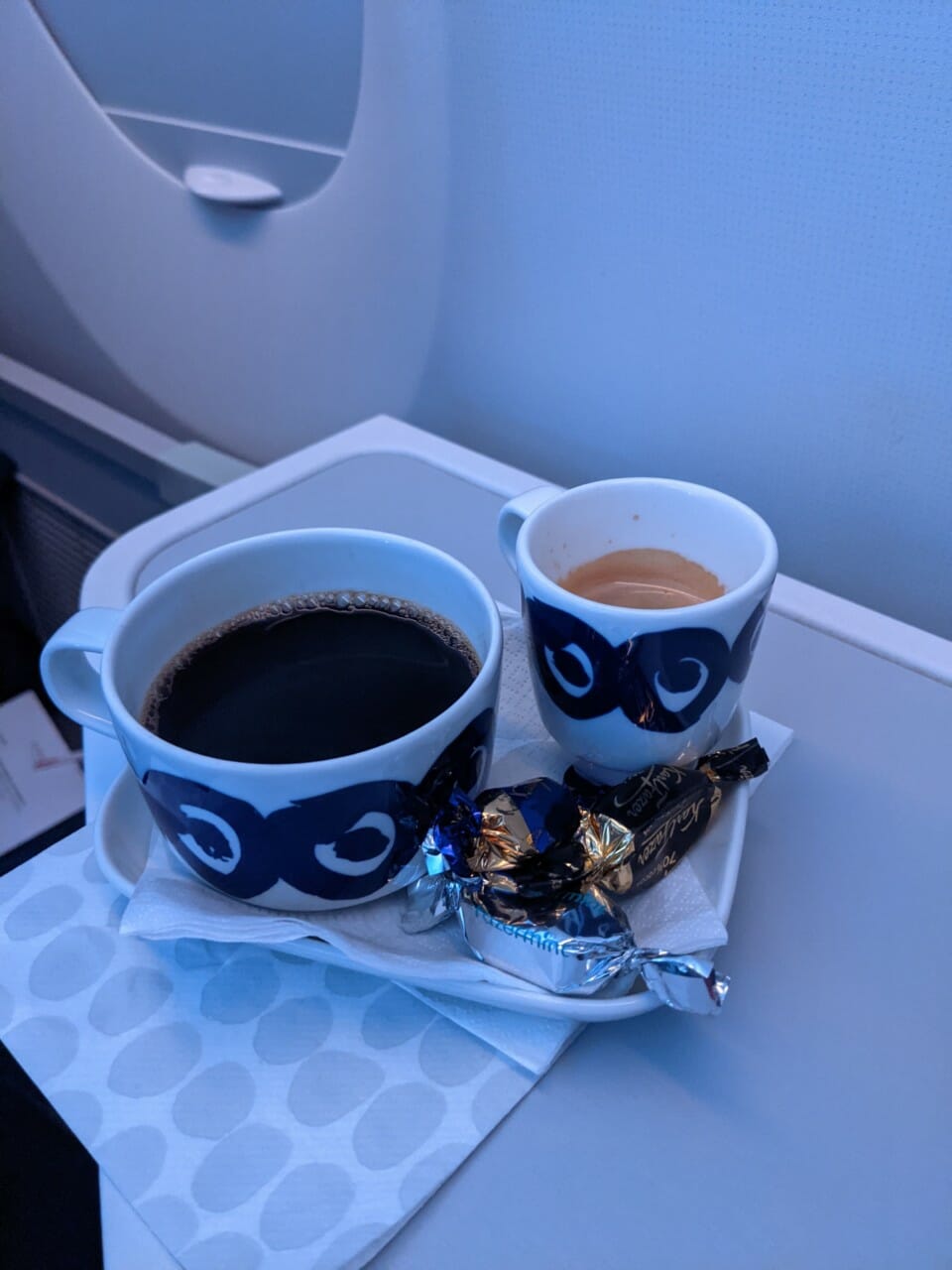 Coffee comes with delicious Finnish chocolate. After my coffee it was time to land in Helsinki. Time to say goodbye to the beautiful airbus A350-900 and Finnair's business class.
Finnair Business Class Thoughts
Finnair offers a terrific product with refined attention to detail. They are not trying to be an Emirates or Qatar Airways, but instead offer a boutique product. Every flight attendant was friendly and warm. It was a perfect line between professionalism and interactive. I honestly had the feeling as though I was interacting with long time friends. Cabin crew enjoyed small talk and were happy to be working and flying. Despite the near empty flight, the crew was in good spirits.
If I could fly Finnair to Europe, I would do it every time. The seats are comfortable, the drinks good, the food decent, and the culture and the employees are warm. Not to mention, Finnair's partnership with Marimekko truly shines through. I am a huge fan of airline's glassware and Finnair's take the cake as the world finest in my opinion. That alone is a reason to enjoy Finnair!  Now I am off to explore Helsink's sites!